Archive: July 30, 2015
An oldie but goodie, from the New Yorker ten years ago: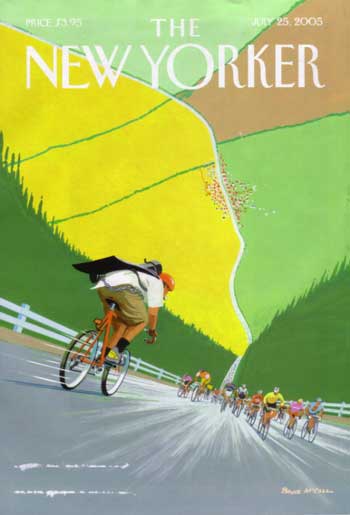 "Tour de Force"
One of my favorite New Yorker covers ever, amid heavy competition. I posted this in 2005 along with a note celebrating Lance Armstrong's *first* retirement, after having just "won" his seventh consecutive Tour de France. Who knew then that he was doping, that he would come back three years later, finish third, get embroiled in more doping controversies, and ultimately get caught, and that he would end up disgraced and forfeiting all those victories. The one thing we can't take away from him is that he's a cancer survivor and founder of the Lance Armstrong Foundation, now known as Livestrong, and has raised more money for cancer research and help for cancer victims than any other individual ever. I'm pretty ambivalent about Lance as an individual, but still a proud Livestrong supporter (and yellow band wearer).
I found this via my blogs Flight feature; interestingly I haven't posted on July 30 for seven years. So now I have :)
Archive: July 27, 2014
| | |
| --- | --- |
| Le Tour 2014, stage 21: Kittel wins final sprint (again); Nibali golden in yellow | |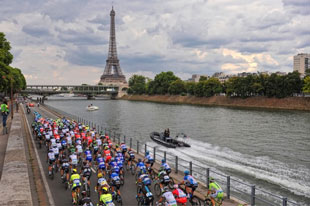 To nobody's surprise Marcel Kittel won the final bunch sprint down the Champs d'Elysee in Paris, after the usual flurries of attacks on the cobbles in front of millions of screaming Frenchman. It was an amazing pageant, as always, to see 200 brightly clad riders flying down the boulevard at 40mph.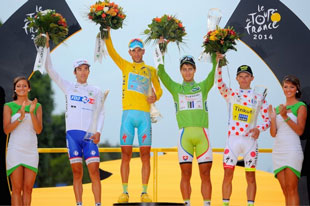 And so ends the remarkable 2014 tour; with Vincenzo Nibali in firm possession of the overall leader's yellow jersey, Peter Sagan equally secure in the sprinter's green jersey, Rafael Majka in the king of the mountain's polka dots, and Thibot Pinot as the best young rider in white.
It was a great three weeks of great racing, with a little bit of everything, and after looking forward to each day's racing I'm sorry it's all over. I guess I'll have my little period of mourning and then we can look forward to the 2014 Vuelta a Espana. (Will Chris Horner be able to defend against Chris Froome and Alberto Contador?)
Archive: July 30, 2013
Archive: July 30, 2012
Archive: July 24, 2011
| | |
| --- | --- |
| TDF stage 20 / ITT - Martin powers to victory, Evans blasts by Schlecks to take yellow (and we are there!) | |
So yesterday was amazing; Shirley and I were in Grenoble watching stage 20 of the Tour de France. I took a bunch of pictures - how great is it that you can just walk up to a Tour stage and watch it close up? - and we enjoyed ourselves thoroughly; everything from the TGV down from Paris (600km in 2 1/2 hours!) to the beautiful city of Grenoble itself to the pageantry and of course the excitement of the ITT as the Tour was decided.
Some pictures, in chronological order to tell the story: (how cool is it to use my pictures, instead of Velonews' :)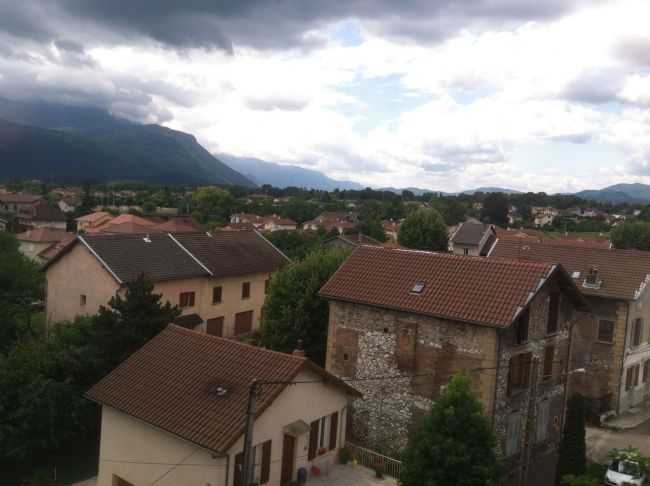 Grenoble, gateway to the alps and scene of stage 20 of the 2011 TDF, the individual time trial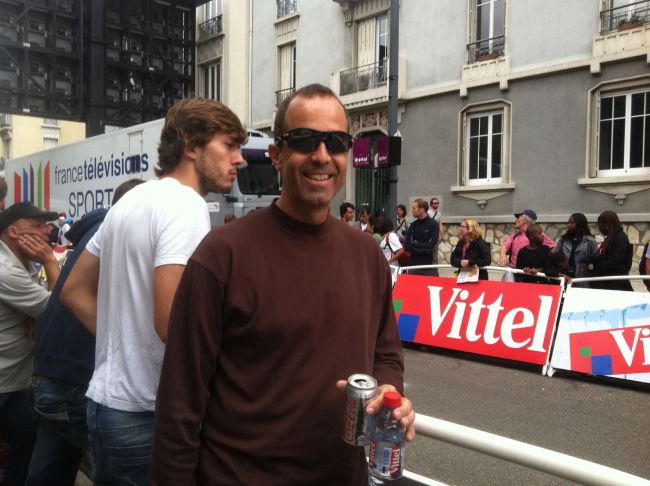 on the finishing straight, ready for action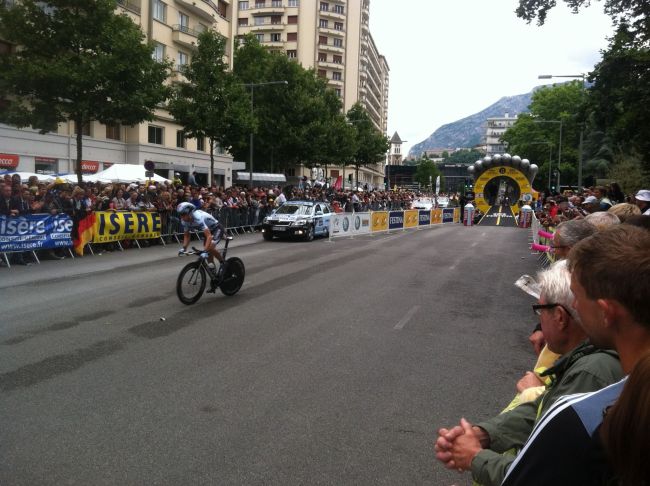 the start house is right there; here Chris Anker Sorensen takes off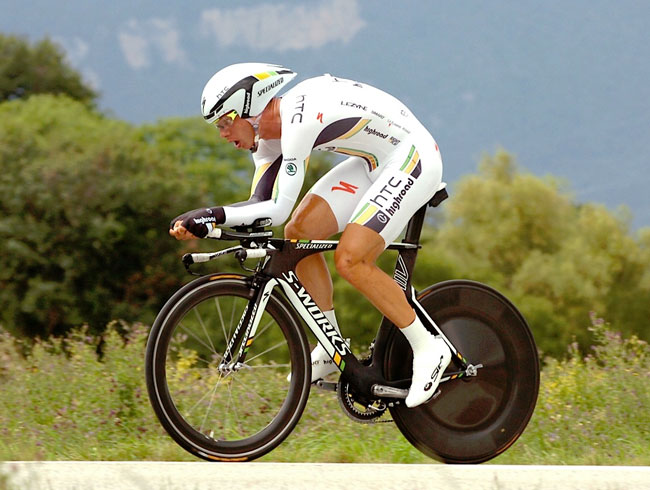 Tony Martin powered to the stage win, repeating his victory in the Dauphine Liberte on the same course
(and upsetting favorite Fabian Cancellara!)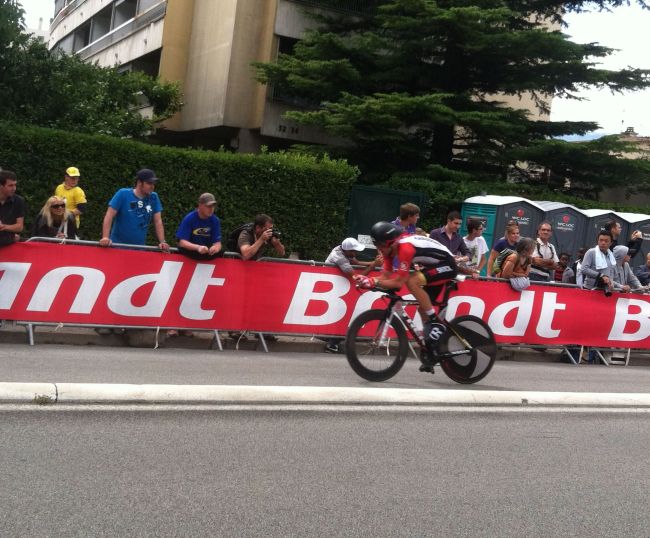 Levi Leipheimer had a disappointing tour, as did Radio Shack; they'll be back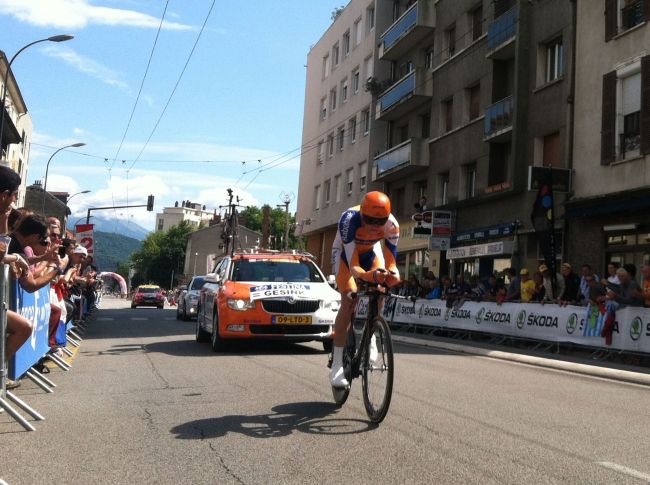 Robert Gesink suffered, as did Rabobank; they'll be back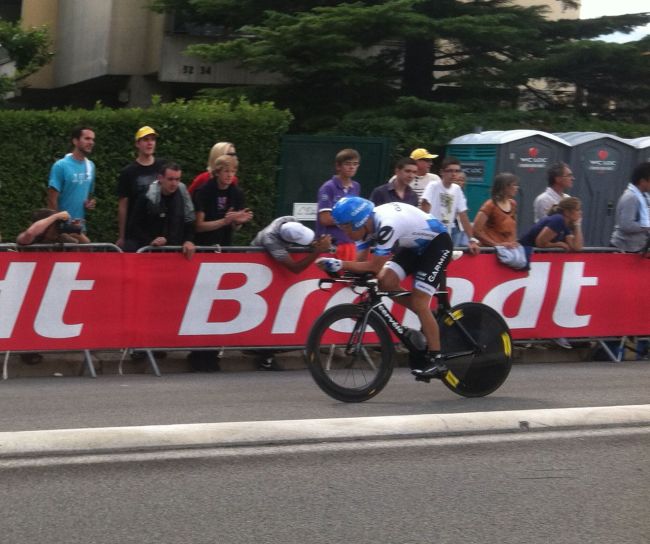 Tom Danielson had a great tour (9th!), and Garmen Cervelo won the team classification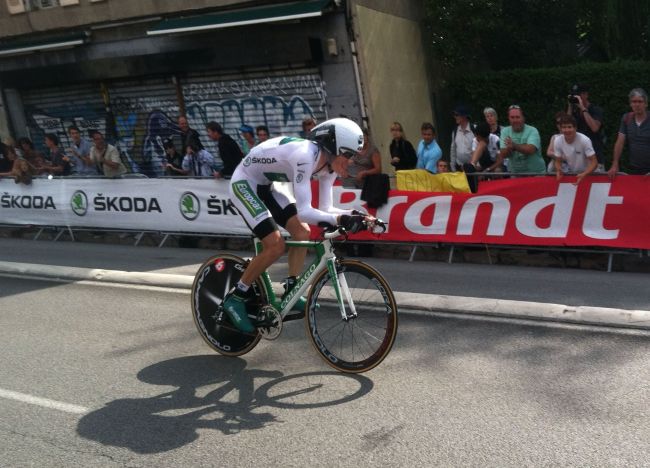 Pierre Rolland, white jersey for best young rider and winner of yesterday's stage up to l'Alpe d'Huez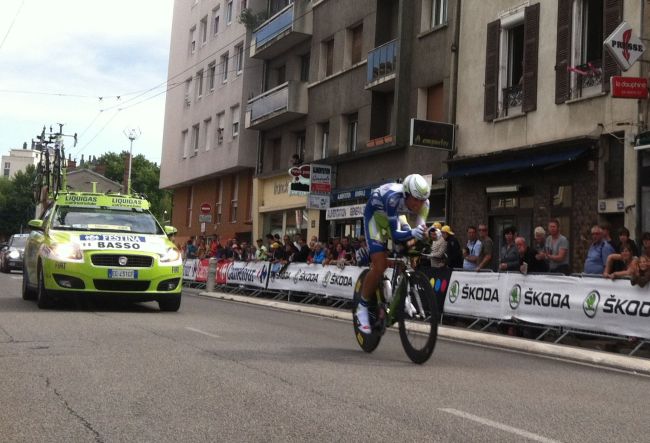 Ivan Basso had a great tour, 8th overall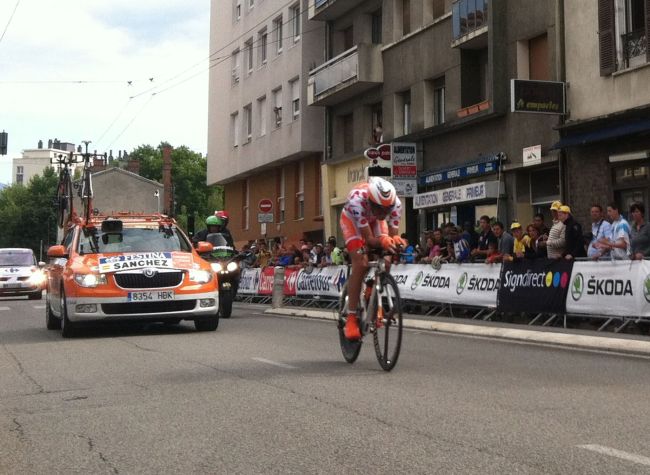 Samuel Sanchez, resplendent in polka dots, 7th overall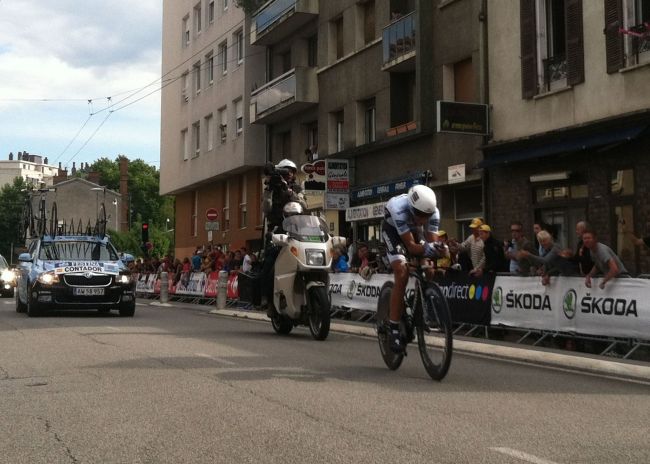 with the 3rd best time on the day, Alberto Contador passed Damiano Cunigo to finish 5th overall
somehow he gained more by finishing 5th this year than by winning last year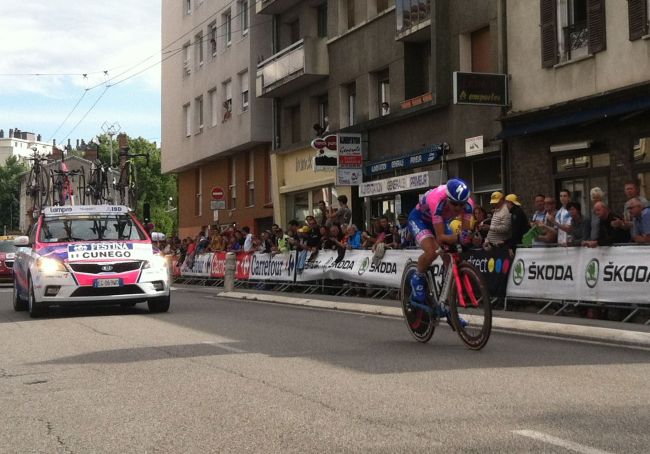 Cunigo had a great tour, ended up 6th overall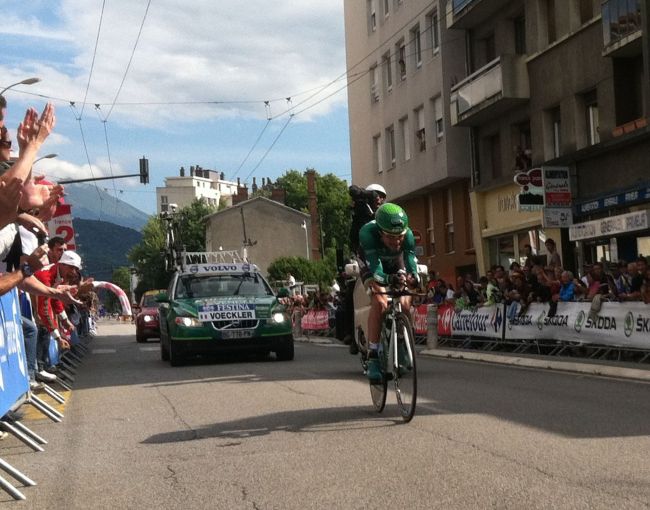 Thomas Voeckler was the French hero, 10 days in yellow, and finished 4th overall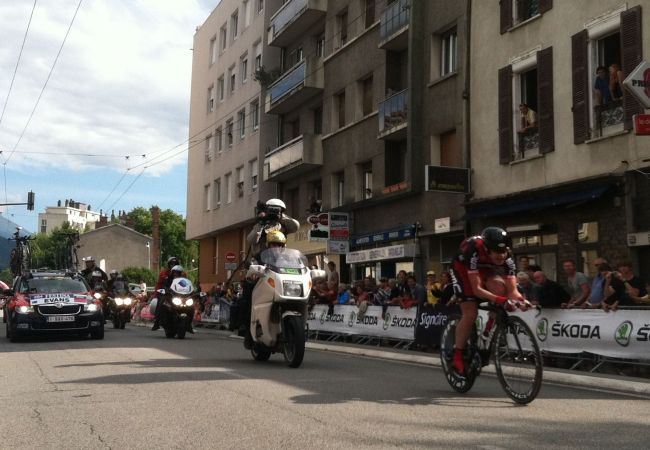 Cadel Evans blasted to a close 2nd to pick up over two minutes on the Schlecks
and win yellow!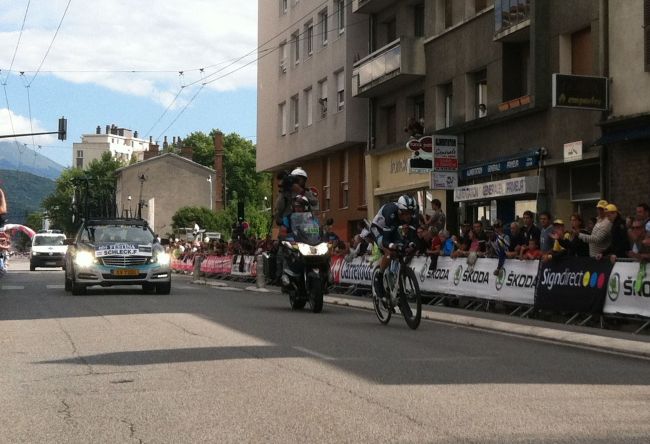 tick tick tick took Frank Schleck nearly six minutes to show up after Evans
(they started three minutes apart)
he did have a great tour and finished 3rd overall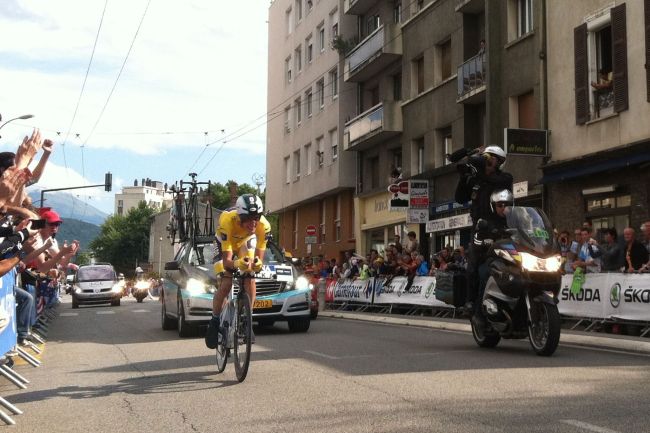 Andy Schleck enjoyed yellow for the day but had to give it up to Evans in the end
so now he finished 2nd for the third year in a row
look for him to come back strong next year!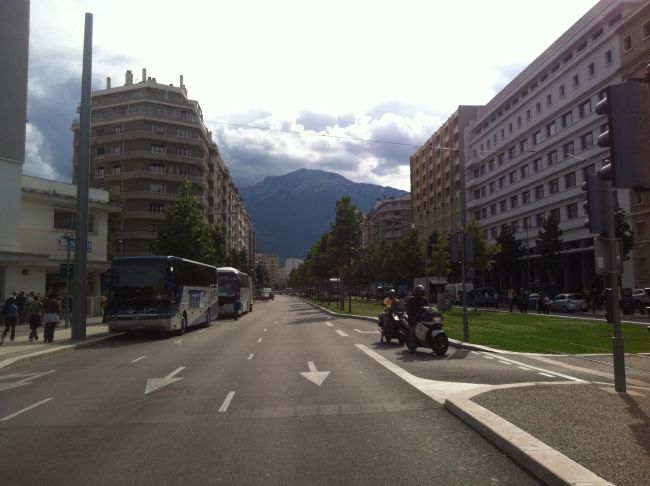 they say every road in Grenoble ends in a mountain; it is surrounded by beauty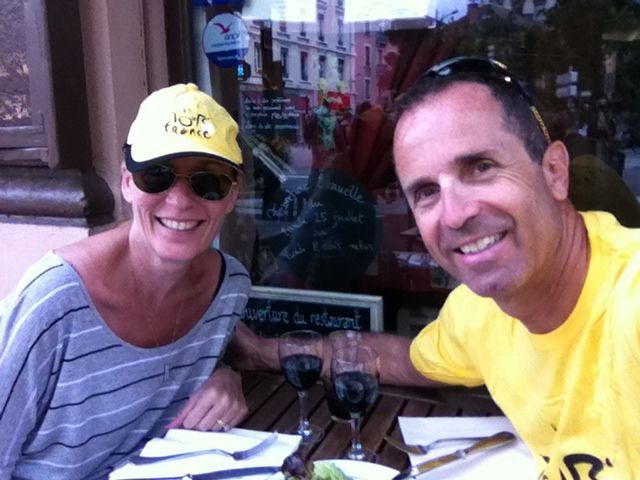 celebrating our TDF swag at a cafe
Just an awesome day. And later today we're off to the Champs d'Elysee to see stage 21 and the final finish. Stay tuned!
| | |
| --- | --- |
| TDF stage 21 / parade - Cavendish wins! and takes green (and we are there!) | |
What can I say? To be on the Champs d'Elysee for the finale to the Tour de France was awesome! It was a boring race even by last-stage-of-the-Tour standards - hardly any breakaways, easily chased down, and a bunch sprint ending in a runaway victory for Mark Cavendish - but it was great to be in the huge crowd, sense the atmosphere, and see the peloton flashing by.
A few pictures for your viewing pleasure: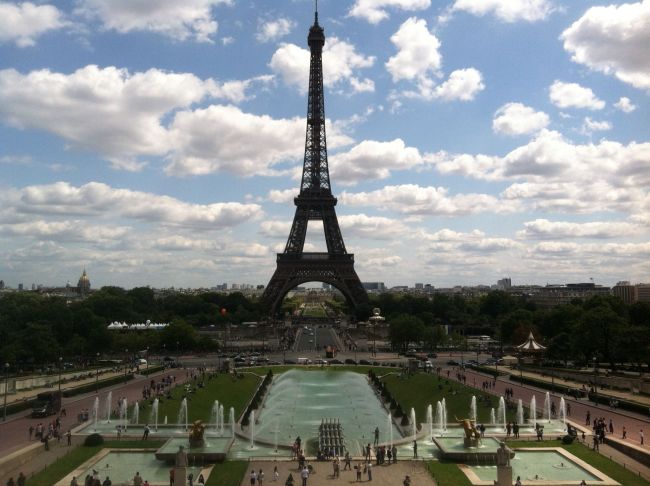 the scene: Paris!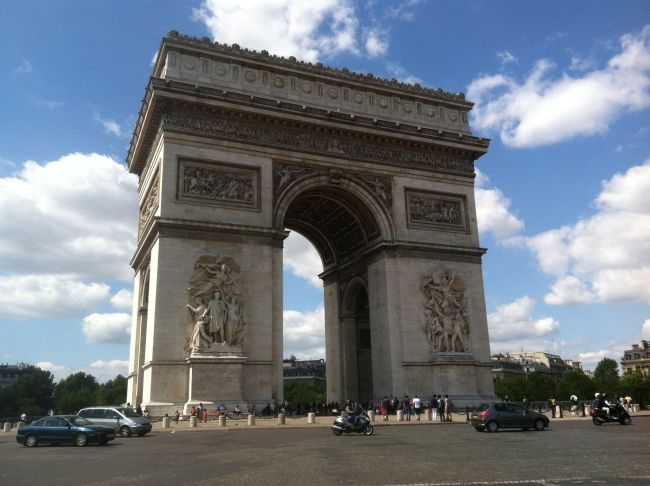 the Arc d'Triomphe punctuates one end of the Champs d'Elysee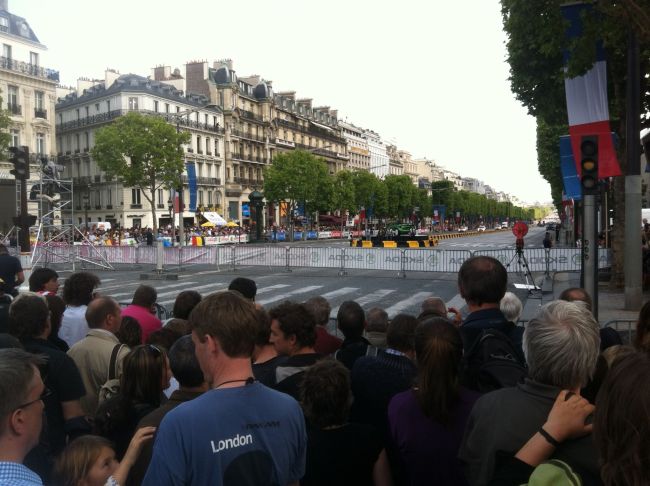 the Champs d'Elysee, perhaps the most famous shopping street in the world
converted on the third Sunday in July into the most famous velodrome :)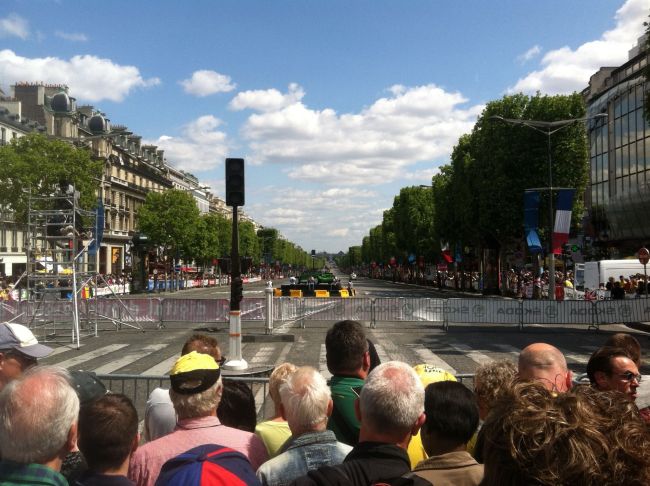 looking straight down the 3 mile racetrack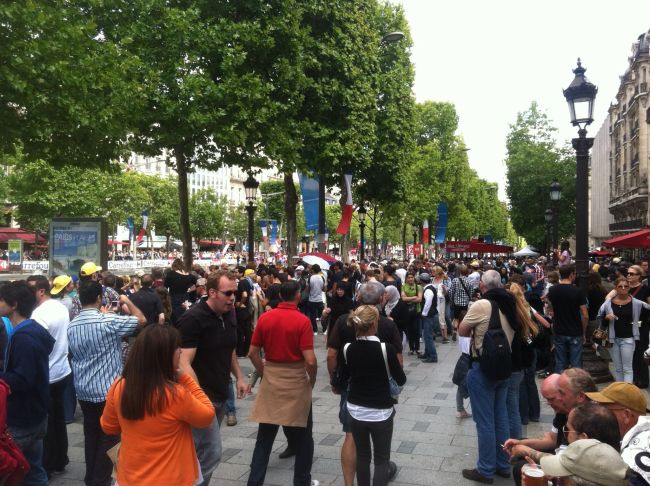 one kazillion people were on hand, wow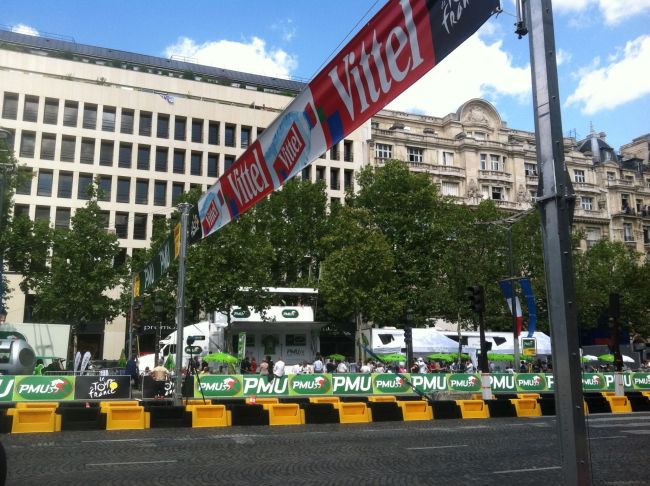 the intermediate sprint point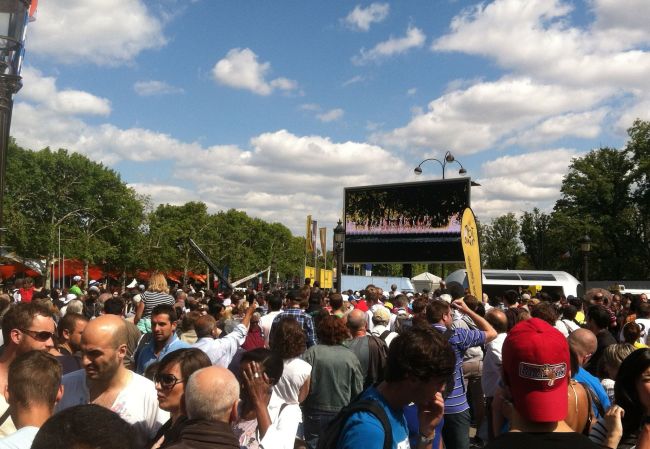 giant monitors relay the action for the crowd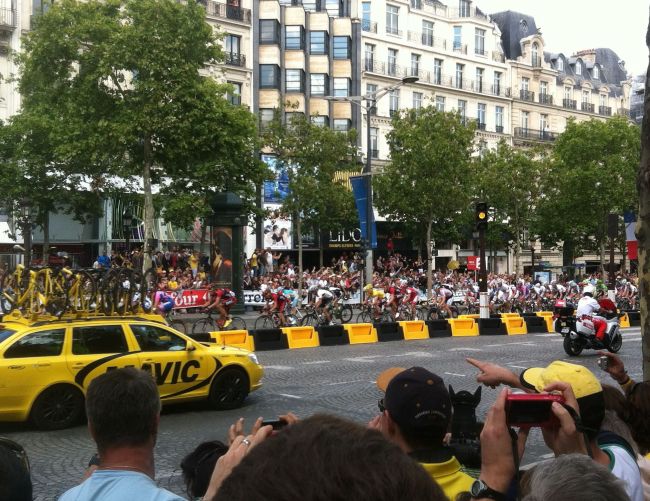 there they are! Cadel Evans looking good in yellow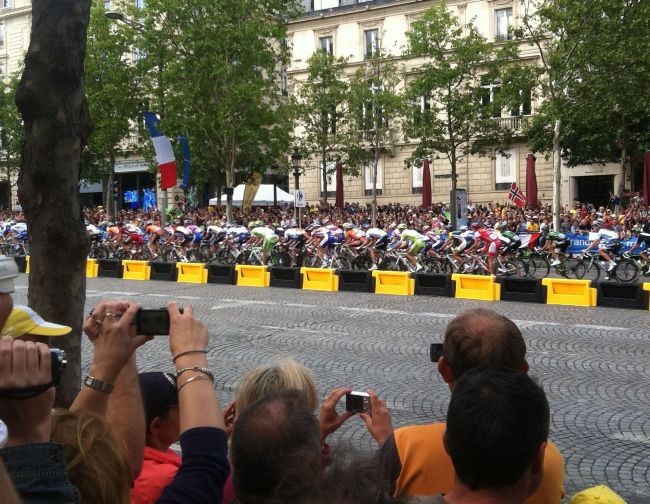 the peloton whooshes by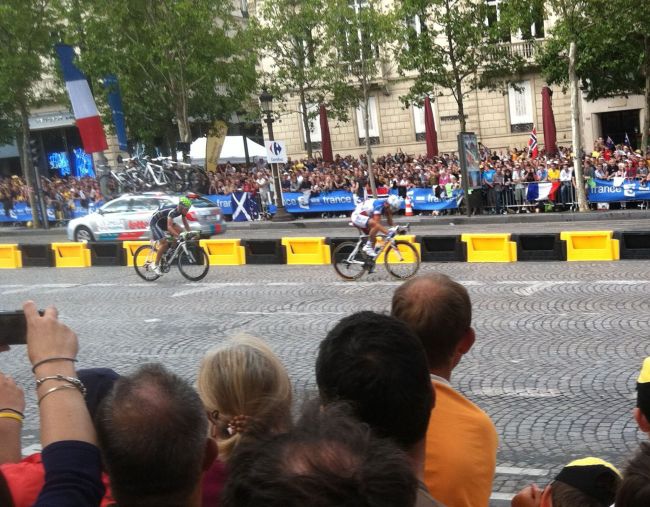 it's a break! - but reeled in quickly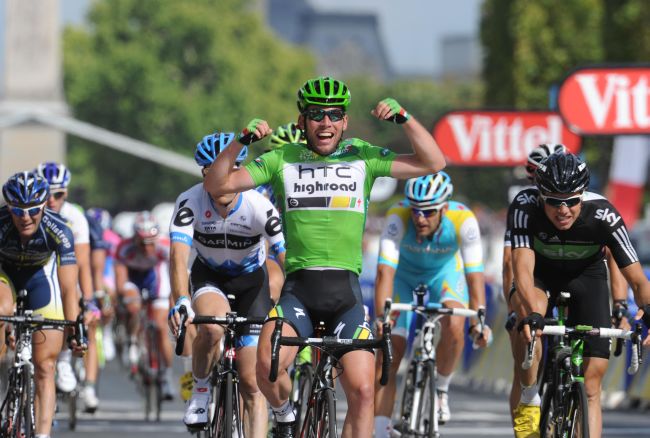 Mark Cavendish wins!
his fifth stage win, wrapping up the green jersey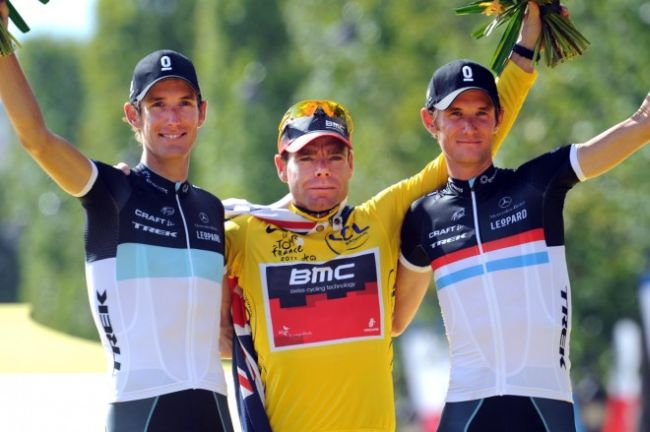 the final podium: Andy Schleck (2nd for the 3rd year in a row), Cadel Evans, Frank Schleck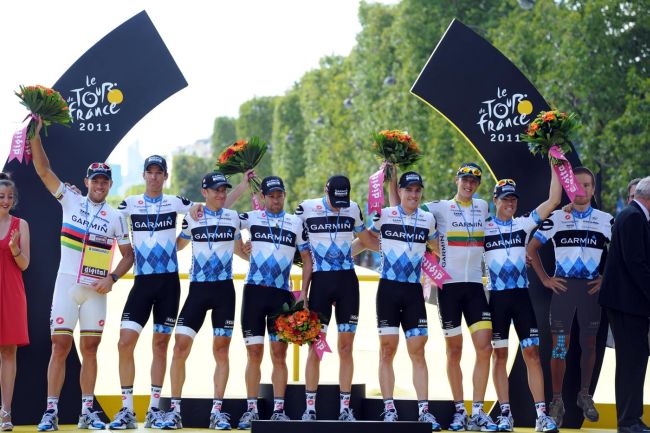 winning team: Garmin Cervelo
Thor Hushovd (world champion's rainbow at left) won two stages and wore yellow all the first week
note cardboard cutout of Dave Zabriske who crashed out
And so ends a great Tour, which had a little of everything. More than anything else it had drama, the end was in doubt 'till the last, many great attacks, many crashes, many heroes, many victims, and a number of interesting subplots. (And blessedly no doping scandals!) I will post some summary thoughts when I get back - stay tuned...
Archive: July 28, 2010
| | |
| --- | --- |
| Ouch! the morning after... | |
I am weirdly disconnected from my accident last night. I know that it happened, I can visualize the whole thing perfectly, but it seems like a dream. Not even a bad dream, just something that I experienced, but not in real life. I talk to the repair shop, I talk with my insurance agent, I talk with friends, and it all just seems like stuff someone else is doing as part of someone else's life. Maybe I just can't accept that my poor little car was thrashed so badly. Thinking about it, I do believe it will be okay in the end; I don't think the frame was damaged, or the engine, or anything fundamental, but it is going to take time and money to recover. The main damage will be to my wallet, yikes.
BTW thanks for all your well wishes. I *am* fine, but my poor little car is not :(
Archive: July 30, 2009
Back home, yay, with so much to do and yet it was a nice productive day back, actually did a "local" ride for the first time in, well, a long time, and had a nice dinner here at home with my girls. And watched the TDF stage 16 which was cool because of the "Lance attack" in the middle... and enjoyed the summer, which has been absolutely delightful - definitely cooler so far...
Stephen Marche in Esquire: "Nobody wants to hear it, but this fact is too important to ignore: So far, the first African-American presidency has been one of the worst ever for African-Americans." I have to disagree. He makes a compelling case but ignores the most important fact, the ceiling has been broken. Race has become less important, and that's what really matters...
John McCardell thinks we should eliminate a minimum drinking age; I agree. "The way our society addresses this problem has been about as effective as a parachute that opens on the second bounce. Clearly, state laws mandating a minimum drinking age of 21 haven't eliminated drinking by young adults - they've simply driven it underground, where life and health are at greater risk." Prohibition never works.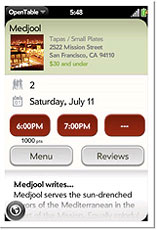 I see where there is an Open Table app for the Pre. Now that is useful, I love Open Table. They already have a web interface, but the app uses the Pre's GPS to know exactly where you are and find restaurants close by - exactly what I need. Yay, Pre apps are coming!
Oh, and there is an unofficial Google Voice app for the Pre, too. I must try this, a good excuse for signing up for Google Voice. Stay tuned for that!

PS Apple is definitely not looking good on the Google Voice app thing. I believe they went a little too far, and the ramifications are going to surprise them. That walled garden thing has a way of coming back on you...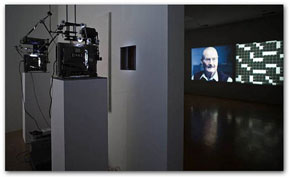 An art installation based on H.M., remarkable: Kerry Tribe's H.M. "What made the piece so remarkable was that it played back on two 16mm projectors, the film being delayed by exactly 20 seconds from one to the other." Wow, how cool is that? Cannot wait to see it... stay tuned!
Michael Arrington rethinks the news: The New New York Times. "The New New York Times, or NNYT, would have a writing staff of say 50 people. These are among the best journalists in the world, and let's say they wanted to pay themselves $200,000/year, a top salary for a reporter of that stature." I'm afraid Michael falls into the trap all journalists have to fear, thinking that writing matters. The business model of media is not based on good journalism, anymore anyway, if it ever was... sadly I guess.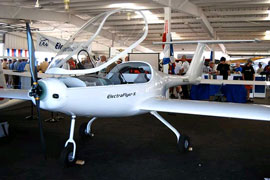 Here we have an electric airplane with room for two, the Electraflyer C. Yay, I want one! (and you know you do too...) How cool would that be... what a great time to be alive.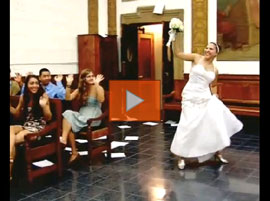 Everybody is linking this excellent divorce video, and so I will too, because it is excellent... and how cool is this, the record company which owns the rights to the song, Chris Brown's Forever, is linking to the video instead of filing take down notices.
Good question: Where are the alien space probes? I've been wondering that myself. I've looked, and I've looked, and I've looked... nowhere to be found! Of course there is always the possibility that they're right in front of our noses, and we just don't know what we're looking at...
Archive: July 30, 2008
Archive: July 30, 2007
Archive: July 30, 2006
Archive: July 30, 2005
Wow, I'm back.
A lot of sailing, a wonderful vacation with my family at Orcas Island, and a week of investor presentations. Those are my reasons, but they're no excuse, of course :)
Here's the view we had at sunset from our cabin:

(click for larger pic)
This is looking out over some lesser San Juan islands, into the Haro Straight, with Canada on the horizon (Sidney Island and Vancouver Island). Unbelievable!
What can I say about Lance Armstrong that hasn't been said already? He's amazing, and my hat's off to him. Defeating cancer, winning the Tour de France seven times in a row, and raising millions of dollars for cancer research through his Lance Armstrong Foundation. He is definitely going out on top.
While sailing I read a fascinating book called Lance Armstrong's War, by Daniel Coyle. Despite the title it really isn't about any war, instead, it is a detailed look at the innards of professional bike racing. The preparation, the mental games, the tactics, and the sheer unpredictability. Really great.
And check out this New Yorker cover from July 25: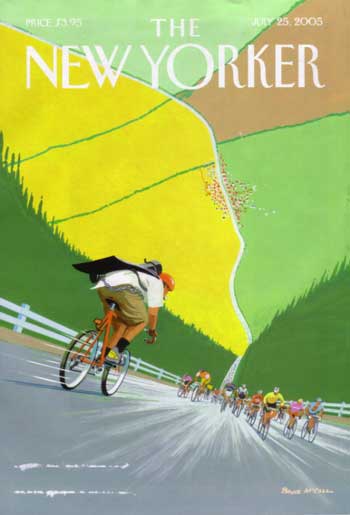 (click for larger pic)
The title is "Tour de Force"; I love it!
Last night Shirley and I celebrated our 13th anniversary. (Thirteen! Wow.) As is our tradition, we had dinner at Michael's in Santa Monica, still one of L.A.'s best restaurants after all these years. I proposed to Shirley there - unplanned, inspired by an out-of-this-world '81 Mayacamas - and so we go back to revisit the scene, so to speak. Not to mention, the food is always great, always interesting and great, the service is top-notch, etc.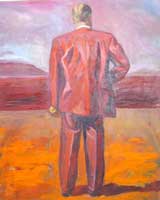 You probably don't care but for posterity I'll note last night's menu. We brought a bottle of '97 Araujo Eisele which was about as great as California Cabernet gets, which is to say, perfect.
Oysters, three kinds, with Champagne. (Shirley had an heirloom tomato salad.)
Foie gras, perfect, on polenta with pear, accompanied by a glass of Sauterne.
Quail with a wine reduction sauce, over a light salad of greens. Perfect with the Araujo.
Duck, two ways, a small breast and thin slices, with a Grand Marnier basting, and baby potatoes. Unbelievable.
Rack of Lamb, rare, with an olive jus that could be the best sauce I've ever had on meat. The lamb was perfect, and the sauce played off the Cabernet beautifully. (Who really really likes mint on lamb, right? This is how you do it.)
Cheese, five kinds, with figs. I would note especially the Epoisse which was awesome.
Flourless chocolate cake, with vanilla bean ice cream; Shirley had a creme brulee which was [as usual at Michael's] perfect. Accompanied by a '94 Taylor port which was amazing.
I may have had a better meal but I can't remember it. And of course Shirley was there to share it with, so what could be better than that?
| | |
| --- | --- |
| Ottmar's listening lounge | |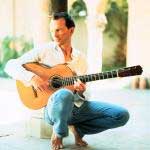 If you're a regular reader you know I love Ottmar Liebert. His music is amazing, and he's a savvy guy who understands that you can't put the technology genie back in the bottle, so you'd better embrace it instead. He and his team recently posted a new listening lounge, which is the exact way an artist should present themselves online, IMHO.
You can download free tracks, purchase tracks for $1 each (no DRM) in a variety of formats, browse through the music by tags, and explore other artists' work. And everything is released with a Creative Commons license. If you like Ottmar, you'll love the lounge, and if you're not familiar with him this is your chance to become acquainted!
Friends –
On Saturday August 6 I am again participating in the Westlake Sail-a-thon. This is the 12th anniversary of this event; last year it raised over $40,000 for Casa Pacifica Children's Crisis Center, which helps victims of child abuse and neglect.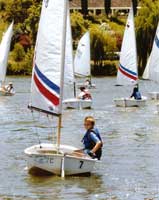 For nine hours participants sail "laps" around Westlake. Two years ago my team sailed 38 laps, more than any other team. This year we are once again going to try to break the record of 47 laps – wind willing! My team will again consist of myself, my daughters Alexis and Megan, and whatever friends they bring along…
I'd like to ask each of you to help by sponsoring us. Typical sponsorship levels are $.25/lap, $.50/lap, or $1/lap (about $10, $20, or $40, respectively). It really is a great cause. If you're interested in sponsoring us please just send me an email; after the event I'll report on how we did :)
Thanks in advance for your help and support!
P.S. And thanks to all my friends and colleagues who've already pledged their support; as of now if we sail 38 laps again we'll raise over $1,500. That's awesome!
I'm sitting in my back yard this morning, blogging, and yeah my posts are all over the map. Hey, when you visit my blog, you get what you pay for, and it's worth just about what you pay for it :)
Anyway, right now there's this dog at one of my neighbor's houses which is whining. I mean, really whining. What to do, if anything?
I am a militant neighbor when it comes to dog barkage. If you have dog, and it is barking in the middle of night, you are going to find a note on your door from me (with my name, address, and phone number) asking you to do something about it. Most people are nice but a few years ago someone was not nice, and they ended up with the police at their door. That's how it goes, you are not allowed to disturb your neighbors in the middle of the night. Okay.
Here it is, the middle of the day. You are allowed to make noise in the middle of the day. And this dog isn't barking, it is crying. This isn't barkage, it is whinage. There is a problem over there. Maybe the owners aren't home? But dogs get used to that, I don't think he's crying just because he's lonely. Maybe he's hungry, or maybe he can't reach his favorite bone? Don't know. But this is not a pleasant noise, and I want to do something about it! My beautiful Saturday morning is flawed by these urgent sounds from a fellow creature in distress.
Well, maybe I won't do anything. Some things you just cannot control. Could be time for a bike ride :)
Archive: July 30, 2004
Archive: July 30, 2003
Charles Krauthammer in Time: The Sleepy Superpower Awakes. An interesting discussion about the changing military strategy of the world's only superpower post-9/11.
Steven Den Beste is in rare form considering fanmail from flounderers:
"Well, let's try a little thought experiment. Let's schedule a debate, and invite a lot of voters. The first speaker stands up and makes a case for one position, laying out his explanation of why the problem happened, and then saying what he thinks needs to be done to solve it, and explaining why he thinks it will help. Then he sits down. His opponent, on the left side of the stage, stands up, grins at the audience, and pulls his pants down and moons the first speaker. He then returns his pants to their customary position and returns to his seat. End of debate. If the audience was not partisan ahead of time, which advocate is more likely to have convinced them?"

I love it.
Here's a strange feedback loop... The Houston Chronicle reports: "Global warming, which most climate experts blame mainly on large-scale burning of oil and other fossil fuels, is interfering with efforts in Alaska to discover yet more oil." [ via collision detection ]
Clay Shirkey ponders the backchannel. "It doesn't matter if the Wifi backchannel is a bad idea; it's not going away." I had the exact same reaction he did to the famous "calculators in school" debates, and I have the exact same reaction he does to the WiFi backchannel. It is what it is - move along.
John Robb thinks AOL's new strategy is a lot like Time Warner's old strategy - exemplified by the famous pathfinder.com debacle. "For those that don't remember Pathfinder circa 1996, it was an attempt by Time Inc. to bundle and repurpose all of its media properties into a single destination site. It was a monumental failure. Its return in AOL 9.0 is testament to the evaporation of AOL's braintrust."
Dave Winer: What changed with RSS? "Okay, so RSS needs defenders and explainers. Good news, it has them." This is the kind of thing Dave is talking about: How to Create an RSS Feed With Notepad, a Web Server, and a Beer. I suggest Heineken Dark. Meanwhile, Mark Pilgrim gives an Atom API primer. Although I think Pie -> [N]Echo -> Atom is getting another new name...
Dave also claims to be working on an the long-delayed unified spec for the MetaWeblog API. Excellent. As someone who has tried to code for it, I could have used it. Heck, by the time I was done, I could have written it, and almost did :)
Ottmar Liebert has experience with the Sony Glasstron I blogged about: "I thought the image quality wasn't very good - you could see the pixels - and using it made my stomach queasy!" So be it, another device ahead of its time, technology-wise...

Here's another cool gadget: the Prismiq. "Play MP3s and video files, view photos, stream Internet radio, chat with friends, and browse the Web - all from the comfort of your home entertainment center." Can anyone seriously doubt that this type of device will be part of every TV at some point in the near future? [ via PVRBlog ]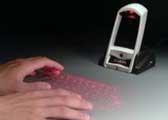 And here's another technology of the near future: the Canesta light keyboard. This addresses the biggest UI restriction of handheld devices; you could easily imagine this type of keyboard becoming part of every 'phone and PDA. It might not have the same tactile feedback as a "real" keyboard, but it is much better than a little teeny thumbboard.
BW ponders Verizon's Gutsy Bet. We're talking fiber to the home, the last mile. "'This is not a trial. It's a deployment,' says Bruce S. Gordon, president of Verizon's consumer division. 'The decision has been made, and it will happen. There's no going back.'" Excellent. There may be a day when cable modems and DSL seem as anachronistic as, well, dial-up modems.
Meanwhile, Cox tests Internet Phone Service. "Cox Communications will begin testing different voice over Internet Protocol (VOIP) telephone subscription plans later this year." Yeah, I bet VOIP will work great once we have fiber to the home :) So will multiplayer gaming.
Wrapping up, from the WSJ we have the latest trend: spotting trends! I am not making this up. "Suppose that all of a sudden, everyone, everywhere stopped following trends. Would that in itself constitute a trend?" How the heck did we keep up with all these trends - like avoiding trends - before the Internet :)
Home
Archive
'14 '13 '12
'11 '10 '09
'08 '07 '06
'05 '04 '03
flight X
About Me
W=UH
Email
RSS OPML

Greatest Hits
Correlation vs. Causality
The Tyranny of Email
Unnatural Selection
Lying
Aperio's Mission = Automating Pathology
On Blame
Try, or Try Not
Books and Wine
Emergent Properties
God and Beauty
Moving Mount Fuji The Nest Rock 'n Roll
IQ and Populations
Are You a Bright?
Adding Value
Confidence
The Joy of Craftsmanship
The Emperor's New Code
Toy Story
The Return of the King
Religion vs IQ
In the Wet
the big day
solving bongard problems
visiting Titan
unintelligent design
the nuclear option
estimating in meatspace
second gear
On the Persistence of Bad Design...
Texas chili cookoff
almost famous design and stochastic debugging
may I take your order?
universal healthcare
entertainment
triple double
New Yorker covers
Death Rider! (da da dum)
how did I get here (Mt.Whitney)?
the Law of Significance
Holiday Inn
Daniel Jacoby's photographs
the first bird
Gödel Escher Bach: Birthday Cantatatata
Father's Day (in pictures)
your cat for my car
Jobsnotes of note
world population map
no joy in Baker
vote smart
exact nonsense
introducing eyesFinder
resolved
to space
notebooks
where are the desktop apps?