| | |
| --- | --- |
| Iditarod day one: and they're off! | |
And yes, they're off, the 2015 #Iditarod is under way, with what is reported to be perfect racing conditions leaving Fairbanks. The course follows the Yukon River for the first 350 miles or so, meandering down to Nenana (60 miles), up to Manley (90 miles), through Tenana (66 miles), and then meeting the "normal" Northern route at Ruby (119 miles). Those are big gaps and while the teams are going to be moving fast along the river (10mph+), most mushers will camp out every 7-9 hours or so, rather than running checkpoint-to-checkpoint.
As usual the Iditarod website is the best repository of information, including the fabulous GPS tracker. Here's the view as of 10:00PM PST (Alaska time is two hours earlier):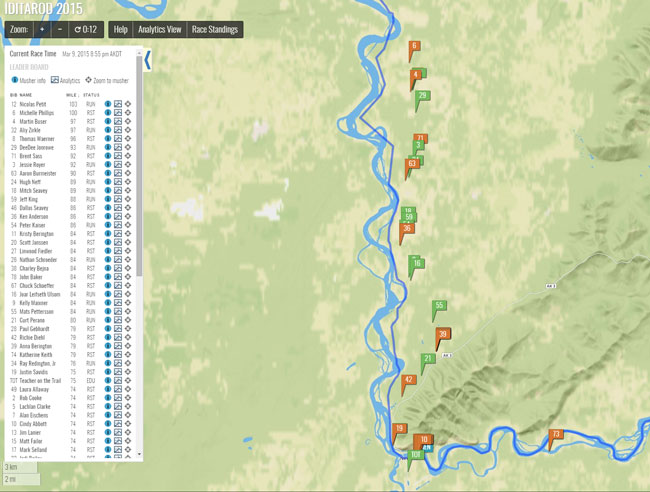 If you look closely you can see #12 Nicholas Petit is leading, at mile 103, with #6 Michelle Phillips and #32 Aliy Zirkle in second and third, at mile 100. My favorite #29 DeeDee Jonroe is in sixth, at mile 92. Go DeeDee! Green flags mean the team are running, brown mean they are resting. The tracker shows #73 Christian Turner is the "red lantern", the last musher racing. This might be the last tracker shot which shows all 79 teams.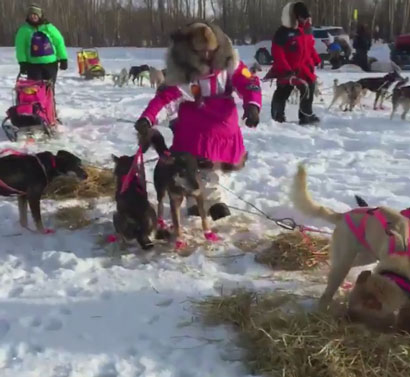 Here's a picture of DeeDee caring for her team in the Nenana checkpoint; she was only there for about 20 minutes before moving on. Care and feeding of the team while stopped is of course crucial so they can keep moving for a week. These dogs burn around 10,000 calories a day, and it's well known that you can predict how fast a team will run by watching them eat.
Right now there are no surprises in the leaderboard. Some mushers like Nicholas Petit and Martin Buser like to start fast and stay in front, others like Mitch and Dallas Seavey (defending champion), and Jeff King, like to start slower and let attrition take its toll. Seeing Lance Mackey thirty miles behind already is unexpected, but there's a looong way left to go.
[Update: you might enjoy this primer for Iditarod newbies, some great info...]