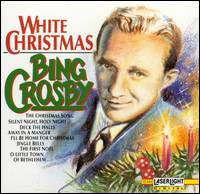 Back in the dawn of time, 2004, Shirley and I were decorating for a Christmas Party, and suddenly wanted to hear Bing Crosby sing White Christmas. I'm sure this has happened to you. So I fired up iTunes and poof there it was (yay), and a couple of clicks later we were listening to Bing in all his deep syrupy glory, coming to us from 50 years ago. It was amazing, and showed how the convenience of the iTunes / iPod ecosystem wasn't just in the ease of listening, it was in the power of *now*. I was so struck by this that I blogged about it, and you read about it :)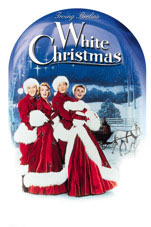 Spin forward to two nights ago, Shirley and I were assembling a basket of goodies for our daughter Nicole, who is in the Navy stationed in Sicily (!), and Nicole's favorite old movie is [ta da] White Christmas. So I fired up iTunes and poof there it was (yay), and a couple of clicks later we were watching White Christmas. Once again it was amazing, and once again it showed how the convenience of the iTunes ecosystem isn't just in the ease of watching, it is in the power of *now*. I am so struck by this that I'm blogging about it, and you're reading about it :)
(Before I go on, let me just say White Christmas is a great old movie, from 1954, and if you haven't seen it you should. Danny Kaye is excellent as Bing's sidekick, and the plot is wonderful, a perfect slice of that time. And of course the singing and dancing are first rate. And last but not least, the iTunes version's quality is amazing, beautiful HD picture and rich stereo sound. But I digress...)
So that would be the end of my story except for one teeny thing. We're here in California and Nicole is in Sicily, so we wanted to send it to her. Huh, maybe we could burn it onto a DVD? So I fire up iDVD, create a spiffy menu (featuring a nice family picture), point to the movie and... no good. iDVD will not burn a movie with iTunes DRM. Phooey. I quickly Google for "remove DRM from iTunes movie", and get a million hits. There are all sorts of tools and ways people have figured out how to do this (damn the DMCA, full speed ahead). But at the end of the day they all use "the analog hole", that is, they all rely on some means of playing the movie and then re-recording it. I tried one called Tunebite and it sort of worked, but the quality was awful. There doesn't seem to be any way to actually strip the DRM from the movie (paging DVD Jon!) and retain its digital quality.
The situation is different for music; you can strip DRM from iTunes music pretty trivially by burning a music CD and then ripping it to MP3. Kind of clunky but works just fine. And in this case just burning a CD would have sufficed. But the restrictions on movies in the iTunes store are more severe than those on music and they won't even let you burn a DVD. I must tell you I was thinking black thoughts about the MPAA (not Apple).
Okay, what to do... this is the part where I blog about breaking the law. I launched Shareaza, a Gnutella2 client, searched for "White Christmas", and immediately found hundreds of copies "out there". And I downloaded one... took about six hours running in the background... and this gave me a non-DRMed version which I could burn onto the DVD. And so I did, and so Nicole will now get a spiffy DVD from us with White Christmas. The quality was just fine, probably the xvid codec imposed most of the artifacts to get the movie size down to 700MB. Most likely it originated from someone who owned the DVD and used Handbrake to rip it. Please note movie people (and Apple people): I would have gladly paid $10 to burn the movie to the DVD, but there was no way to do that, so I resorted to piracy. Thanks.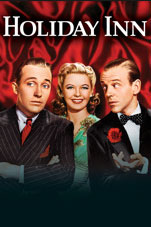 In the course of trying various ways to get a burnable version of White Christmas I watched the opening of the movie a number of times, wherein Bing Crosby sings "White Christmas" to the assembled troops on Christmas Eve, and it gradually occurred to me: that version is not the version I'd bought in 2004. They're both cool old versions, but different. So I Googled and Wikipediad and discovered what I'm sure you already know, that White Christmas (the song) did not originate with White Christmas (the movie). The song was written by Irving Berlin for a movie called Holiday Inn, ten years earlier. Huh. So last night I fired up iTunes and poof there it was (yay), and a couple of clicks later we were watching Holiday Inn, starring Bing Crosby and Fred Astaire. Once again it was amazing, and once again it showed how the convenience of the iTunes / AppleTV ecosystem isn't just in the ease of watching, it is in the power of *now*. I am so struck by this that I'm blogging about it, and you're reading about it :)