| | |
| --- | --- |
| Iditarod: day 2 ... up the Alaska Range | |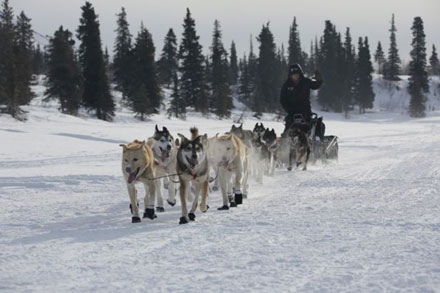 This morning we recap Iditarod 2016 day 2, as "the peleton" make their way up the Alaska Range to Rainy Pass. The leaders have already started down the backside, through the most treacheous sections of the race, Dalzell Gorge, and then Farewall Burn.
[at left, Nicolas Petit and team]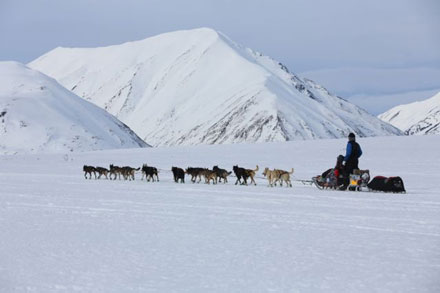 Leader Nicholas Petit has nearly made it to Nikolai (#12 on the map below), closely followed by defending champion Dallas Seavey (#16) and his father, four-time champion Mitch Seavey (#19). Wade Mars, Hugh Neff, Peter Kaiser, perennial contender Aliy Zirkle, and brothers Lance and Jason Mackey complete the top ten. No surprises so far. Many of these teams will stop and take their 24-hour rest in Nikolai.
[at right, Dallas Seavey and team]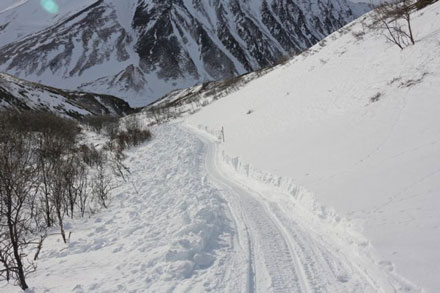 The reports are that the Dalzell Gorge is in much better shape this year than it was in 2014, a year when many competitors wiped out there, and more than a few had to drop out afterward. Plenty of snow and good trails.
[at left, Dalzell Gorge trail]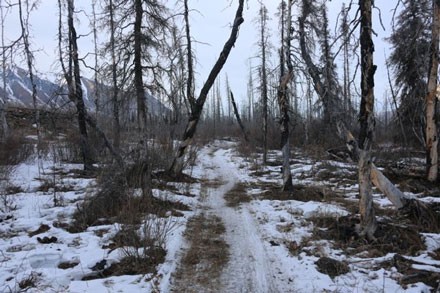 Similarly for the Farewell Burn, a desolate area in the middle of nowhere where you are surrounded by the ghosts of old trees burned by a fire.
[at right, Farewall Burn...]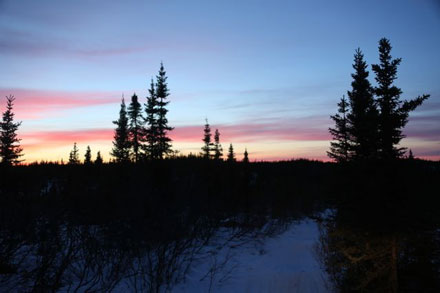 Race veterans say if you can make it to Nikolai, you can make it to Nome. Of course there are still 700 miles to go, long cold stretches along the Yukon River, and icy wind along the coast of Norton Bay. The possibly of dogs encountering moose. And the ever-present possibility of bad weather.
[at left, sunset coming into Nikolai]
[The pictures are from the amazing Sebastian Schnuelle, a successful musher in his own right who is following and blogging the race, and taking a bunch of great pictures. Be sure to follow him on the Iditarod website.]
Onward to Nome!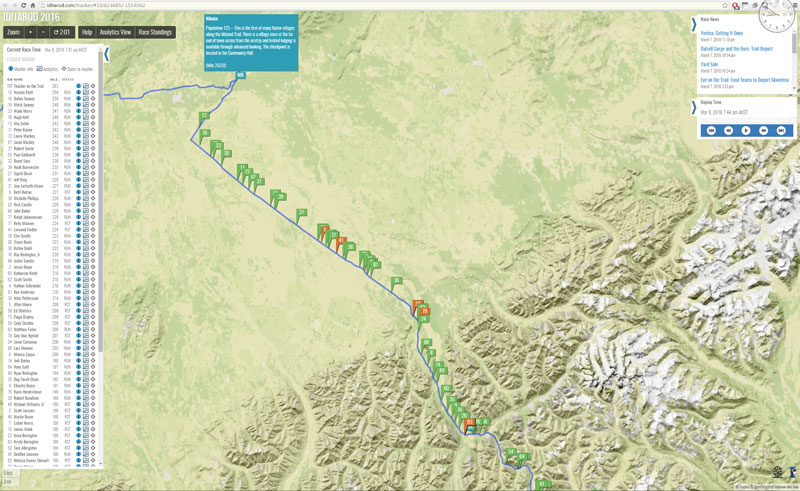 (click to enbiggen amazingly)