December! Wow. Should be great... :)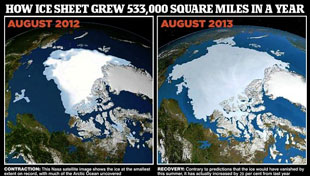 An inconvenient truth:return of the arctic ice cap as it grows 29% in one year. This is the same year that some pundits are calling the "hottest on record". I'm not a climate denier, more of a climate skeptic. Seems like behind every liberal cause is a desire to profit from it, making the innate virtue of the cause harder to judge.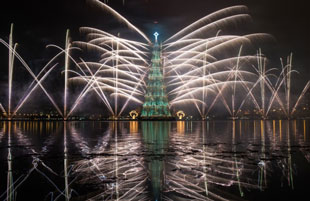 Continuing our theme of big Christmas trees ... check out this huge floating Christmas tree in Rio de Janeiro's harbor. Wow.
Continuing our theme of not coercing people into helping others: Penn Jillette on compassion: "Helping poor and suffering people is compassion. Voting for our government to use guns to give money to help poor and suffering people is immoral self-righteous bullying laziness."
If you're Microsoft, this is not good news: Win 7 handily bests Win 8. This is Vista all over again, except that this time the desktop is less important. Microsoft better get Win 9 out soon...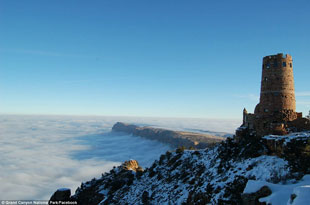 This excellent once-in-a-decade phenomenon happened yesterday: gorgeous photos of the Grand Canyon filled with fog. Wow. Looks like a lighthouse on a seacoast, doesn't it?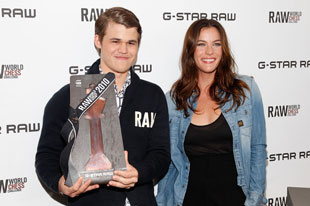 Magnus Carlsen, the new king of chess. How interesting that in this era when computers can beat humans, humans still have good new games against one another. There is so much more complexity to chess than you would imagine from the relatively simple rules...
Yes that *is* Magnus with Liv Tyler; perhaps Brent Musburger will now advise teenage boys to play chess?
Doc Searles: how to rescue radio. Um, radio? Buried in the article is an important tidbit: the latest iTunes does have Internet radio, but you have to explicitly enable it via a Preference.
Parenthetically, my car came with Slacker, a Pandora competitor, and I love it. Listen to it all the time, this has pretty much replaced listening to my music from my iPhone, even though it syncs perfectly via bluetooth. I like the spontaneity of hearing music I've never heard, or haven't heard in forever...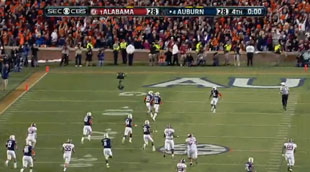 BTW Football Saturday sure came through; has there ever been a day with so many close games? And yay, all of my teams won, how rare is that?
Onward ... into December!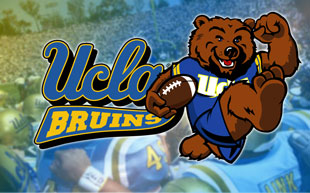 A great day to do nothing ... hang out, maybe do a little kayaking, and print some gnomes :) Oh, and watch football! We have Alabama-Auburn (go Tigers!), and Stanford-Notre Dame (go Cardinal!), and then USC-UCLA (go Bruins!) And let's see what else is going on...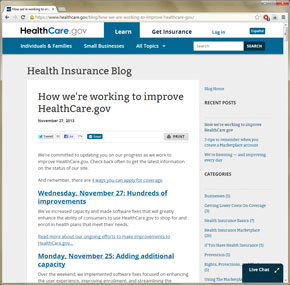 So tomorrow is the big day for Obamacare, when healthcare.gov is supposed to work. I'm sure you, like me, are planning to go right these and register. But even if they fix the website - which I somehow doubt - they won't be able to fix the general approach of "redistribution"; those like you and me who pay for medical insurance will have to pay more, so that those who couldn't get it before now can. I'd be willing to pay a little more for insurance - true hedge against disaster - but not much, and not for maintenance. Kind of like the way all of us pay a little more for car insurance so some people can get "assigned risk" policies...
Related: The Heath Care Blog considers what if the Affordable Care Act enrolls a lot fewer people than predicted? Depending on who does enroll, we'll all pay more.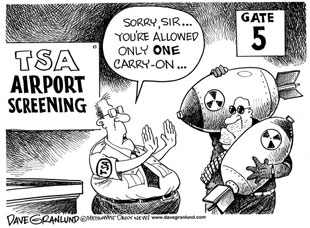 So here's a question: do you feel safer traveling by air with the TSA protecting you? I don't. This is yet another example of government doing something poorly and more expensively than private industry.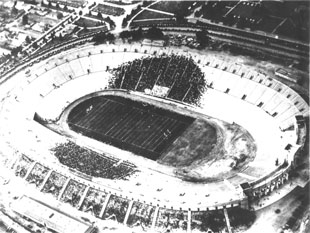 Wow, too much seriousness for Football Saturday, right? This picture is the LA Coliseum in October 1923, soon after it was completed, hosting its first football game between USC and Pomona, before 12,000 screaming fans. (click to enlarge) It will look slightly different today, with a few more people in attendance :)
[ Update: By the way, how cool is it that we have a picture of this? Must have been taken by an intrepid pilot in a litte biplane, with their little iPhone :) ]

Can you identify all the different sports teams which have called the Coliseum home? Hint: In addition to football it has been used for baseball*, basketball, and ice hockey... and has hosted two Olympiads, two Super Bowls, and yes, one World Series... and of course Pink Floyd playing The Wall.

* in 2008 it hosted the largest crowd ever to watch a baseball game, 115,000 people... Dodgers - Red Sox.
Okay, pass the Wheat Thins and nobody gets hurt...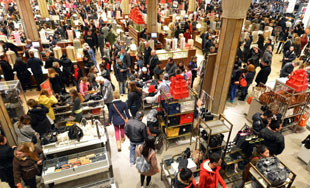 Good morning blog public! Did you all have a wonderful Thanksgiving? I hope you did - I did :) - and I hope it left you refreshed and ready to attack Black Friday. As I type this at 10:30am I know some of you have already been shopping for hours, either in malls or at your keyboard. Good for you. My plans for the day are more modest, I'm planning to put up lights on the house, made a little more interesting by the threat of rain... stay tuned!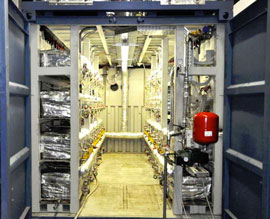 Here's something not everyone will buy: Order your very own cold fusion reactor. I'm not buying "cold fusion", let alone this $1.5M alleged implementation of it.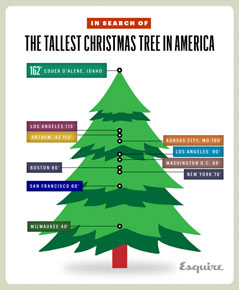 Something else I will be doing soon: In search of the tallest Christmas tree in America. Well, okay, mine will only be about 10' tall, but ... still. A worthy search.
So I switched! Yep, I did it; made Chrome my default browser instead of Firefox. This has been brewing for some time; let's face it, Chrome is faster, and it uses less memory. I had tried this before, only to discover that Chrome always opens links in a new tab, and there's no way to change this behavior. Ah ... but there is! Thanks to the simple and functional New Tab, New Window extension, Chrome now opens links in a new window. Onward!
Given the platform capabilities of Chrome - including native code execution - perhaps it isn't too early to predict someday the OS will disappear, leaving only Chrome... Mommas teach your children JavaScript!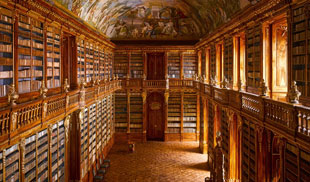 This is cool: the world's most incredible libraries. Pictured, the Strahov Abbey library, in Prague. Looks like the perfect place to curl up with your Kindle.
How much weight will you gain from Thanksgiving dinner? In my case, I think that is directly tied to another question, how much will I ride this weekend! :)
| | |
| --- | --- |
| Happy Thanksgiving! (NY 12/02/13) | |
Hi everyone, Happy Thanksgiving!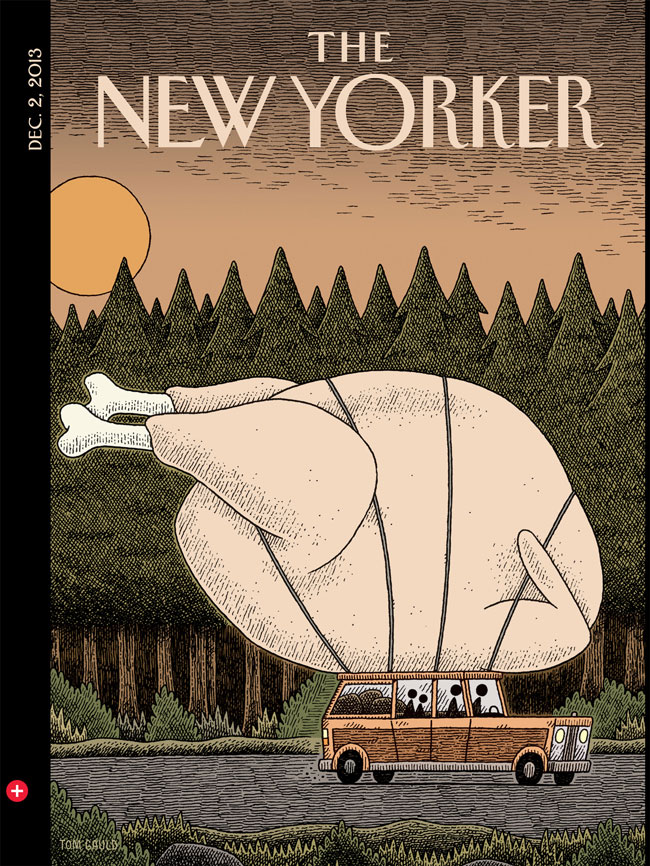 I have many things to be thankful for ... my family and friends, my work, cycling and sailing, and ... you my blog friends! I hope you have a fantastic day filled with football, cheese and crackers, turkey and potatoes, pie ... wine ... and your family and friends. Tomorrow is a new day and we can look ahead, but today we can enjoy just for today.
A quiet little day today; you know you didn't get much done when your biggest accomplishment was drafting a press release. Still, it did get drafted. I had a lot of time, so I was able to make it quite short :)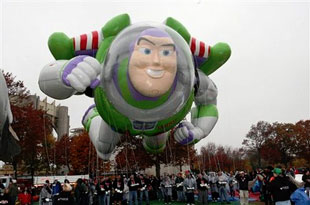 You know we're doing okay when worrying about whether there's too much wind for the Macy's balloons is a top story. Still, we worry, because they're fun. To infinity, and beyond!
By the way I must confess, I just rewatched the whole Toy Story series. Pretty great, and they hold up amazingly well. Toy Story 2 has to be about the best animated movie ever.

Want to play with your family a bit tomorrow? Maybe make some Grime Dice to confound them. In which, Dice A will systematically beat Dice B, which systematically beats Dice C, but C beats A. Paging Kurt Godel...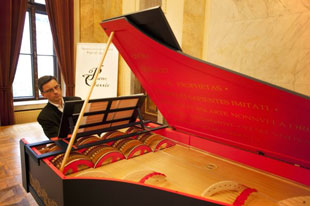 Leonado da Vinci invented numerous devices that he never built*, including the viola organista, a machine-line instrument that combines a harpsicord, organ, and viola da gamba. This 500-year-old idea is now a reality, however, thanks to Polish musician Slawomir Zubrzycki. Cool. Some people have too much time on their hands, and we are glad they do!
* while I was non-blogging last summer I visited Tuscany, and Vinci, and the da Vinci museum, which features cool scale models of many of Leonardo's designs. Way cool and well worth seeing.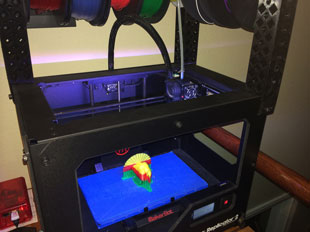 Okay, back to printing wild turkeys ... :)
Pretty cool: FlightAware's Misery Map shows you, by city, how likely you are to be delayed.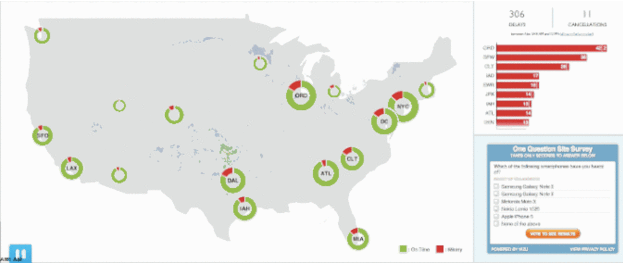 This is just an animated example, your mileage may vary. May the odds be ever in your favor...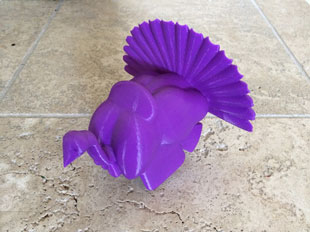 Today ... was a good day :) Feeling very Thankful on many fronts...
(yes of course ... that is my 3D-printed turkey)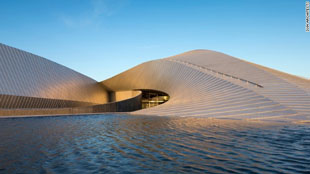 Here we have ... the world's sexiest buildings! I have to admit, they are amazing. I love that building materials are now so strong that architecture can looking like anything you can imagine, instead of being a slave to functional strength. Pretty soon buildings will be 3D-printed like turkeys :)
I have to agree with this: Let's kill the aid industry. "Most development aid is actively harmful. Selling goods for less than production cost is dumping, a business practice condemned as predatory; aid is just dumping with the price set to zero."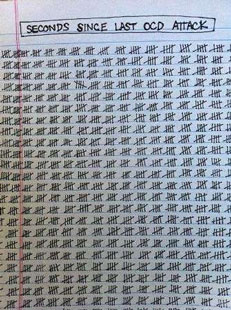 Thirty infuriating images that will trigger your OCD. Hehe.
Did you know? It turns out that cabbage, kale, broccoli, brussels sprouts, kohlrabi, collard greens, and cauliflower are all the same species of plant (Brassica oleracea). And so ... I like cabbage, kale, and broccoli, find caulifower to be meh, and do not like brussels sprouts. Go figure.
From the Oatmeal: how to suck at your religion. There's one good way, which is toinsist that I have to care about your religion. Unfortunately religions are mental viruses, and the most successful are designed to pull in new hosts.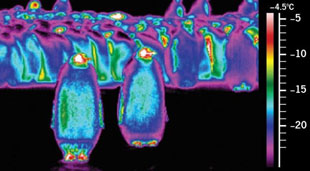 Thermal images of Emperor Penguins show how they stay warm. I think Penguins are so cool!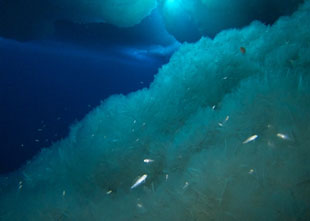 Related: the gorgeous, dangerous world below Antarctic ice. Brrr...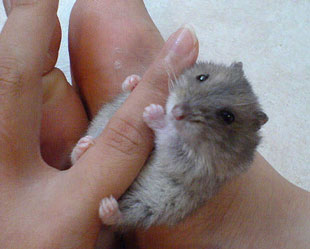 Tiny animals on fingers. Pretty much the cutest things ever... wow.
Just in time for Thanksgiving, here's a handy naming guide for big bottles: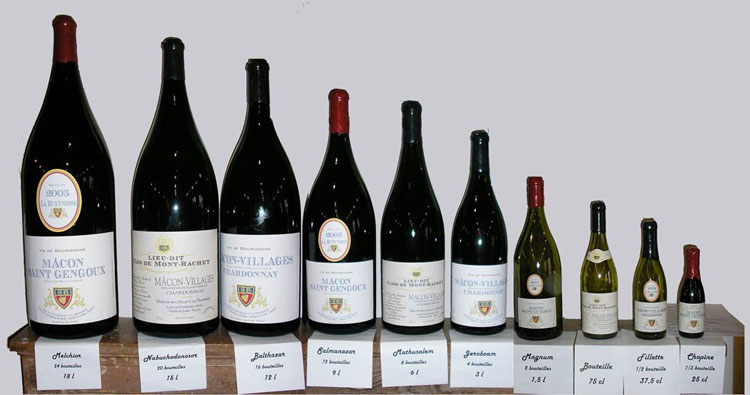 (click to enbiggen further :)
Did you know? In addition to looking and well being cool, big bottles also taste better. Apparently there's something about the chemistry that causes wines to age slower but better in big bottles. Enjoy a Nebuchodonesor today!

A quiet day of coding, in which I discovered a brand new way to develop C++ for Linux, Eclipse CDT, and used it to create a whole bunch of new bugs :)
I love this: Russell Beattie on writing and blogging: that weird background process. "Since I stopped posting to Twitter and Facebook and start blogging long-form again, I've been 'blogging in the back of my mind' more and more. Do you do that?" Yes, yes I do!
Scott "Dilbert" Adams wonders What if stupid people organized? (I'll avoid the snarky comment that maybe they already have :) Personally I would rather see the pendulum swing the other way...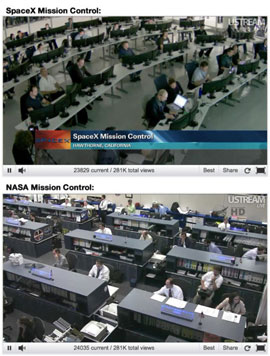 Today SpaceX almost launched an SES satellite into geostationary orbit... this is 22,000 miles from Earth, nearly ten times as far as the 250 miles to the International Space Station which has now been reached by SpaceX rockets several times. Punch line: delayed to Thursday. But check out this comparison of SpaceX's mission control to NASA's... a few more laptops and a few less binders :)
From kottke: some intellectual jokes. Here's my favorite: "What does the "B" in Benoit B. Mandelbrot stand for? Benoit B. Mandelbrot." Reminds me of the excellent self-referential: TLA.
Way useful: how to force Facebook to grab the best image from your page. The punchline: <meta rel="image_src" href="...">. You will also want this link to Facebook's "debugger", which shows you exactly what they see.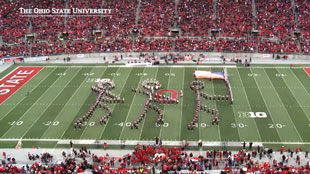 Ohio State University's marching band is pretty awesome; check out this tribute they did on the anniversary of the Gettysburg address. Wow. For more OSU coolness, here's a classic tribute to classic video games.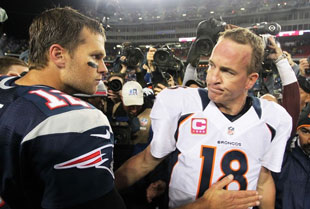 The average NFL game has 100 commercials and 11 minutes of action. After watching this weekend, I can believe it. A strong argument for Tivo :)
But did you catch last night's Denver / Patriots game? Wow. Those were some amazing 11 minutes!
An interesting debate, of interest to me: Android vs IOS development. Aka, for which platform should you develop first? IOS in the US, Android elsewhere, apparently, but there are also some interesting technical trade-offs, including Xcode vs Eclipse, and Cocoa vs Java. That there isn't a clear answer makes the whole thing more interesting.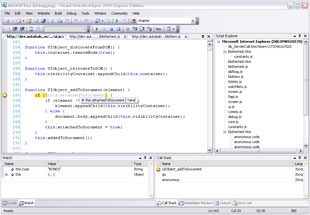 And finally, so I can find it later: Basic Javascript for the impatient programmer. A beautiful overview by Axel Rauschmayer, who often posts interesting "expert" articles about Javascript as well...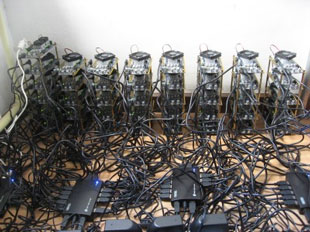 Do you understand bitcoin? If not, or even if you do and just want to learn more, check out Wired's Bitcoin Survival Guide. I've gone from thinking it's a weird fad to thinking there's something to it to thinking it seems to be getting traction. It reminds me of much of the backstory for Neal Stephenson's classic Cryptonomicon, the desire for a currency which doesn't need a central administration to regulate it or establish its value. Long term this would be pretty compelling; short term, we'll see if the [in]stability of bitcoin holds up.
At right, a bitcoin "mine" in action, from the collective hallucination of currency, which is a nice reference.
For more, you might enjoy Bitcoins Bitcoins Everywhere, from Brad Feld, which has a bunch more links...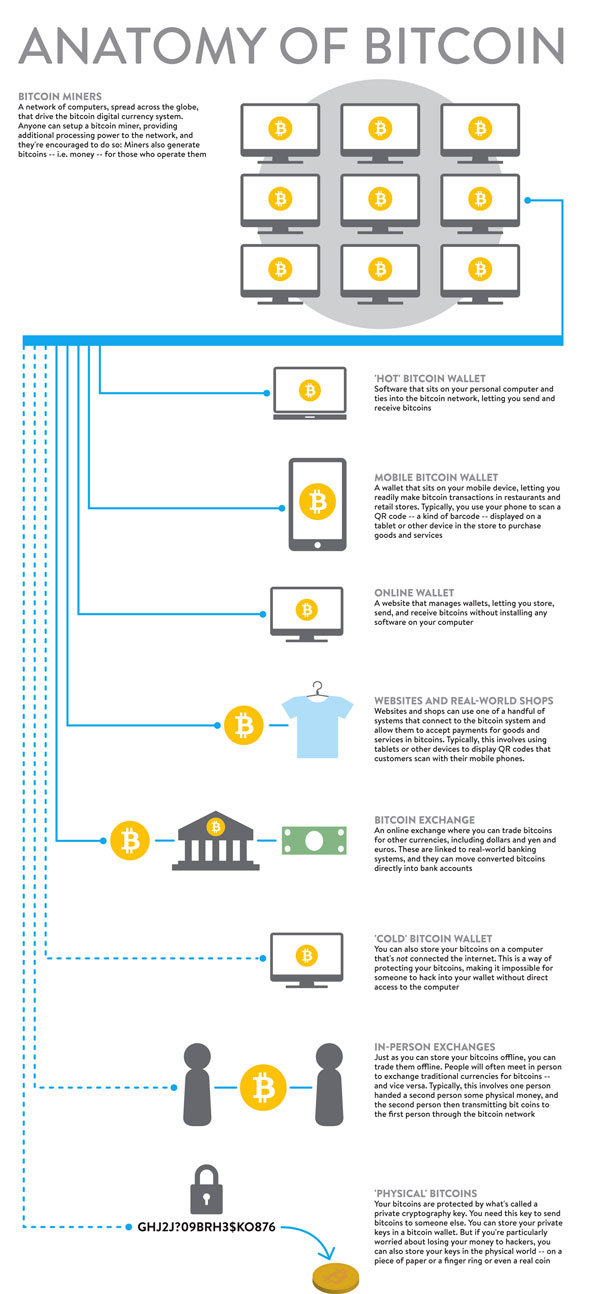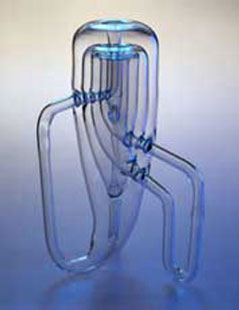 Onward, into the calm before the Thanksgiving storm ... a quick filter pass.
(the picture is my current 3D printing challenge, nested Klein bottles :)
Apparently 3D printable "physibles" are the next frontier of piracy. So be it. I predict this will go about as well as fighting audio and video copying...
Scott "Dilbert" Adams: I hope my father dies soon. A powerful argument for the government to stay out of the way when it comes to things like doctor-assisted suicide.
I agree with Maria Kang. We have to stop pretending it's okay to be fat and out of shape. As soon as I travel away from LA, as I did last week, I'm amazed at the borderline obesity you see everywhere. Not that it doesn't exist in LA either, but somehow it is less acceptable. Or at least not celebrated.
Maria was banned from Facebook for posting her opinion. That's terrible. I doubt I'll be banned for posting mine, but we'll see :)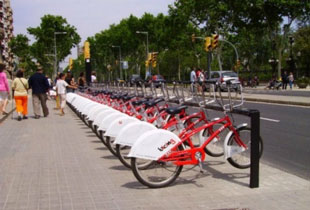 Six awesome bike sharing schemes from around the world. Awesome indeed. My first contact with such schemes was when I was in Dublin this Spring, but unfortunately I needed an Irish bank account. Not too tourist friendly.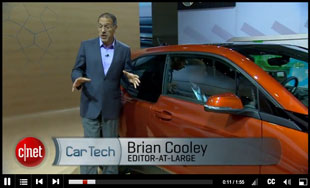 I didn't attend the 2013 LA Auto Show, but thanks to this C|net overview video, I didn't have to... the BMW i3 looks ugly, but it's all-electric, so that's cool, meanwhile the Jaguar F-type Couple looks amazing, but it's old technology under that hood. And the Cadillac ELR is an upmarket Chevy Volt, with a bit of both. And we now have hydrogen cars (!), at least as auto-show concepts.
How much ad / survey / link-me crap can a web page have? This one seems to be trying to find out.
How did I miss this? Halley Suitt shares her eBook secrets, and I agree with all of them:
No glasses required. (Change font size!)
No lights required. (Book light or backlight)
Count Alexei Kirillovich Vronsky. (Search for anything instantly)
Have I got a deal for you. (Cheaper all the time, and lots of deals most of the time)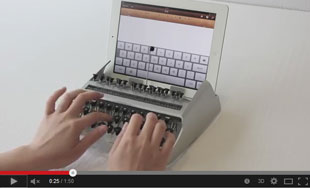 For the Luddites in all of us: the iTypewriter. The best way to type on an iPad? [ via Daring Fireball ]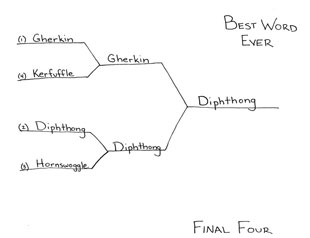 This is most excellent: tournament-style brackets used to choose the best English word ever. What's your favorite?
(I like "diphthong" but I don't think it would make my final four...)
Another great list: Daniel Dennett on how to argue well (I wouldn't argue with any of this :):
Attempt to re-express your target's position clearly
List any points of agreement
Mention anything you have learned from your target
Only then say so much as a word of rebuttal or criticism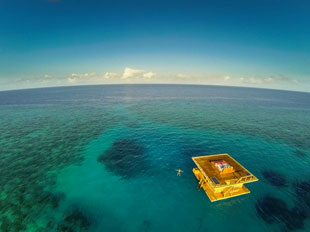 A must-visit? Africa's first underwater hotel. I'm actually pretty drawn to the deck on the roof, looks like a perfect spot for reading :)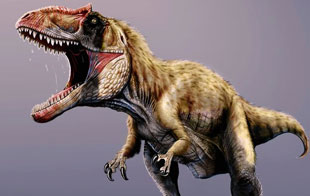 Excellent! Massive new dinosaur discovered in Utah. It looks terrifying, but we have to work on that name. "Siats Meekerorum" just doesn't have the same ring as "Tyrannosaurus Rex".
Onward into the week!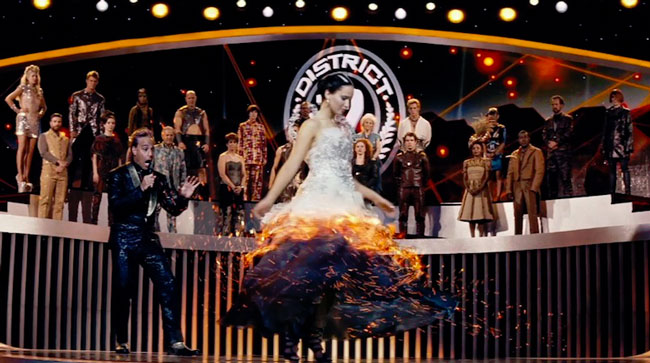 Watched Hunger Games Catching Fire today, and thought it was great. A most worthy sequel, and amazing in its own right. The direction and production values are excellent (those costumes!), and the story was simplified and embelished perfectly to adapt the book to a movie. My only complaint is that since the book is written in the first person, there's a lot of subtley that viewers who haven't read the book might miss, but so be it. Overall it was excellent!
My favorite moment was when Katniss' wedding dress turns into a mockingjay outfit. Perfect.
It would be perhaps too obvious to say Jennifer Lawrence is great, but ... she is. In fact the entire cast are as well, faithful to the characters from the book, and ... interesting. It might be weird to say, given the fantasy nature of the whole story, but they seemed real. I can't wait for the next, er, two (Mockingjay, the third and final book, will apparently be two movies...)
Posts in the last year:
| | |
| --- | --- |
| 12/01/13 11:26 PM - | |
| 11/30/13 12:21 PM - | |
| 11/29/13 10:29 AM - | |
| 11/28/13 09:51 AM - | |
| 11/27/13 09:19 PM - | |
| 11/27/13 09:03 PM - | |
| 11/26/13 11:25 PM - | |
| 11/26/13 11:12 PM - | |
| 11/25/13 05:30 PM - | |
| 11/25/13 05:20 PM - | |
| 11/24/13 06:03 PM - | |
| 11/24/13 05:42 PM - | |
| 11/23/13 04:47 PM - | |
| 11/22/13 04:31 PM - | |
| 11/20/13 10:27 PM - | |
| 11/20/13 07:15 PM - | |
| 11/20/13 04:57 PM - | |
| 11/19/13 10:10 PM - | |
| 11/19/13 09:46 PM - | |
| 11/19/13 09:19 AM - | |
| 11/18/13 08:36 PM - | |
| 11/17/13 11:33 PM - | |
| 11/16/13 10:56 PM - | |
| 11/16/13 02:43 PM - | |
| 11/15/13 10:02 PM - | |
| 11/14/13 11:51 PM - | |
| 11/13/13 11:12 PM - | |
| 11/12/13 09:14 PM - | |
| 11/12/13 12:44 AM - | |
| 10/19/13 04:47 PM - | |
| 09/11/13 09:07 AM - | |
| 01/06/13 07:14 PM - | |
| 01/06/13 06:01 PM - | |
For older posts please visit the archive.
Home
Archive
'12 '11 '10
'09 '08 '07
'06 '05 '04
'03 flight
About Me
W=UH
Email
RSS OPML

Greatest Hits
Correlation vs. Causality
The Tyranny of Email
Unnatural Selection
Lying
Aperio's Mission = Automating Pathology
On Blame
Try, or Try Not
Books and Wine
Google and Blogs
Emergent Properties
God and Beauty
Moving Mount Fuji The Nest Rock 'n Roll
IQ and Populations
Are You a Bright?
Adding Value
Confidence
The Joy of Craftsmanship
The Emperor's New Code
Toy Story
The Return of the King
Religion vs IQ
Most Spectacular Photos of 2003
In the Wet
the big day
solving bongard problems
visiting Titan
unintelligent design
Shorthorn
the nuclear option
second gear
On the Persistence of Bad Design...
Texas chili cookoff
the inflection point
almost famous design and stochastic debugging
may I take your order?
paper art
triple double
China's olympic gardens
New Yorker covers
Death Rider! (da da dum)
how did I get here (Mt.Whitney)?
the Law of Significance
Holiday Inn
Daniel Jacoby's photographs
room with a view
weird disaster update
in praise of paddle shifting
the first bird
Gödel Escher Bach: Birthday Cantatatata
shining a light
Father's Day (in pictures)
Jobsnotes of note