At this point riding centuries is a bit old hat for me, so perhaps I should stop posting about it. After all I've sort of moved on to longer rides now; a "mere" century cannot be that interesting, right? But today I successfully completed the Solvang Century (da da dum), with about 4,000 participants, and anyway it was a great ride so heck I'm going to post about it. So yeah I did it, riding time 5:32, which considering the wind was pretty darn good.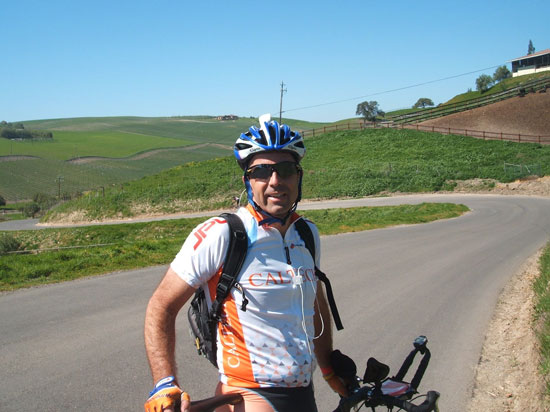 Here's a picture of me at the top of Ballard Canyon, with about 10 miles to go;
it is notable for the house in the distance, which is my absolute dream,
a gorgeous mansion surrounded by Pinot Noir vineyards.
Hey, everyone needs a stretch goal, right?
Next up for me is a double-double at the end of March; the Solvang Double, followed the following weekend by the Hemet Double. 400 miles in 8 days. That should keep me out of trouble :)