| | |
| --- | --- |
| Iditarod day 7 - PM - Leaders off across Norton Sound | |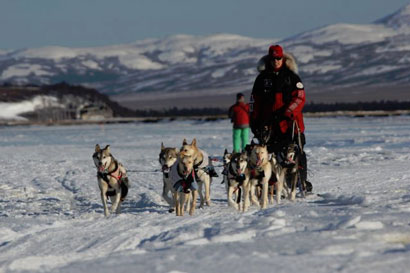 The 2014 Iditarod continues its record-breaking fast pace over hardpack and dirt, as the leaders are now through Unalakleet and off across Norton Sound to Shaktoolik. Each team rested for a while in the heat of the afternoon, and of course there's some strategy involved; leave earlier and save time or leave later and go faster. Aliy Zirkle was the first to go, with Martin Buser 52 minutes behind, and Sonny Lindner 1:20 behind. Jeff King took off fourth, trailing by 2:50, and Aaron Burmeister fifth, needing 3:40. Those are the teams that can win, with about 300 miles to go.
At right, Aliy Zirkle and team (11 dogs)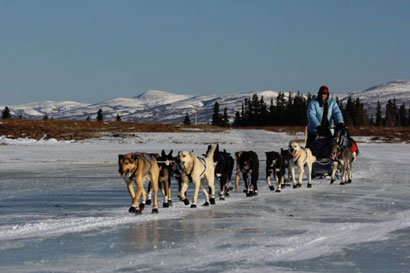 A lot will depend on the how rested each team are after their long trek between Kaltag and Unalakleet. Interesting that the lead group includes Martin Buser ("rest early"), Aliy Zirkle ("rest middle"), and Sonny Lindner and Jeff King ("rest late"), and that after seven days they are all within a few hours of each other. There's a lot of racing left and it will be a close finish.
At Left, Martin Buser and team (14 dogs)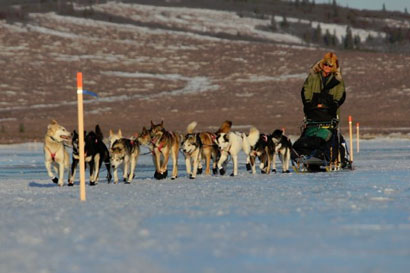 Veteran musher Sebastian Schnulle isn't racing this year, he's blogging while leapfrogging the leaders via snowmobile, and he's been posting some great reports. Here's his view on the trail to Shaktoolik. "The trail into Shaktoolik is challenging. Leaving Unalakleet there is very little snow, sometimes none, sometimes a ribbon of ice." Whew.
At right, Sonny Lindner and team (14 dogs)
Onward across Norton Sound!
(All Iditarod 2014 posts)