Re: Cycling
Western States Ride Calendar (thanks, Big Brothers!)
2010 Cycling 2009 Cycling 2008 and Older Cycling
My 2011 century+ scoreboard:
ride
date
distance
climbing
riding
time
note

1/1/11

127 mi

5,700'

--:--

first ultra of the year :)

3/12/11

100 mi

5,200'

5:42

fifth time ridden

4/30/11

98 mi

6,500'

6:15

wind!

5/7/11

113 mi

12,000'

6:22

fourth in a row

5/29/11

100 mi

9,000'

8:14

rode as century this year

6/4/11

128 mi

8,900'

8:14

6/26/11

200 mi

10,600'

13:30

first double in a while

7/9/11

129 mi

15,000'

--:--

always fun :)

8/20/11

128 mi

8,500'

--:--

8/27/11

138 mi

17,500'

13:54

hardest ride ever
Yesterday I rode the Son of Death Ride, "the toughtest one-day ride in American", and man, it was tough. 138 miles, 17,500' of climbing, and ... 109 degrees. The motto of the ride is "that which doesn't kill you makes you stronger" and I'm not dead so I must be really strong :) Actually I am still in recovery, so we'll see. The ride took me 13:54 and it seemed like all of that was uphill, with a lot of it in first gear, barely ticking over the pedals.
Anyway I survived - yay me! - and here are some pictures in case they are of interest: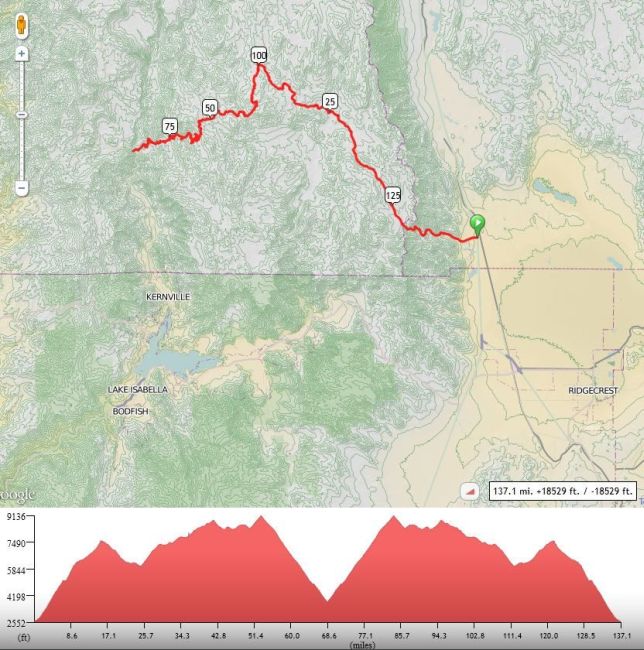 the route: 138 miles, 17,500' of climbing
there's a huge climb up Nine Mile Canyon to start,
then many miles of rollers at 8,000',
then a deep descent to the Kern River,
before turning around and climbing to Sherman Pass (!),
blasting along the plateau,
and finally a wild descent back down Nine Mile Canyon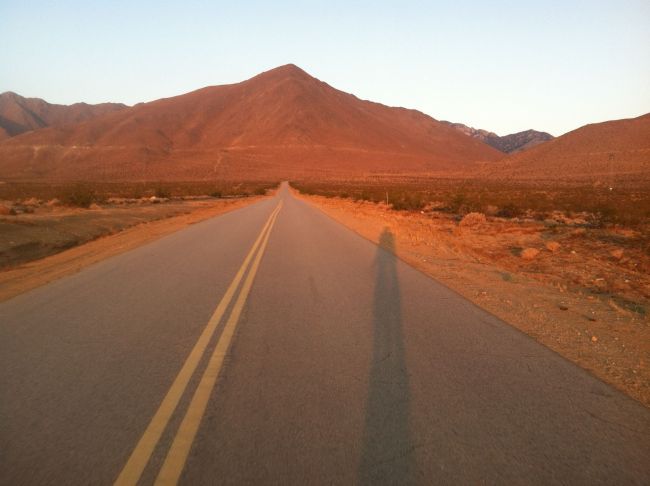 Nine Mile Canyon, here I come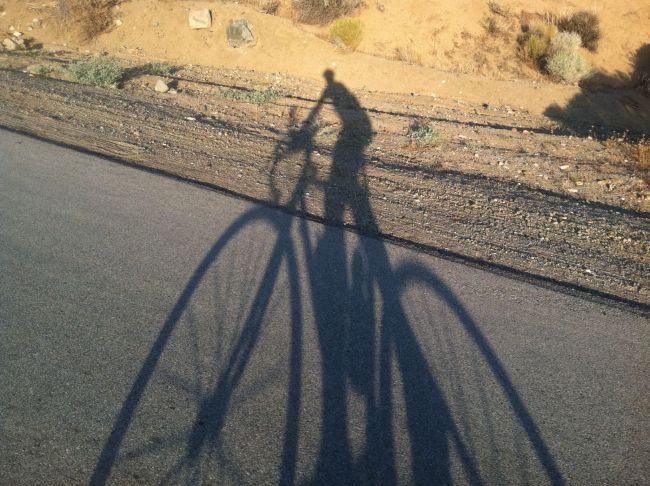 long shadows in the early morning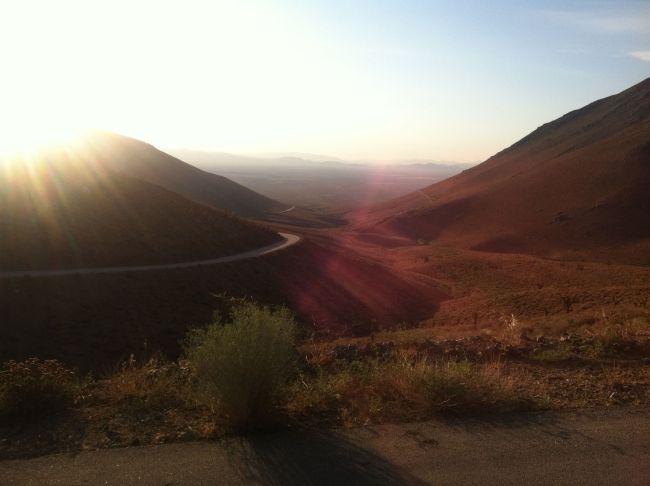 looking back down, lots of climbing already but lots more to come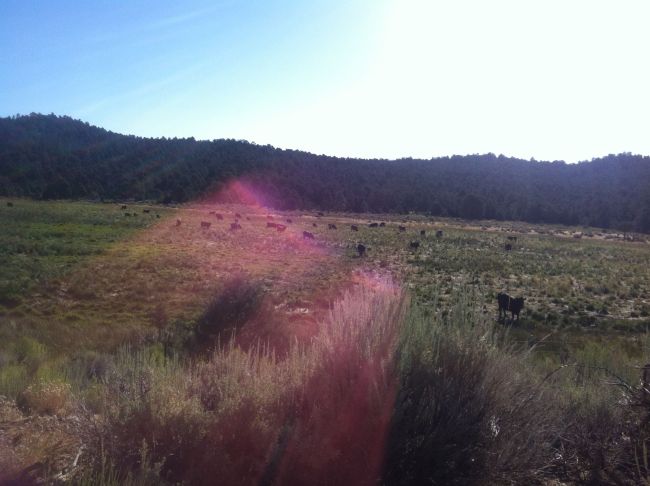 beautiful meadows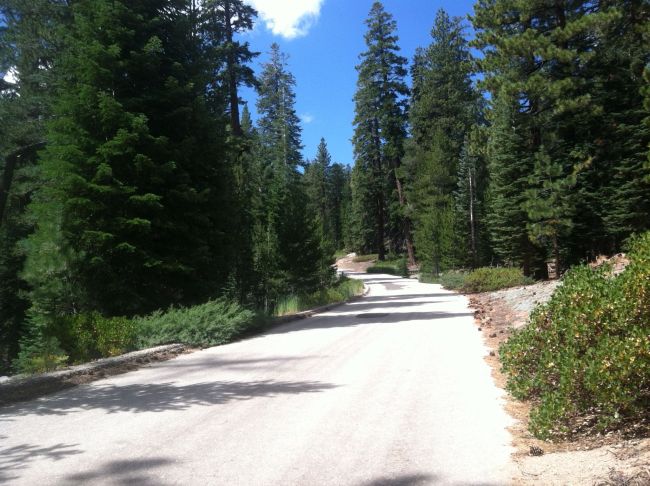 rollers through the pines along Kern plateau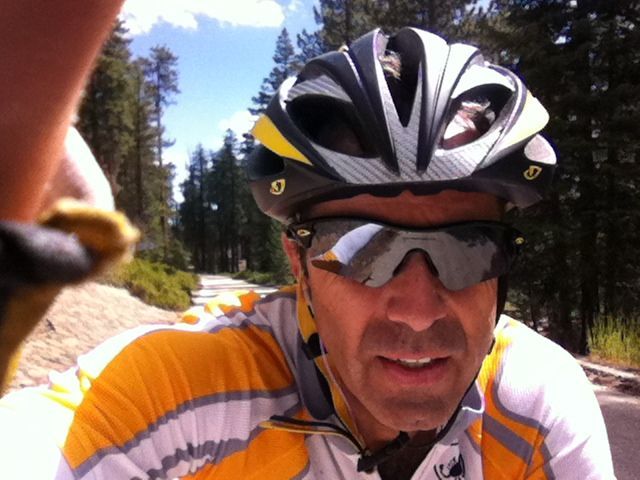 so far so good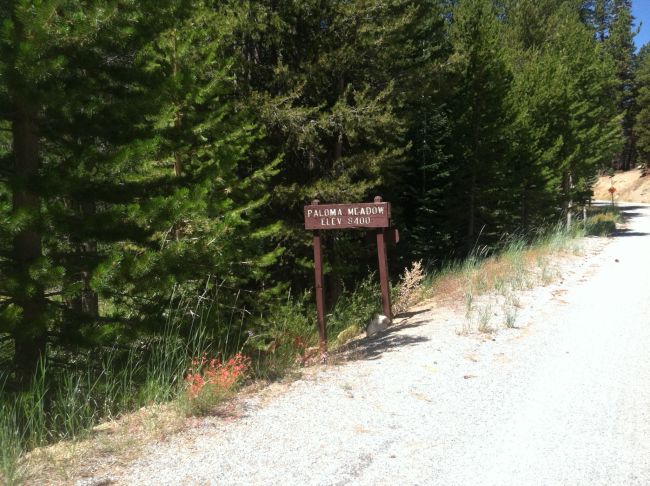 over 8,000' all the way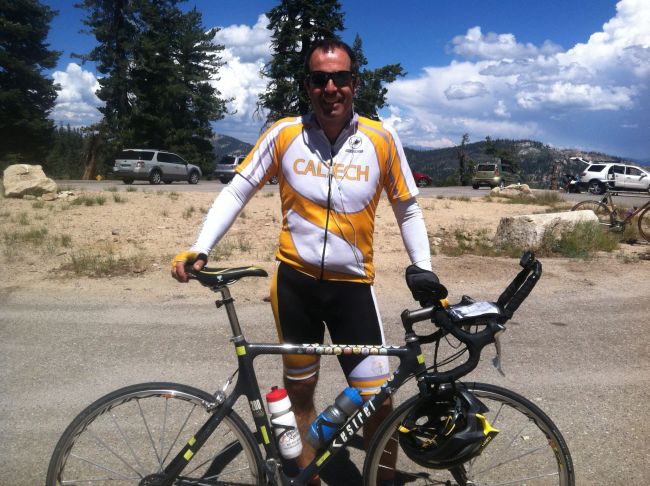 still smiling after 53 miles, time to descend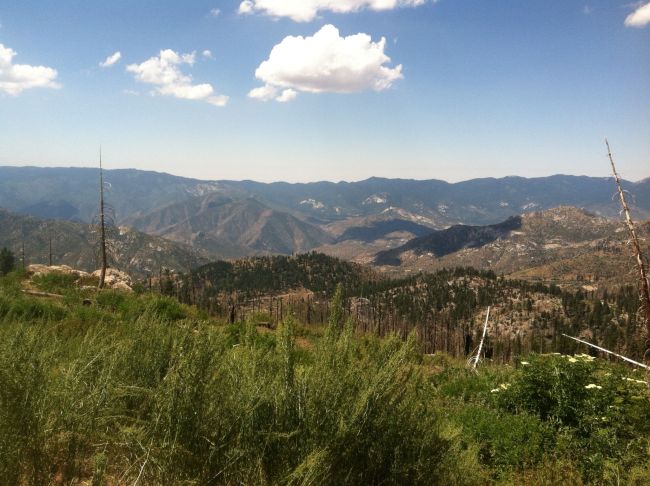 awesome views into the Kern River Valley


the Kern River! halfway point
(click to enbiggen)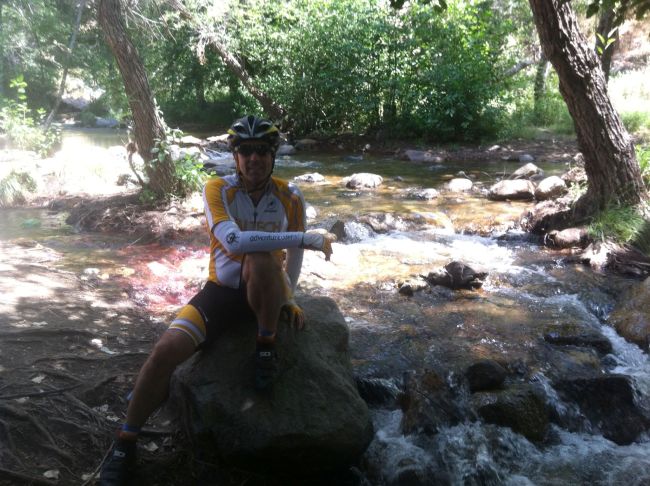 taking a cool break although it is 109 here (!)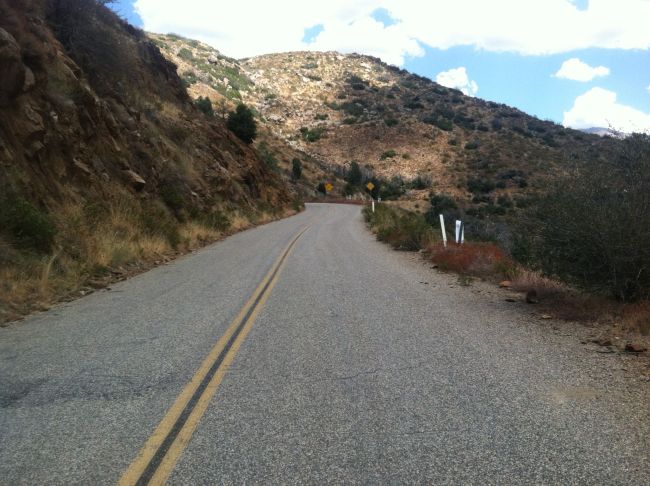 onward, back up to Sherman Pass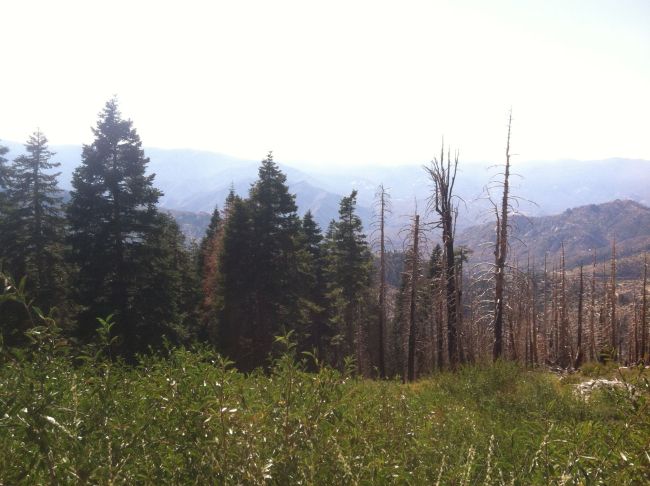 the view back down - wow, I've come a long way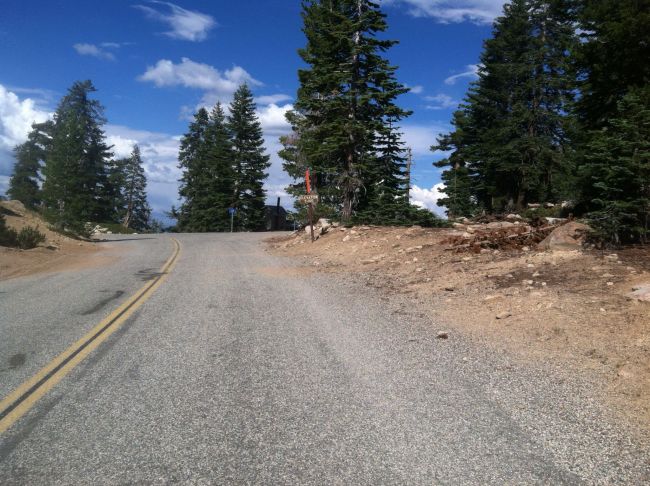 yay, the top (9,200') after 15 miles and 3 hours of climbing at 7-10%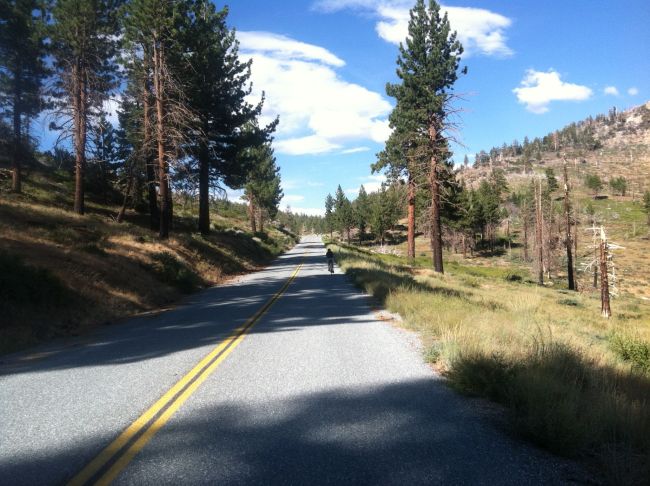 back through the rollers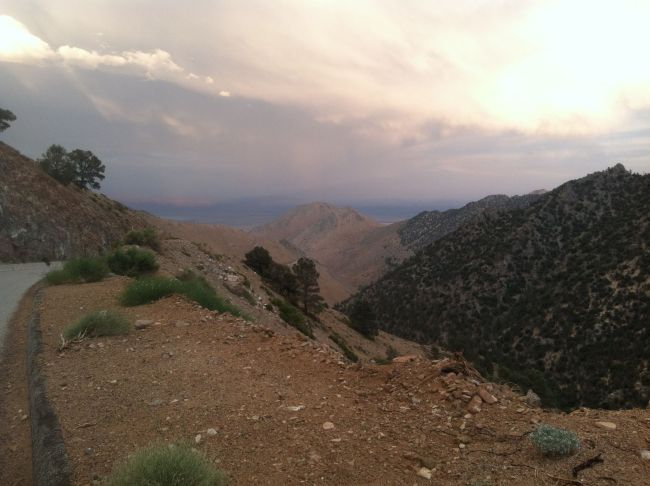 view down Nine Mile Canyon as dusk falls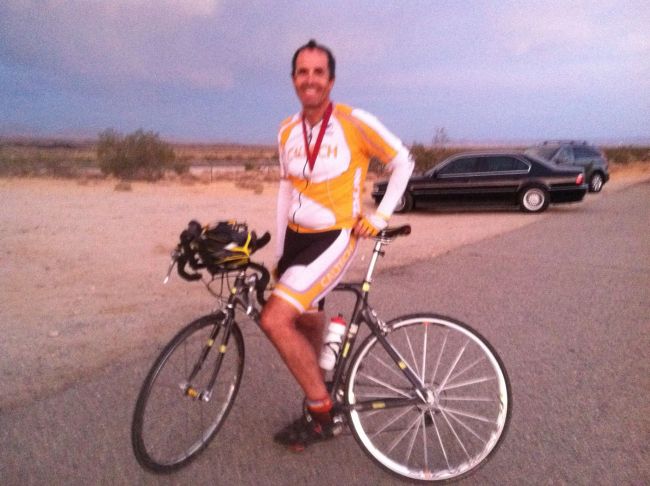 yay! made it in 13:54
I am pretty proud of myself
This seems like one of those things where you do it once, to say you've done it; not sure I want to do it again. But maybe by next week I'll be looking forward to it :)
Rode the Cool Breeze Double Metric today, wow, did I feel horrible. Got off to a good start riding with my fellow CVCers, but was dropped after less than 20M and struggled after that, fighting an upset stomach, saddle sores, hotfoot, and a general unwillingness to ride. Blech. Today was a bad day, tomorrow will be better.
Just a few pics...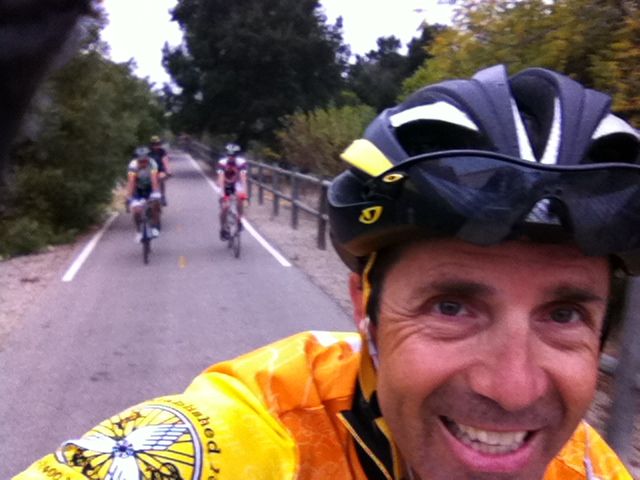 Ventura River bike path, early in the ride, when I could still smile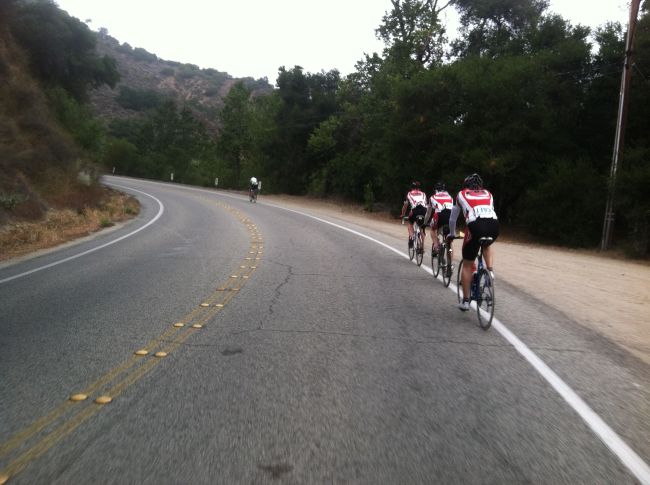 CVC paceline powering through Ojai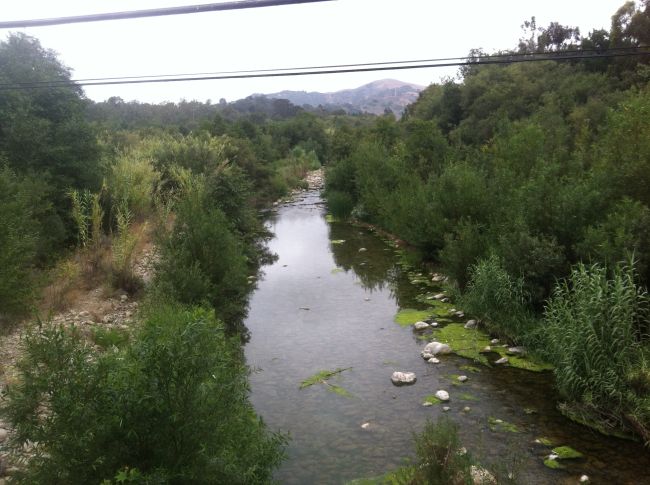 the Ventura River burbles along...
| | |
| --- | --- |
| Rocky the Squirrel, on Facebook | |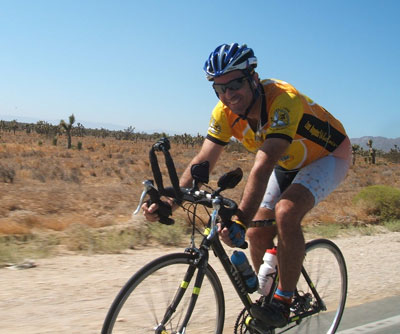 Hey y'all ... a couple months ago I reported Rocky the Squirrel (aka me) was again riding in the Furnace Creek 508 (aka "the toughest 48 hours in sport").
In case you're interested, I just created a Facebook Page for the Rocky the Squirrel team. Please Like this page to show your support and to get updates on my training program, my crew, and our progress! And if you'd like, please Follow us on Twitter as Squirrel508.
I hope to give ongoing reports during the race itself (October 9-12), I understand there's a lot more cell coverage along the route now than there was in 2009.
That's me at right, riding the 508 in 2009, about 100 miles in when I was still smiling.
In terms of preparation, I'm pretty far ahead of where I was in 2009; I have 2/3 of my crew set (fellow endurance riders Mitch Albo and Gene Smith), and I'm riding every day, including incorporating some long rides like the Cool Breeze 200K this weekend, and the Son of Death Ride a week later. Now I just have to get my mental state where it needs to be (!); that was my downfall last time. Onward!
Well I did it (again); rode the famous Markleeville Death Ride and lived to tell about it, 129 miles, 15,000 feet of climbing over 5 mountain passes in the High Sierras, and whew 1 big smile at the end of it. This ride does not get any easier and in fact this year I was in worse shape than previous years, and really struggled in the second half. I must get in more miles if I'm to be successful at the 508. Oh well I have three months left and must use the time wisely.
This year the new wrinkle was snow; the Ebbett's pass had a lot of it everywhere, which cooled the air a bit and made for even more beautiful scenery. All the rivers were flowing wildly and there were waterfalls everywhere. I love it. The Monitor Pass views were even more incredible than usual with snow on the surrounding mountain tops too. And in a twist, the Carson Pass was hotter than usual; twice before I've been rained on during that final long climb, but this year I was broiled (or maybe I was toasted :). Anyway whew I made it.
BTW must note, I have completely cut over to using my iPhone as my camera, and I am now running IOS 5 beta 2, which nearly saved my life several times as it is so much easier now to launch the camera app; no more futzing to enter access codes etc. You pull out the camera, double click, click the camera icon, and use the "+" hardware button to take pictures. Excellent.
Here are some pictures, you can find more in the gallery on my website:


the official route map (click to enbiggen)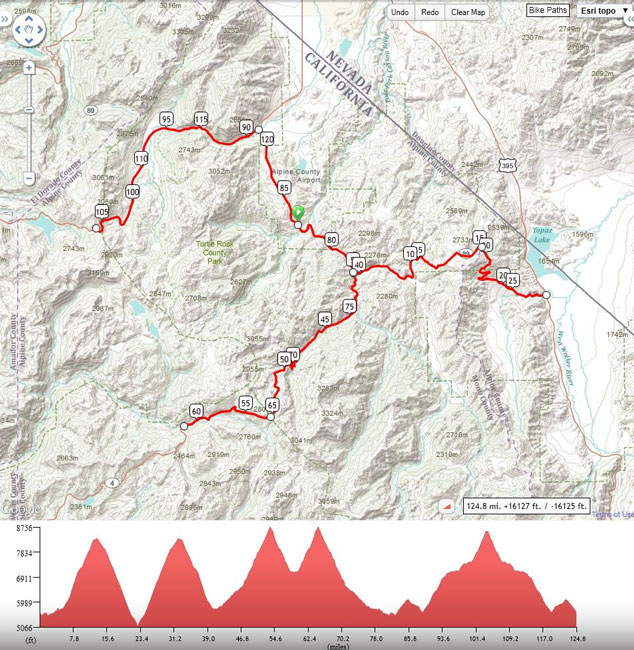 the route: 129 miles and 15,000 feet,
out from Markleeville up and over Monitor Pass and down to Topaz,
then back up over Monitor and down into the valley,
then up and over Ebbett's Pass down to Bear Valley,
then back up over Ebbett's and down into the valley,
past Markleeville to Woodford's,
and then up to the top of Carson Pass (yay!),
and finally back down and over to Markleeville.
Whew.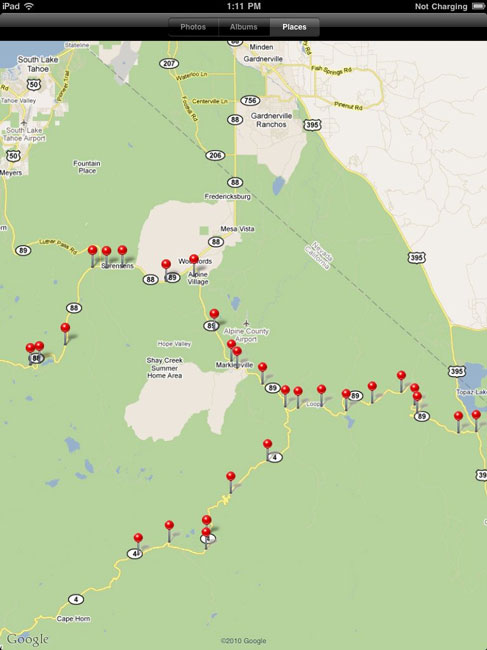 I still love the novelty of the Places map on the iPhone :)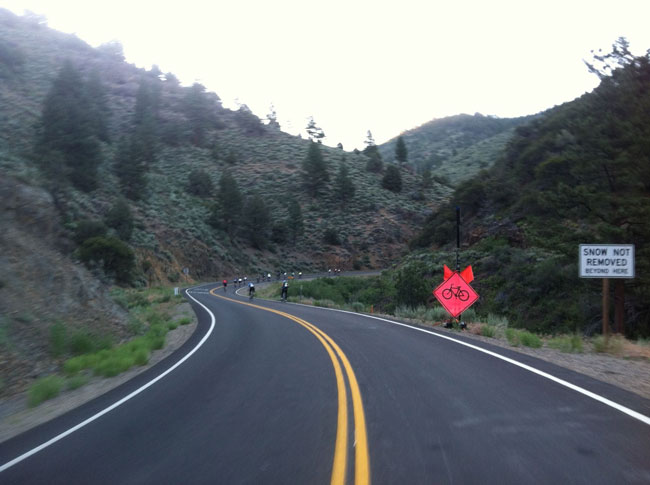 early morning, up the first climb on Monitor Pass (yawn)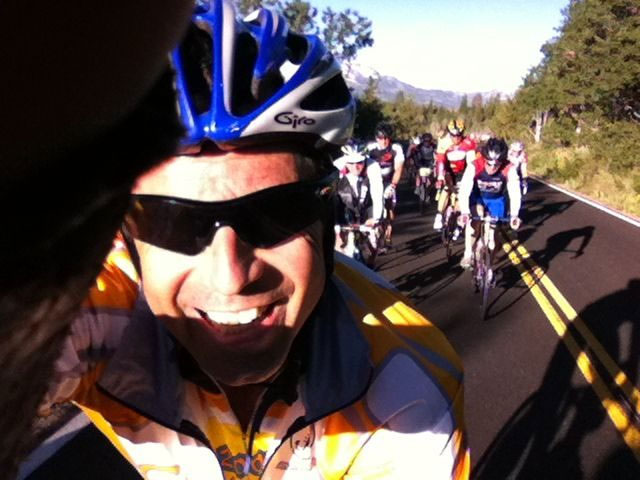 so far so good, climbing Monitor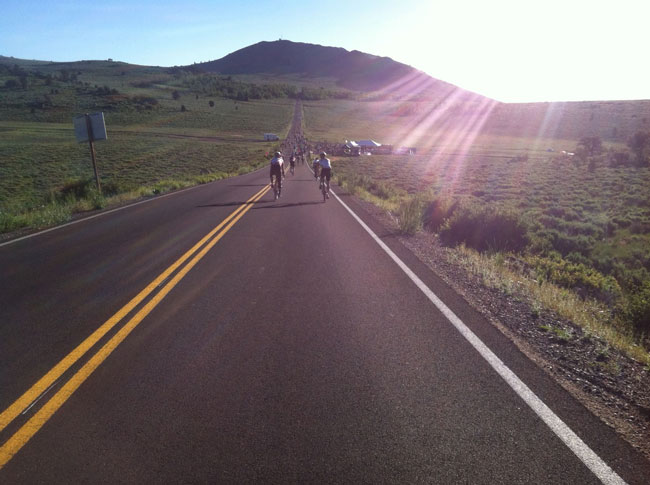 emerging over the top into the valley with Checkpoint One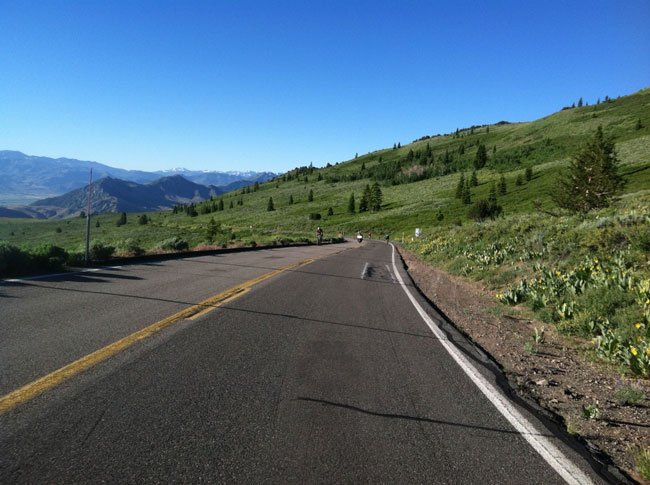 down to Topaz, a beautiful descent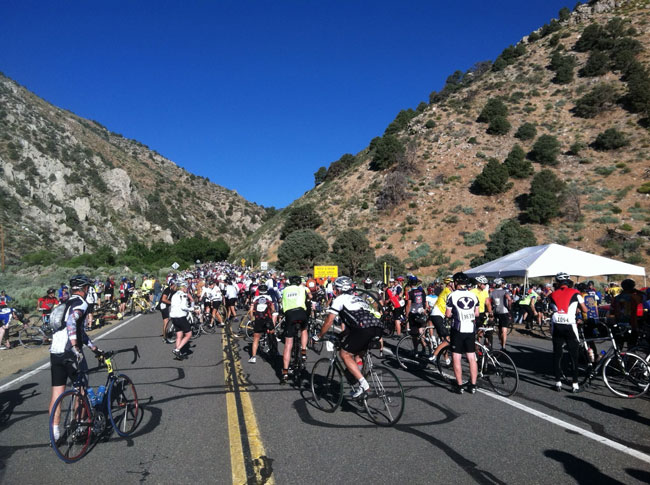 traffic jam at the foot of the pass,
riders coming down and riders going back up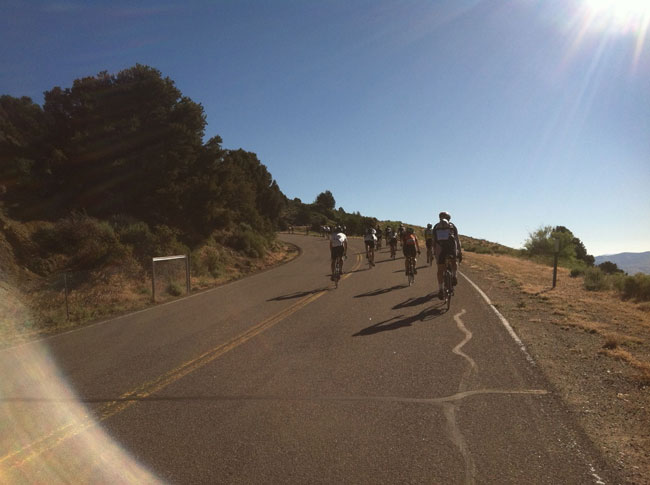 climbing back up Monitor, longest climb of the day
Yikes!


panoramic view down to Lake Topaz (click to enbiggen)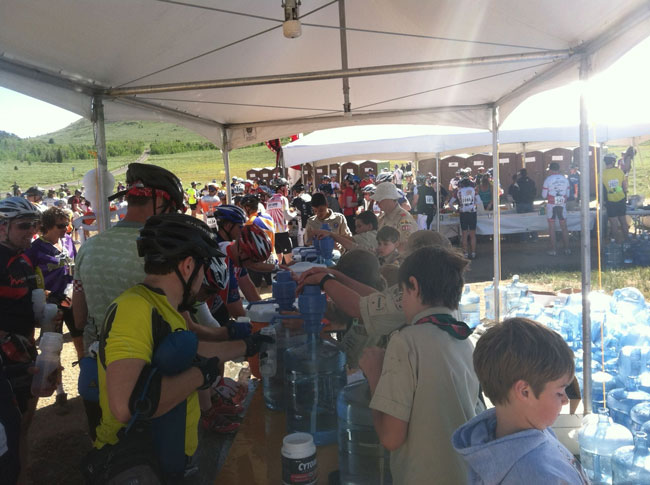 boy scouts help out at the checkpoints - excellent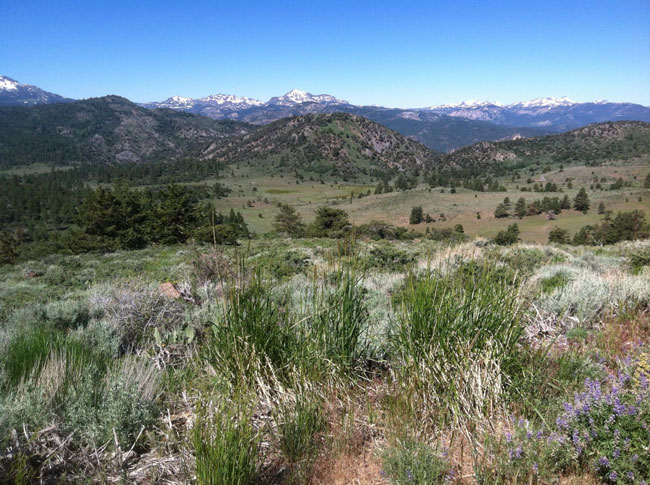 incredible views from the top of Monitor looking West
wow!


climbing Ebbett's, Kinney Reservoir provides a beautiful vista (click to enbiggen)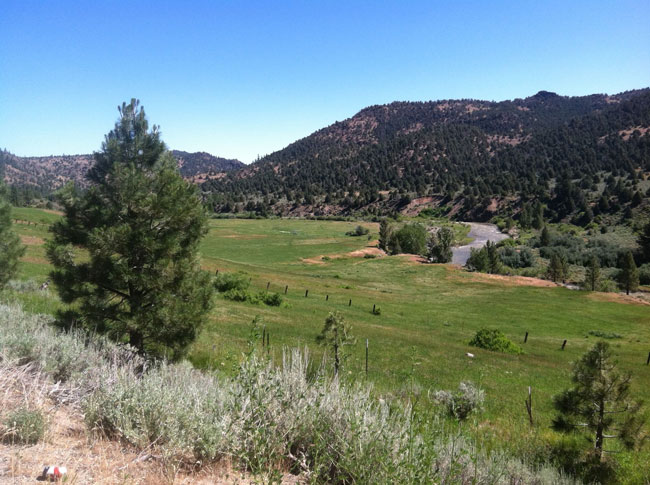 after descending Ebbett's the meadows are amazing; note overflowing river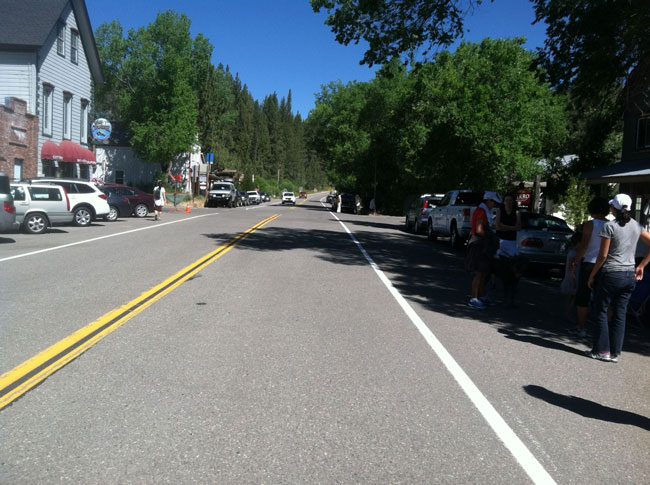 the town of Markleeville, our charming host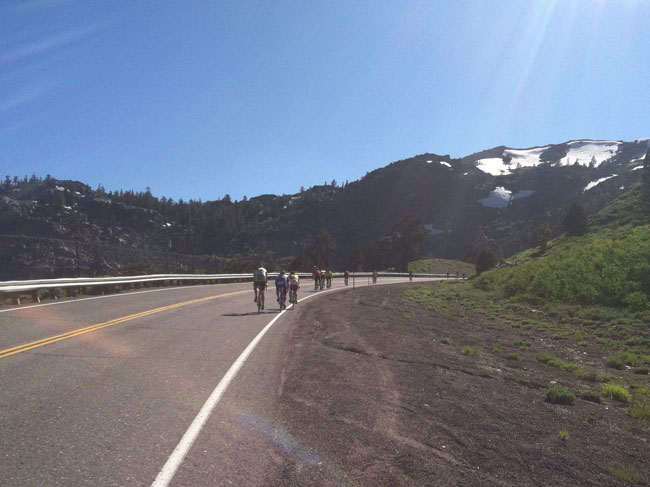 climbing Carson, the last bit is the worst but the end is in sight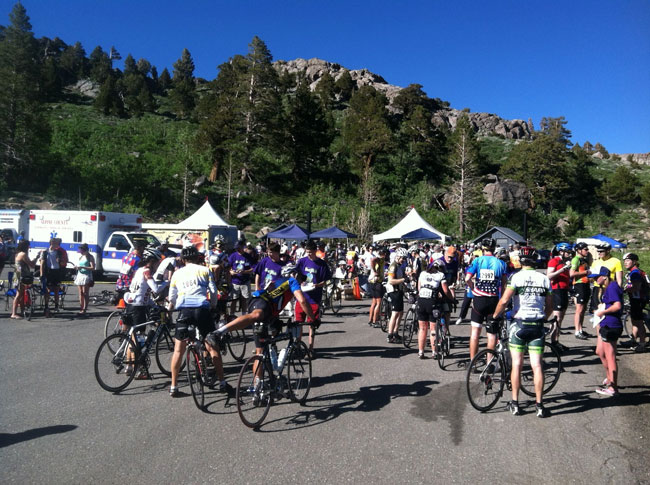 checkpoint at the top of Carson, lots of happy death riders!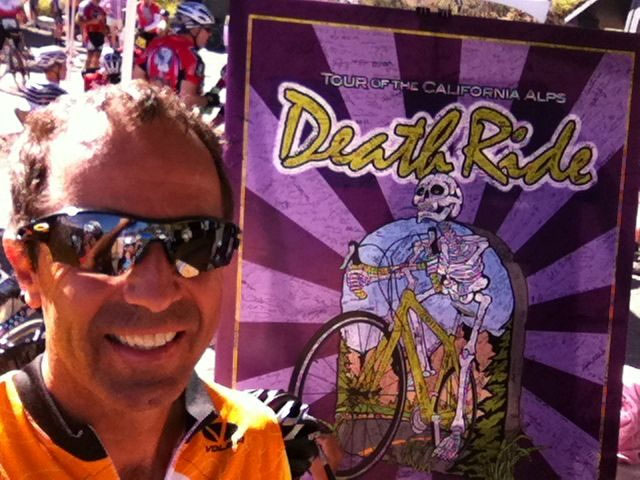 yay, made it; here posing with the official poster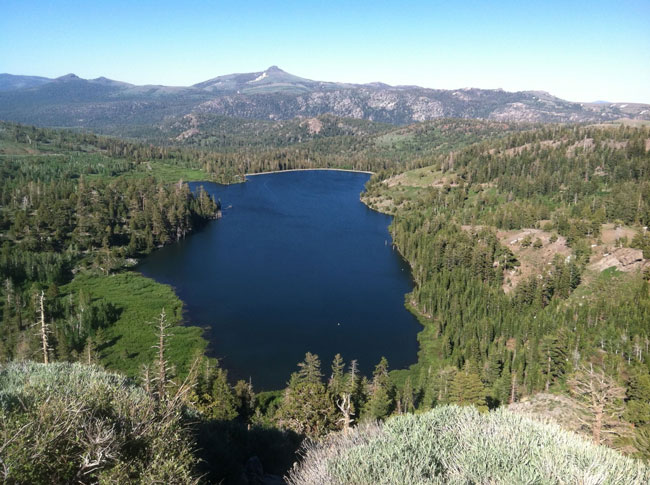 descending back down the view of Red Lake is always amazing
Another year, another Death Ride in the books... Cheers and onward!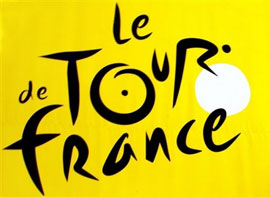 This post will be a compilation of all my posts regarding the 2011 Tour de France.
Please enjoy the great battle between Alberto Contador and the rest of the world, with Andy Schleck, Cadel Evans, Levi Leipheimer, Ivan Basso, Bradley Wiggins, and a host of others in the mix. And the great sprint duals between Mark Cavendish, Tyler Farrar, and Alessandro Petacchi. And Thor Hushovd, Fabian Cancellara, Philipe Gilbert, and ...
Yesterday I rode the L.A. Wheelman's Grand Tour Highland Double, the double, which dates back to a bet in which several cyclists dared each other to ride 200 miles in a single day. Since then I've taken the dare a few times :) as have hundreds of others, and double centuries have become, well, routine; but this is *still* a great ride.
The route is classic; you start in Malibu and ride PCH for 25 miles (don't think just because it's next to the ocean, it's flat, cause it's not). Then it's up Potrero Canyon - a maniacal climb that gets steeper and steeper and yikes this is steep - then a beautiful ride through Hidden Valley (after climbing into it), and a nice charge through Westlake Village (after climbing out of it), and then descent into Moorpark, sojourn into Simi Valley, and the magnificent all-to-brief descent of Grimes Canyon, the powering through the citrus groves into Santa Paula, the long climb into the Ojai Valley (followed by a frenetic descent), lunch (!) in Ojai, onward to Lake Casitas and the climb behind it, the descent into Carpinteria, riding the 101 down to Ventura (yuk!), the endless flats to Channel Island Harbor, then the traverse through the bean fields to PCH, and finally the ride down to Malibu in the dusk, another 25 miles. Whew!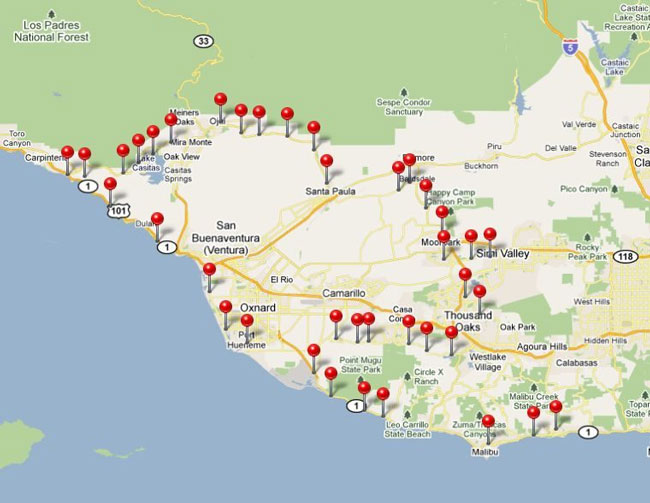 the route, as seen by the iPhones "Places" view of the photos I took :)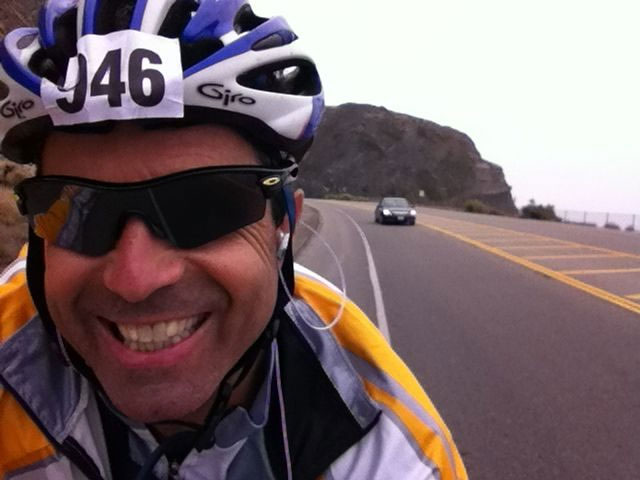 PCH (with Mugu rock in the rearview mirror)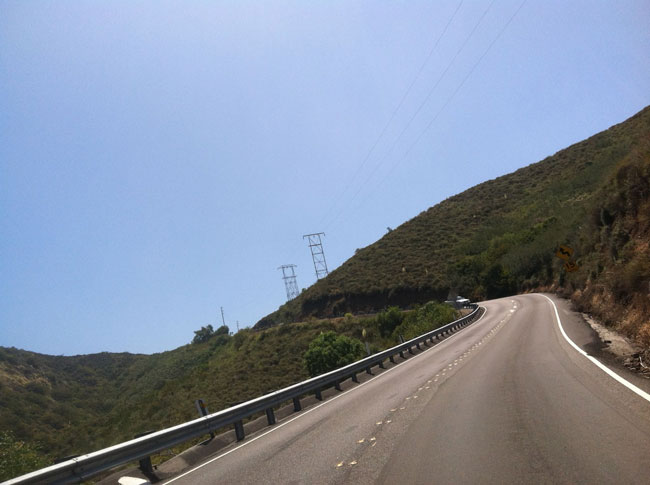 climbing Potrero (yikes!)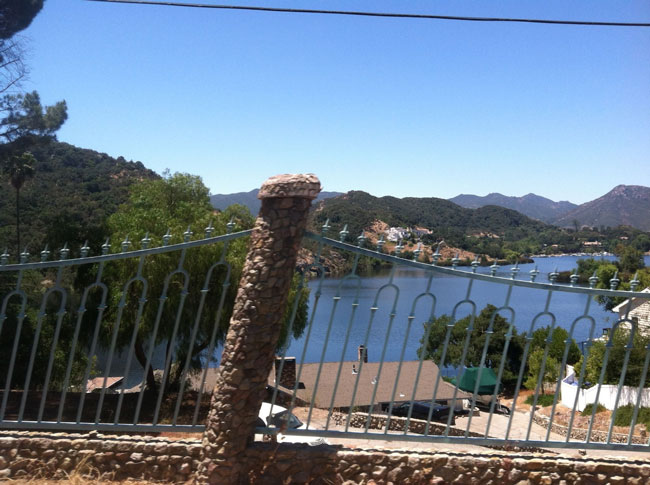 Malibu Lake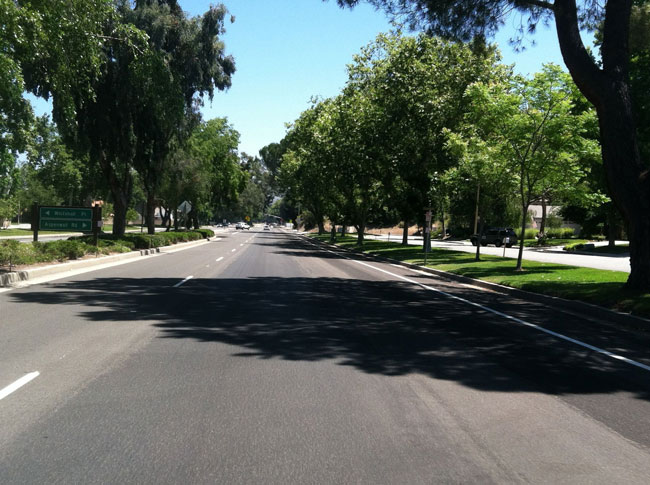 Westlake Village!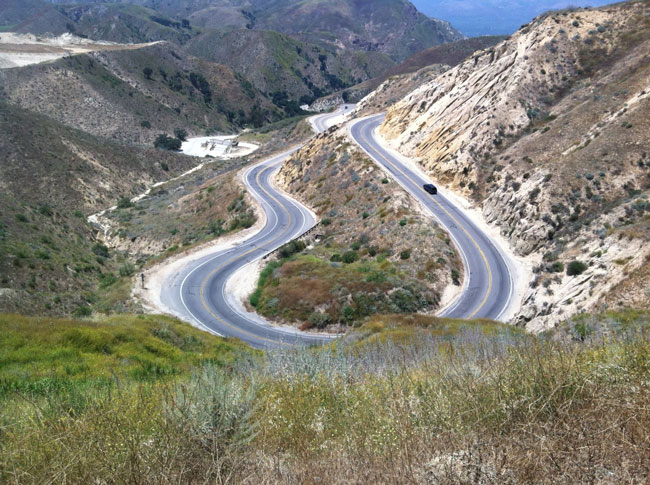 descending Grimes Canyon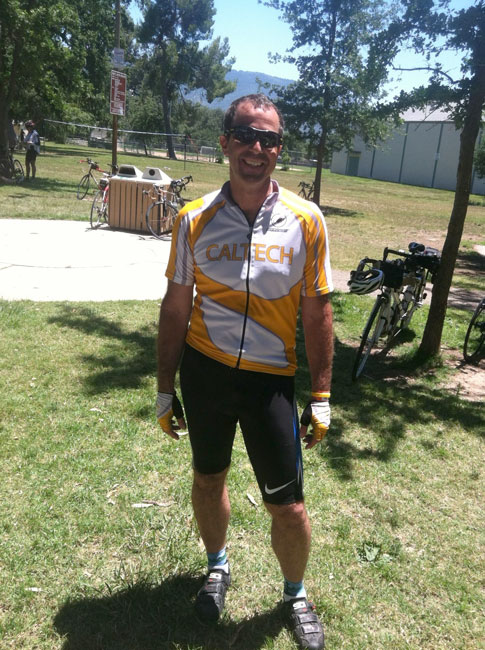 lunch! - in Ojai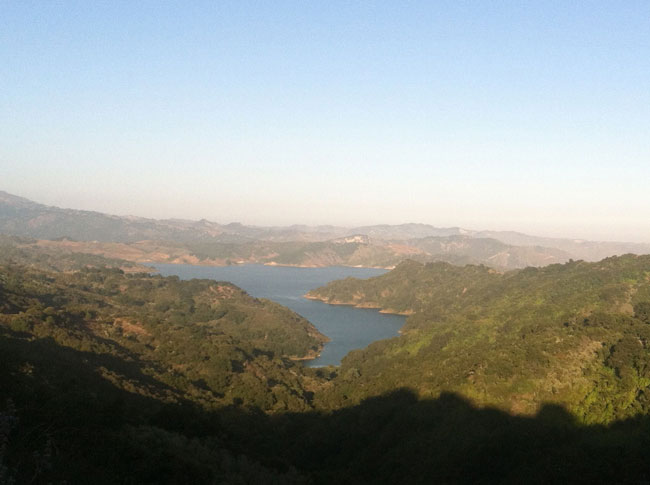 view from above Lake Casitas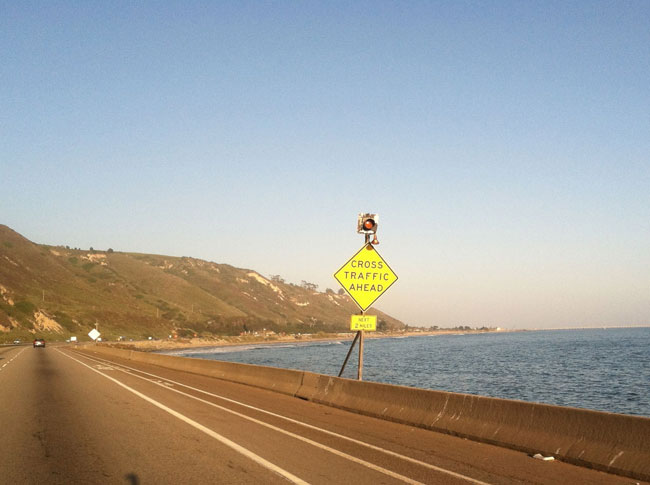 the 101 - traffic to the left, ocean to the right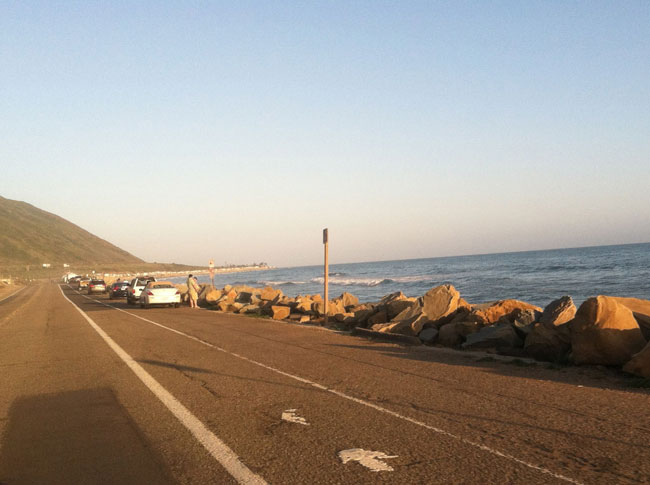 old PCH in the setting sunlight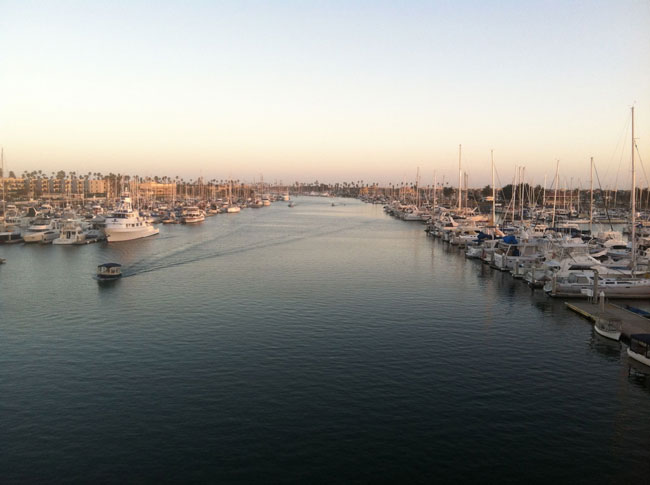 Channel Islands Harbor - almost time for tacos
Overall a great ride, I felt good, posted a decent time (13:30 riding), and had a lot to think about... onward!
Today I rode the Ojai Valley 200K, a great ride I've done a number of times before. I'm starting to get into better shape, finally ... during the past year I've worked out a lot so my cardio fitness is fine, but I haven't ridden as much, so my riding fitness has been off. I'm stronger but have less endurance. But I'm getting better; today's ride began with a 15 mile ascent to the top of Mount Rose, and I crushed it; powered right up, and felt great blasting down. Excellent.
The highlight of today's ride was a visit to my friends Kevin & Cynthia in Montecito. Every time I do this ride I think "man, I'm riding right by their house, I should have told them". So this time, I didn't tell them, I just rode to their front door and rang the bell.
Of possible interest, here are a few pictures: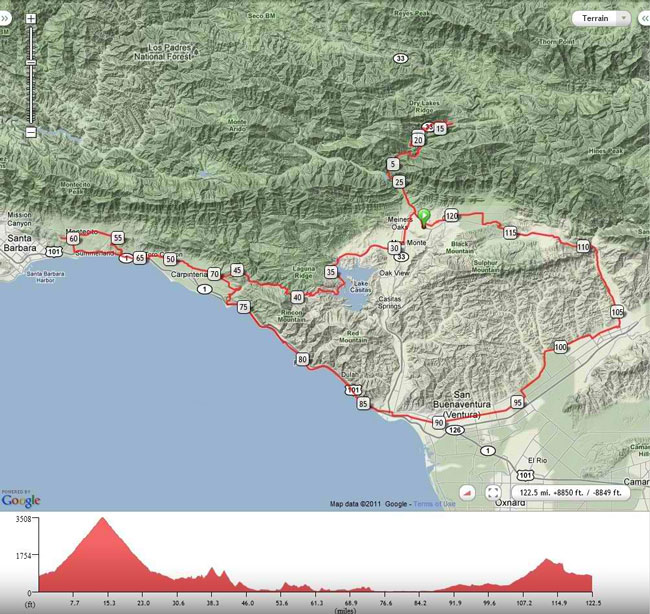 the route: 200K (128 miles), 8,900' of climbing, 8:14 riding time
check out the profile; this is basically a "flat" century with a monster climb tacked on the front :)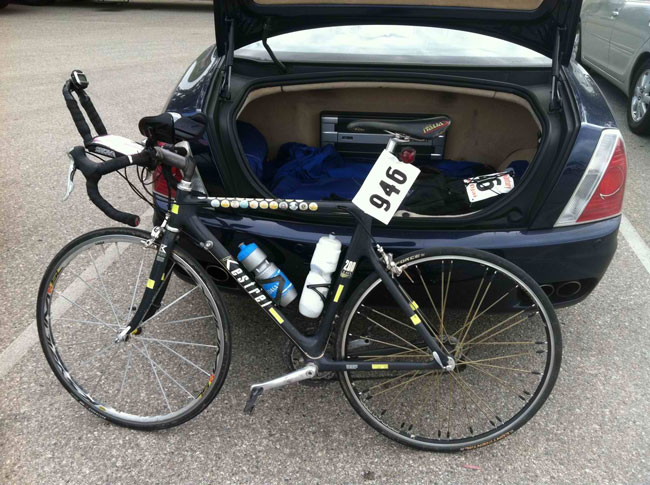 my mighty steed is ready
(with a borrowed back wheel - mine needs a new spoke)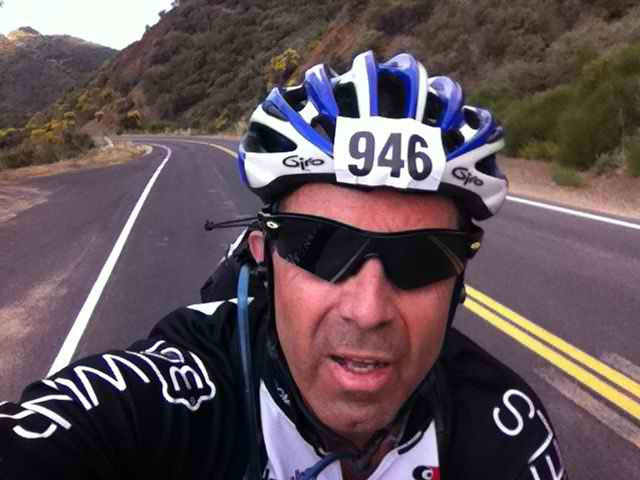 powering up Mount Rose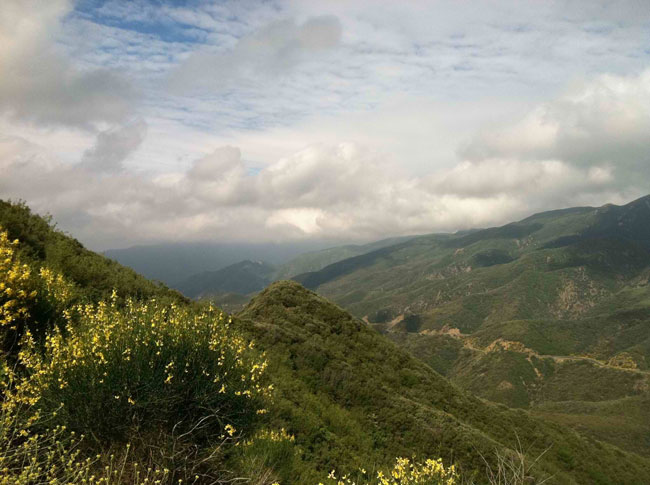 the view back down is wonderful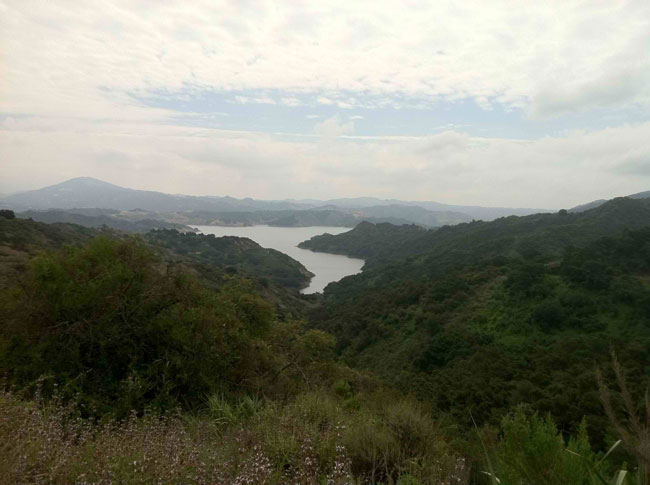 this view of Lake Casitas is always one of the highlights of the ride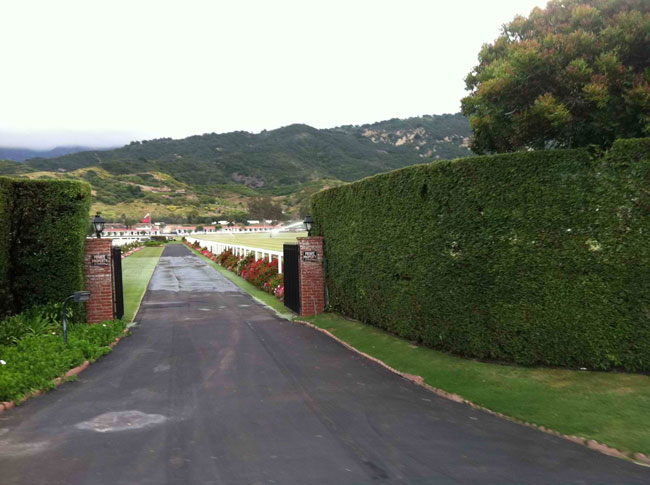 polo, anyone?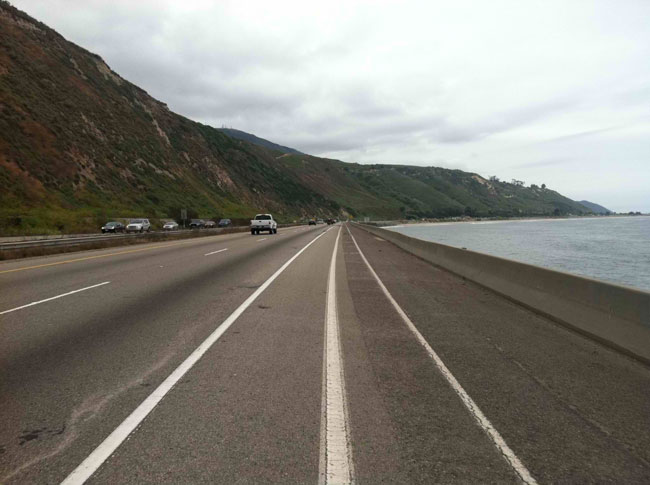 it's always delightful riding on the 101; traffic to the left, ocean to the right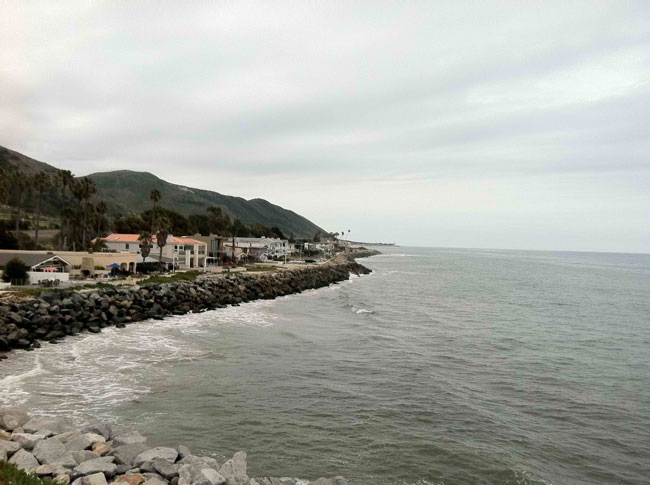 Rincon Beach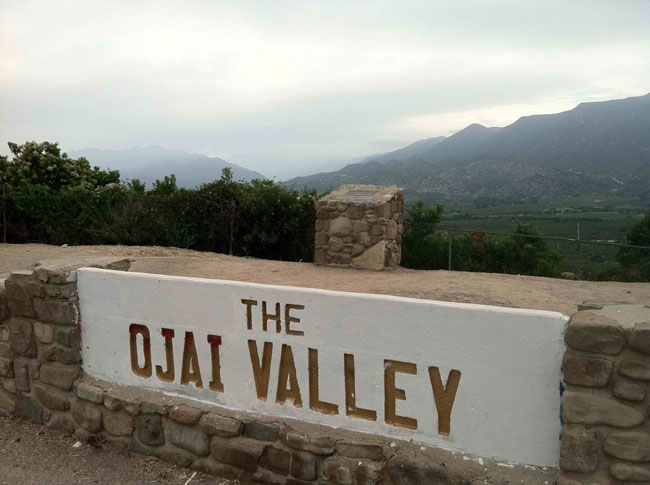 descending into the Ojai Valley
yes, it is rainy-ing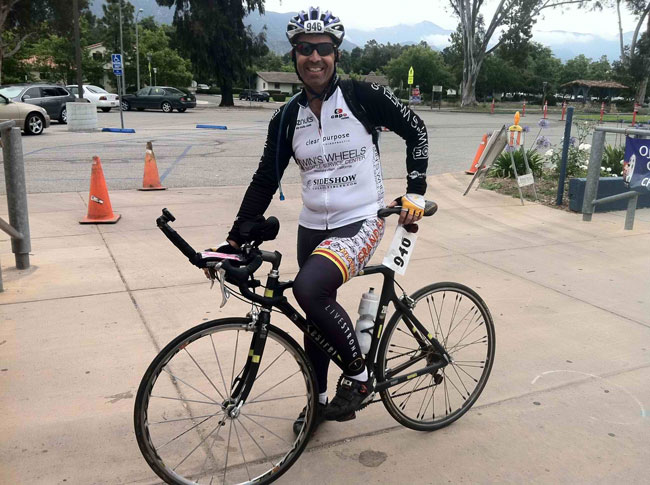 finished!
BTW I'm blogging this on a plane to Chicago; taking a red eye so I can attend the ASCO conference tomorrow, and then flying back tomorrow night so I can drive down to Vista Monday morning. Just in case you didn't think I was crazy, consider this hard evidence that I am :)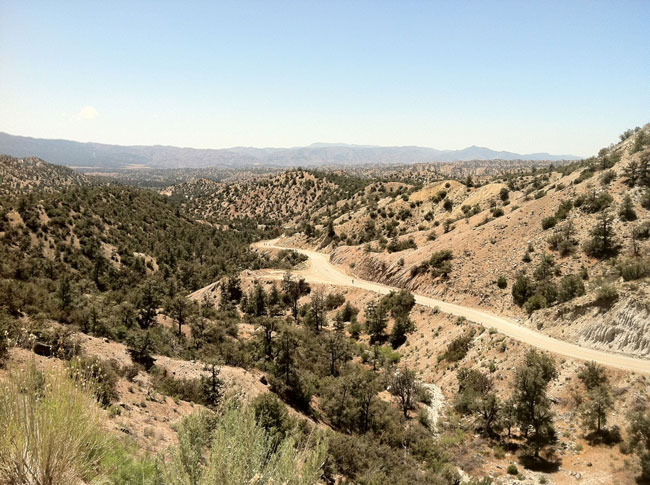 Yesterday I rode the Heartbreak Hundred, a maniacal century accumulating 9,000' of climbing in a tour of the Los Padres National Forest. The highlight is a 5 mile climb at about 7% called ... Heartbreak Hill. The past two years I've actually ridden this as a Double - with 50 miles before, and 50 miles after, in an out-and-back from Palmdale - but this year I had to get back home for a dinner party so contented myself with the middle hundred.
The timing of this ride was *perfect*; after last week I had a lot to think about, and riding for 10 hours gave me a lot of time to think. I have quite distilled everything down yet but stay tuned, I think I'm in for an inflection point.
Anyway the ride itself was great - I felt strong, and did it in 8:14 riding time, which is pretty good considering - and I enjoyed nice weather and beautiful views. Here are some pictures: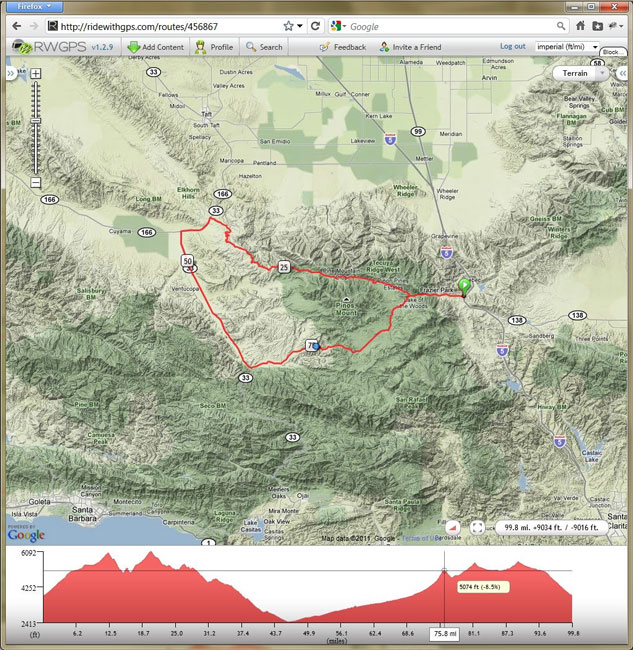 the route: 100 miles and 9,000' of climbing, a nice little tour of the Los Padres National Forest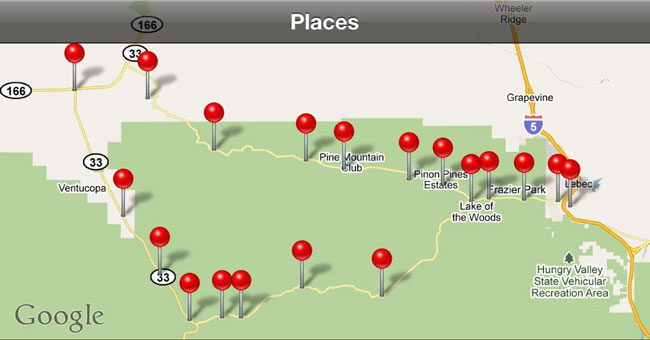 picture map courtesy of my iPhone; I love this feature...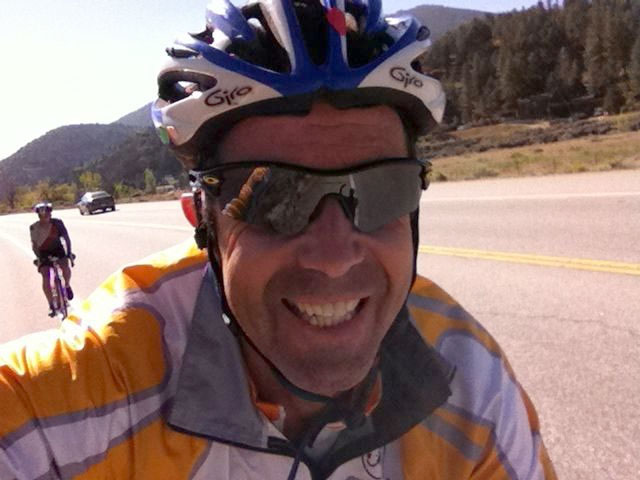 initial climb up past Frasier Park; so far, so good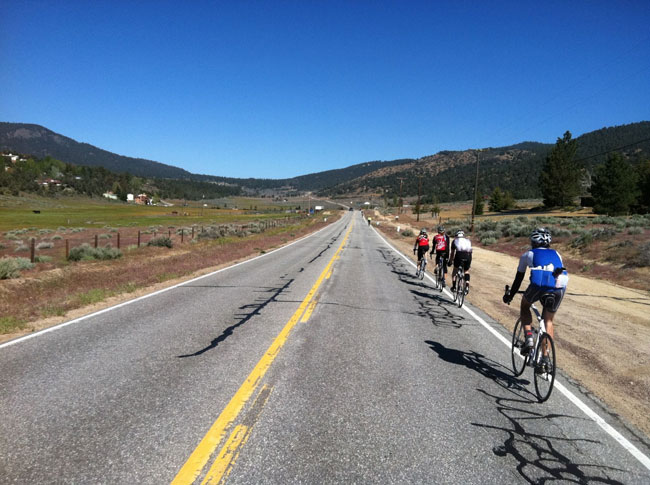 paceline up into the forest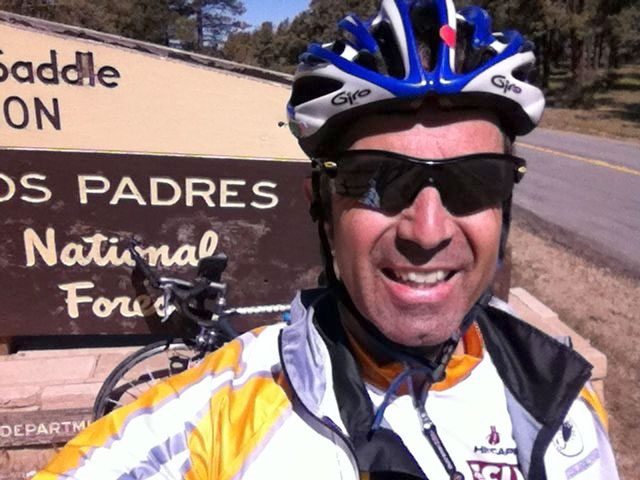 first checkpoint at the top of the first climb; whew
only 25 miles down and a long way left


amazing vista open up along the forest ridge of Mt. Pinos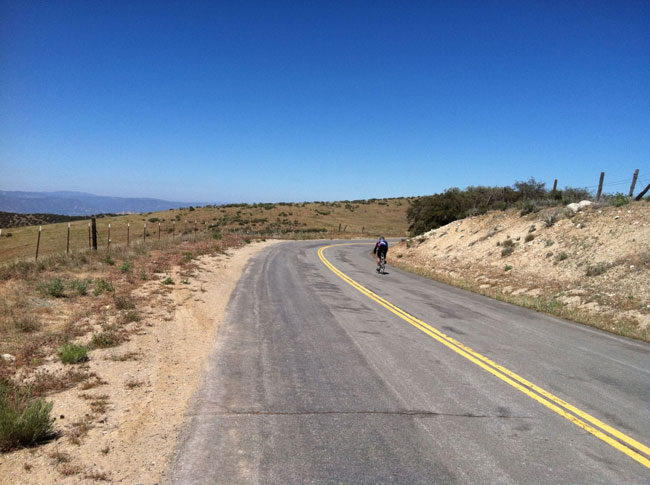 descending the backside down from the forest: wheeee!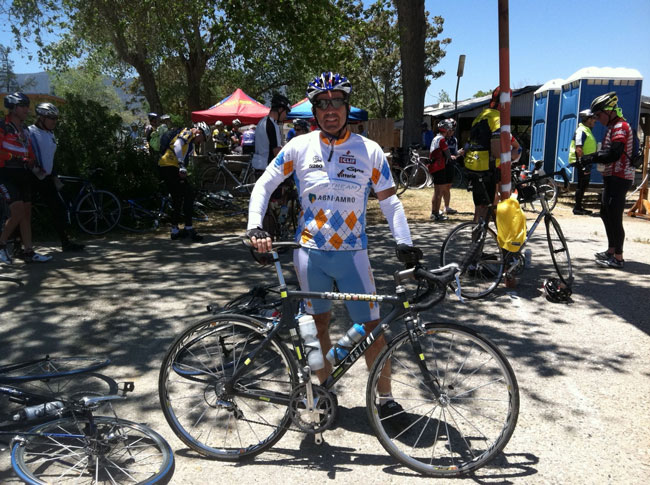 at 'the place' halfway through the ride; ready to attack Heartbreak!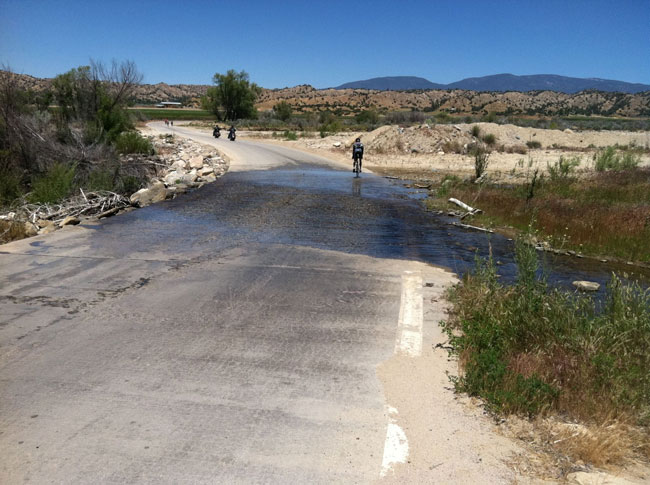 a little water hazard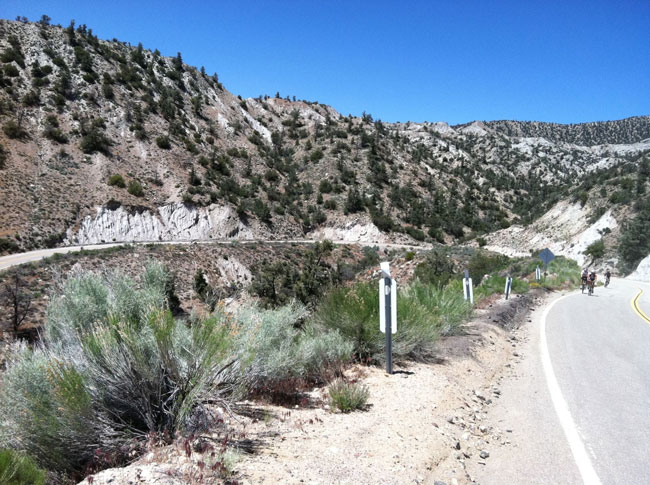 Heartbreak Hill! - 5 miles at 7%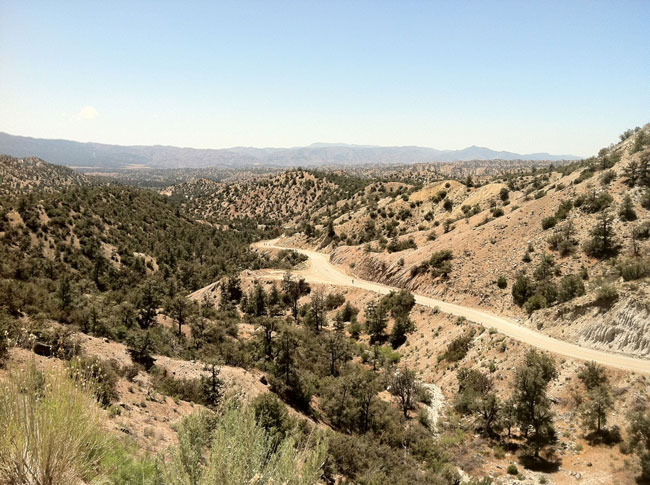 looking back down; did I just climb that? (gasp)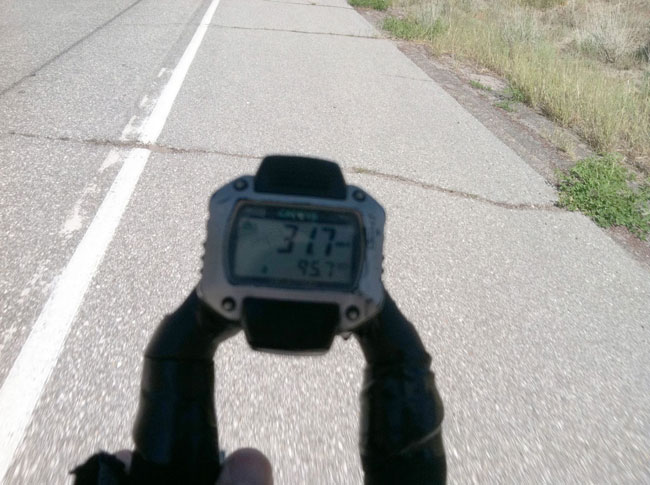 Powering at 30+ mph back down - yay.
finished in 8:14 riding time, not bad
Onward! Next weekend I'm riding the Ojai Valley 200K, and in the meantime I have much to think about :)
| | |
| --- | --- |
| up Mount Baldy for ATOC stage 7 | |
My friend Tim and I watched the incredible stage 7 mountaintop finish of the Amgen Tour of California today, from the top of Mount Baldy, after climbing it ourselves on our bikes. It was a pretty incredible day.
We started by hanging out in Claremont, the start village; checking out the team buses and bikes and the Start area. We saw Chris Horner interviewed, and Dave Zabriske, and hung out with the Rabobank team. Then we watched the start and the first couple of neutralized laps around the town, before they headed out and up the hill. We mounted our bikes and followed them up Mount Baldy: 17 miles straight up to 6,800'. The peloton had 75 miles of meandering around the hills, so we beat them to the top (barely!) and then hung out and watched the finish.
Yeah, we took a *bunch* of pictures; here they are in case you're interested. And here are a few selected from the bunch: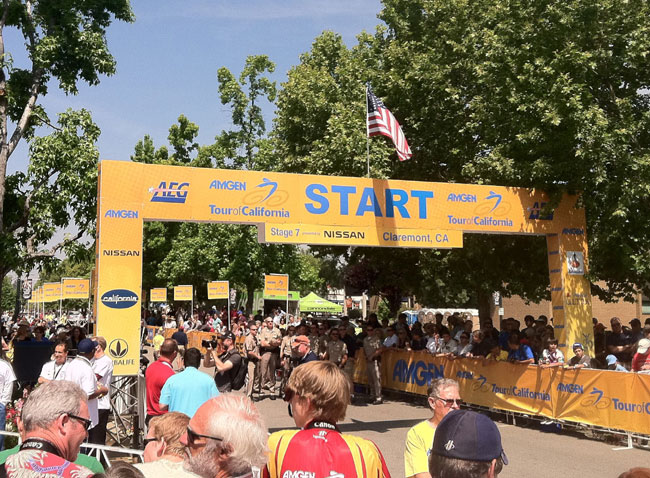 the start area in Claremont; a crowd gathers early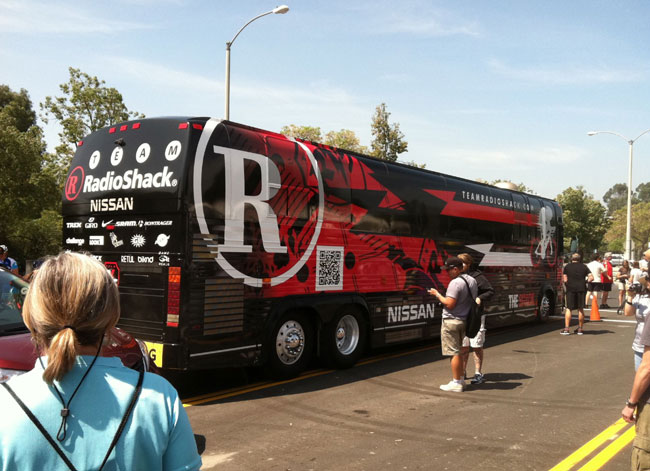 the Shack team bus arrives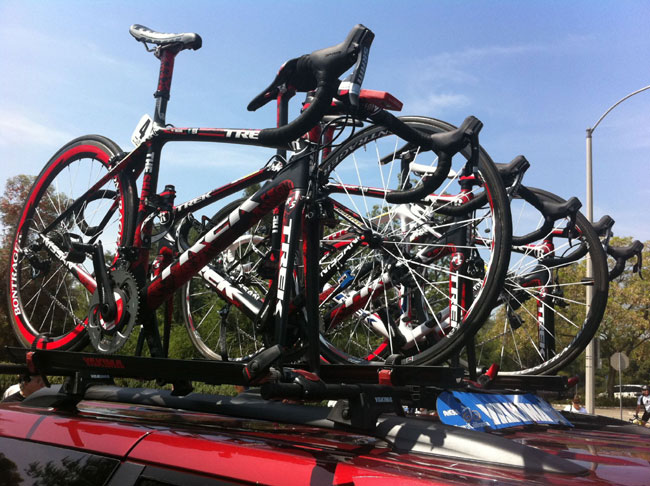 amazing bikes stacked out on display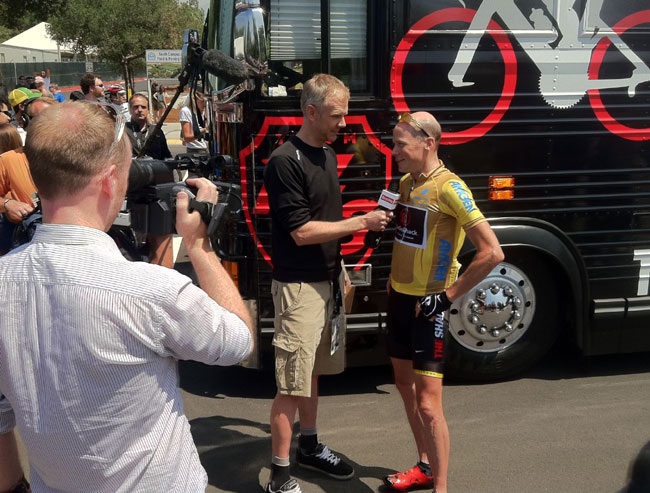 Chris Horner interviewed; he seems confident, not cocky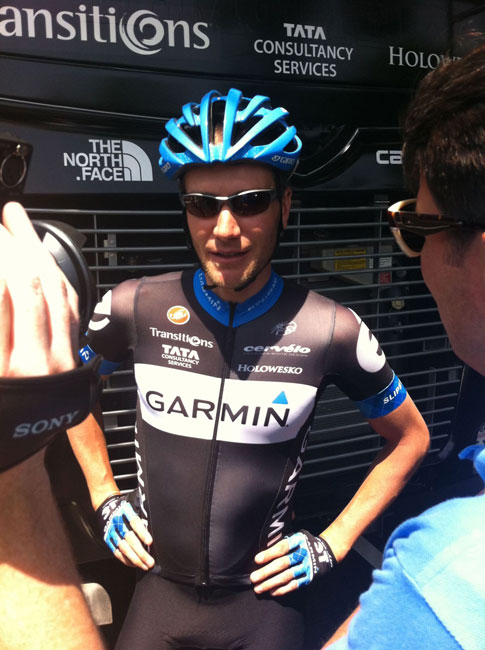 Dave Zabriske interviewed; he was happy with his win yesterday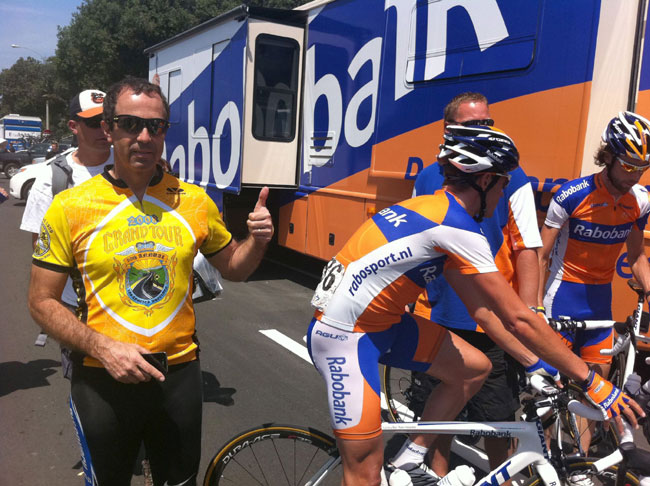 hanging out with Team Rabobank (go Oranje!)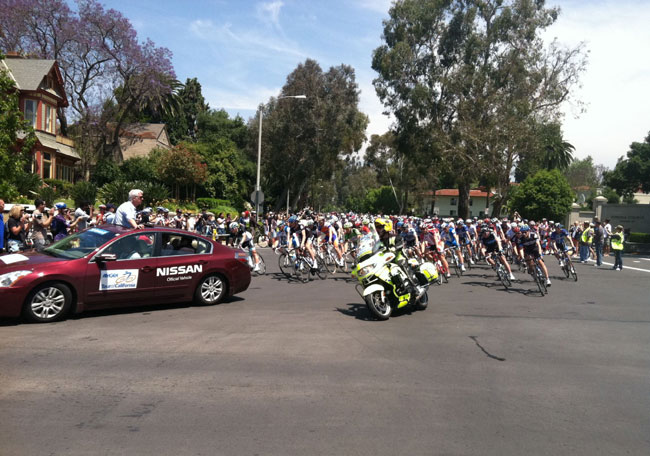 at the start! - the peloton takes a couple of neutralized laps through the town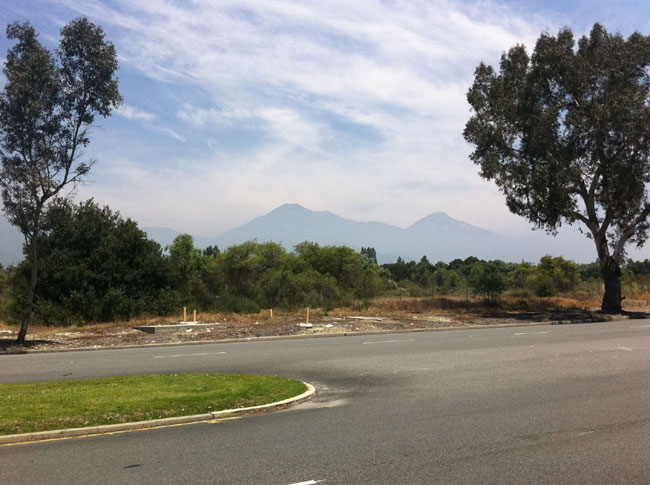 Mount Baldy seems amazingly far away right now - that's where we're going...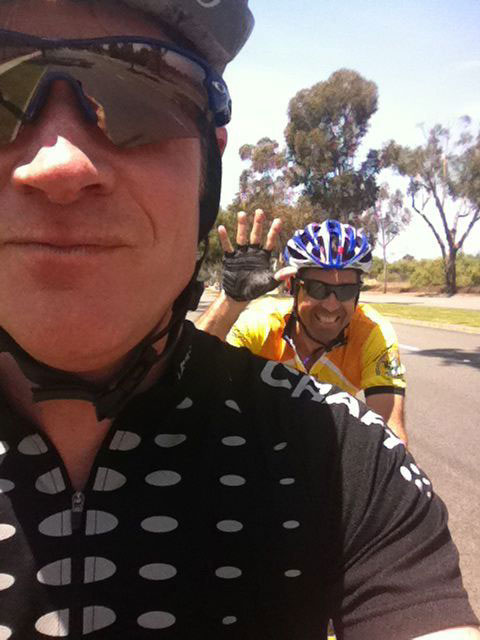 smiling in the flats before the climbs...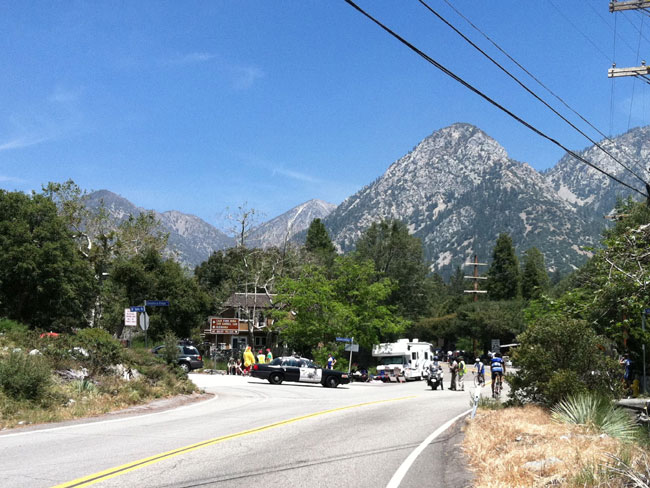 ... Mount Baldy village, whew. 12 miles straight up to get here.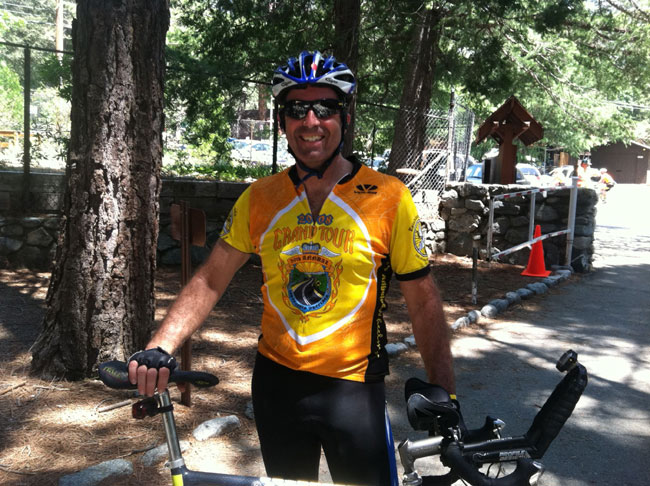 still smiling and preparing for the final assault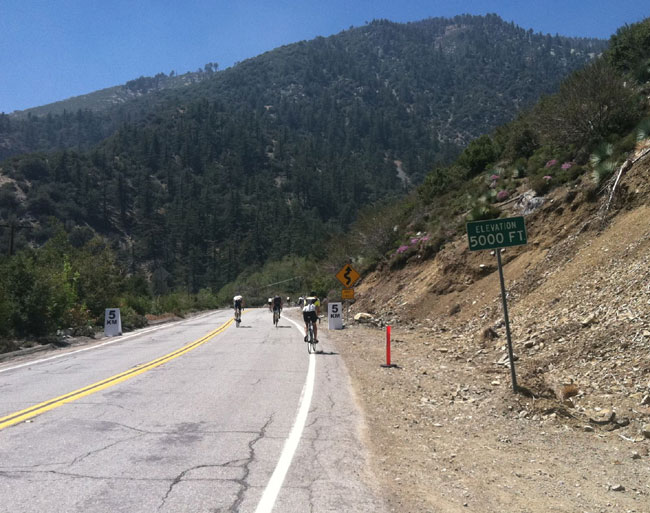 yikes, up we go... this is 10%, no place for the weak of heart or leg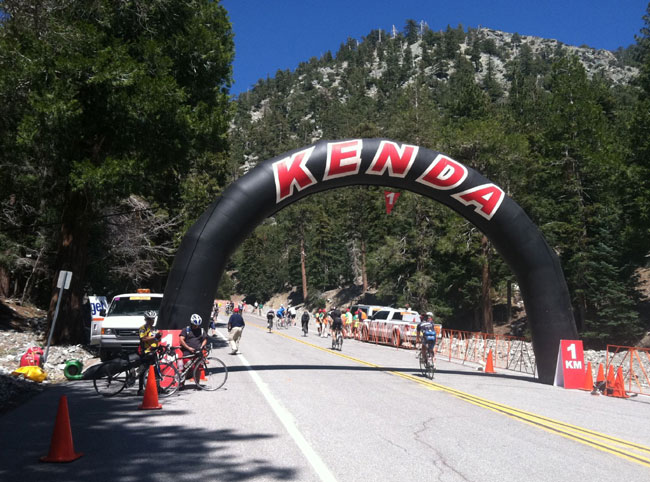 the 1K to go banner - and here it gets *really* steep, like 15%+ - wow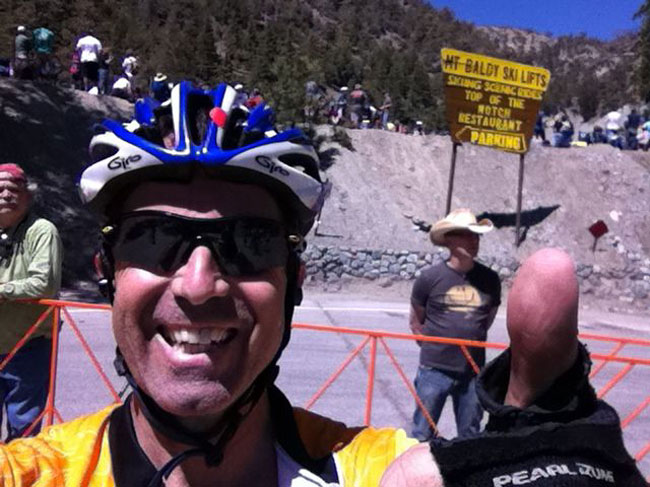 made it!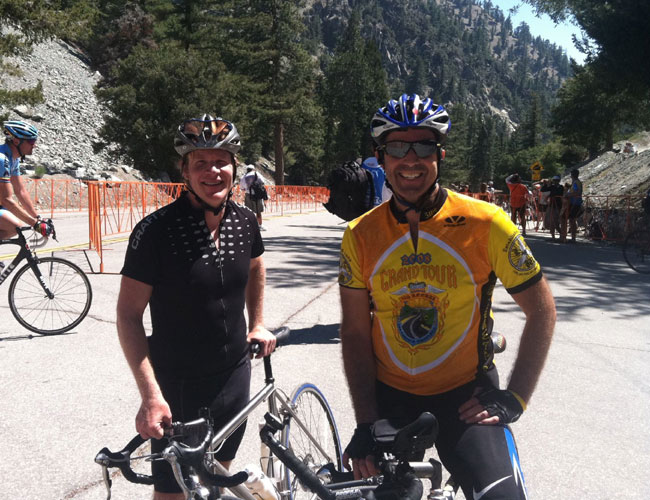 Tim and me
and now time to watch some racing...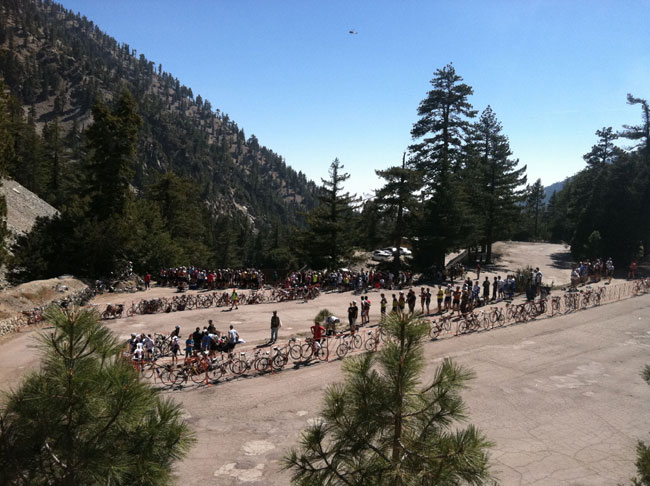 our view of the final section to the finish
the helicopter tells you the boys are close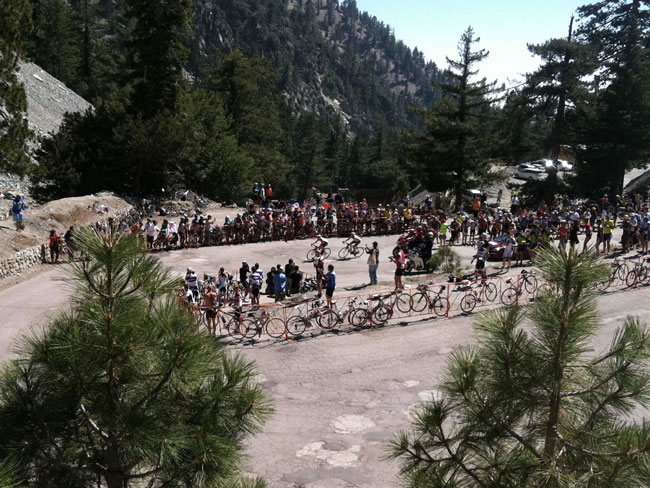 Levi tows Horner to the line as they blast away from the peloton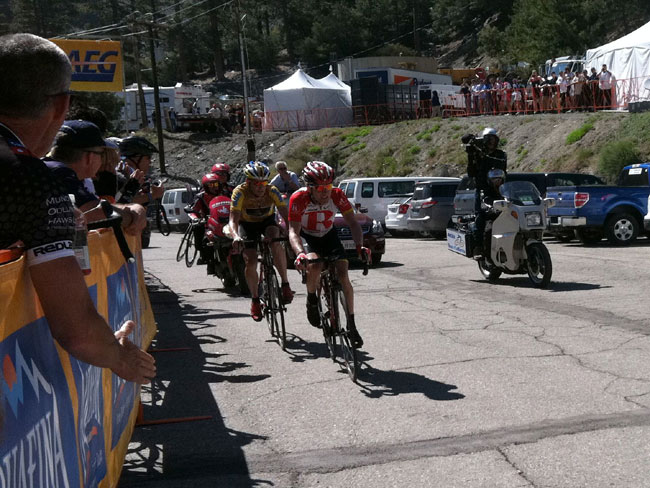 Levi and Chris just about to finish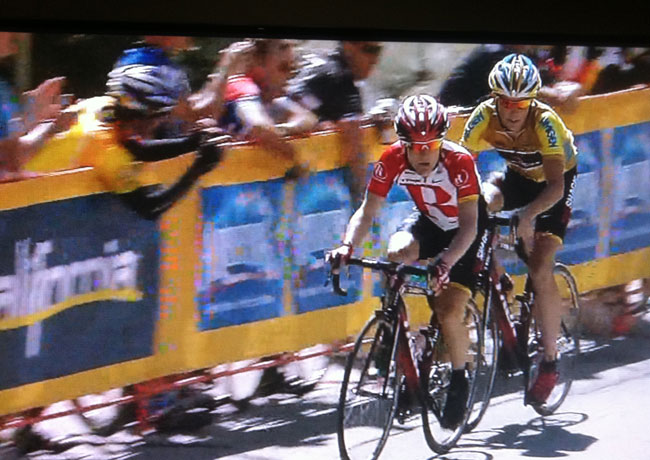 from television: me taking the picture of Levi and Chris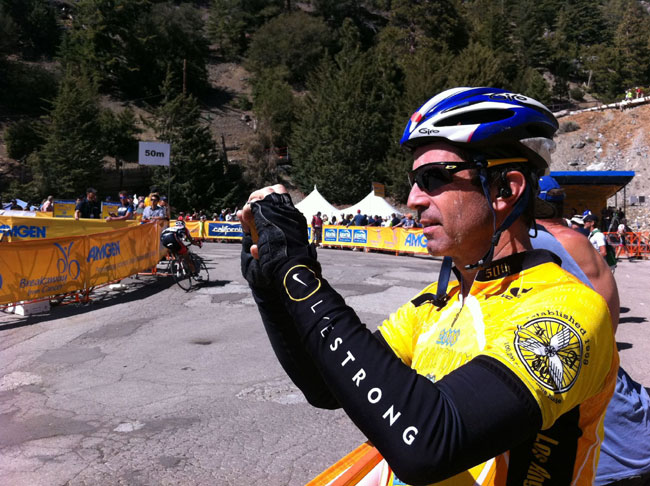 and Tim taking a picture of me taking a picture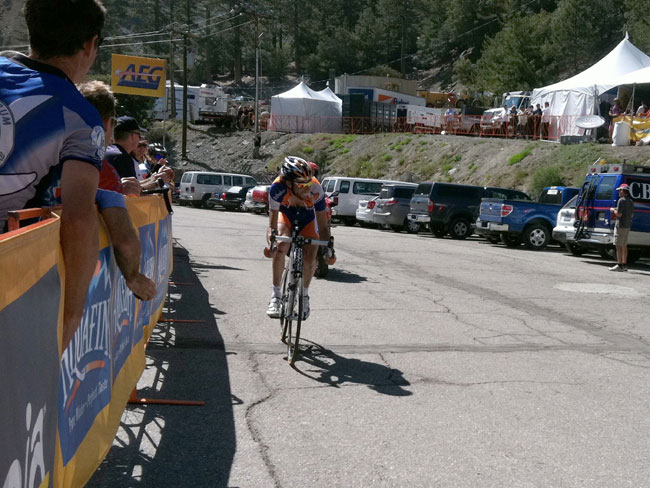 Laurens Ten Dam took third for Rabobank (go Oranje!)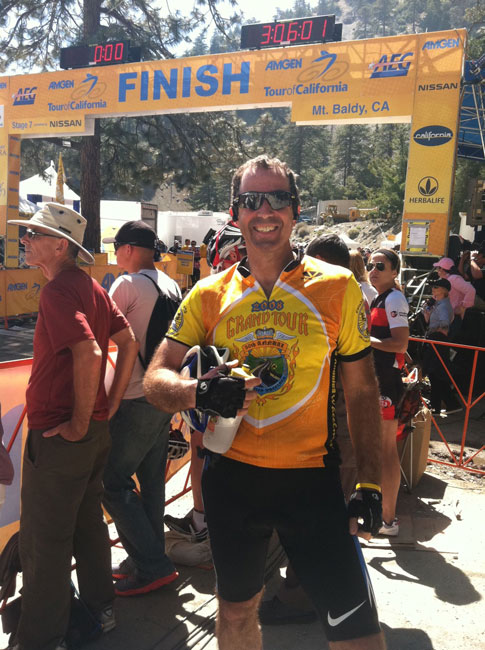 at the Finish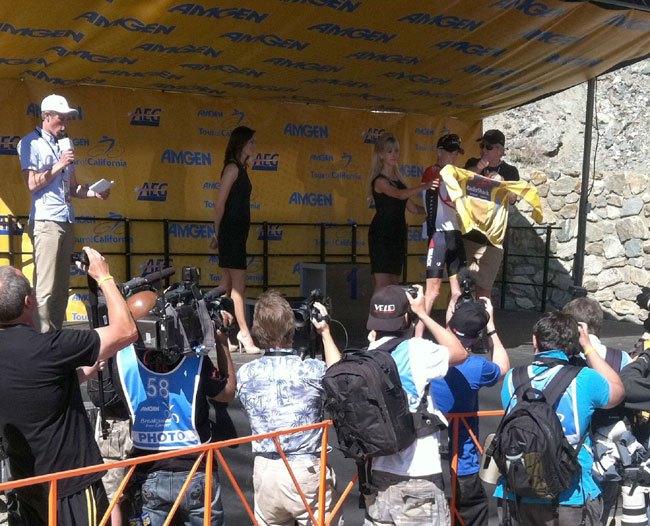 Chris Horner dons the gold jersey of the overall leader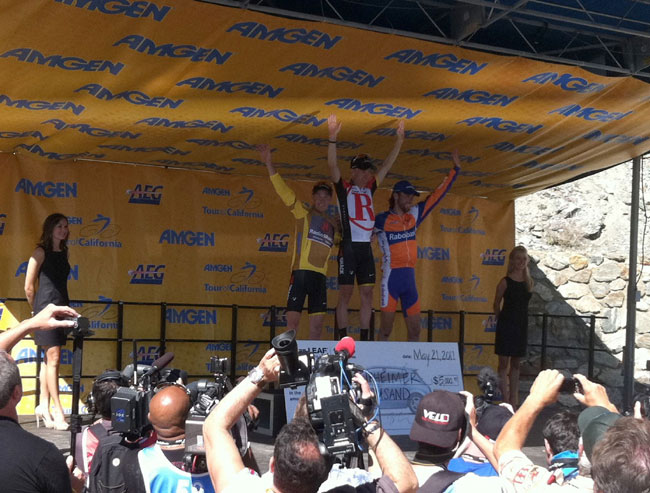 today's podium; Levi wins, Horner second, Ten Dam third - yay!
After some incredible racing on the final climb (4 miles at 10%, with the last mile at 15%) Levi Leipheimer towed teammate Chris Horner across the finish for a well-deserved win (and Horner solidified his overall lead). We watched the podium presentations and then headed down the hill, just in time to pass the groupetto on their way up. (A big bunch of the peloton who can't compete on the climbs gather together and ride up together.) Then we enjoyed a nice 17 mile descent - weaving in and out among slower cars - and headed home, just in time to watch it on television :)
| | |
| --- | --- |
| In Solvang for the ATOC ITT | |
Today Shirley and I had a most pleasant day watching the Amgen Tour of California individual time trials. We drove up route 154 past Lake Cachuma to Los Olivos, bought some wine and cheese and bread, parked, found a nice spot along the climb up to Ballard Canyon (approximately halfway through the 15 mile course), and settled down to an afternoon of peaceful race watching. Cycling is absolutely unique in that with no preparation or special status and for $0, you can sit and watch world class athletes perform from just a few feet away. It was amazing!
I've posted a whole gallery of pictures if you're interested, and there are a few selected ones below...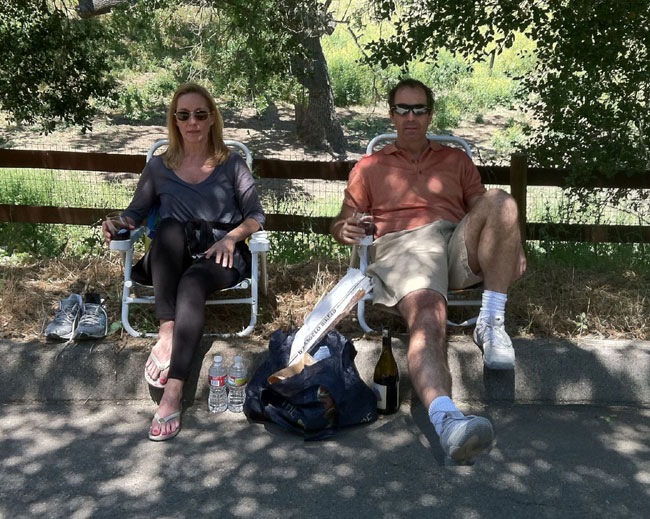 the good life! - wine, cheese, and a perfect view of the racing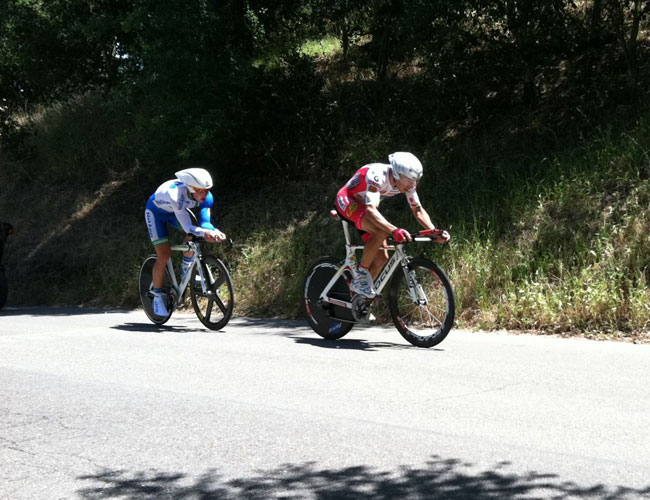 the competitors start 1 minute apart; it's always interesting when one catches another...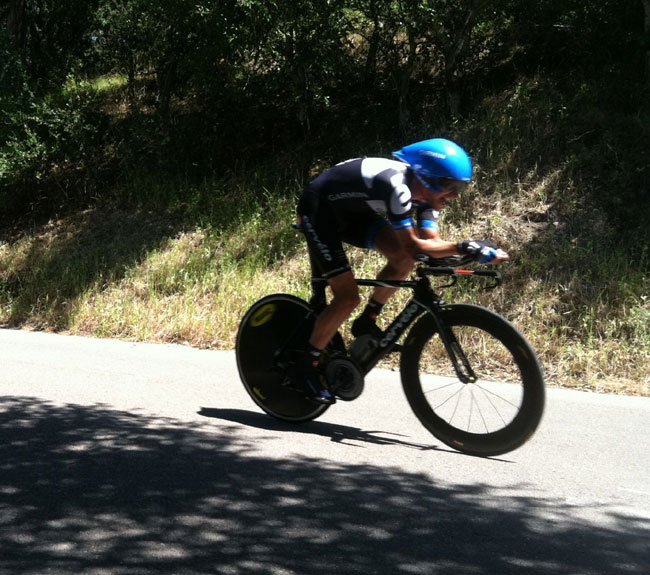 Dave Zabriske powers to the win and a new course record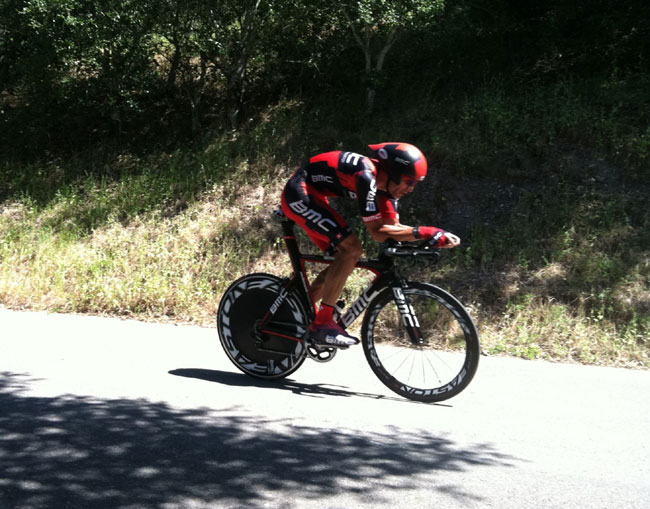 George Hincapie is always a crowd favorite, the grand old man of the peloton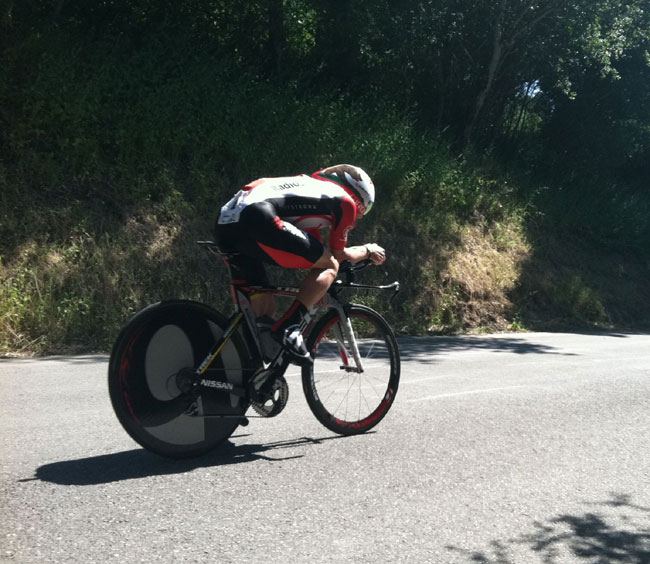 Levi Leipheimer cranked but couldn't quite win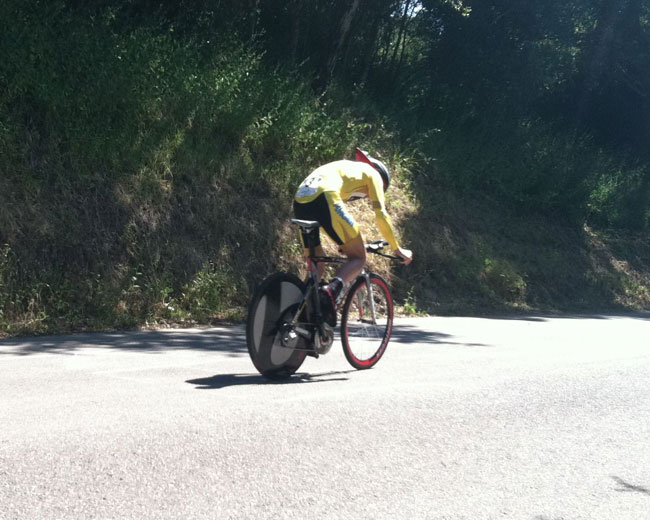 overall leader Chris Horner did great and keeps his golden fleece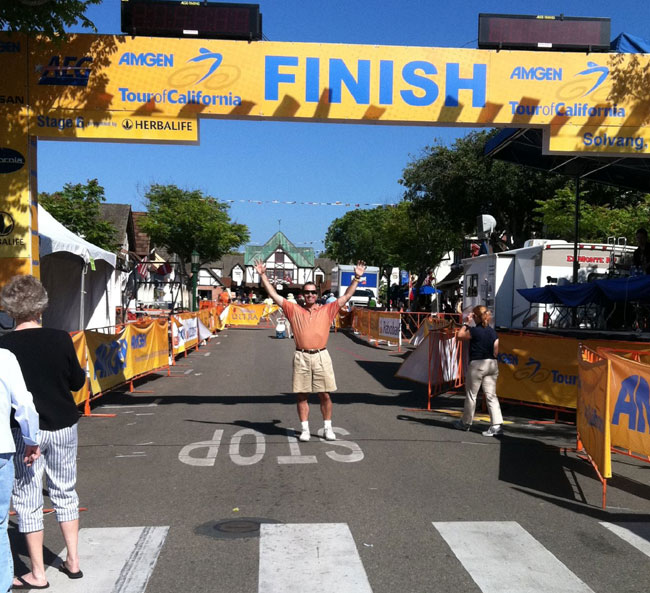 in the village after the racing, a great Finish to a great day
Oh yeah, as to the racing; Dave Zabriske won with a new Solvang ITT record, Levi Leipheimer was second, and Chris Horner was only 40s back so he remains the overall leader. It was a great day.
Tomorrow I'm riding the incredible Mount Baldy course with my friend Tim, after which we'll settle down to watch the racing. Stay tuned for that!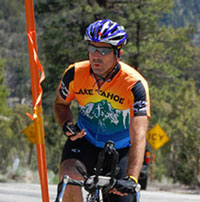 It had been a little while since I'd ridden an "ultra" - a century of more than 100 miles, or with more than 10,000' feet of climbing - so it was good to get back in the saddle today and ride the Breathless Agony, one of my favorite rides. This was my fourth consecutive year of riding it, and I posted a respectable time of 6:23 to the summit. Excellent!
Although the day began foggy it wasn't too cold, and a nice breeze came in to blow the fog away. The ride is broken into four "passes", and the third pass is called Damnation Alley, featuring an unbroken ascent of 4,000' at 7% for 11 miles. Last year it was pretty hot in this section, and I almost boiled over, but this year extra hydration, a sane pace, and the breeze kept me cool and moving. The last 20 miles takes you on to the 8,300' summit of the Onyx Pass, and the problem there is oxygen; you can feel the air thinning as you gasp your way to the top. But I made it and enjoyed hanging out at the summit checkpoint before bombing straight downhill for 35 miles. What a great ride.
Pictures of course (all iPhone this year, note the spiffy self-portraits taken with the front-facing camera :):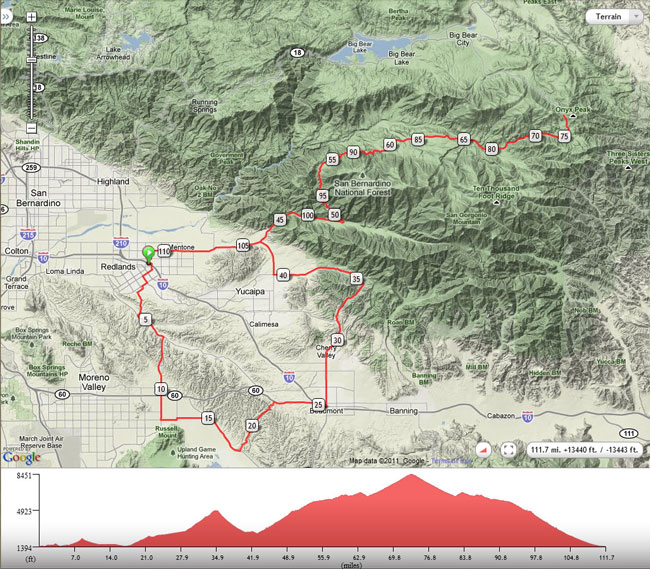 the familiar route: 113 miles, 12,000', and the Onyx Summit at 8,300'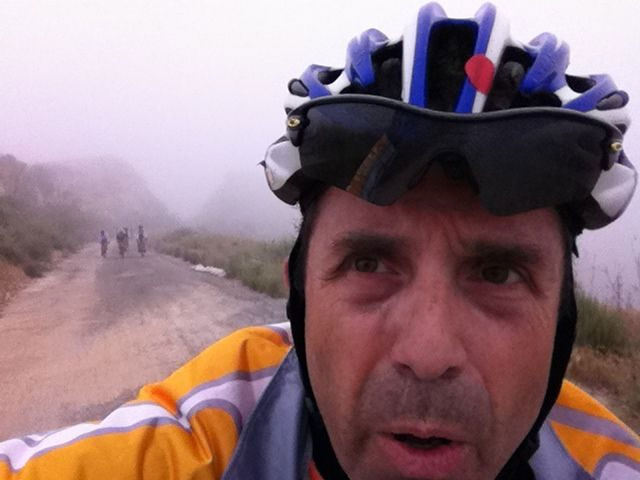 pass 1: Jackrabbit trail, rough road in the fog, but not too steep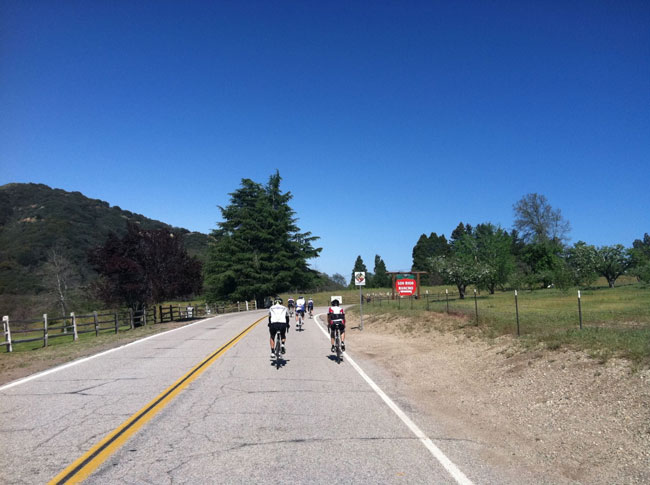 pass 2: Oak Glen summit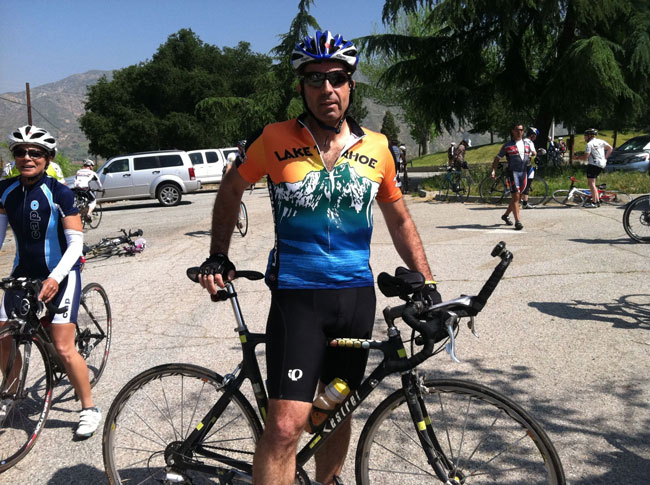 at the checkpoint before starting the main climb; still feeling good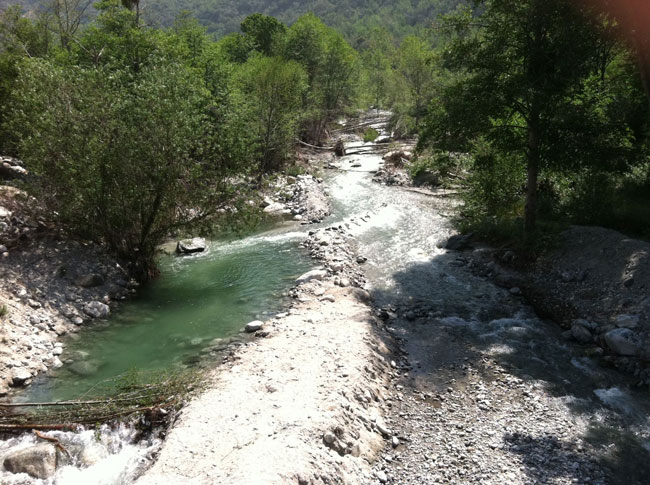 amazing views along the climb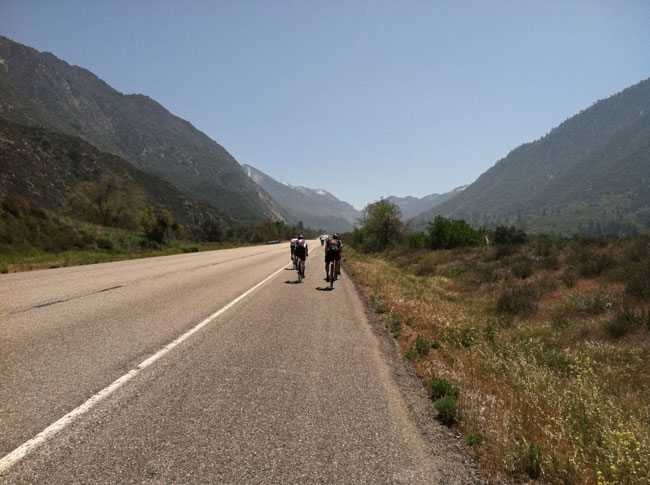 pass 3 aka Damnation Alley - 11 miles of unbroken climbing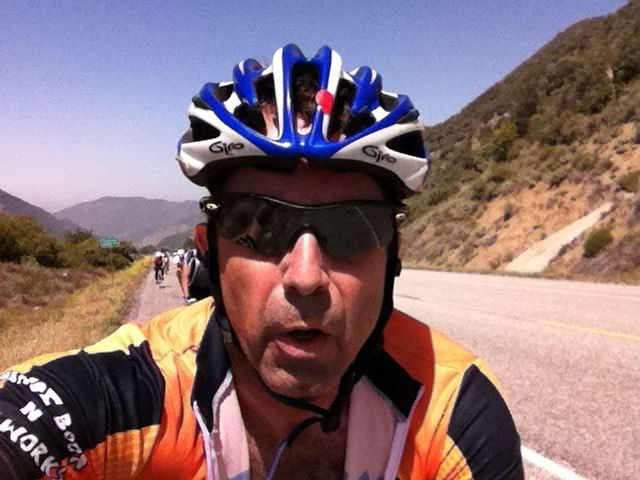 just passed the 5,000' sign, almost there, whew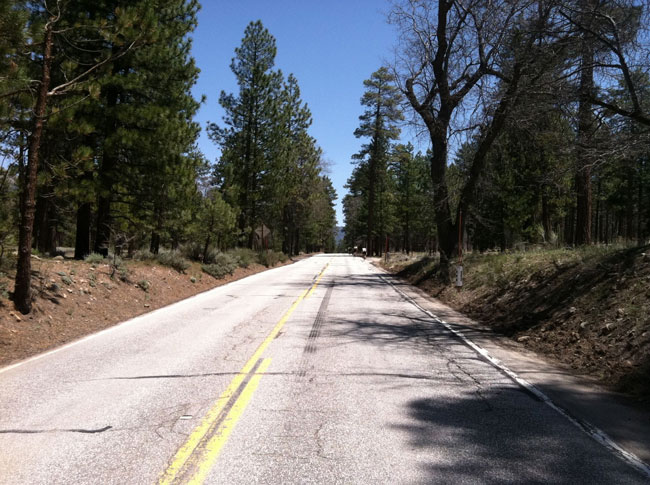 pass 4: onward toward the summit into the pines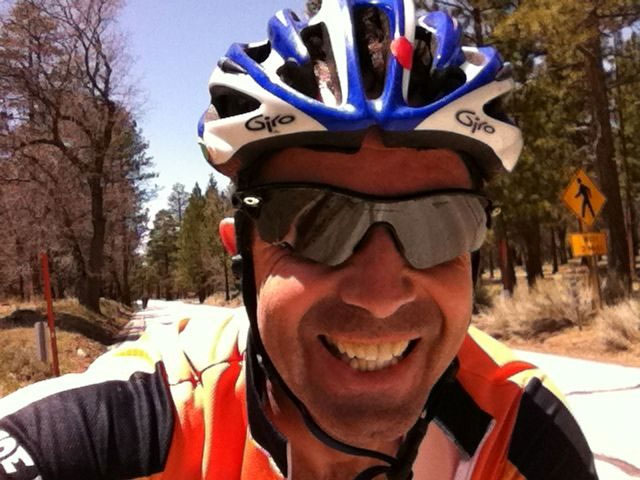 still smiling with about 10 miles to go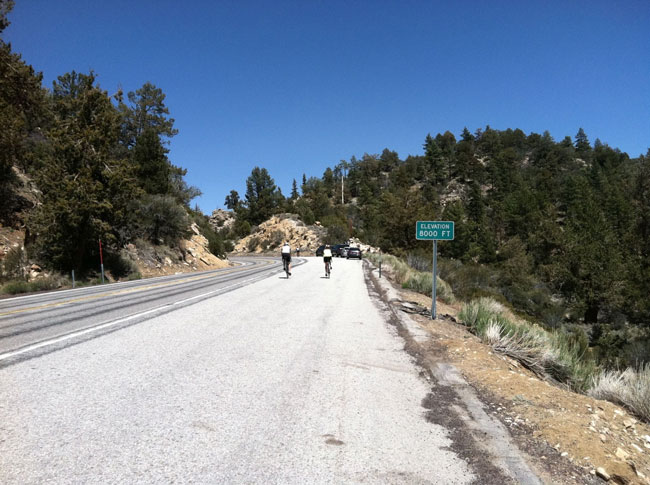 yikes 8,000' oxygen is scarce now and so is willpower ... must. keep. riding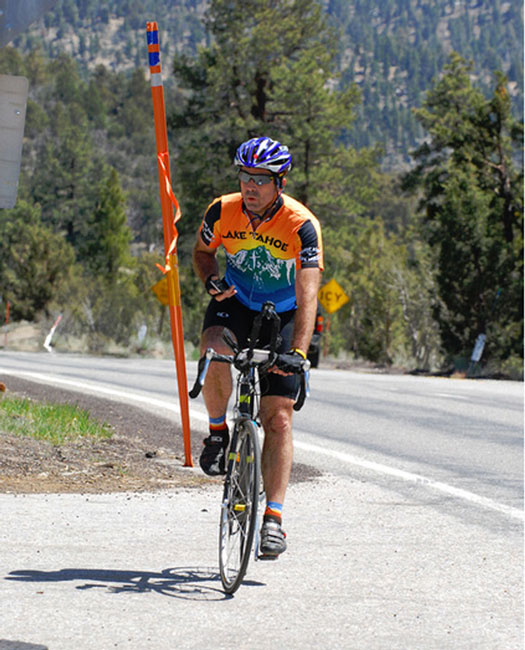 at the summit! yay, made it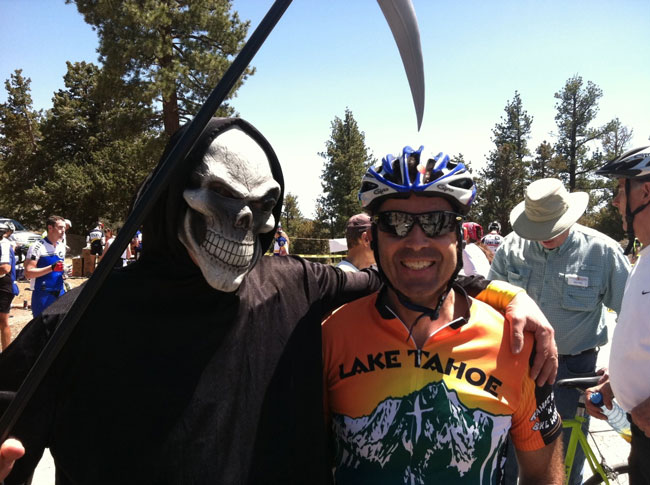 posing with an old friend
Felt good to get this one done; it was a great ride on a great day, and I needed the think time... also it was a good break from all the travel. And now into the rest of the weekend ... and Mother's Day!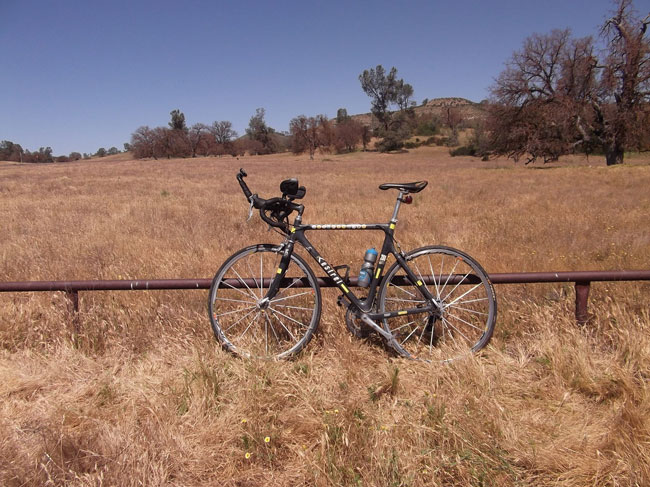 Yay me; today I rode the Wildflower Century, my first century in six weeks, whew. This is an "easy" century, 98 miles with just 6,500' of climbing, but today it was spiced with a chilly 15mph+ wind. (Eichhorn's Law: every wind is a headwind.) I finished in 6:15 riding time, not bad considering the wind, and I took it easy; tried to avoid the temptation of blasting after pacelines. It is a beautiful ride and although there were no wildflowers this year (!) the scenery was amazing.
Some pictures: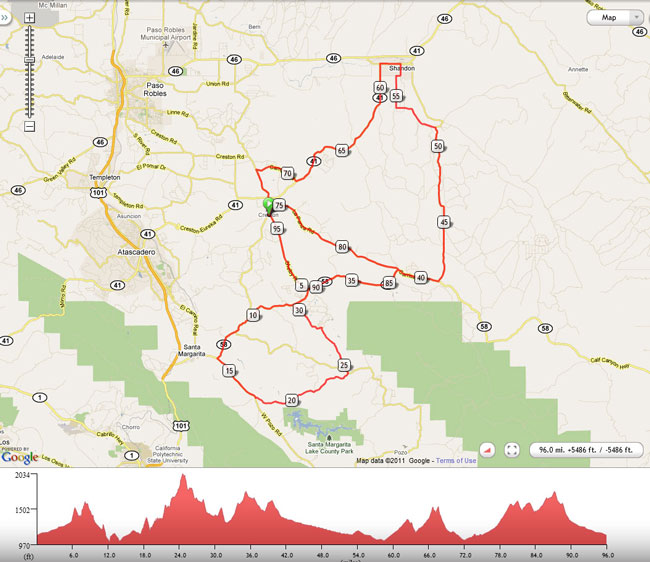 the route: 98 miles, 6,500', and cruising through some of the most beautiful scenery anywhere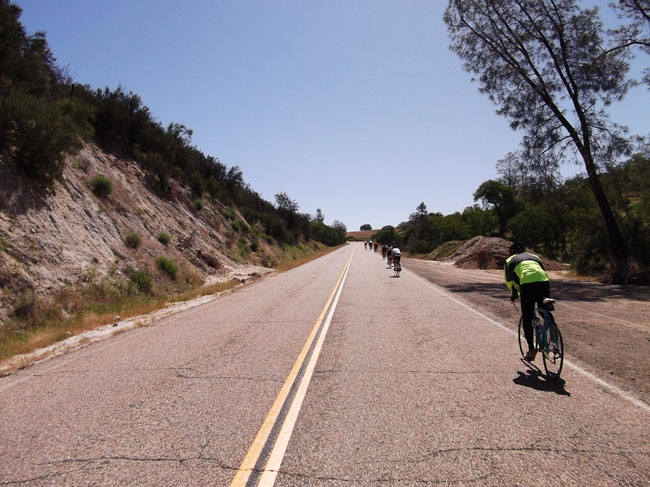 even "easy" rides have climbing, and this one was *not* easy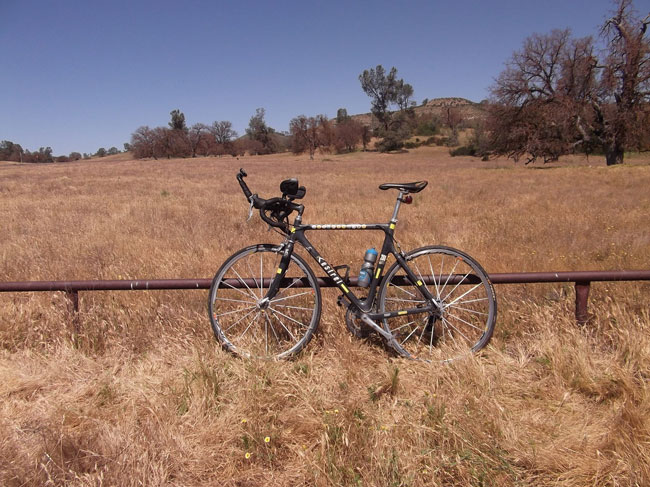 my bike enjoys the scenery, although where are the wildflowers?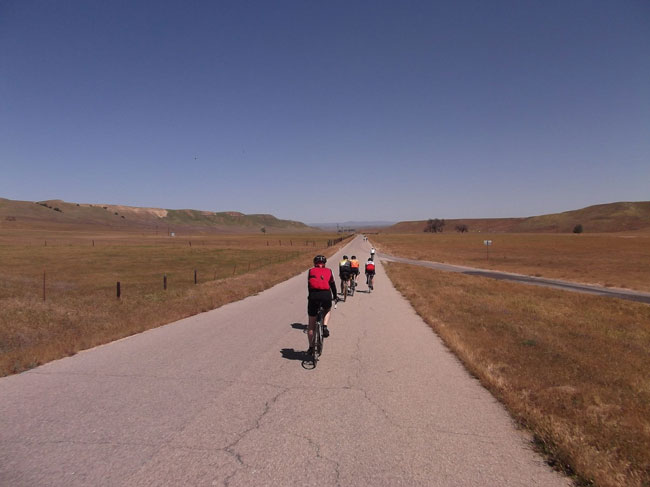 this is the classic section of this ride, up Sea Shell Drive
not pictured, 15mph+ headwind - who ordered that?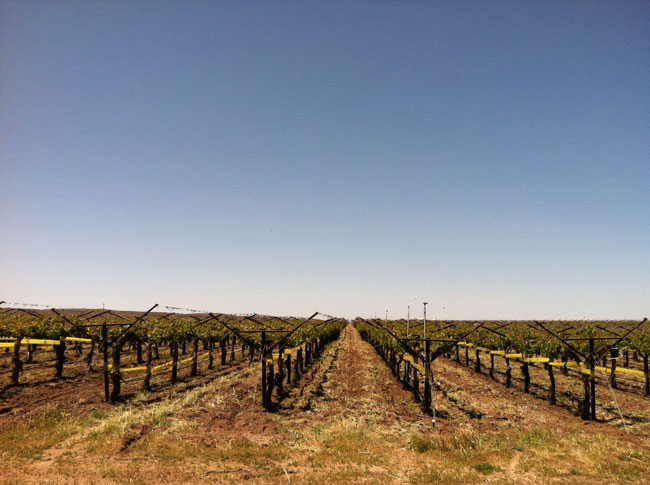 Chardonnay basking in the sunshine :)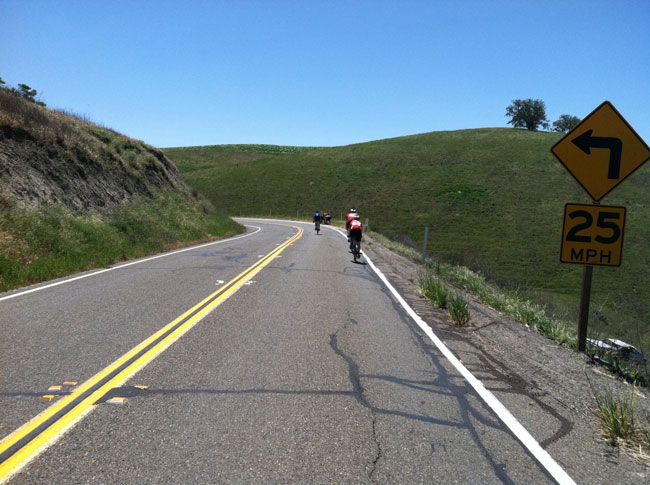 the final climbs through the mountains are beautiful and all the nicer for being the final climbs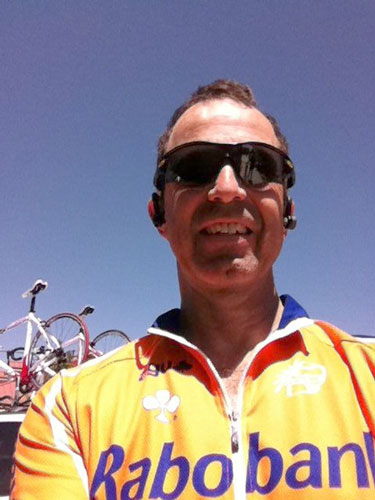 happy Rabo rider - another century conquered
All in all, yay, a pretty great way to celebrate Queen's Day!
Yesterday I rode the Solvang Century, yay! This is my ... fifth year of riding it (whew had to count my fingers) and it remains a great ride (much better with sleep; last year I managed to do it with 0:00 sleep). I haven't done a century+ ride in some time, and it showed; I am in good shape, but not great shape for riding, I've been working out more and riding less, and I felt stronger but had less endurance. Need both :) I did manage to do it in 5:42, and 6:15 elapsed; I skipped the first couple of checkpoints to stay in pacelines and it speeded my ultimate elapsed time (I didn't rest as much) but it slowed my ultimate riding time (I got tired). So be it.
Here's the route, the usual with a few tweaks, an even 100 miles this year with 5,200' of climbing: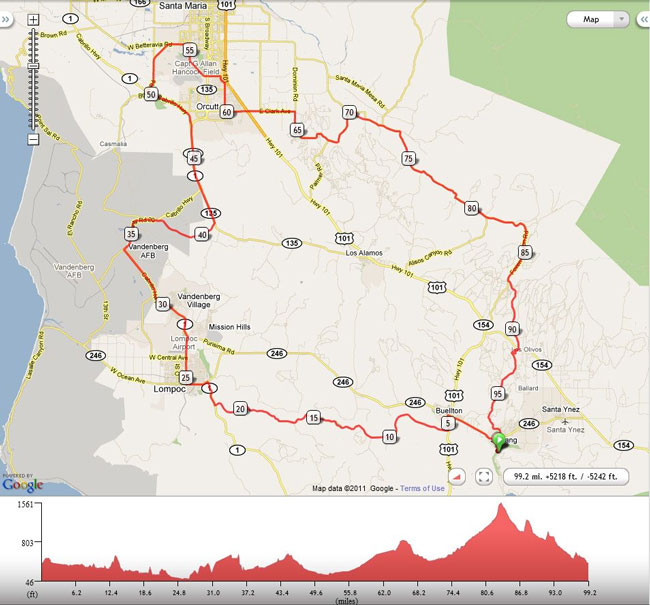 Of course a highlight is always the first leg on Santa Rosa Road through the Santa Rita Hills; yesterday there was some chilly "sea smoke" in the air, and here is my obligatory shot of the Sea Smoke vineyard, the source of the finest Pinot Noir in the world: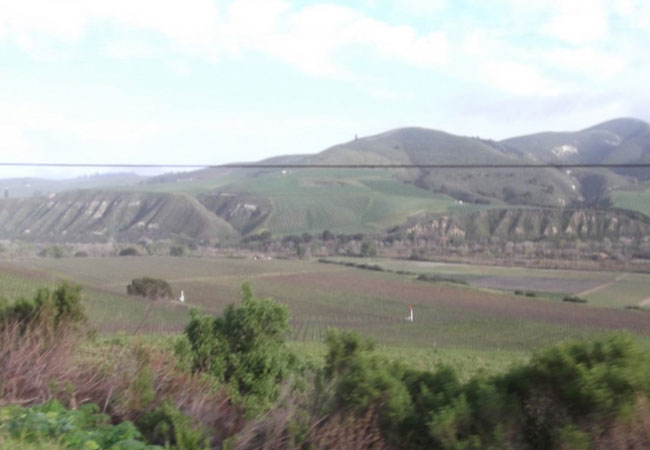 This is the view I had for much of the first 66 miles, up through the third checkpoint; this was a great paceline, but these guys were mean and fast and it was hard to hold a wheel. I knew if once they dropped me I would never get back on. Whew.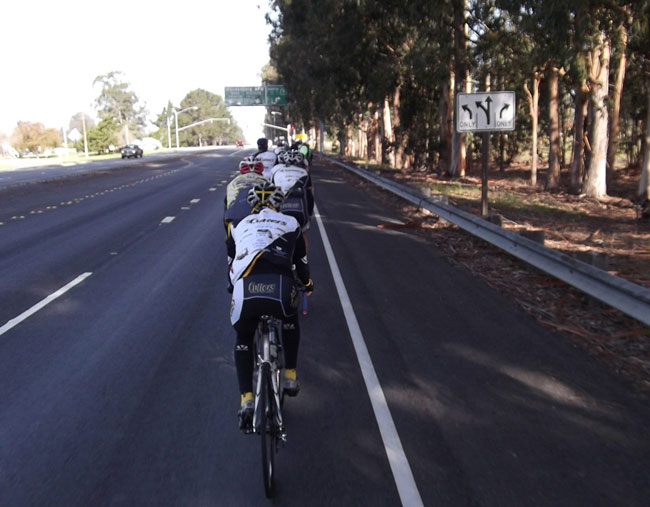 The final climb into Foxen Canyon is always a treat; here's a field of some grand old vines soaking up sun, they just don't make 'em this way anymore...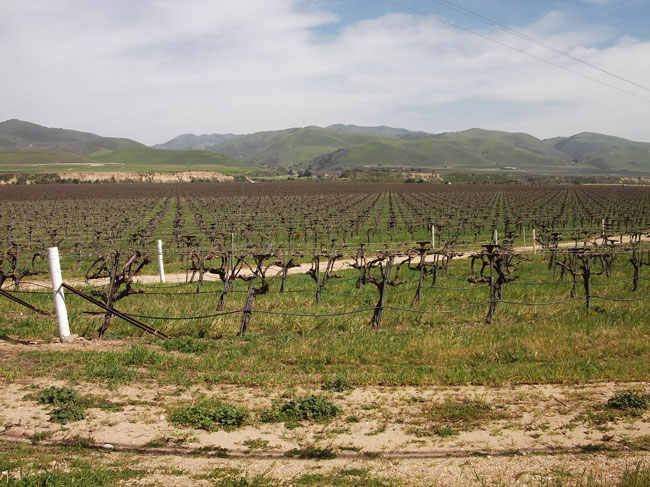 After Foxen Canyon there is the little legbreaker up above Firestone vineyard, and then up into Ballard Canyon; here I am at the top, ready to blast down through the canyon (and enjoy that new road surface, yay!)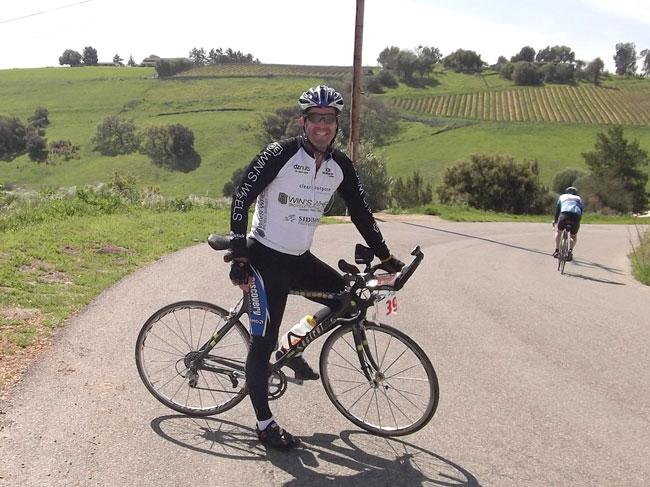 All in all a great day, especially so since there was much on my mind, and it gave me some good think time. I am already looking forward to the Solvang Double ... in two weeks!
Did a little 55 miler with my CVC friends this morning, the Red Ride was led by the CVC race team. Yikes, pace! Was punishing as always, and I feel tired and great, as always.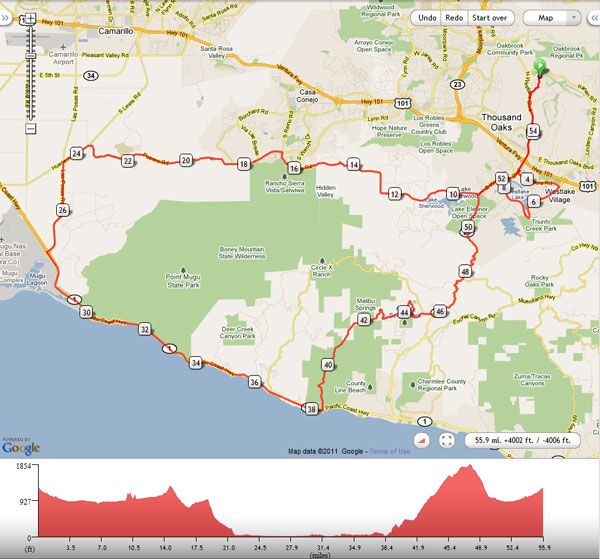 the route: through Hidden Valley down Potrero, blast along PCH, climb back up Mulholland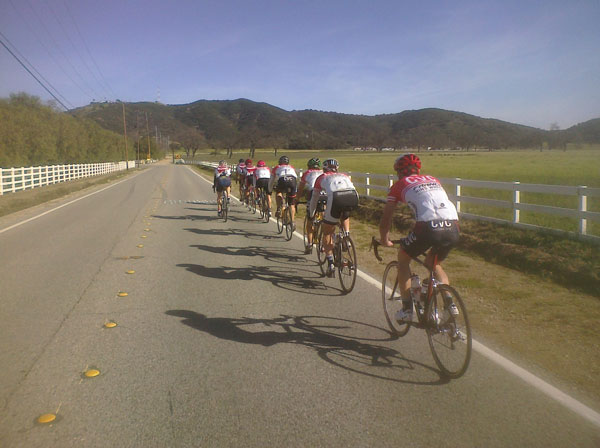 pacing through Hidden Valley: too bad we have to live here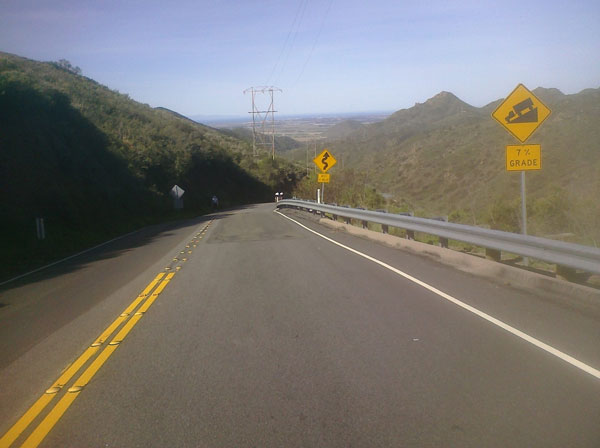 descent down Potrero: yikes!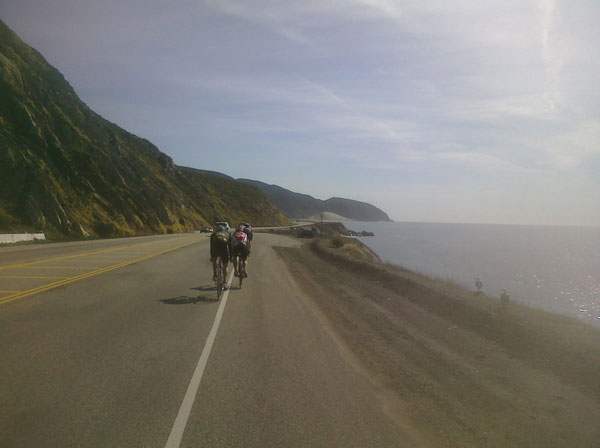 blasting along PCH with a sea breeze on a beautiful day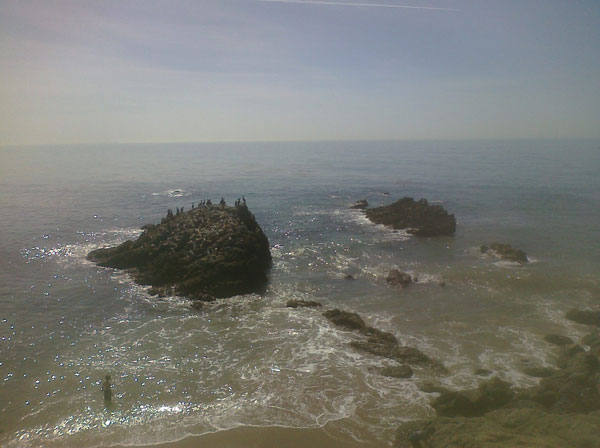 hanging out with my feathered friends
All in all a great ride. And now I have the rest of the weekend left... what shall I do with it?
Continuing my string, this morning I joined CVC's Red Riders for a little jaunt up Westlake, down and up Upper Encinal, and then across Mulholland and down Rockstore. A nice little 35 miler with about 3,500' of vertical. Kicked my ass. In a good way :)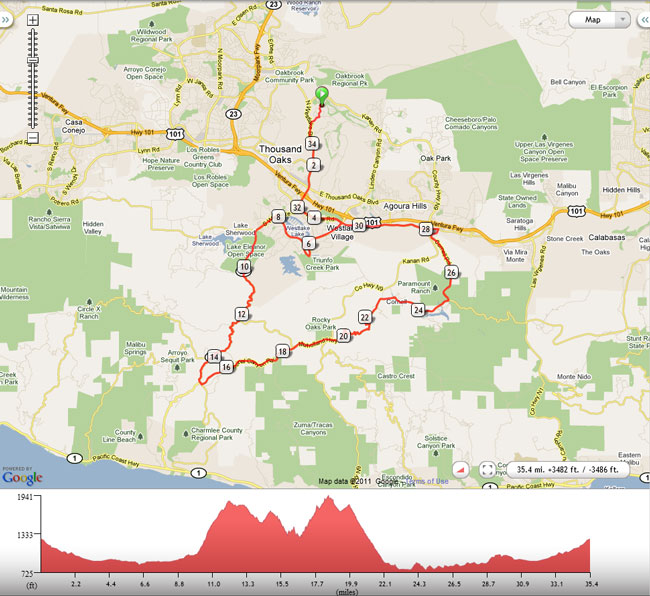 Red Ride: Westlake / Encinal / Mulholland / Rockstore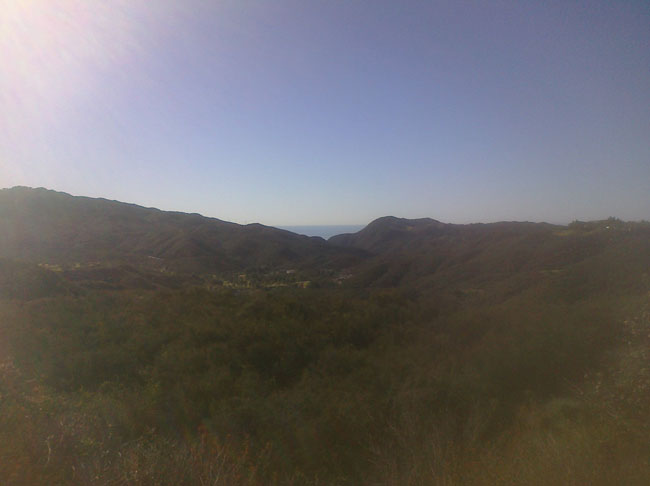 The beautiful Pacific Ocean as seen through Encinal Canyon
Another Saturday morning, another Red Ride; this time we climbed Rockstore, took Encinal Canyon down to PCH, and then climbed back up Mulholland and descended Westlake. 46 miles with 5,400' of climbing. Kicked my ass, again in the best possible way.
Pictures: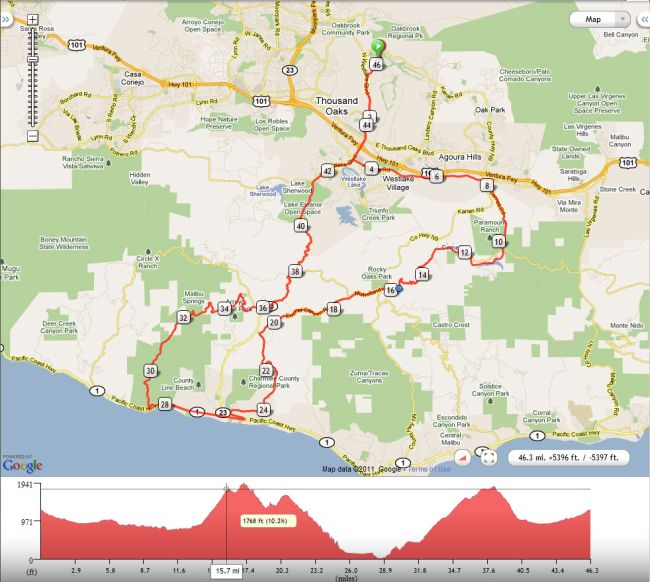 the route: up Rockstore, down Encinal, PCH, up Mulholland, down Westlake. 46 miles, 5,400'.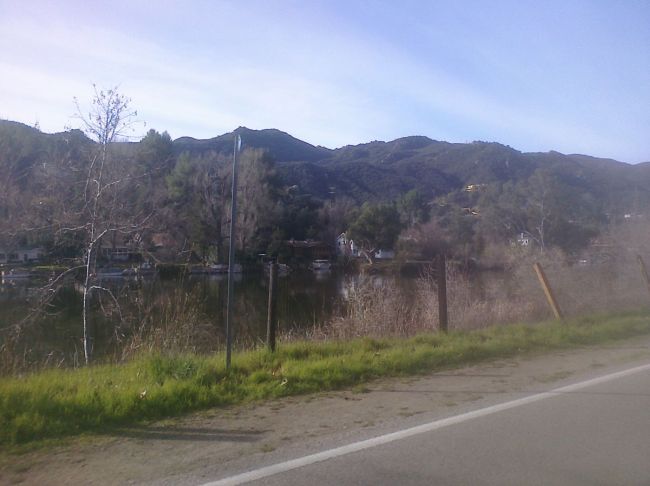 Malibu Lake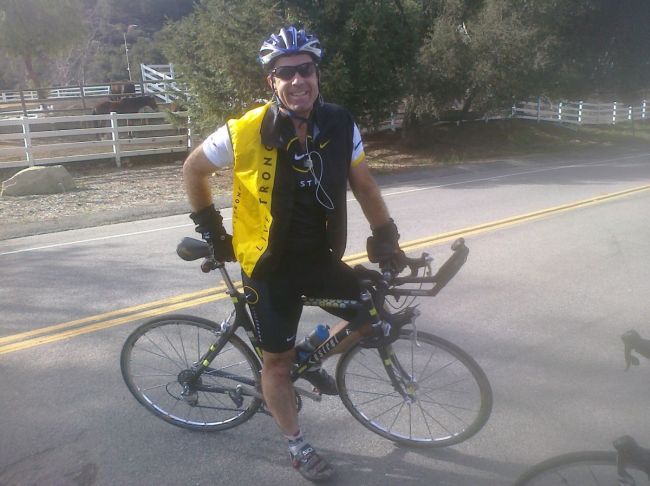 after climbing Rockstore - yay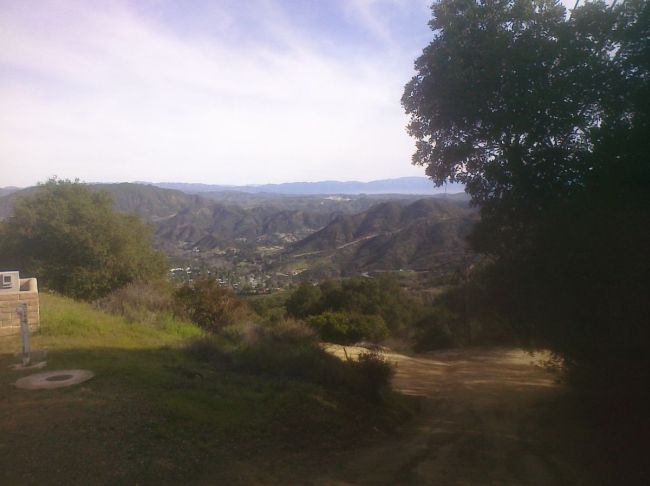 looking back down from the top of Rockstore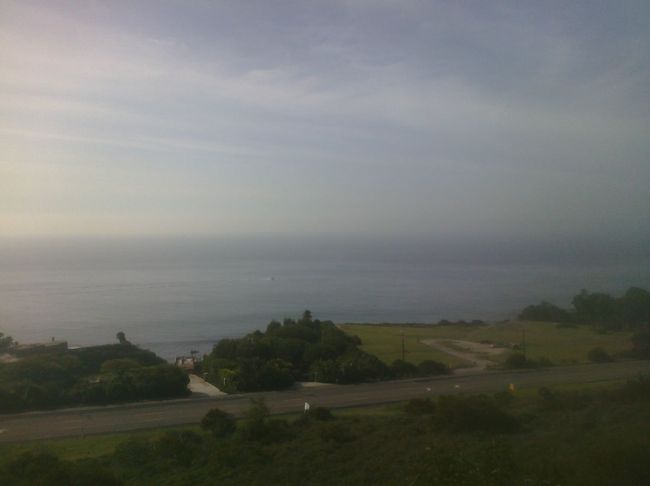 Pacific Ocean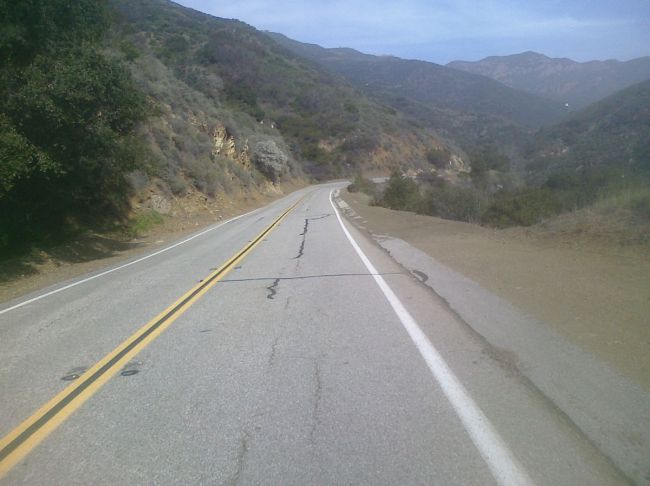 climbing Mulholland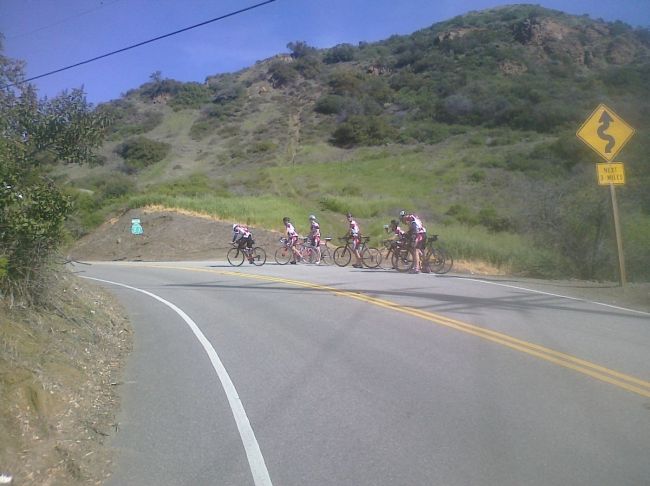 the group reassembles before descending Westlake
Next!
This morning I joined the Conejo Valley Cyclists for their weekly "Red Ride"; a nice little 53-miler with 5,800' of climbing, including the nice 2,000' trudge up Fernwood Pacific. I must tell you it kicked my ass. In the very best possible way :)
Some pictures: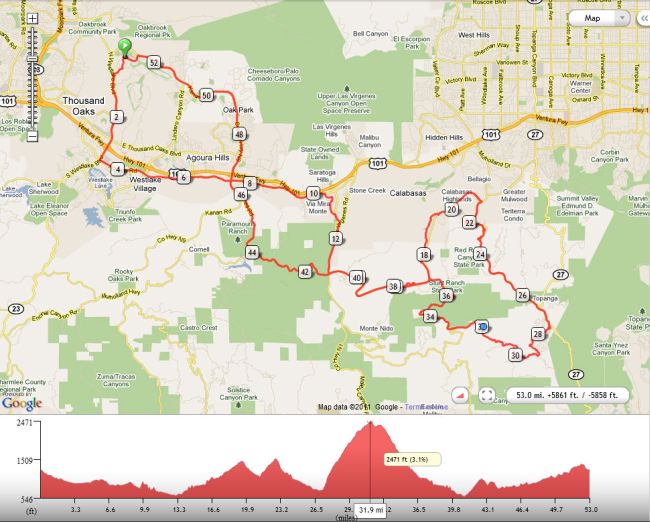 the route: 53 miles, 5,800' of climbing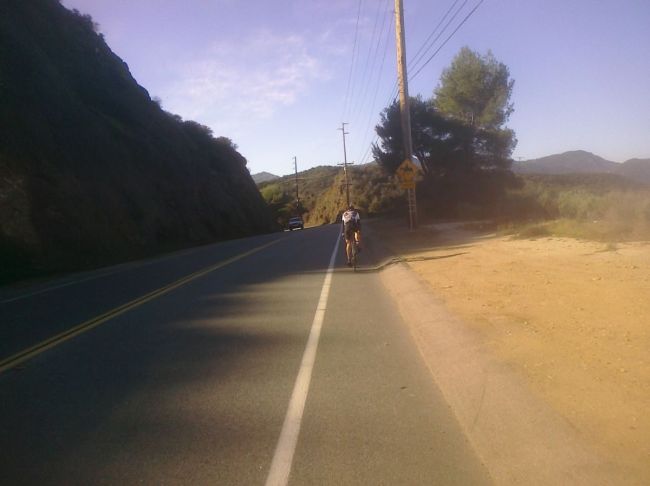 climbing Mulholland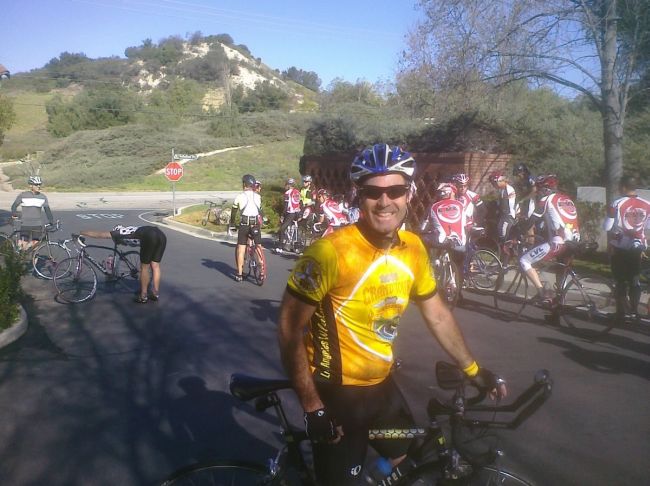 top of "seven minute hill" - the real climbing is yet to come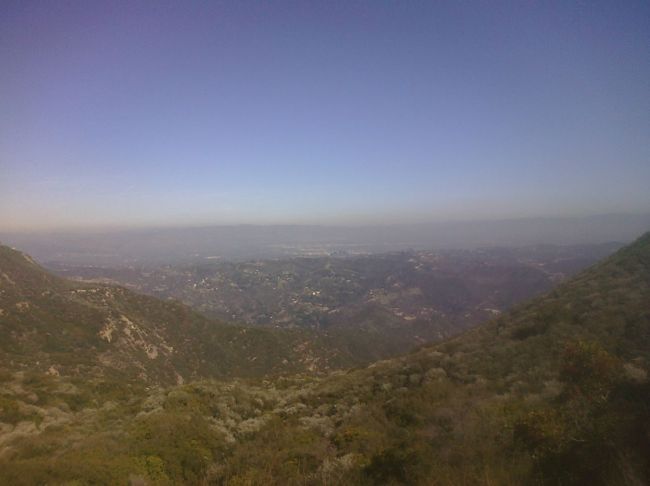 top of Fernwood ... and you may ask yourself, "how did I get here" :)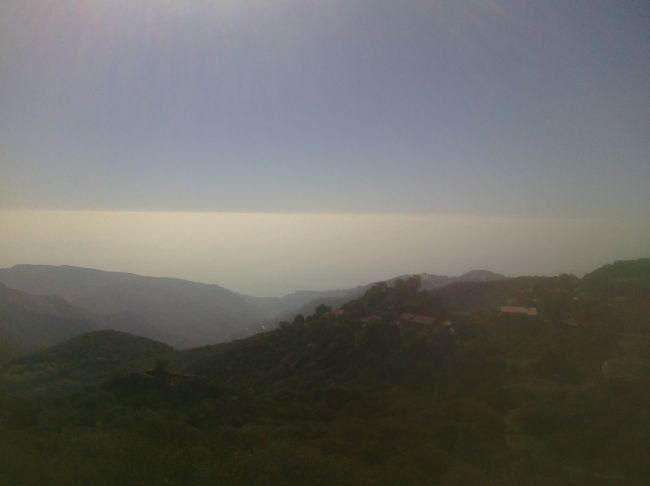 Pacific Ocean overlook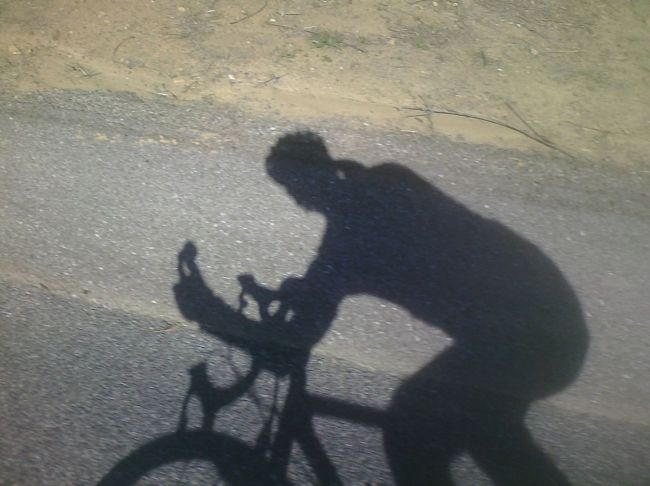 descending Stunt Canyon on a beautiful day for a ride
Next!
Home
Archive
'12 '11 '10
'09 '08 '07
'06 '05 '04
'03 flight
Re:Cycling
Re:The Book
Re:Software
Re:Philosophy
About Me
W=UH
Email

Greatest Hits
Correlation vs. Causality
The Tyranny of Email
Unnatural Selection
Lying
Aperio's Mission = Automating Pathology
On Blame
Try, or Try Not
Books and Wine
Google and Blogs
Emergent Properties
God and Beauty
Moving Mount Fuji The Nest Rock 'n Roll
IQ and Populations
Are You a Bright?
Adding Value
Confidence
The Joy of Craftsmanship
The Emperor's New Code
Toy Story
The Return of the King
Religion vs IQ
Most Spectacular Photos of 2003
In the Wet
the big day
solving bongard problems
visiting Titan
unintelligent design
Shorthorn
the nuclear option
second gear
On the Persistence of Bad Design...
Texas chili cookoff
the inflection point
almost famous design and stochastic debugging
may I take your order?
paper art
triple double
China's olympic gardens
New Yorker covers
Death Rider! (da da dum)
how did I get here (Mt.Whitney)?
the Law of Significance
Holiday Inn
Daniel Jacoby's photographs
room with a view
weird disaster update
in praise of paddle shifting
the first bird
Gödel Escher Bach: Birthday Cantatatata
shining a light
Father's Day (in pictures)
Tour de France 2009
Tour de France 2010
Jobsnotes of note
Tour de France 2011