Tour de France 2011
Following are all my Tour de France 2011 posts, in ascending chronological order...
(of possible interest, all my Tour de France 2010 posts, and all my Tour de France 2009 posts...)
| | |
| --- | --- |
| Tour de France route maps | |
I have to call out the Tour de France race organizers for an awesome website this year, with detailed route maps of each stage including streets and towns and everything. And detailed elevations of each climb. Check it out!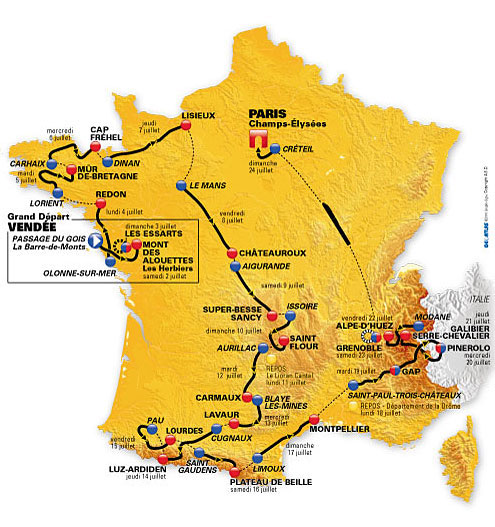 | | |
| --- | --- |
| TDF stage 1 / uphill sprint - Gilbert wins as expected; crashes create gaps and Alberto loses big time | |
Greetings all! As I did last year (and the year before), I'm going to post about each stage of the 2011 Tour de France ... that way you can read them after you've watched on your Tivo (!), or skip them if you're not interested.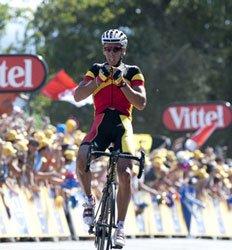 This year the Tour doesn't have a prologue (!) - the traditional short time trial to "seed" the riders - instead we opened with a procession across the famous Passage du Gois, followed by a flat stage with a pretty steep uphill finish. The setup favored Philippe Gilbert, who's has an amazing classics season so far, and indeed he won.
Cadel Evans nearly caught him at the end with a terrific effort to take second, and to gain a few seconds on the peloton. More significantly there were several crashes near the end; none took out any riders, but one cost a number of riders big time, including Albert Contador who finds himself 80 seconds behind most of hit competitors, in a stage which wasn't expected to affect the GC.
Commentating on the commentating: I'd finally gotten used to Craig Hummer but NBC's Liam McHugh has taken his place. Blech. Craig didn't know much but he at least pretended to be engaged; Liam seems amazed by the sport. Surely they could have found someone who knew something? Not impressive. At least Phil Liggett and Paul Sherwin have retained their form.
Tomorrow we have the team time trial which should be most interesting; I'm picking Radio Shack to win, and Saxo Bank (Alberto's team) to lose more time. Stay tuned!
| | |
| --- | --- |
| TDF stage 2 / team time trial - Garmin-Cervelo win (!) a close battle; Saxo lose more time for Alberto | |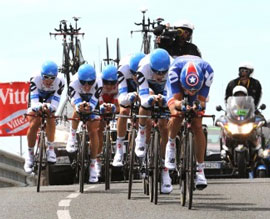 Don't you just love team time trials? I do. Great to watch, and a great addition to any stage race, as it truly features a team performance. Today Garmen-Cervelo narrowly won - their first stage in the TDF! - edging BMC and Sky by 4 seconds, Leopard-Trek and HTC by 5, Radio Shack by 10, and Rabobank by 12. Yes it was that close. Unfortunately for Alberto Contador Saxo Bank were not close, and finished 28 seconds back.
The net leaves Thor Hushovd in yellow, with David Millar in second at the same time, and Cadel Evans third one second back. You could see Thor keeping that yellow all week. Early days but exciting! Philippe Gilbert keeps his green and polka dot jerseys as there were no point awarded in either competition today.
Tomorrow is a dead flat sprint - look for an amazing Cavendish / Farrar / Petacchi battle!
| | |
| --- | --- |
| TDF stage 3 / sprint - Farrar first on forth, Hushovd golden in yellow | |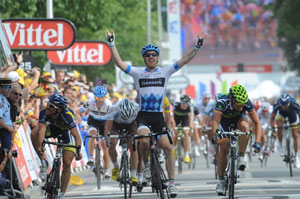 Tyler Farrar blasted out from a bunch sprint to win today's stage 3, featuring a golden leadout by teammate Thor Hushovd, who keeps yellow. I thought HTC started too soon for Mark Cavandish, and Lapre never got themselves organized for Alessandro Petacchi. Surprise Spanish sprinter Joaquin Rojas Jose of Movistar scored consistently all around to move into green, and Philippe Gilbert kept his polka dots.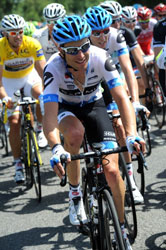 I like the change to the rules wherein each days features one intermediate sprint that means more to the overall sprint standings; it has given us something to watch midway through what would otherwise be pretty boring days in the flats. There was one climb - a high bridge - which made for beautiful views but didn't do anything to the standings. Tomorrow's stage should be a bit weird; it kind of looks flat, but there's a hilltop finish on a Cat 3 climb at the end to make things interesting. Everyone seems to think Gilbert is going to win, but I look for Contador to establish himself, and Evans will be trying to take yellow. Stay tuned!
| | |
| --- | --- |
| TDF stage 4 / uphill sprint - Evans holds off Contador as Thor stays golden | |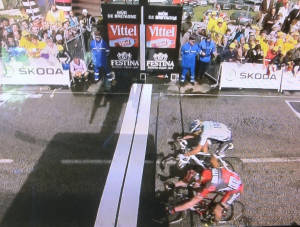 Excellent TDF stage today; a long rolling punishing ride in the fog and rain, followed by a surprisingly tough final 3km climb to a hilltop finish. It made for some great racing; everyone thought perhaps Philippe Gilbert would win as he did on stage one, including his team and perhaps Philippe himself, but instead Cadel Evans marked him and out-powered him to the finish, holding off a last-second attack by Alberto Contador. Thor Hushovd somehow hung with the leaders to get the same time and stay in yellow. Great stuff.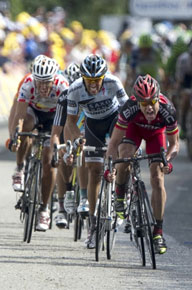 The GC was largely unchanged with only small time gaps, but the psychological damage was done. We now know that Evans is here for real, and Contador can be beaten uphill, and Gilbert is not invincible, and Hushovd is stronger than dirt. And the Garmin and BMC teams are here to win. And Radio Shack too, although Chris Horner flatted at just the wrong moment and missed his chance to mix it up on the final climb (would have been a good chance for him too). And finally how great was it to see Alexander Vinokourov right there at the end. It's gonna be a great Tour.
Tomorrow we have a field sprint - look for Farrar and Cavendish to do battle again...
| | |
| --- | --- |
| TDF stage 5 / windy sprint - Cav wins one ahead of Rojas and Gilbert after carnage on the road | |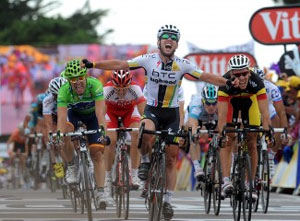 Whew, today was one of those days on the tour; what looked to be a quiet little day along the Brittany Coast turned into carnage as the nervousness of the peloton and the narrowness of the roads combined to yield several nasty crashes. A stiff crosswind made the finish "interesting"; but in the end it came down to a bunch sprint, with Mark Cavendish prevailing over green jersey -wearer Juan Rojas and Philippe Gilbert. Pretty much everyone got the same time so the GC is unchanged.
Tomorrow's stage is the longest in this year's tour and features rollers all through; to me it looks like an ideal stage for a breakaway to succeed, especially after all the damage today. It will be most interesting to see who lines up to escape, and whether the field lets them go; a complicating factor is the new intermediate sprint point. Probably a successful breakaway will have no more than five or six riders. We'll see!
| | |
| --- | --- |
| TDF stage 6 / long rolling sprint - Boassen Hagen outkicks Gilbert and Hushovd, GC unchanged | |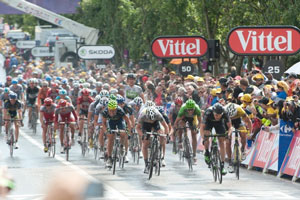 Today promised to be a lot more interesting than it was; such is the Tour. (There are other days when you tune in thinking you're going to see three hours of parade followed by 30 seconds of sprint, only to see fireworks all through.) I expected a breakaway to stay away, but instead a rather weak five-man group hung off the front, closely monitored, as the peloton drove on through the rollers amid rain, all of which culminated with a rather disorganized bunch sprint on a slight incline. Edvard Boasson Hagen of Sky blasted to the front, closely pursued by Philippe Gilbert and Thor Hushovd. None of the true sprinters gave it a go.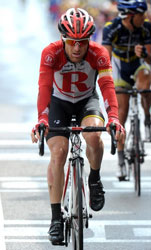 I think today the mid-race sprint point worked against an interesting break. The sprinters' teams kept the pressure on and nobody could get away. Perhaps a stronger / larger break would have worked, but on the other hand a stronger / larger break wouldn't have been allowed to form in the first place.
Bad luck for Levi Leipheimer; he crashed just outside the 3km boundary, and by the time he was back up and chasing the field was in full sprint. He ended up losing a minute on GC which he'll definitely wish he had back later in the Tour.
Tomorrow we have a pancake flat stage which probably will be three hours of parade followed by 30 seconds of sprint; but then again you never know, so stay tuned :)
| | |
| --- | --- |
| TDF stage 7 / sprint - Cavendish wins, crashes knock out contenders | |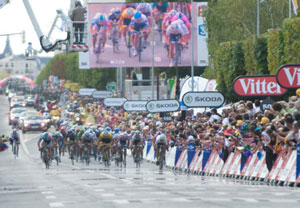 A long, wet, windy stage 7 from Le Mans to Châteauroux ended with Mark Cavendish winning another bunch sprint, his 17th overall (!), but the big news was crashes which took out Bradley Wiggins and cost Chris Horner and Levi Leipheimer big time. Alexander Vinokourov also hit the deck. It was one of those stages where you could say the Tour cannot be won, but it certainly can be lost. Tom Bonnen retired early on from injuries sustained in stage 6.
[Update: Chris Horner is out :( could not start stage 8. boo! I guess now we root for Kloden!]
Stage 8 is rather interesting; with an uphill finish and lots of rollers, it doesn't look like a sprint stage, yet it isn't a pure mountain stage either. Maybe a break will get away? Stay tuned...
| | |
| --- | --- |
| TDF stage 8 / rollers - Da Costa wins from break, Gilbert takes green | |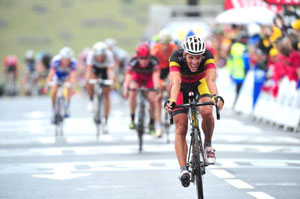 Rui Da Costa hung on from a break to take stage 8 of the Tour de France, while Philippe Gilbert blasted away from the peloton to take glory and the green jersey. And interestingly Cadel Evans hung on to beat Alberto Contador, after he attacked on the final climb. It is starting to look like Alberto doesn't quite have it this year, and/or Cadel does. Meanwhile Gilbert animates everything; I really like him (even though he's Belgian :). Also interesting Teejay Van Garderen attacked the break and looked great, taking the polka dots. Onward!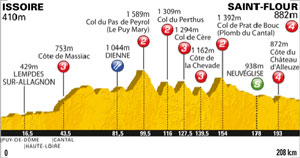 Stage 9 is rather interesting; with eight categorized climbs it cannot be considered flat or easy (in fact it can be considered a leg-breaker), yet it isn't a mountain stage either. With a rest day ahead I predict a successful breakaway for the first time this tour, as the GC contenders rest up and recuperate and the sprinters wait for next week. Stay tuned...
| | |
| --- | --- |
| TDF stage 9 - Sanchez wins from break, Voeckler takes yellow; unbelievable crashes continue | |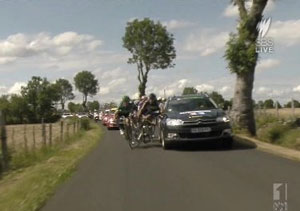 Wow. Stage 9 of the Tour had a little of everything; eight categorized climbs (some of those Cat 2s were pretty tough), a powerful breakaway destined to succeed, horrible crashes which took out several contenders and injured others, and a TV car running riders off the road, changing the results of the race. If you missed it, go back and watch. Wow.
Today's break was not five guys out to get TV time for their teams, they knew they had a chance, and they rode like it. Chasing behind the peloton had a number of horrible crashes, and Dave Zabriske, Alexander Vinokourov, and Jurgen van den Broeck were forced to retire. With the finish in sight a TV car swerved into the five-man breakaway, hitting Juan Antonio Flecha and knocking him to the deck, and causing him to crash into Johnny Hoogerland who somersaulted into a barbed wire fence. This enabled Luis-Leon Sanchez and Thomas Voeckler to escape, with Sanchez ultimately winning the stage but putting Voeckler solidly in Yellow, two minutes ahead of the GC contenders.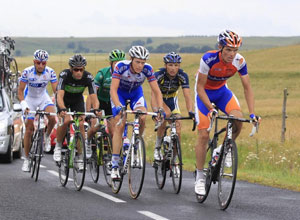 With a rest day tomorrow that leaves the GC at Voeckler in yellow, Sanchez (1:49), Cadel Evans (2:26), Frank Schleck (2:29), and Andy Schleck (2:37). Other contenders include Andreas Kloden (2:32), Ivan Basso (3:36), Robert Gesink (4:01), and Alberto Contador (4:07). You could have won money betting that Contador would be in 16th that far back after week one. After the rest day there are a couple of days for the sprinters - 5 hours of touring followed by 5 minutes of racing - and then Thursday (ta da!) we go into the Pyrenees, with stage 12 featuring a Cat 1 and two HCs. Yay. Stay tuned!
| | |
| --- | --- |
| TDF rest day #1 - thoughts | |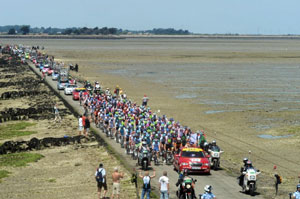 A few thoughts on the 2011 Tour de France, as of the first rest day:
The race for GC is still wide open. No serious climbing yet, no big selections.
There's going to be an interesting race for the green jersey.
The crashes in the first week were worse than usual, and eliminated more contenders than usual. Bradley Wiggens, Jurgen van den Broek, Chris Horner, Alexander Vinokourv.
Alberto Contador had a bad week, lost four minutes, and crashed a lot. But he's still right there. Plus he won no stages and looked vulnerable.
Cadel Evans had a great week, he's in the lead among the contenders, and stayed out of trouble. Plus he won a stage and looked strong.
Andy and Frank Schleck also had great weeks, they're right there, no crashes.
The sprint battles have been pretty much as expected, with Mark Cavandish winning two stages, but Tyler Farrar got one and so did Eduard Boassen Hagen. Meanwhile Jose Joaquin Rosas has stayed close all the time.
Thor Hushovd was a great leader for the first week. He looked good in yellow, and he'll be up there battling for green you can be sure.
Rabobank has reason to smile, with Luis-Leon Sanchez winning a stage and sitting in second place, and Robert Gesink in the white jersey and in the GC hunt. Sanchez could stay up there, he's a great climber and a solid time trialer.
Johnny Hoogerland's horrible crash and subsequent recovery have made him a hero. I doubt seriously he can hang on to the polka dots, but who knows.
Thomas Voeckler in yellow is awesome. Everyone likes him, and while he isn't a threat to win overall, he could hang on to it longer than anyone thinks.
My picks for overall: Cadel Evans to win, Phillippe Gilbert in green, Samuel Sanchez in polka dots, Robert Gesink in white. Stay tuned :)
| | |
| --- | --- |
| TDF stage 10 / sprint - Griepel takes one from Cavendish | |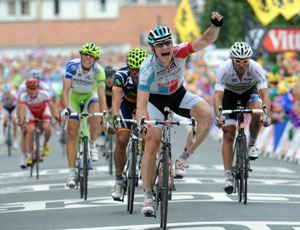 After a rest day, another flat day in the Tour, another bunch sprint, and another win for Mark Cavendish Andre Greipel wins! Yay for him, and yay for the Tour. There was another crash involving big names - Fabian Cancellara, Levi Leipheimer, Robert Gesink, and Christian Van de Velde - but fortunately they were all able to continue and didn't lose time. It was most excellent at the end to see Philippe Gilbert attack out on a break with Thomas Voeckler - how often do you see the yellow and green jerseys out on a break? - but they were inevitably sucked back into the peloton. A little more of an incline and perhaps a little better timing and Gilbert would have had a chance.
Tomorrow is another flag day which will probably feature another bunch sprint; look for Cavendish to reassert himself :)
| | |
| --- | --- |
| TDF stage 11 / sprint - Cavendish beats Greipel, takes green | |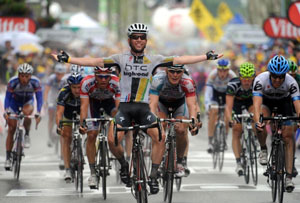 Today's stage 11 of the TDF was the most boring yet; a long flat ride through the middle of France which ended in a bunch sprint and Mark Cavendish winning again, giving him the green jersey. Ho hum.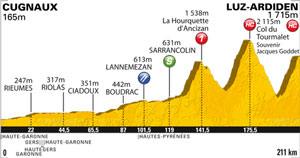 But tomorrow there will be fireworks, as the Tour moves into the Pyrenees and we have the first real climbing stage. It will be the first real selection with the GC contenders battling on the final climb. Alberto Contador is going to have to take time back somewhere, and I suspect he'll try to do it here. Cadel Evans will just need to stay close. And Frank and Andy Schleck, well, they need as much time as they have and more to hold off Alberto and Cadel, who are better time trialers. Actually the next three stages are all killers; the whole complexion of the tour will be different by the end of the weekend. (See John Wilcockson's analysis for more...) I can't wait!
| | |
| --- | --- |
| TDF stage 12 / mountains! - Sammy Sanchez wins as GC contenders take more time from Contador | |
(sorry couldn't post last night; we were celebrating Bastille Day in Pasadena ... we did toast Thomas Voeckler :)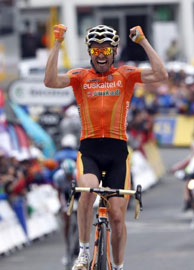 Wow, did you see yesterday's stage 12? Amazing! *That* is why you watch the Tour, what a great stage. You can read the blow-by-blow as Sammy Sanchez prevailed in the end (yay, he's a great rider, surprising to read that the reining gold medallist hadn't won a Tour stage before this one). This was the first stage where we really saw how this Tour is shaping up, and here's what we learned:
Thomas Voeckler is magnificent! On Bastille Day he hung right up there with the strongest climbers in the world to keep his yellow jersey. Vive Le France!
Sammy Sanchez can pedal up an elevator. When he attached on the final climb up Luz-Ardiden nobody could follow him, it was only a matter of whether he burned himself up. He has the polka dots now and he could keep them all the way to Paris.
Frank Schleck is en forme. When he attached at the end, the GC contenders could not go with him. He ran out of road or he might have caught Sanchez too.
Ivan Basso is looking great. He hung right in there with everyone, calm and cool, and finished in the lead of the GC contenders' pack quite easily. He's a good time trialist and if he continues to climb like this, look out. Remember he finished second to Lance twice.
Cadel Evans is looking great too. As the guy with the lowest time of the GC contenders and as a great time trialist himself, he doesn't have to attack, just hold serve. Which he did.
Andy Schleck was pushed. Yeah he finished with the GC men, but he had to work to stay up there. Interesting.
Alberto Contador is hurting. He will heal and get stronger, but today he could not follow Frank's attack, and in fact he lost more time on the GC pack at the finish. The key to this Tour is how fast he heals, can he be the Contador of old in the Alps?
Andreas Kloden was hurt before this stage, and fell again during. I think he's too injured to be a factor. Too bad, because like Basso he's finished second twice and he's a great rider.
Levi Leipheimer is a great rider but can't climb with the world's best. He was dropped there at the end. Boo. The Shack are snakebit in this Tour.
Robert Gesink is too injured to be a factor. Luis-Leon Sanchez is not a world-class climber. Looks like Lawrence Ten Dam (aka "wolfman") is Rabobank's best hope for a high GC spot.
Johnny Hoogerland gave defending the polka dots a great shot, but he didn't have it, if indeed he ever did. He gets the hero award for riding this stage with 33 stitches however, they should have a purple jersey for most courageous :)
Tom Danielson looks to be the top American on GC, riding for Garmen. Christian Van de Velde will be a good ally for him, and Garmen have the second strongest team in the race.
Leopard Trek have the strongest team, no question. Fabian Cancellara, Jens Voigt, Stuart O'Grady, man. They drove the peloton up the hills in this stage.
I gotta say, I love Jens Voigt; not only did he absolutely power the peloton over the hills in this stage, he has a blog, and recently did a great interview of his teammates the Schlecks (PDF) in Bicycling Magazine. Go Jens!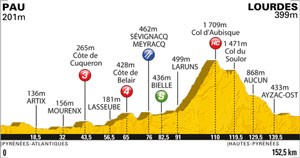 Well that was great, so what's on for stage 13? Well it features an HC climb up Col d'Aubisque but given the distance from the summit to the finish, it doesn't look like a day for a climber to win. I suspect a break will form and an all-arounder will prevail, as the GC men wait for stage 14 which is another killer. Stay tuned!
| | |
| --- | --- |
| TDF stage 13 / mountains - Hushovd wins improbably in most excellent fashion, GC unchanged | |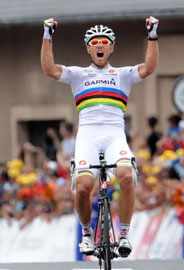 You could have made a lot of money betting on Thor Hushovd to win today's stage 13 in the TDF, but you would have had to had big balls, exactly like the kind he displayed in getting into an early break, attacking from it, getting caught and passed on the massive climb of the Col d'Aubisque, but then blasting down the back at 70mph to win. Wow. You sit down, you turn on the Tour, and you never know what will happen. Most of the rest of the peloton took the day off, but poor Andreas Kloden had to withdraw from his injuries, the fourth Radio Shack rider to do so. Thomas Voeckler held the yellow jersey easily, and Jeremy Roy took over the polka dots by winning up the Aubisque. By winning the stage Hushovd moves up in the green jersey competition (but can anyone explain why he didn't contest the intermediate sprint?)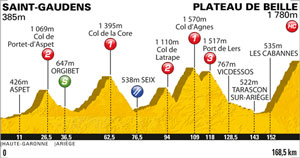 On to tomorrow, perhaps the decisive stage of this year's tour, with six climb on offer including a mountaintop finish at the top of Plateau de Beille, one of the most feared climbs in the Pyrenees. I'm looking for a big break to take off over all those early climbs, with the GC leaders staying together, but then heavy attacking from the base of the final climb. My own pick is Contador to win - he will assert himself, he has to - but Andy and Frank Schleck will stay close enough to avoid damage, and Cadel Evans will move into yellow. Wild cards include Ivan Basso, who looked great in stage 12, and Samuel Sanchez, who won it and who could reclaim polka dots. I cannot wait!
| | |
| --- | --- |
| TDF stage 14 / mountains - Jesse Vanendert wins (!) while contenders play on final climb / Voeckler keeps yellow | |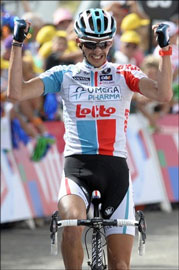 Today's stage 14 was the consummate Pyrenean stage, with six categorized climbs and a finish atop the HC Plateau de Beille. You would think *this* would be a decisive stage, with a definitive selection, but ... no. After much jockeying around a solo attack on the last climb by Jelle Vanendert was allowed to succeed (you will remember he finished second two days ago atop Luz-Ardiden, and now finds himself in the polka dot jersey) and despite a series of half-hearted attacks the GC contenders all finished together. The surprise of the day was Thomas Voeckler, who stayed right there with the leaders and now must be considered a possibility to take his yellow jersey all the way to Paris. (Nobody is more surprised by Voeckler's success than Voeckler :)
[ Update: John Wilcockson is not impressed by the Tour's seven dwarfs. As I consider his remarks, we may well look back on this stage as a missed opportunity for the Schlecks. ]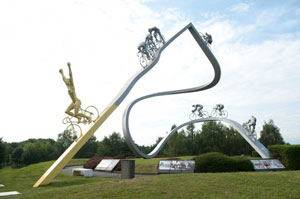 Some interesting subplots did emerge: Samuel Sanchez finishes second, a clear 30s ahead of the pack, to move into sixth and declare his candidacy for the podium, as well as King of the Mountains. Levi Leipheimer was nowhere to be seen, nor was Robert Gesink, nor Tom Danielson. The GC contenders now (in order of likelihood of victory) are Cadel Evans, Ivan Basso, Alberto Contador (who looked better but not great), Andy and Frank Schleck, Sanchez, and Voeckler. Another interesting subplot was Mark Cavendish' bid to hold his green jersey, his team pulled him in over the time limit with just a minute to spare.
Tomorrow is a ho-hum sprint - well it could be exciting, because it's the last of this year's Tour until Paris - and after that we have a rest day, four mountain stages in the Alps including two mountain top finishes, and the final time trial in Grenoble. So there's a lot left - stay tuned!
| | |
| --- | --- |
| TDF stage 15 / sprint - Cavendish wins another (yawn) as GC start rest day early | |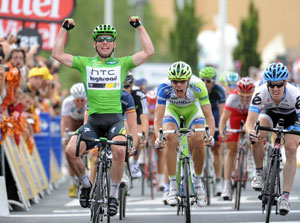 Today's stage 15 of the Tour was pretty predictable; the last flat stage of this tour yielded a bunch sprint, and Mark Cavandish won. I guess we have to salute HTC-Highroad and Cavandish for having absolutely the best leadout and sprint train in the world, but it doesn't make for great theater. If Tyler Farrar or Andre Greipel or Alessandro Petacchi weren't in the race, it wouldn't be interesting at all, but I guess their presence does make for a little drama. But only a little. Now the main suspense will be to see whether Cavandish can make the time limit on the alpine stages ahead, because if he does he's bound to win in Paris, and he's bound to win the green jersey. So be it.
By the way, in case you're wondering about intermediate sprints, in Tuesday's stage 16 to Gap the intermediate sprint comes before the main climb but it is uphill, so perhaps Gilbert or Hushovd can get points. In Wednesday's stage 17 the sprint comes before the main climbing but again it is in the hills, so again maybe it won't be a field sprint. In Thursday's stage 18 the sprint point is way early, long before the climbs, and in Friday's stage 19 the sprint point is right near the end but after a long descent. So there is some chance for others to take points from Cavandish. I rate Gilbert as the biggest threat, since he's a much better climber, but he's 71 points behind.
Meanwhile tomorrow is a rest day - boo! - and then we have four alpine stages in a row - yay! - followed by the time trial. Those should be maximally great. Onward...
| | |
| --- | --- |
| TDF rest day #2 - pictures | |
Today is the Tour's second rest day; tomorrow begins the first of four Alpine stages (including two mountaintop finishes, one atop the Col du Galibier! and one atop Alpe d'Huez!). After that is the long ITT in Grenoble, and the finishing parade in Paris. Rainy weather is predicted and it should be an amazing shootout all week; I can't wait.
In the meantime here's some pictures from the first two weeks: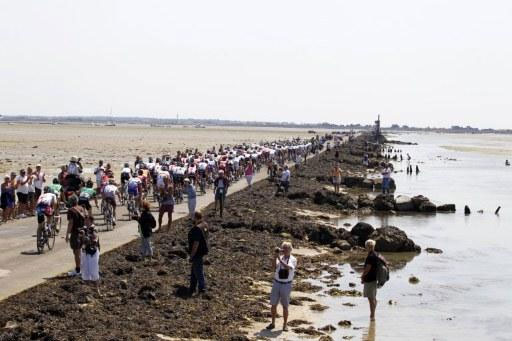 stage 1: the Passage du Gois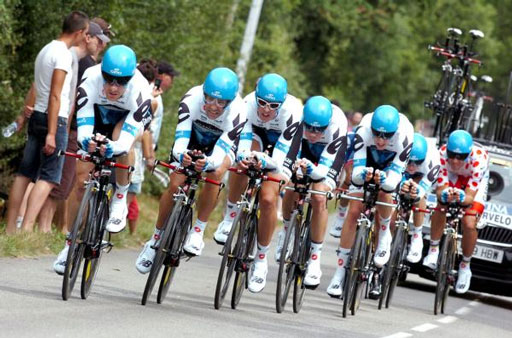 stage 2: Led by Thor Hushovd, Garmin win the team time trial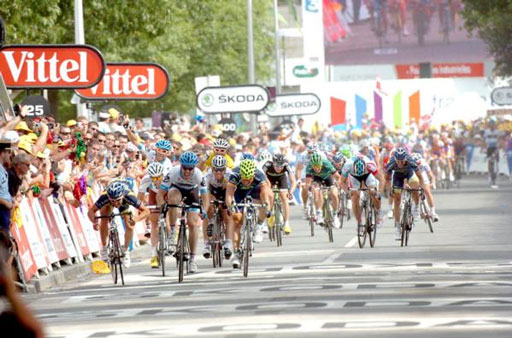 stage 3: Tyler Farrar wins his first TDF stage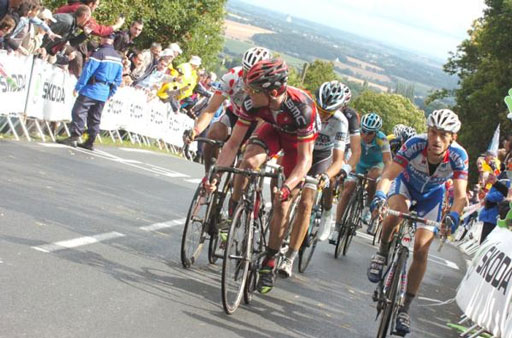 stage 4: Evans asserts himself to beat Contador, win stage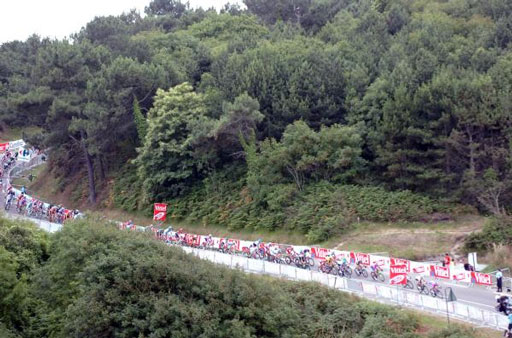 stage 5: crashes in a nervous peloton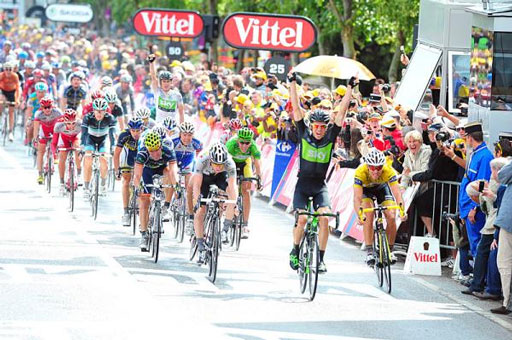 stage 6: Bossen Hagen wins amid more crashes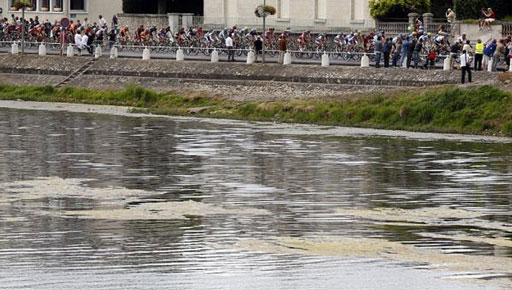 stage 7: the peloton in a quiet mood, for the moment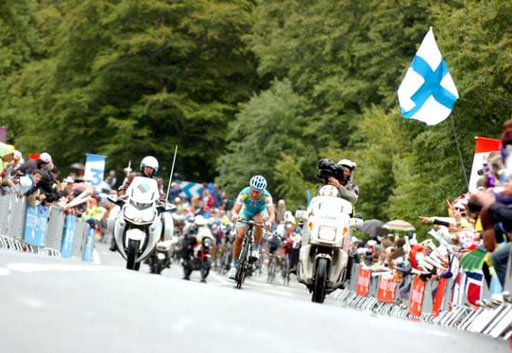 stage 8: Vinokourov almost pulled it off
this is how I will remember him as a rider, on the attack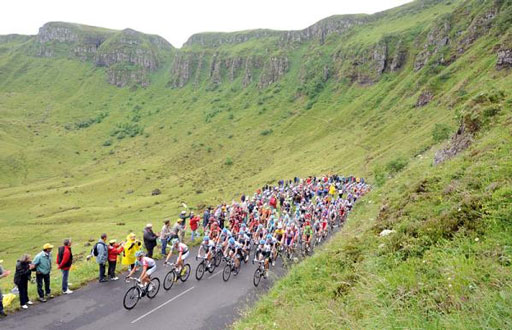 stage 9: lots of climbing, a breakaway which succeeded, and more crashes
(including a runaway TV car which took out two riders in the break)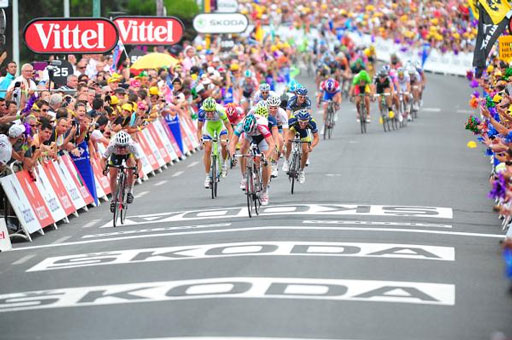 stage 10: sprint, with Andre Greipel edging Mark Cavendish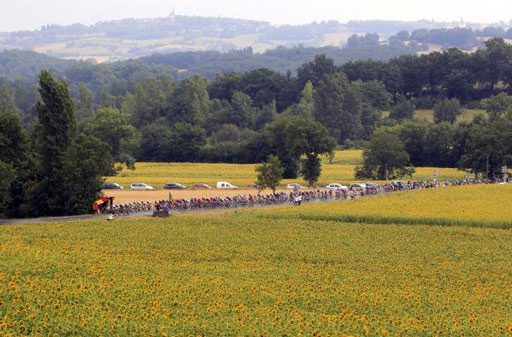 stage 11: the beautiful sunflowers on a rainy day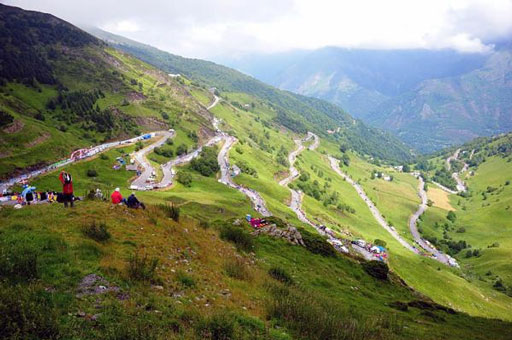 stage 12: Pyrenean mountains, wow, the climb up to Luz-Ardinen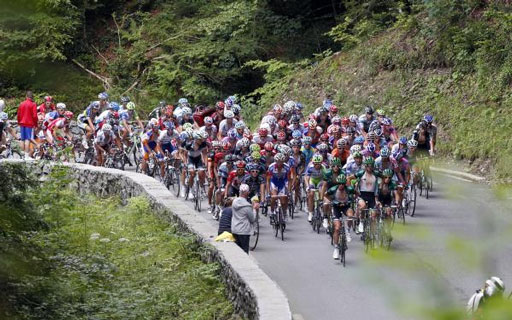 stage 13: more mountains, and a long descent to the finish let Thor Hushovd escape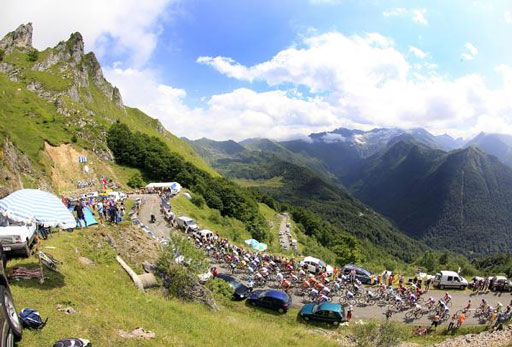 stage 14: Plateau de Beille with perhaps the steepest finish of this Tour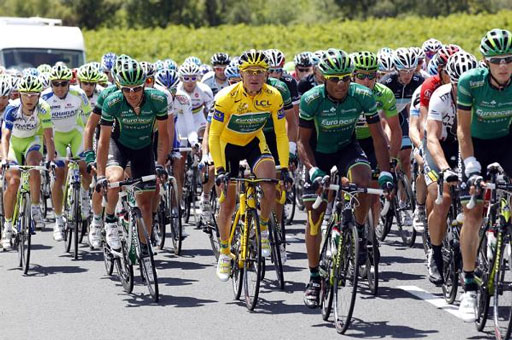 stage 15: Voeckler in yellow, amid his team; they had an amazing week
It is truly the calm before the Alpine storm. Will Voeckler hold yellow? Can Evans finally win? Will the Schlecks attack, and will it work? Can Contador defend? We'll see ... onward!
[ Tour de France 2011: all posts | index ]
| | |
| --- | --- |
| TDF stage 16 / mountains - great racing! Hushovd wins from break, Evans takes time on GC | |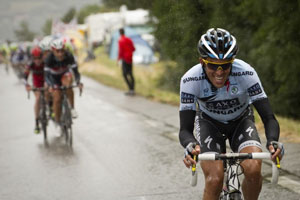 Today's Tour de France stage 16 was a pure pleasure, it had all the elements of great racing, with many riders motivated to get in a break, a chasing peloton, a tough final climb that made a big selection, and a nasty descent which enabled Thor Hushovd to win from the break and Cadel Evans to take time on all the GC contenders. For me this was the stage of the Tour so far; if you haven't watched the Tour and want to watch one stage, make it this one.
Alberto Contador roused himself to make some great attacks, and broke clear of the Schlecks and some other contenders like Ivan Basso, but couldn't shake Evans and Samuel Sanchez, who seem to be the strongest climbers this year. And Thomas Voeckler continues to amaze; not only was he in the mix all through, but even answered a couple of Contador's attacks himself before losing a little time in the end. He is truly a worthy yellow jersey wearer and I look for him to keep it again tomorrow, only to lose it on the Galibier Thursday. We'll see.
By the way there were two Norweigens in the race, Hushovd and Edvard Boessen Hagen, and they finished one-two. What are the odds of that? And kudos to Ryder Hesjedal who led the break up the climb and then worked perfectly with Garmin teammate Hushovd on the descent to get the win.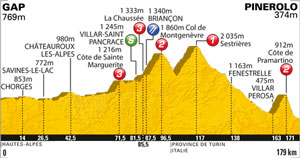 Tomorrow's stage is similar to today's, with perhaps more climbing; it is interesting that they have the intermediate sprint after a cat 3 climb, which may allow Philippe Gilbert or perhaps Hushovd to take points from the pure sprinters like Mark Cavendish and Jose Rojas. And then we have a serious cat 1 climb into Italy before a long long long descent and then a final cat 2 climb before a descent to the finish. It could definitely be another day for a breakaway, much like today, as well as a day for a selection on GC, much like today. Stay tuned!
| | |
| --- | --- |
| TDF stage 17 / mountains - Boassen Hagen wins this time, GC mostly unchanged despite Contador attacks | |
(written retrospectively on the train to Grenoble, to watch stage 20; stay tuned for more about that :)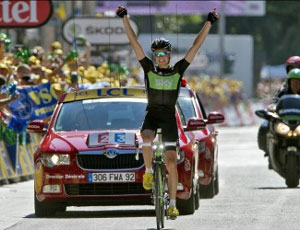 So stage 16 was unexpectedly great, with everything, while stage 17 was unexpectedly pedestrian, despite having pretty much the same setup as stage 16. That's how it goes sometimes. There was a break, there was an attack from the break, and Edvard Boassen Hagen beat Sylvain Chavanel to the finish to win, a day after finishing second. (Yeah we could say he has good form :) Behind among the leaders Alberto Contador attacked on the Cat 1 Sestrieres, but was marked by Andy Schleck and the continually surprising Thomas Voeckler. This whittled the group down but did nothing to the GC overall. On the long descent back down there were some adventures (Jonathan Hivert nearly crashed several times in the break, and Thomas Voeckler nearly did too, losing 30s from his GC lead) and for a bit it looked like ace descenders Contador and Samuel Sanchez might be able to pull some time. But in the end the Schlecks and Evans pulled even, and we reload for stage 18...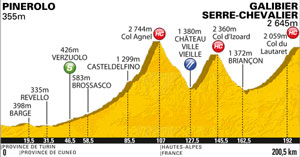 ... which is going to be amazing... who could wait for this? Three HC climbs in a row, with a mountaintop finish on the Col du Galibier, the highest ever in the Tour. Should be GC fireworks for sure...
| | |
| --- | --- |
| TDF stage 18 / high mountains - fireworks as Andy Schleck attacks, wins stage, nearly takes yellow | |
(written retrospectively on the train to Grenoble, to watch stage 20)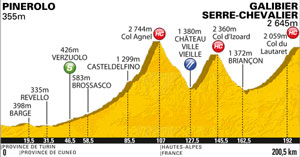 Wow! Today's stage 18 was amazing; just look at that profile, three HC climbs including a mountaintop finish at the top of the Col du Galibier. You could expect fireworks, and you would be right. Of course there would be a break, and of course the break would disintegrate on the climbs, with a few goats breaking clear, and the leaders staying together until the final climb, and then pow the attacks would come, right?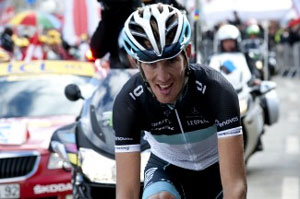 Wrong! Instead there was a huge break of 24 riders, with the rest of the peloton staying together and midway through the second climb on the Col d'Izoard Andy Schleck attacked! and boom he was gone. Nobody knew what to do with him... none of the leaders responded, figuring his attack was too far out to succeed. The break blew up and riders kept going backward all day, and meanwhile Andy just kept going, ultimately fading a bit on the final climb but still hanging on to win. Cadel Evans drove the chase up the final climb, limiting his losses, and dragging Voeckler along to keep him barely in yellow. Others who hung in included Ivan Basso, Damiano Cunigo, and Franck Schleck, but Contador was dropped (!) and is now out of GC contention, as was Samuel Sanchez (!) What an amazing stage of an amazing tour.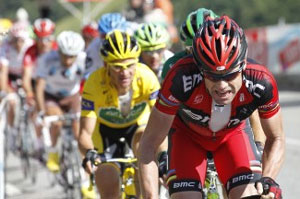 At this point we have only l'Alpe d'Huez ahead (wow!) and then the time trial (on my way there just now :) and then the final parade, so we can conclude that the winner will be Andy (0:15), Frank (1:08), or Evans (1:12), and Voeckler has a real chance at the podium. Only Cunigo (3:46) and Basso (3:46) are close enough to compete for third, at this point Contador (4:44), and Sanchez (5:20) can make the top five but not the podium. Stay tuned!
| | |
| --- | --- |
| TDF stage 19 / high mountains - Contador attacks, nearly wins, as Andy Schleck takes yellow | |
(on the train to Grenoble to watch the ITT today! - I am *so* excited...)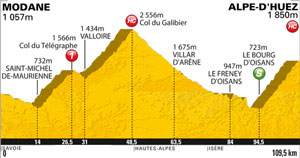 And so yesterday we reached l'Alpe d'Huez, the ultimate climbing stage of the 2011 Tour even though stage 18 was arguably harder and longer and hence the "queen stage". Partially it's because of the mystique of l'Alpe - the 21 hairpins with the stage winners celebrated at each one - and partially it's because this is the last stage before the ITT later today - and partly it's because the stage is so short; despite the Col du Galibier en route everyone reaches the bottom at the same time, everyone attacks, and may the best man win. So it was the last time l'Alpe was in the Tour, in 2008, when Carlos Sastre won it and won the Tour.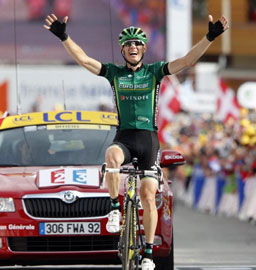 So what happened? Well we had the usual early break, but then Alberto Contador attacked! One day after falling out of GC contention after being unable to stay with the leaders on the final climb, he seemed to be the Alberto of old. Only Andy Schleck could stay with him on his dynamic accelerations, with Cadel Evans and Thomas Voeckler struggling to stay on. And then Voeckler finally cracked and fell off. And then Evans had a mechanical, had to switch bikes, and suddenly was under pressure to stay on. Even before we reached l'Alpe the peloton was all over the mountain. Evans BMC team restored order and began a solid chase, so that by the foot of l'Alpe there were about 30 riders again. On the final climb Contador attacked again (!) and seemed headed for victory, with Evans driving a hard chase, both Schlecks on his wheel, shedding Voeckler for the final time and dropping him from yellow. Samuel Sanchez attacked, and then Voeckler's teammate Pierre Roland followed, seeking the white jersey. Near the seemingly unreachable top Contador lost steam, and was ultimately passed by Roland, who won (and took White), and Sanchez, who ended up second (and in Polka Dots). Evans drove the leaders to the top, putting Andy Schleck in yellow for the first time.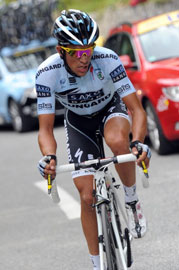 I have to say, today I liked Alberto more than at any time before; he might not have won the stage or the Tour, but he won the respect of the fans.
So going into today's ITT we have Andy in first, Frank 2nd (0:53), and Evans 3rd (0:57). Voeckler has dropped to 4th (2:10). I think Evans will easily take a minute from both Andy and Frank, and will win the tour. I don't think Cunago (3:11) or Contador (3:55) can make the podium. We'll see - stay tuned!
| | |
| --- | --- |
| TDF stage 20 / ITT - Martin powers to victory, Evans blasts by Schlecks to take yellow (and we are there!) | |
So yesterday was amazing; Shirley and I were in Grenoble watching stage 20 of the Tour de France. I took a bunch of pictures - how great is it that you can just walk up to a Tour stage and watch it close up? - and we enjoyed ourselves thoroughly; everything from the TGV down from Paris (600km in 2 1/2 hours!) to the beautiful city of Grenoble itself to the pageantry and of course the excitement of the ITT as the Tour was decided.
Some pictures, in chronological order to tell the story: (how cool is it to use my pictures, instead of Velonews' :)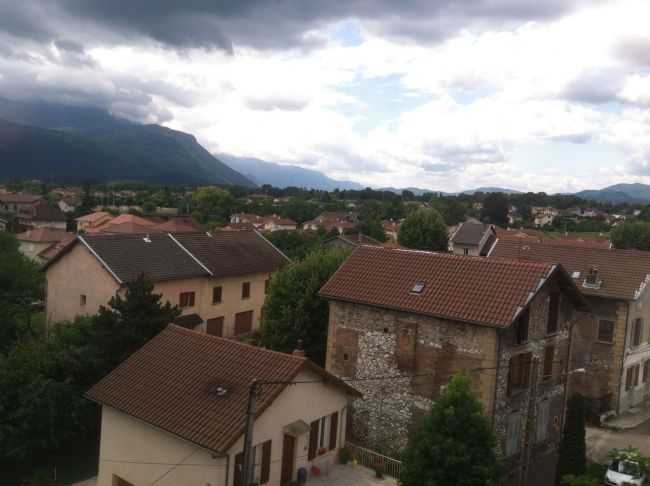 Grenoble, gateway to the alps and scene of stage 20 of the 2011 TDF, the individual time trial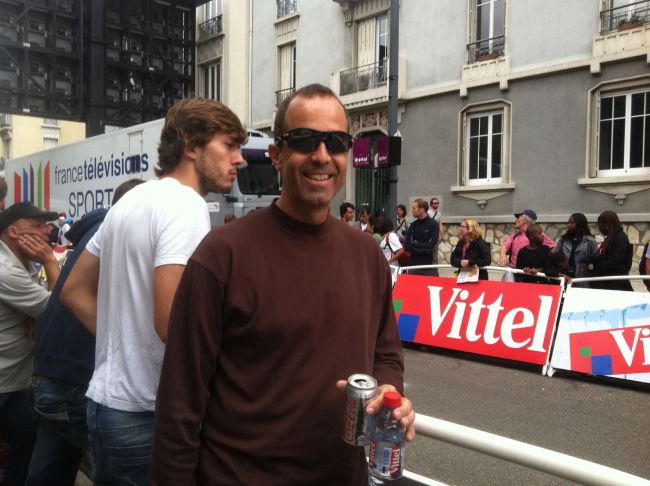 on the finishing straight, ready for action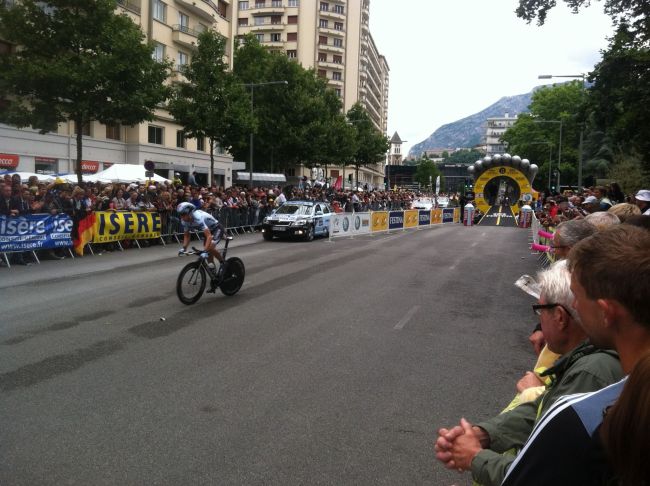 the start house is right there; here Chris Anker Sorensen takes off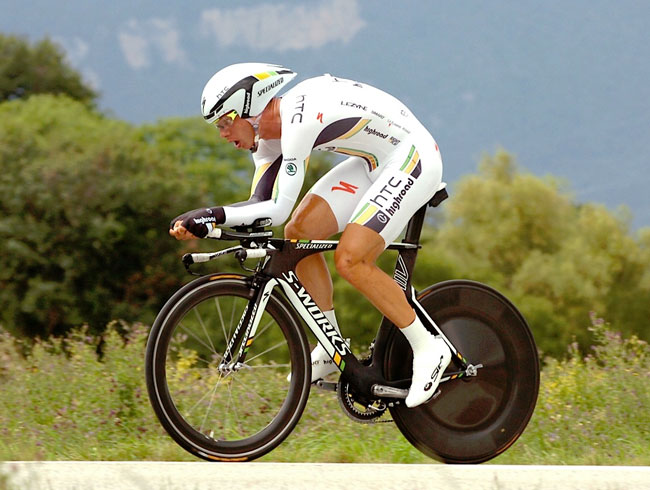 Tony Martin powered to the stage win, repeating his victory in the Dauphine Liberte on the same course
(and upsetting favorite Fabian Cancellara!)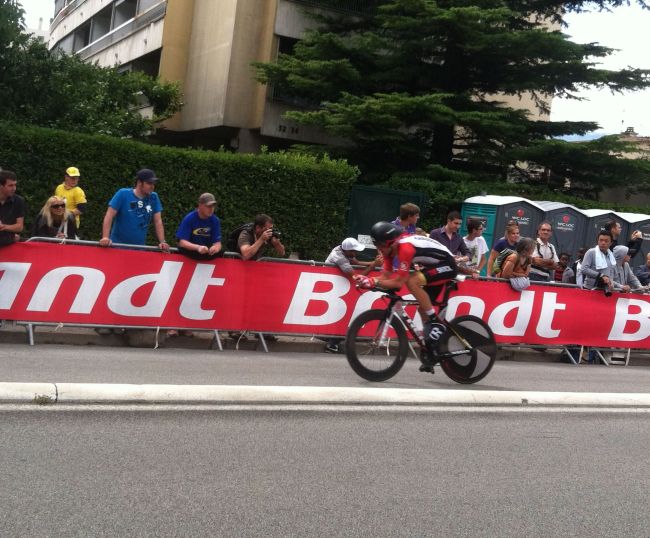 Levi Leipheimer had a disappointing tour, as did Radio Shack; they'll be back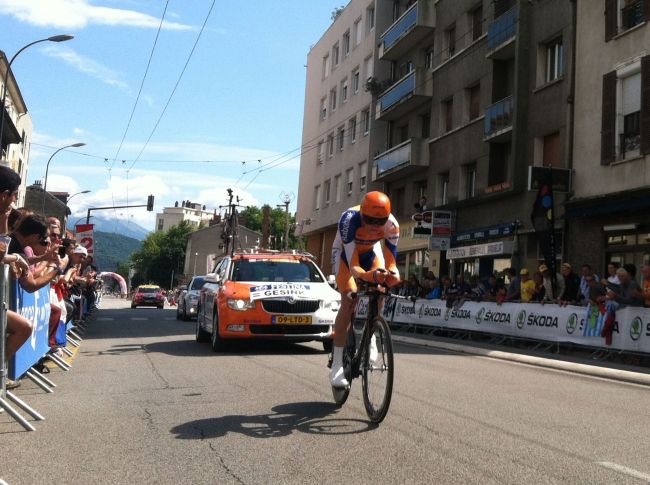 Robert Gesink suffered, as did Rabobank; they'll be back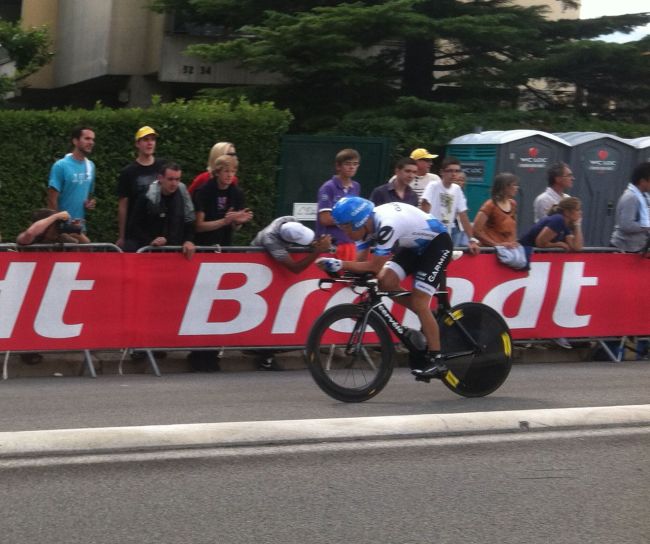 Tom Danielson had a great tour (9th!), and Garmen Cervelo won the team classification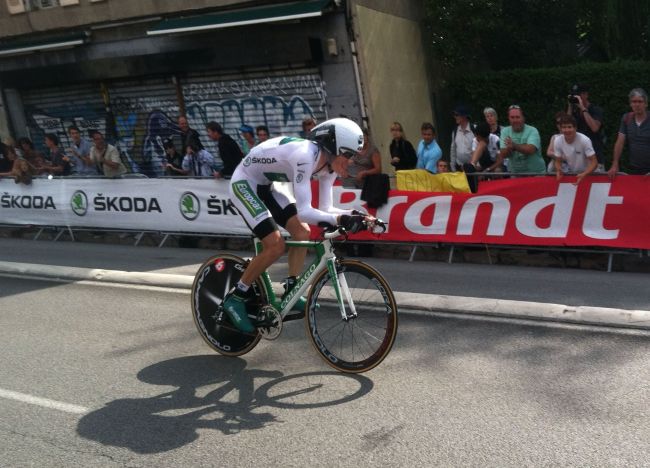 Pierre Rolland, white jersey for best young rider and winner of yesterday's stage up to l'Alpe d'Huez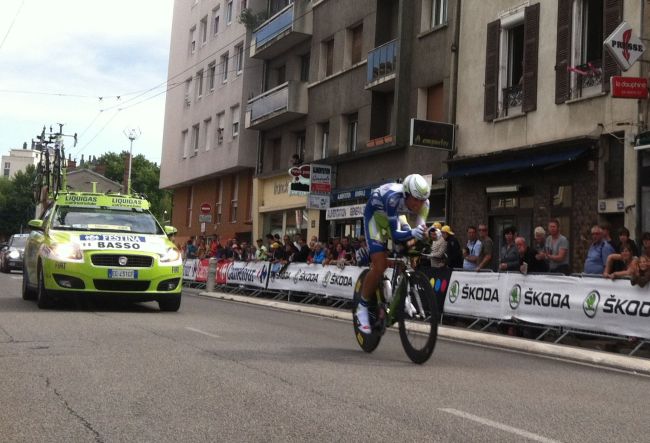 Ivan Basso had a great tour, 8th overall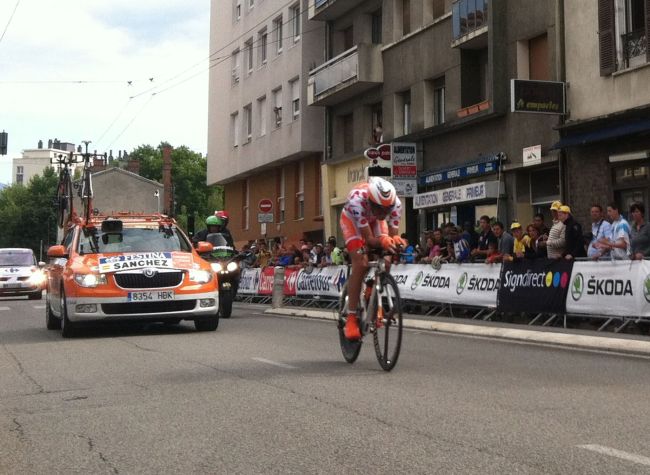 Samuel Sanchez, resplendent in polka dots, 7th overall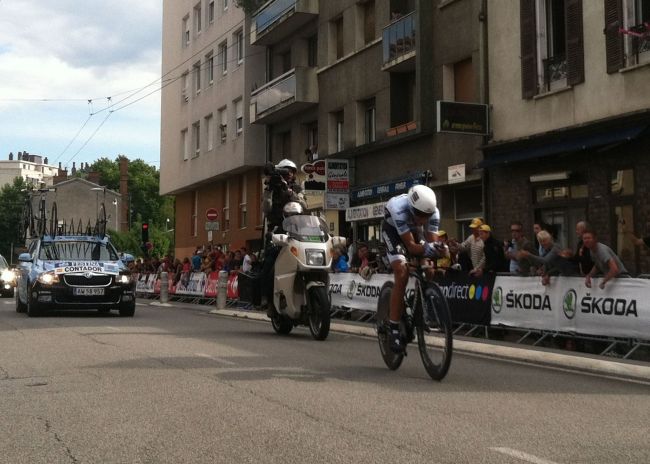 with the 3rd best time on the day, Alberto Contador passed Damiano Cunigo to finish 5th overall
somehow he gained more by finishing 5th this year than by winning last year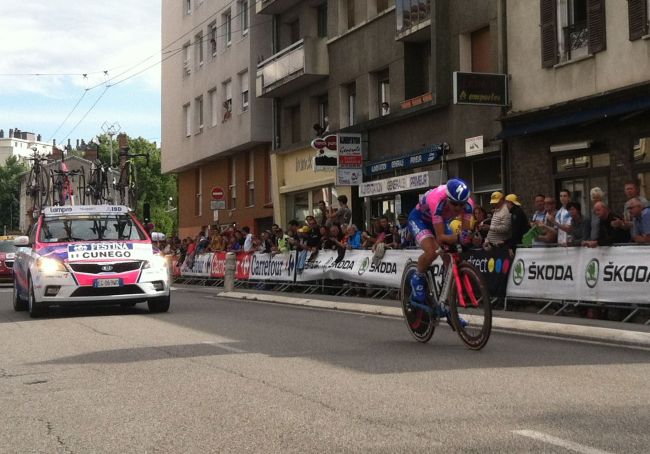 Cunigo had a great tour, ended up 6th overall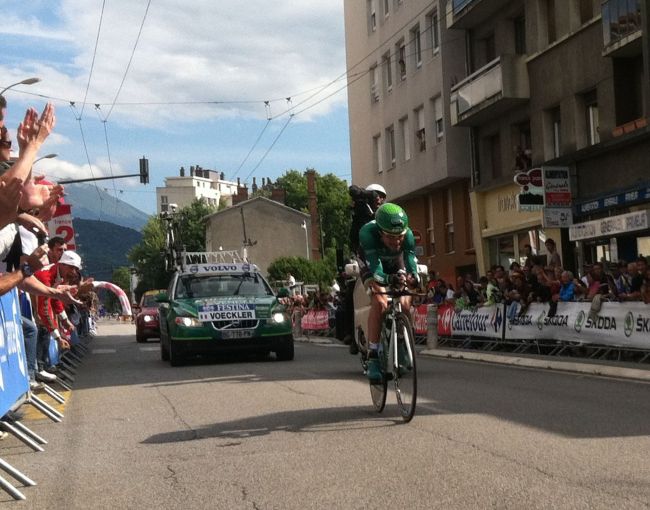 Thomas Voeckler was the French hero, 10 days in yellow, and finished 4th overall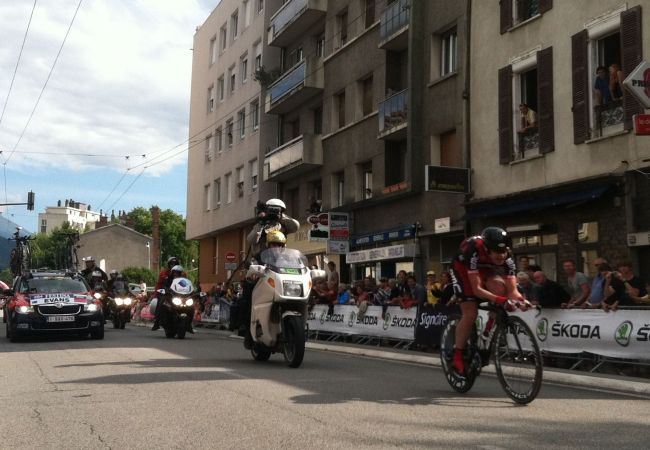 Cadel Evans blasted to a close 2nd to pick up over two minutes on the Schlecks
and win yellow!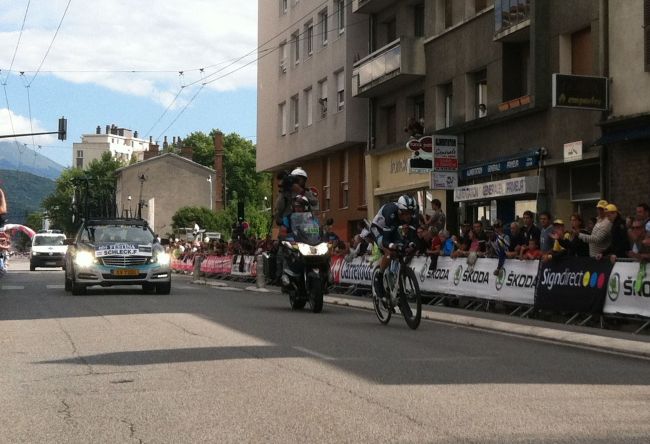 tick tick tick took Frank Schleck nearly six minutes to show up after Evans
(they started three minutes apart)
he did have a great tour and finished 3rd overall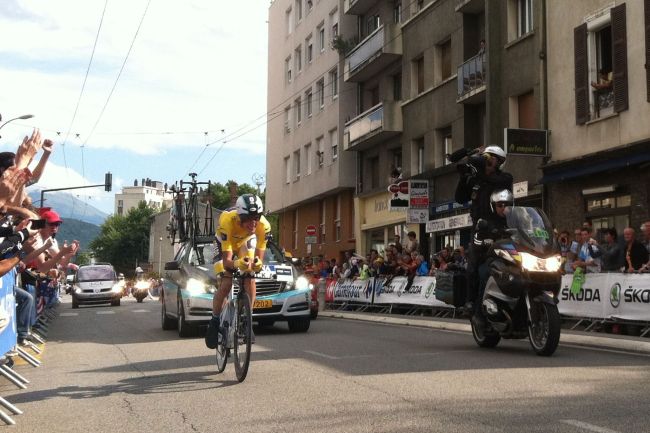 Andy Schleck enjoyed yellow for the day but had to give it up to Evans in the end
so now he finished 2nd for the third year in a row
look for him to come back strong next year!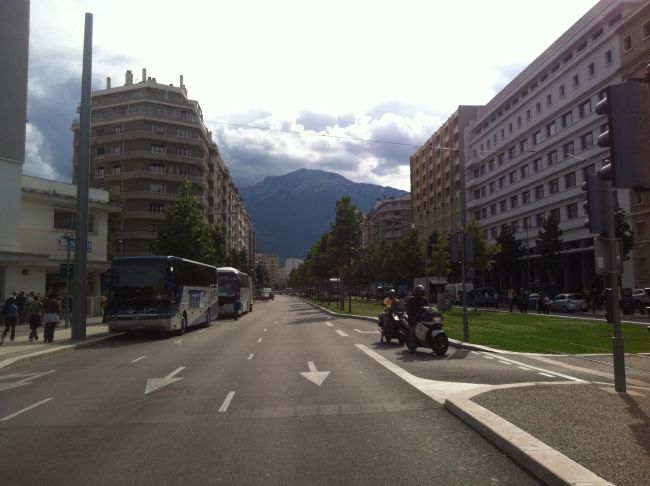 they say every road in Grenoble ends in a mountain; it is surrounded by beauty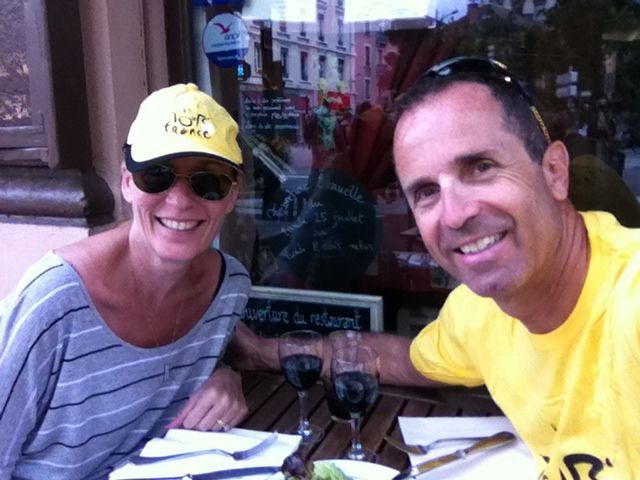 celebrating our TDF swag at a cafe
Just an awesome day. And later today we're off to the Champs d'Elysee to see stage 21 and the final finish. Stay tuned!
| | |
| --- | --- |
| TDF stage 21 / parade - Cavendish wins! and takes green (and we are there!) | |
What can I say? To be on the Champs d'Elysee for the finale to the Tour de France was awesome! It was a boring race even by last-stage-of-the-Tour standards - hardly any breakaways, easily chased down, and a bunch sprint ending in a runaway victory for Mark Cavendish - but it was great to be in the huge crowd, sense the atmosphere, and see the peloton flashing by.
A few pictures for your viewing pleasure: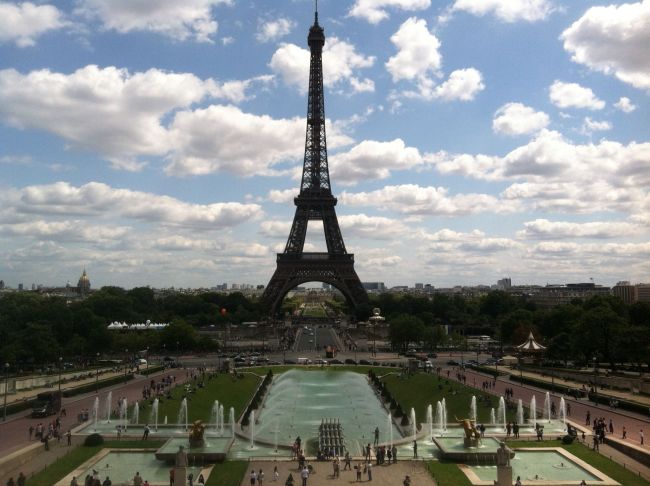 the scene: Paris!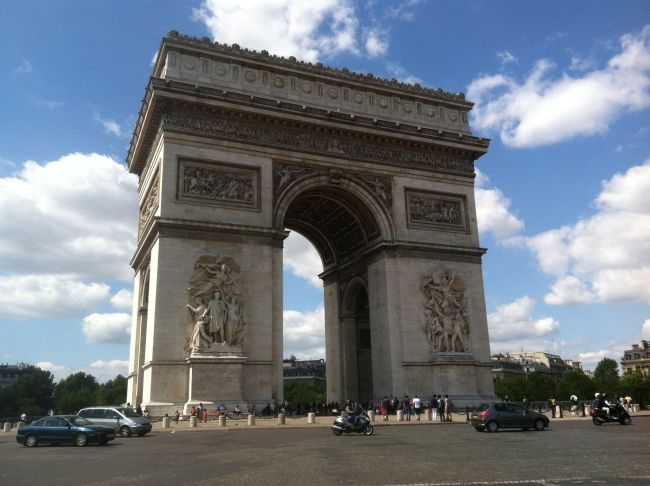 the Arc d'Triomphe punctuates one end of the Champs d'Elysee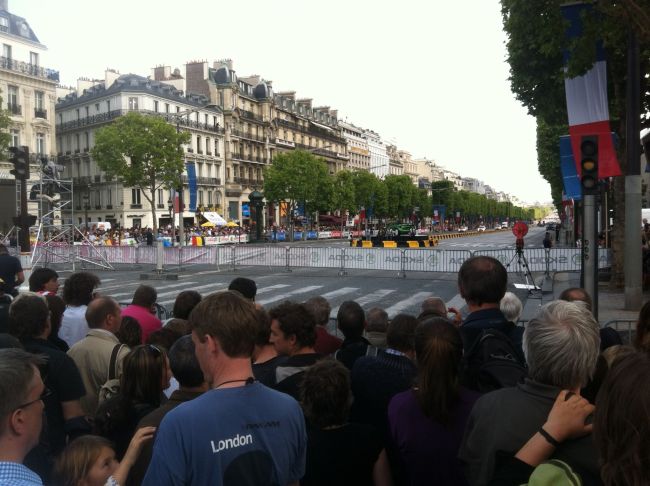 the Champs d'Elysee, perhaps the most famous shopping street in the world
converted on the third Sunday in July into the most famous velodrome :)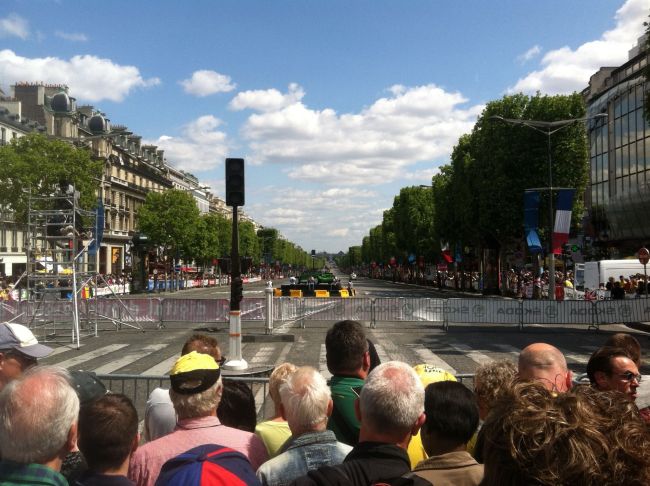 looking straight down the 3 mile racetrack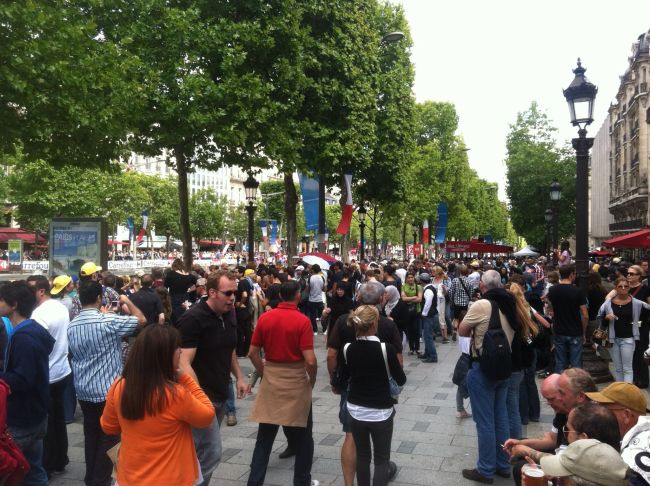 one kazillion people were on hand, wow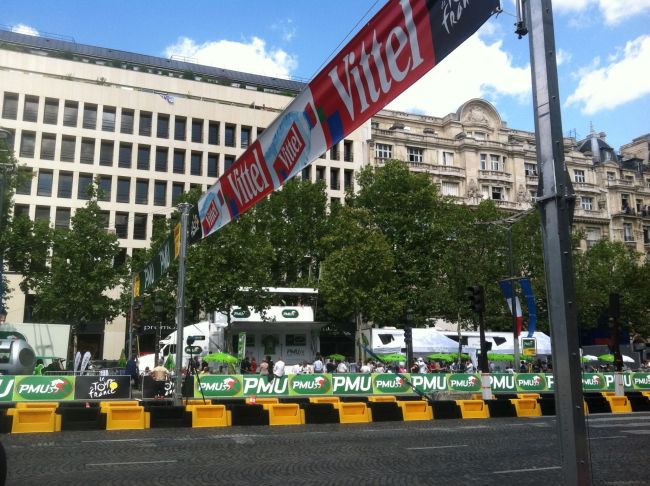 the intermediate sprint point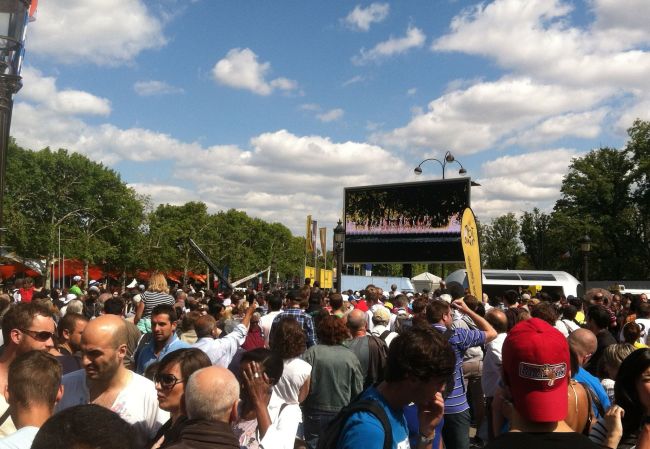 giant monitors relay the action for the crowd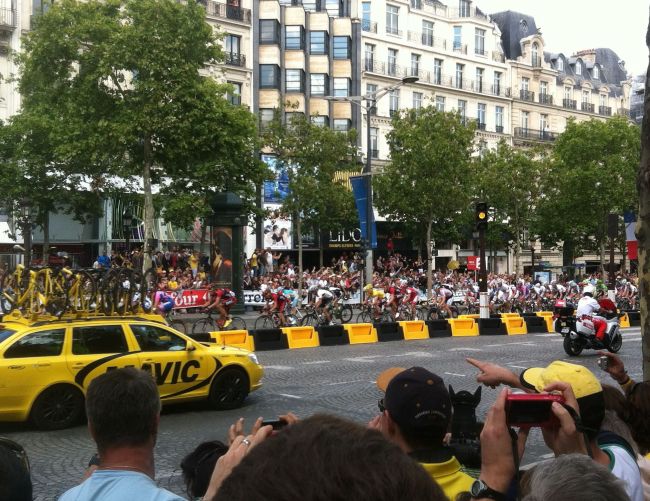 there they are! Cadel Evans looking good in yellow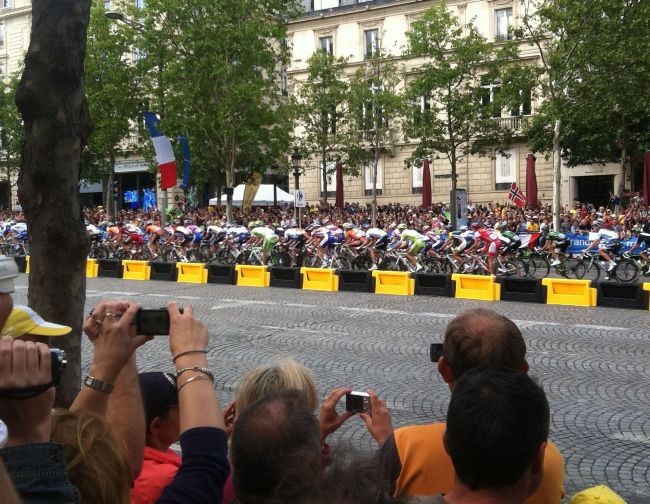 the peloton whooshes by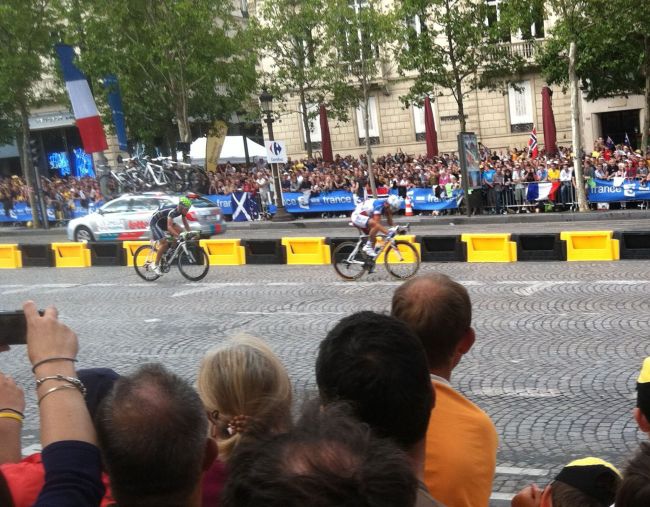 it's a break! - but reeled in quickly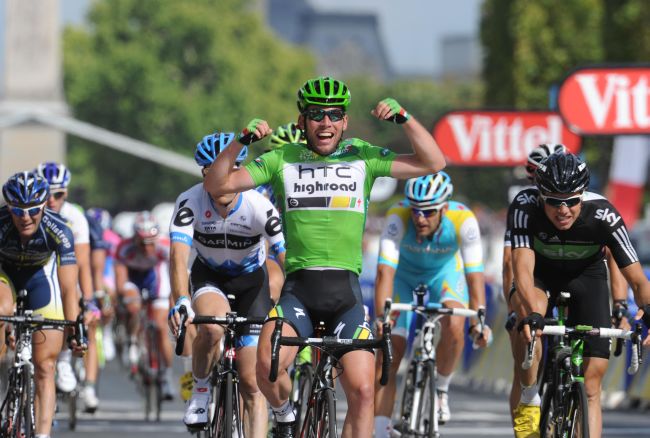 Mark Cavendish wins!
his fifth stage win, wrapping up the green jersey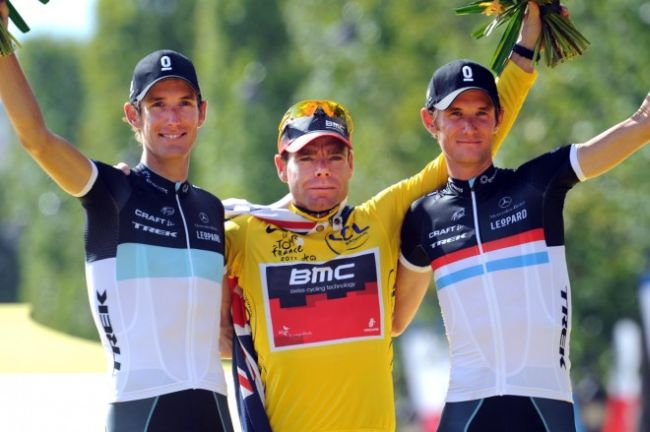 the final podium: Andy Schleck (2nd for the 3rd year in a row), Cadel Evans, Frank Schleck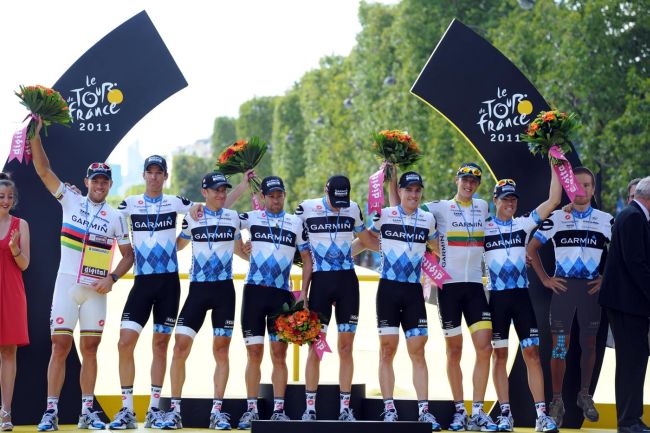 winning team: Garmin Cervelo
Thor Hushovd (world champion's rainbow at left) won two stages and wore yellow all the first week
note cardboard cutout of Dave Zabriske who crashed out
And so ends a great Tour, which had a little of everything. More than anything else it had drama, the end was in doubt 'till the last, many great attacks, many crashes, many heroes, many victims, and a number of interesting subplots. (And blessedly no doping scandals!) I will post some summary thoughts when I get back - stay tuned...
| | |
| --- | --- |
| TDF 2011 / final thoughts | |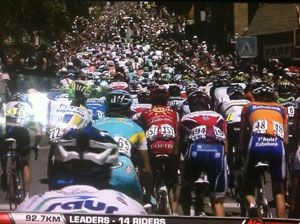 Well I'm a bit late with this, but for form's sake (and because I have some things to say) I thought I'd wrap up the 2011 TDF. Overall this was the best tour in a while, I'd say since 2003, when Lance Armstrong had to really work to beat Jan Ullrich, with Alexander Vinokourov third. As then, we had three clear favorites (Alberto Contador, Andy Schleck, and Cadel Evans), with many crashes, unexpected leaders, and incredible attacks.
Some thoughts:
There were so many crashes the first week, and it isn't apparent why. And so many contenders were knocked out, Bradley Wiggens, and Andreas Kloden, and Alexander Vinokourov, and Chris Horner, and Tom Boonen.
That whole incident with the TV car hitting Franco and knocking Johnny Hoogerland into a ditch, wow. That will be in highlight films forever.
How great was it to see Thor Hushovd in yellow for a week, and then winning two "mountain" stages? He's got to be my favorite rider at this point. I wish there was some way to give a "most incredible riding" award for the Tour.
And how great was it to see Thomas Voeckler in yellow for a week, gamely hanging on to keep it just like in 2004? He's got to be one of my favorite riders too. Just awesome. And great for France, and for the Tour.
It was cool to see Eurocar do so well, with Voeckler and Pierre Rolland, who had a great tour and won on l'Alpe d'Huez and took the white jersey. Again, great for France, and for the Tour.
Garmen was the team of the tour, not only with Hushovd, but winning the team time trial, Tyler Farrar winning a sprint, and animating all the time. Too bad they lost Zabriske, and Vandevelde was not great, but Danielson did finish 9th and the team had the best time overall.
I'm not a fan of sprinting, but there were some good sprints for those who are; Cavendish won five of them, wow, and the green jersey, but Tyler Farrar won one, and so did Andre Griepel. Overall sprints were de-emphasized in this Tour and that was one of the reasons it was so good :)
I will say I expected a better battle for the green jersey, I thought the intermediate sprint points would help someone like Philippe Gilbert compete, but it didn't work out that way. Would have been great, I like all-arounders like Gilbert.
Looking back, stage 9 was amazing; eight categorized climbs but nothing harder than a Cat 2, a serious break, the TV car crash thing and other crashes too, and Voeckler taking yellow by two minutes.
The final three stages were awesome. The Schleck attack on stage 18, 70km from the finish, with Evans forced to chase over three HC climbs up to the Galibier, and then the Contador attack on stage 19, way out, with Evans again forced to chase and the finish at Alpe d'Huez, and then the time trial. Being in France while this all played out made it even better (thank you Tivo + Slingbox + hotel WiFi :).
Cool that George Hincapie was on nine TDF winning teams, with three different riders. Wow.
Sanchez was a great kind of the mountains; for once, you felt the award went to the best climber. Not only in the Alps at the end, but in the Pyrenees too.
Evans won the way you should win; with a great team that kept him out of trouble, consistency, taking control when needed to chase down attacks, and then blasting to victory in the time trial. He was the champion (and the pride of Australia).
Best of all, no doping! and not even much talk of doping, despite the Contador situation. Whew.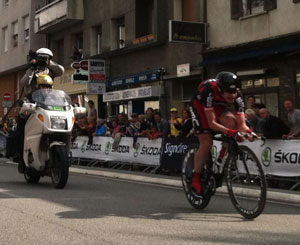 It was soo cool to be there. Wow. I might never go again (never say never) but it was great to see the time trial in Grenoble, and then the final stage on the Champs d'Elysee in Paris. Can't wait to see the route announced (all we know now is that the start is in Liege, Belgium) and to figure out if I can see some of it :)
Finally, some comments on the commentators; what can we say, Phil Liggett and Paul Sherwin remain a delight, and they had a great tour too. Bob Roll continues to have the best insights; he called the Schleck attack on stage 18 and the Contador attack on stage 19 perfectly. I'd love to have Bob's insights during the racing. Ian McHugh was horrible, worse than Craig Hummer (who got better over time), and I'm sure he won't be back. The whole NBC involvement was weird; their online package was a joke, and their incessant house ads were horrible (thank you Tivo). We'll see what happens next year. And it should be great! with Evans back, and the Schlecks, and Contador, and who knows who else?