| | |
| --- | --- |
| TDF rest day #1 - thoughts | |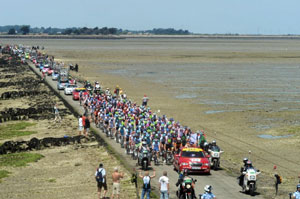 A few thoughts on the 2011 Tour de France, as of the first rest day:
The race for GC is still wide open. No serious climbing yet, no big selections.
There's going to be an interesting race for the green jersey.
The crashes in the first week were worse than usual, and eliminated more contenders than usual. Bradley Wiggens, Jurgen van den Broek, Chris Horner, Alexander Vinokourv.
Alberto Contador had a bad week, lost four minutes, and crashed a lot. But he's still right there. Plus he won no stages and looked vulnerable.
Cadel Evans had a great week, he's in the lead among the contenders, and stayed out of trouble. Plus he won a stage and looked strong.
Andy and Frank Schleck also had great weeks, they're right there, no crashes.
The sprint battles have been pretty much as expected, with Mark Cavandish winning two stages, but Tyler Farrar got one and so did Eduard Boassen Hagen. Meanwhile Jose Joaquin Rosas has stayed close all the time.
Thor Hushovd was a great leader for the first week. He looked good in yellow, and he'll be up there battling for green you can be sure.
Rabobank has reason to smile, with Luis-Leon Sanchez winning a stage and sitting in second place, and Robert Gesink in the white jersey and in the GC hunt. Sanchez could stay up there, he's a great climber and a solid time trialer.
Johnny Hoogerland's horrible crash and subsequent recovery have made him a hero. I doubt seriously he can hang on to the polka dots, but who knows.
Thomas Voeckler in yellow is awesome. Everyone likes him, and while he isn't a threat to win overall, he could hang on to it longer than anyone thinks.
My picks for overall: Cadel Evans to win, Phillippe Gilbert in green, Samuel Sanchez in polka dots, Robert Gesink in white. Stay tuned :)
Home
Archive
flight
About Me
W=UH
Email
RSS OPML

Greatest Hits
Correlation vs. Causality
The Tyranny of Email
Unnatural Selection
Lying
Aperio's Mission = Automating Pathology
On Blame
Try, or Try Not
Books and Wine
Emergent Properties
God and Beauty
Moving Mount Fuji The Nest Rock 'n Roll
IQ and Populations
Are You a Bright?
Adding Value
Confidence
The Joy of Craftsmanship
The Emperor's New Code
Toy Story
The Return of the King
Religion vs IQ
In the Wet
the big day
solving bongard problems
visiting Titan
unintelligent design
the nuclear option
estimating in meatspace
second gear
On the Persistence of Bad Design...
Texas chili cookoff
almost famous design and stochastic debugging
may I take your order?
universal healthcare
entertainment
triple double
New Yorker covers
Death Rider! (da da dum)
how did I get here (Mt.Whitney)?
the Law of Significance
Holiday Inn
Daniel Jacoby's photographs
the first bird
Gödel Escher Bach: Birthday Cantatatata
Father's Day (in pictures)
your cat for my car
Jobsnotes of note
world population map
no joy in Baker
vote smart
exact nonsense
introducing eyesFinder
resolved
to space
notebooks
where are the desktop apps?