| | |
| --- | --- |
| TDF stage 6 / long rolling sprint - Boassen Hagen outkicks Gilbert and Hushovd, GC unchanged | |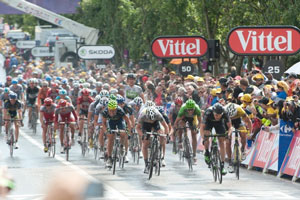 Today promised to be a lot more interesting than it was; such is the Tour. (There are other days when you tune in thinking you're going to see three hours of parade followed by 30 seconds of sprint, only to see fireworks all through.) I expected a breakaway to stay away, but instead a rather weak five-man group hung off the front, closely monitored, as the peloton drove on through the rollers amid rain, all of which culminated with a rather disorganized bunch sprint on a slight incline. Edvard Boasson Hagen of Sky blasted to the front, closely pursued by Philippe Gilbert and Thor Hushovd. None of the true sprinters gave it a go.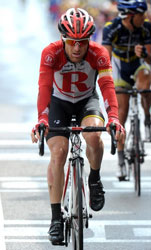 I think today the mid-race sprint point worked against an interesting break. The sprinters' teams kept the pressure on and nobody could get away. Perhaps a stronger / larger break would have worked, but on the other hand a stronger / larger break wouldn't have been allowed to form in the first place.
Bad luck for Levi Leipheimer; he crashed just outside the 3km boundary, and by the time he was back up and chasing the field was in full sprint. He ended up losing a minute on GC which he'll definitely wish he had back later in the Tour.
Tomorrow we have a pancake flat stage which probably will be three hours of parade followed by 30 seconds of sprint; but then again you never know, so stay tuned :)