| | |
| --- | --- |
| TDF stage 5 / windy sprint - Cav wins one ahead of Rojas and Gilbert after carnage on the road | |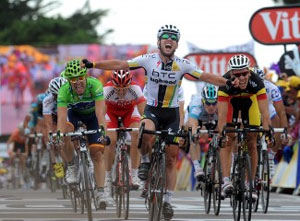 Whew, today was one of those days on the tour; what looked to be a quiet little day along the Brittany Coast turned into carnage as the nervousness of the peloton and the narrowness of the roads combined to yield several nasty crashes. A stiff crosswind made the finish "interesting"; but in the end it came down to a bunch sprint, with Mark Cavendish prevailing over green jersey -wearer Juan Rojas and Philippe Gilbert. Pretty much everyone got the same time so the GC is unchanged.
Tomorrow's stage is the longest in this year's tour and features rollers all through; to me it looks like an ideal stage for a breakaway to succeed, especially after all the damage today. It will be most interesting to see who lines up to escape, and whether the field lets them go; a complicating factor is the new intermediate sprint point. Probably a successful breakaway will have no more than five or six riders. We'll see!