| | |
| --- | --- |
| TDF stage 12 / mountains! - Sammy Sanchez wins as GC contenders take more time from Contador | |
(sorry couldn't post last night; we were celebrating Bastille Day in Pasadena ... we did toast Thomas Voeckler :)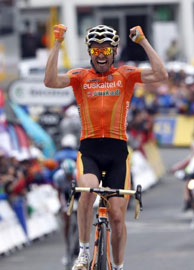 Wow, did you see yesterday's stage 12? Amazing! *That* is why you watch the Tour, what a great stage. You can read the blow-by-blow as Sammy Sanchez prevailed in the end (yay, he's a great rider, surprising to read that the reining gold medallist hadn't won a Tour stage before this one). This was the first stage where we really saw how this Tour is shaping up, and here's what we learned:
Thomas Voeckler is magnificent! On Bastille Day he hung right up there with the strongest climbers in the world to keep his yellow jersey. Vive Le France!
Sammy Sanchez can pedal up an elevator. When he attached on the final climb up Luz-Ardiden nobody could follow him, it was only a matter of whether he burned himself up. He has the polka dots now and he could keep them all the way to Paris.
Frank Schleck is en forme. When he attached at the end, the GC contenders could not go with him. He ran out of road or he might have caught Sanchez too.
Ivan Basso is looking great. He hung right in there with everyone, calm and cool, and finished in the lead of the GC contenders' pack quite easily. He's a good time trialist and if he continues to climb like this, look out. Remember he finished second to Lance twice.
Cadel Evans is looking great too. As the guy with the lowest time of the GC contenders and as a great time trialist himself, he doesn't have to attack, just hold serve. Which he did.
Andy Schleck was pushed. Yeah he finished with the GC men, but he had to work to stay up there. Interesting.
Alberto Contador is hurting. He will heal and get stronger, but today he could not follow Frank's attack, and in fact he lost more time on the GC pack at the finish. The key to this Tour is how fast he heals, can he be the Contador of old in the Alps?
Andreas Kloden was hurt before this stage, and fell again during. I think he's too injured to be a factor. Too bad, because like Basso he's finished second twice and he's a great rider.
Levi Leipheimer is a great rider but can't climb with the world's best. He was dropped there at the end. Boo. The Shack are snakebit in this Tour.
Robert Gesink is too injured to be a factor. Luis-Leon Sanchez is not a world-class climber. Looks like Lawrence Ten Dam (aka "wolfman") is Rabobank's best hope for a high GC spot.
Johnny Hoogerland gave defending the polka dots a great shot, but he didn't have it, if indeed he ever did. He gets the hero award for riding this stage with 33 stitches however, they should have a purple jersey for most courageous :)
Tom Danielson looks to be the top American on GC, riding for Garmen. Christian Van de Velde will be a good ally for him, and Garmen have the second strongest team in the race.
Leopard Trek have the strongest team, no question. Fabian Cancellara, Jens Voigt, Stuart O'Grady, man. They drove the peloton up the hills in this stage.
I gotta say, I love Jens Voigt; not only did he absolutely power the peloton over the hills in this stage, he has a blog, and recently did a great interview of his teammates the Schlecks (PDF) in Bicycling Magazine. Go Jens!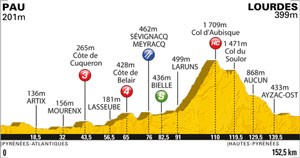 Well that was great, so what's on for stage 13? Well it features an HC climb up Col d'Aubisque but given the distance from the summit to the finish, it doesn't look like a day for a climber to win. I suspect a break will form and an all-arounder will prevail, as the GC men wait for stage 14 which is another killer. Stay tuned!
Home
Archive
this date in:
flight
About Me
W=UH
Email
RSS OPML

Greatest Hits
Correlation vs. Causality
The Tyranny of Email
Unnatural Selection
Lying
On Blame
Try, or Try Not
Books and Wine
Emergent Properties
God and Beauty
Moving Mount Fuji
The Nest
Rock 'n Roll
IQ and Populations
Are You a Bright?
Adding Value
Confidence
The Joy of Craftsmanship
The Emperor's New Code
Toy Story
The Return of the King
Religion vs IQ
In the Wet
solving bongard problems
visiting Titan
unintelligent design
the nuclear option
estimating in meatspace
second gear
On the Persistence of Bad Design...
Texas chili cookoff
almost famous design and stochastic debugging
may I take your order?
universal healthcare
entertainment
triple double
New Yorker covers
Death Rider! (da da dum)
how did I get here (Mt.Whitney)?
the Law of Significance
Holiday Inn
Daniel Jacoby's photographs
the first bird
Gödel Escher Bach: Birthday Cantatatata
Father's Day (in pictures)
your cat for my car
Jobsnotes of note
world population map
no joy in Baker
vote smart
exact nonsense
introducing eyesFinder
resolved
to space
notebooks
where are the desktop apps?
still the first bird
patience
electoral fail
progress ratches
2020 explained