| | |
| --- | --- |
| TDF 2011 / final thoughts | |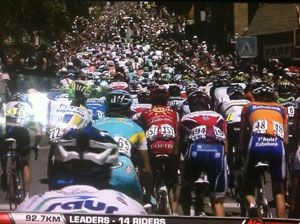 Well I'm a bit late with this, but for form's sake (and because I have some things to say) I thought I'd wrap up the 2011 TDF. Overall this was the best tour in a while, I'd say since 2003, when Lance Armstrong had to really work to beat Jan Ullrich, with Alexander Vinokourov third. As then, we had three clear favorites (Alberto Contador, Andy Schleck, and Cadel Evans), with many crashes, unexpected leaders, and incredible attacks.
Some thoughts:
There were so many crashes the first week, and it isn't apparent why. And so many contenders were knocked out, Bradley Wiggens, and Andreas Kloden, and Alexander Vinokourov, and Chris Horner, and Tom Boonen.
That whole incident with the TV car hitting Franco and knocking Johnny Hoogerland into a ditch, wow. That will be in highlight films forever.
How great was it to see Thor Hushovd in yellow for a week, and then winning two "mountain" stages? He's got to be my favorite rider at this point. I wish there was some way to give a "most incredible riding" award for the Tour.
And how great was it to see Thomas Voeckler in yellow for a week, gamely hanging on to keep it just like in 2004? He's got to be one of my favorite riders too. Just awesome. And great for France, and for the Tour.
It was cool to see Eurocar do so well, with Voeckler and Pierre Rolland, who had a great tour and won on l'Alpe d'Huez and took the white jersey. Again, great for France, and for the Tour.
Garmen was the team of the tour, not only with Hushovd, but winning the team time trial, Tyler Farrar winning a sprint, and animating all the time. Too bad they lost Zabriske, and Vandevelde was not great, but Danielson did finish 9th and the team had the best time overall.
I'm not a fan of sprinting, but there were some good sprints for those who are; Cavendish won five of them, wow, and the green jersey, but Tyler Farrar won one, and so did Andre Griepel. Overall sprints were de-emphasized in this Tour and that was one of the reasons it was so good :)
I will say I expected a better battle for the green jersey, I thought the intermediate sprint points would help someone like Philippe Gilbert compete, but it didn't work out that way. Would have been great, I like all-arounders like Gilbert.
Looking back, stage 9 was amazing; eight categorized climbs but nothing harder than a Cat 2, a serious break, the TV car crash thing and other crashes too, and Voeckler taking yellow by two minutes.
The final three stages were awesome. The Schleck attack on stage 18, 70km from the finish, with Evans forced to chase over three HC climbs up to the Galibier, and then the Contador attack on stage 19, way out, with Evans again forced to chase and the finish at Alpe d'Huez, and then the time trial. Being in France while this all played out made it even better (thank you Tivo + Slingbox + hotel WiFi :).
Cool that George Hincapie was on nine TDF winning teams, with three different riders. Wow.
Sanchez was a great kind of the mountains; for once, you felt the award went to the best climber. Not only in the Alps at the end, but in the Pyrenees too.
Evans won the way you should win; with a great team that kept him out of trouble, consistency, taking control when needed to chase down attacks, and then blasting to victory in the time trial. He was the champion (and the pride of Australia).
Best of all, no doping! and not even much talk of doping, despite the Contador situation. Whew.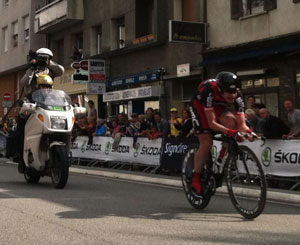 It was soo cool to be there. Wow. I might never go again (never say never) but it was great to see the time trial in Grenoble, and then the final stage on the Champs d'Elysee in Paris. Can't wait to see the route announced (all we know now is that the start is in Liege, Belgium) and to figure out if I can see some of it :)
Finally, some comments on the commentators; what can we say, Phil Liggett and Paul Sherwin remain a delight, and they had a great tour too. Bob Roll continues to have the best insights; he called the Schleck attack on stage 18 and the Contador attack on stage 19 perfectly. I'd love to have Bob's insights during the racing. Ian McHugh was horrible, worse than Craig Hummer (who got better over time), and I'm sure he won't be back. The whole NBC involvement was weird; their online package was a joke, and their incessant house ads were horrible (thank you Tivo). We'll see what happens next year. And it should be great! with Evans back, and the Schlecks, and Contador, and who knows who else?
Home
Archive
this date in:
flight
About Me
W=UH
Email
RSS OPML

Greatest Hits
Correlation vs. Causality
The Tyranny of Email
Unnatural Selection
Lying
On Blame
Try, or Try Not
Books and Wine
Emergent Properties
God and Beauty
Moving Mount Fuji
The Nest
Rock 'n Roll
IQ and Populations
Are You a Bright?
Adding Value
Confidence
The Joy of Craftsmanship
The Emperor's New Code
Toy Story
The Return of the King
Religion vs IQ
In the Wet
solving bongard problems
visiting Titan
unintelligent design
the nuclear option
estimating in meatspace
second gear
On the Persistence of Bad Design...
Texas chili cookoff
almost famous design and stochastic debugging
may I take your order?
universal healthcare
entertainment
triple double
New Yorker covers
Death Rider! (da da dum)
how did I get here (Mt.Whitney)?
the Law of Significance
Holiday Inn
Daniel Jacoby's photographs
the first bird
Gödel Escher Bach: Birthday Cantatatata
Father's Day (in pictures)
your cat for my car
Jobsnotes of note
world population map
no joy in Baker
vote smart
exact nonsense
introducing eyesFinder
resolved
to space
notebooks
where are the desktop apps?
still the first bird
patience
electoral fail
progress ratches
2020 explained