| | |
| --- | --- |
| TDF stage 19 / high mountains - Contador attacks, nearly wins, as Andy Schleck takes yellow | |
(on the train to Grenoble to watch the ITT today! - I am *so* excited...)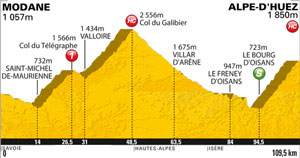 And so yesterday we reached l'Alpe d'Huez, the ultimate climbing stage of the 2011 Tour even though stage 18 was arguably harder and longer and hence the "queen stage". Partially it's because of the mystique of l'Alpe - the 21 hairpins with the stage winners celebrated at each one - and partially it's because this is the last stage before the ITT later today - and partly it's because the stage is so short; despite the Col du Galibier en route everyone reaches the bottom at the same time, everyone attacks, and may the best man win. So it was the last time l'Alpe was in the Tour, in 2008, when Carlos Sastre won it and won the Tour.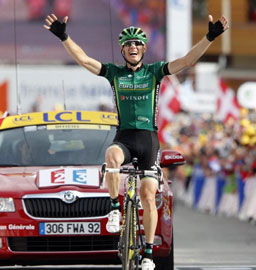 So what happened? Well we had the usual early break, but then Alberto Contador attacked! One day after falling out of GC contention after being unable to stay with the leaders on the final climb, he seemed to be the Alberto of old. Only Andy Schleck could stay with him on his dynamic accelerations, with Cadel Evans and Thomas Voeckler struggling to stay on. And then Voeckler finally cracked and fell off. And then Evans had a mechanical, had to switch bikes, and suddenly was under pressure to stay on. Even before we reached l'Alpe the peloton was all over the mountain. Evans BMC team restored order and began a solid chase, so that by the foot of l'Alpe there were about 30 riders again. On the final climb Contador attacked again (!) and seemed headed for victory, with Evans driving a hard chase, both Schlecks on his wheel, shedding Voeckler for the final time and dropping him from yellow. Samuel Sanchez attacked, and then Voeckler's teammate Pierre Roland followed, seeking the white jersey. Near the seemingly unreachable top Contador lost steam, and was ultimately passed by Roland, who won (and took White), and Sanchez, who ended up second (and in Polka Dots). Evans drove the leaders to the top, putting Andy Schleck in yellow for the first time.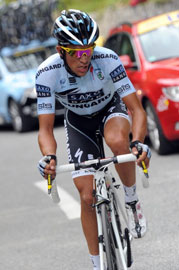 I have to say, today I liked Alberto more than at any time before; he might not have won the stage or the Tour, but he won the respect of the fans.
So going into today's ITT we have Andy in first, Frank 2nd (0:53), and Evans 3rd (0:57). Voeckler has dropped to 4th (2:10). I think Evans will easily take a minute from both Andy and Frank, and will win the tour. I don't think Cunago (3:11) or Contador (3:55) can make the podium. We'll see - stay tuned!