| | |
| --- | --- |
| TDF stage 1 / uphill sprint - Gilbert wins as expected; crashes create gaps and Alberto loses big time | |
Greetings all! As I did last year (and the year before), I'm going to post about each stage of the 2011 Tour de France ... that way you can read them after you've watched on your Tivo (!), or skip them if you're not interested.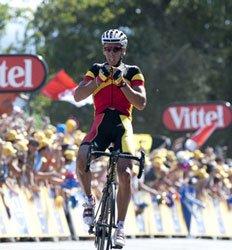 This year the Tour doesn't have a prologue (!) - the traditional short time trial to "seed" the riders - instead we opened with a procession across the famous Passage du Gois, followed by a flat stage with a pretty steep uphill finish. The setup favored Philippe Gilbert, who's has an amazing classics season so far, and indeed he won.
Cadel Evans nearly caught him at the end with a terrific effort to take second, and to gain a few seconds on the peloton. More significantly there were several crashes near the end; none took out any riders, but one cost a number of riders big time, including Albert Contador who finds himself 80 seconds behind most of hit competitors, in a stage which wasn't expected to affect the GC.
Commentating on the commentating: I'd finally gotten used to Craig Hummer but NBC's Liam McHugh has taken his place. Blech. Craig didn't know much but he at least pretended to be engaged; Liam seems amazed by the sport. Surely they could have found someone who knew something? Not impressive. At least Phil Liggett and Paul Sherwin have retained their form.
Tomorrow we have the team time trial which should be most interesting; I'm picking Radio Shack to win, and Saxo Bank (Alberto's team) to lose more time. Stay tuned!