Archive: October 31, 2008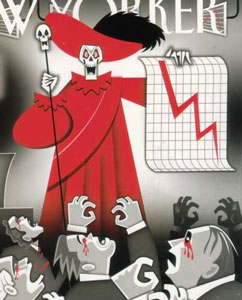 Wow, here we are, Halloween and the last day of October. BOO!
October began for me with the observation that you can't script October, made as I was recovering from being really sick. I couldn't ride the Furnace Creek 508 as I'd planned, and pretty much everything else was unscriptable from that point, too; the financial markets melted down suddenly, dragging the U.S. into a recession, and, well:
And last but not least:
Just another month... ho hum :)
BTW one of the cool things about my archive, which I still think is really cool, is that I can view all the posts I've made in October, all at once, and in forward chronological order. Pretty useful when you want to write about, um, what happened in October :)
I wonder what November will bring? In the world, the election, of course, and the post election reaction and analysis. Closer to home, I've planned a business trip to Brazil and another to Chicago, Aperio is shipping a release, and there is 2009 budgeting to do, I will be back on my bike as much as possible, and of course we have Thanksgiving, college football, and the start of the Christmas season which given the economy will be pretty weird this year. I'm guessing you can't script November, either...
Want to know how I voted? Okay, here you go...
Federal Positions
President / Vice-President: John McCain / Sarah Palin. I like John McCain but voted this way primarily because I cannot support Obama, due to his liberal views. I must report that as I cast this vote I couldn't help thinking "cool, I just voted for a woman for Vice President".
U.S. Representative, 24th district: Elton Gallegly. A good incumbent, and [as I always say], a red guy in a blue state.
California State Positions
California State Senator, 19th district: Tony Strickland. Moving from the State Assembly where he was my representative for six years (then he hit the term limit, and his wife Audra took over, see next bullet). Good guy, I like him. We hear from him a lot about what he likes and doesn't like, and why; I may not agree with all of it, but I like the transparency.
California State Assembly, 37th district: Audra Strickland. She succeeded her husband Tony (see above) when he was term-limited, has similar views and has done a similar good job (with similar good communication). Having her and her husband in the Assembly and Senate, respectively, working together (presumably!) will help.
Local Positions
Conejo Valley Unified School District: Scott Lamp + John Andersen. None of my kids attend Conejo Valley schools anymore (they attend Oaks Christian, a private High / Middle School), but of course this still matters a lot. Scott is running on getting rid of the weird math program they've been experimenting with and going back to the state curriculum; that's good enough for me. And I like the way John laid out his views in the sample ballot (not to mention, I agreed with them :).
Thousand Oaks City Council: Tom Glancy + Jacqui Irwin. Both incumbent members of the City Council. Thousand Oaks is really well run, the City Council is doing a great job, and all the current members deserve re-election.
Calleguas Water District: Scott Quady. As an environmental scientist, he should be in a good position to bring some science to the art of supplying our area with water...
California State Ballot Measures
1A - No. This is a bond act for new passenger trains. I would love to have better trains in California, but we can't afford it. This kind of thing is going to have to be privately financed.
2 - No. Standard for confining farm animals. I love animals but this is not the sort of thing for which we need laws. We have too many restrictions as it is. (I can't help it; every time I say "I love animals" I think "especially medium rare, with a wine reduction sauce". Sorry.)
3 - No. Children's hospital bond act. Uh, this is tough, I am really all for having more and better health care, but I really don't think public money is the way to go. And, we can't afford it. Sorry.
4 - No. Prohibits abortion for minors until 48 hours after notification of parent. Absolutely no. If a teen doesn't want her baby, she should not have it, period.
5 - No. Increase spending on rehabilitation of non-violent drug offenders. I'd rather spend the money on children's hospitals, but I already said no to that, so this has to be no.
6 - No. Increase in funding for police and law enforcement. I'm sure this would be useful, but I can't believe it is essential, and we're poor people in California these days.
7 - No. Renewable energy generation. Requires government-owned facilities to generate 20% of their electricity from renewable sources by 2010. Setting aside the issue of whether this is even possible, it doesn't seem like a good idea to make energy more expensive right now. This is a classic example of overreaching with government legislation.
8 - No. Eliminate right of same-sex couples to marry. Setting aside whether you support gay marriage rights (I do, BTW, really, who cares if gay people want to marry?) this is not an issue for state law. We have too many laws telling us what we can and can't do already. The education provisions of this are onerous too; it tells schools what they can and can't teach.
9 - Yes. Victim's rights, parole changes (aka "Marsy's Law"). This seems like a set of good changes; I can't quite parse all the impact, but as I read about who is in favor and who is opposed, I mostly agree with those in favor on other issues also.
10 - No. Government support for alternative fuel vehicles. I am 100% in favor of alternative fuel vehicles, and 100% opposed to using government money to subsidize their adoption. Let the markets decide.
11 - Yes. Redistricting initiative. Changes authority for establishing state office boundaries from elected officials to a commission. Absolutely. We need to take control over districting from the people who represent those districts. Right now the gerrymandering is way out of hand.
12 - No. Veterans bond act. I am a big supporter of veterans and respect them and thank them for everything they've done for all of us, but this is not a good use of state funds at a time when those funds are under severe pressure.
Local Measures
T - No. Term limits for Ventura County Supervisors. I'm not a big fan of term limits. If an individual performs in their position and gets reelected by their constituents, good for them.
Don't you just love absentee ballots? So much easier to do this ahead of time in the comfort of your office, with Google to hand, than to do it in the rush of election day in some little polling booth.
Oh, and I've said it before, and I'll say it again, if you don't feel like voting and/or don't know who or what you're voting for, DON'T VOTE. You'll only dilute mine :)
Return to the archive.