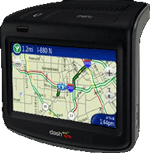 Email, received recently:
From: Team Dash [teamdash@dash.net]

Subject: Welcome to the Dash Express LA Traffic Road Test!

Hello Ole,

Congratulations! You have been selected to participate in the Dash Express LA Traffic Road Test. Your Dash Express should be arriving rather soon!

This is a four month test in which we want you to help provide feedback on commute traffic accuracy. There will be a bi-weekly survey sent to all participants to complete. As a participant in the road test, we ask that you provide any and all feedback either via the survey or a Yahoo! Group that has been setup (invitations will be sent out next week). Please do not participate in the MyDash forums for the length of this test. We appreciate your cooperation and look forward to your feedback.

We will be providing more information about the test shortly, but be sure to keep the return shipping label included in the packaging in the event you decide not to purchase the device at the end of the test.

If you have problems with your device, contact customer service (http://my.dash.net/support) and mention you are part of the LA traffic road test. Please note that in June we launched a wireless software update for your Dash Express. Therefore, before you begin driving you will need to download this update via a WiFi connection (instructions).

For any questions please contact jandren@dash.net

Best regards,

Team Dash
Yay! Whoo hoo! This will be great. I've been thinking the Dash would be the greatest thing since sliced bread, a GPS unit which gets realtime traffic information and routes accordingly. Now I get to try it out, and help them improve it! What could be better than that?
Stay tuned...