Archive: April 2020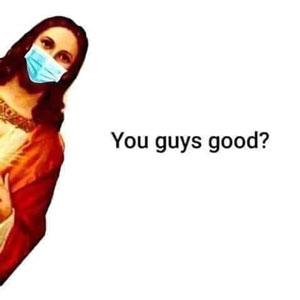 Hi everyone, how's it going? Are you sheltering in place? Hanging in there? Able to escape a little bit, or going crazy inside your four walls?
Yeah, I know the feeling. I am, like you, sheltering in place, and like you, hanging in there, and able to escape a little bit. And I haven't yet gone crazy, although wow are these crazy times. Nothing quite like running an engineering team for a telehealth company in the middle of a pandemic...
You just have to feel bad for Zoom ... this is their moment in the spotlight, and while their service works great, their security has been terrible: Zoom CEO: 'I really messed up' on Security as Coronavirus drove tool's appeal. It seems like a cultural thing, there have been too many issues.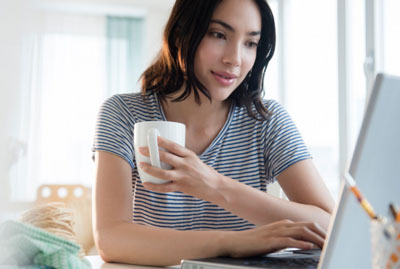 News you can use: A patient's guide to Telemedicine. Have you see a doctor virtually yet?
With the media playing politics instead of journalism, it's hard to get good info. Here's a great article from Caltech: The Covid-19 virus, by the numbers. It links a research paper which has a lot more good info, too.
Bill Gates: One of the questions I am most often asked about the Covid-19 pandemic is how, and when, it will end.

Noted: CNN should change its format back to news. "At this point, their ratings can't get much worse."
Some good news: NASA brings back its rightful logo. Next maybe they'll start launching manned missions again!
This looks pretty cool: The Adafruit Clue. "The fact that for under $30 you can have a board that is this packed with sensors, has bluetooth connectivity, and a display is pretty mind blowing. The addition of circuitpython is pretty nice as well."
I must get one of these. I played a little with an Arduino in the early days of having a MakerBot Replicator 2 - yes, I was able to "burn" my own version of the firmware - but I'm a total rookie at this stuff, and it is so cool...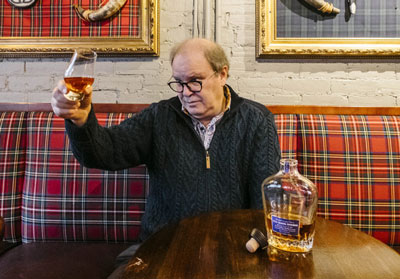 Important research: Why the world overlooked Canadian whisky.
Powerline: How Charles Murray became Charles Murray. An interesting conversation with one of the premier social scientists of our time. "Maybe my favorite part of this conversation is our detour into NASA and the Apollo program. Few people know that Charles and his wife Catherine Cox wrote a terrific narrative about the Apollo program, Apollo: The Race to the Moon." I did not!
We each have something we especially miss with everything on pause; for me, it's pro cycling. Today would have been the Tour of Flanders, possibly my favorite face ever; in 2010 I rode it myself (well, the amateur grandfondo the day before, on the same course), and watched the Pro race live. Yves Lampaert contemplates a year without De Ronde...




For many, the thing they'll miss most is the summer Olympics, officially postponed until 2021. Of course the right thing to do, but the disruption for everyone involved is unbelievable. Think of all those athletes working toward this one moment in time...
Well hang in there everyone - stay safe. And I do hope you don't go crazy...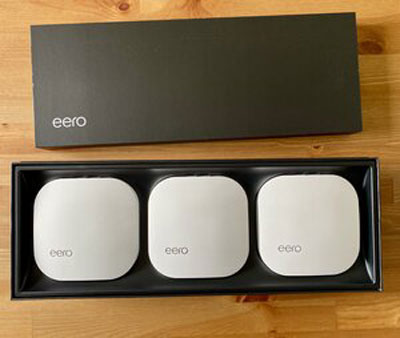 I needed a eero. Three actually. "They gotta be strong, and they gotta be fast, and they gotta be fresh from the fight." And they were :)
This weekend I decide to replace my 10-year-old Apple Airport WiFi routers with a new eero pro mesh setup. It was quick, it was easy, and now I have full speed tri-band WiFi with no muss no fuss. Should have done so 5 years ago, but who knew?
Now that the three little eero routers are up and running and working, it's great having super fast WiFi. But the coolest part was how easy the routers were to set up. It's all done from an iPhone app, and it was dirt simple. Plug in the router, answer a couple of questions, and poof it works. Plug in the next router, answer another question, and poof it works too. Third router, question, poof. Done!
I know how hard it is to create this kind of awesome out of the box experience, and I have a ton of respect for the developers here. Onward!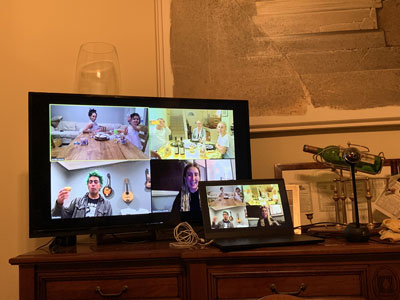 Hey y'all ... Happy Virtual Easter! Like me, you probably Zoomed (or Skyped, or Facetimed) your family and friends, and I hope you were able to get some of the pleasure and joy of being together. Truly a weird time, and one we will all never forgot.
I must report, the rack of lamb was not virtual, and was most excellent :)
Health Care Blog: the Tipping point for Telehealth. "Many ways of doing business will change forever after the experience of the COVID-19 pandemic, and health care, too, will never be the same." Amen.
WSJ notes: ICUs leverage remove doctors and telemedicine to manage Coronavirus deluge. "Physicians and nurses at many of the country's largest hospital systems are leveraging a decades-old technology in new ways... Generally known as 'tele-ICU,' this two-way bedside video is sort of like FaceTime or Zoom. The difference is that it typically adds a host of other technologies to videoconferencing, in order to connect critically ill patients in hospital ICU beds with teams of doctors and nurses who specialize in delivering care to the sickest, even when those teams are miles or even whole states away."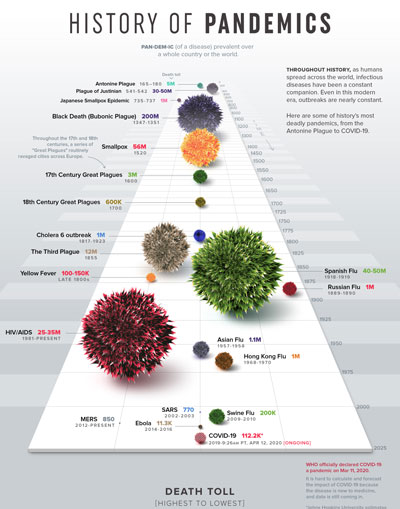 A month ago I shared this graphic from the Visual Capitalist comparing the deaths due to Covid-19 to other pandemics. They update it daily; at that time the toll was 4.7K people; now it stands at 112K. Still catching the Swine Flu of 2009-2010 which kills 200K people, but getting there quickly.
The Origin of the Wuhan Coronavirus. No, not from the market. View it and make up your own mind, but they sure make a case.
As benefits being leader of the US during a crisis, President Trump has been holding daily press briefings. The "journalists" present beclown themselves. Allie Beth Stuckey: Every. Single. Coronavirus briefing is like this. Sadly, true.
How DuckDuckGo makes money without tracking you. "It's actually a big myth that search engines need to track your personal search history to make money or deliver quality search results... search advertisers buy search ads by bidding on keywords, not people." -- Gabriel Weinberg, founder and CEO.
This I love: Every moon in our solar system, ranked. The top 26, quite a collection. Of course our favorite Titan is #1, but can you guess #2?

Apropos: Trump signs executive order to support moon mining, tap asteroid resources. Who will be the first to take advantage?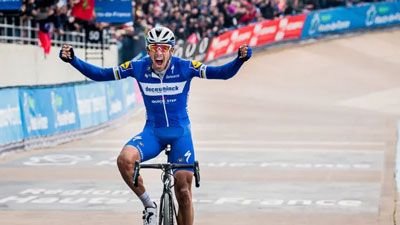 With Paris-Roubaix cancelled this year (well, delayed for now, but, you know), Velonews revisits Philippe Gilbert's masterful win last year. I love this sort of inside insight, cycling is sooo tactical.
Onward... I hope you have a great week sheltering in place, and that we won't have to do so too much longer!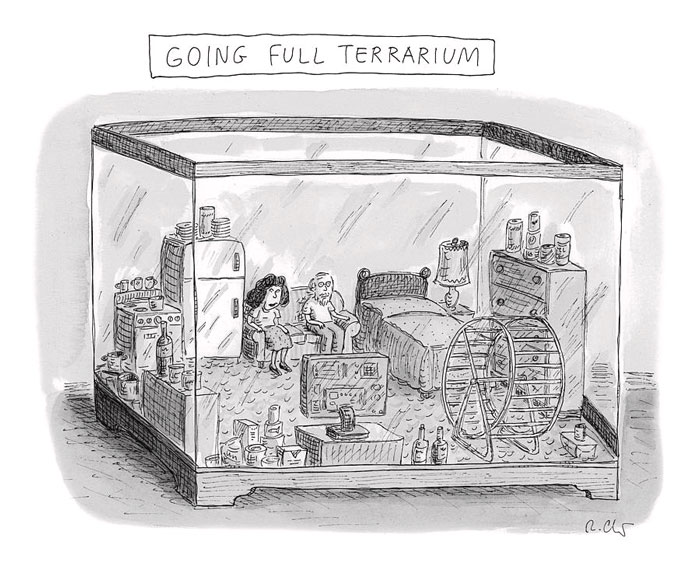 Aren't we all?
New Yorker, 4/20/20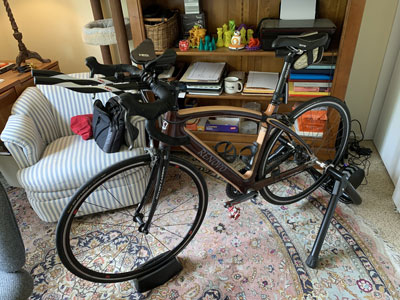 Like a lot of you my activities have moved indoors, and while road cycling is still possible in California (you just have to do it in the middle of nowhere), I decided to scratch a longtime itch and get a Zwifting setup.
A what?
Zwift is an online community of cyclists who ride "smart trainers". It's a sort of dynamo for your bike. You mount your bike on a stand which includes a flywheel that connects to the back wheel which measures your speed. And the flywheel is connected to Zwift via your computer.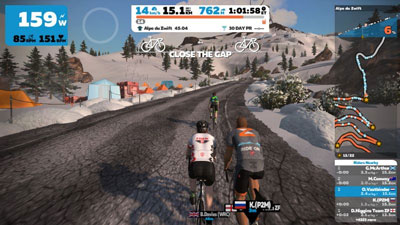 You ride various courses - either on Zwift's own virtual island of Watopia, or "real" courses like Alpe d'Huez - and Zwift shows "you" riding on the screen. The faster you pedal, the faster you go. Heading uphill, Zwift tells the trainer's flywheel to increase the resistance, downhill, yippee, you can fly.
The experience is not exactly like riding - the biggest difference I've noticed so far is there is no cooling wind in my office (!) - but it's a lot of fun and a great workout. And you get to ride "against" a bunch of other people, so it's competitive. In fact a lot of pros are on Zwift, working out until pro racing gets going again. (You cannot believe how fast you get dropped by those guys with dollar signs on their jersey :)
After a bit of research I ended up getting a Wahoo Kickr smart trainer, which seemed to be one of the most popular. So far it's working perfectly. It connects to my laptop via Ant+, so I needed a little Ant+ USB dongle.
You can also get on the Kickr and "just ride" ... for example, while watching old pro races from last year :) I actually out-sprinted Matthew Van der Poel to win the 2019 Amstel Gold ... in my mind :)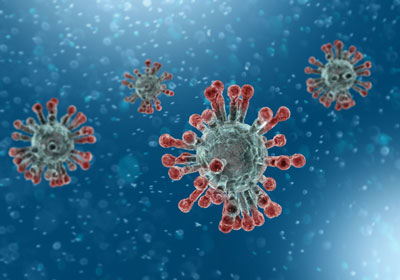 Hi all sorry for the gap. I've been ... busy. Telemedicine is going viral, my company's business along with it, and it has been wild...
The doctor will Zoom you now. Except that Zoom is insecure and not integrated with health systems, so ... the Teladoc will see you now :)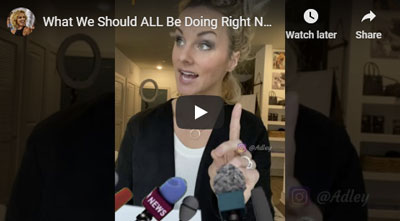 There is confusion about what we all should be doing. This video clears it all up. The pandemic has been good for satire :)
Apropos: How to be absurdly wrong with no consequences. The early dramatic predictions of medical disaster have been dramatically wrong.
Did you know? The overall US death rate is at a multi-year low.
From Horace Dedieu: the Covid-19 International Dashboard. A great way to see how things are going.
Supercool from Deep Mind: Specification gaming. "Specification gaming is a behaviour that satisfies the literal specification of an objective without achieving the intended outcome." A key issue in AI, machines are great at figuring out how to cheat :)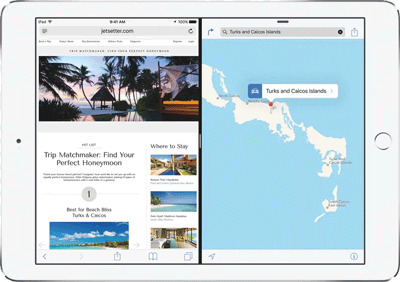 Can I just say, the iPad OS split-screen usability is a complete travesty. I can? Good, because I just did. How a company like Apple that prides itself on usability let this out of the barn is a mystery. I have never met anyone who likes it, or who can even explain how it is supposed to work. I finally figured out how to disable it, which was a huge relief because I kept ending up with split screens by mistake.
One of my new favorite blogs is The Discoverer; a recent post: Every US National Park, ranked. #1 is predictably Yosemite, but can you name #2? And how many of the 61 have you visited? Great stuff...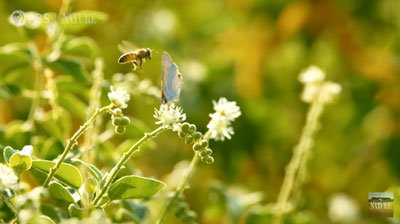 Ze Frank: if the Earth gave Earth Day awards. Excellent!
Human spaceflight is returning to America! Mark your calendars: May 27 is the planned launch of the Crew Dragon to the ISS. What a day that will be, cannot wait.
News I definitely can use: How to cut your hair at home. The experiment will probably be performed; stay tuned.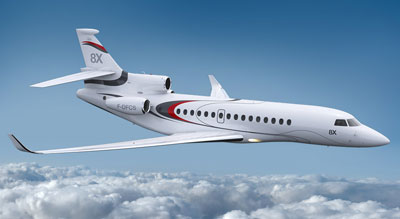 News I wish I could use: Here's what it really costs to own or charter a private jet. This article delivers the goods; at the end is a table of the hourly rates for everything from a Cirrus Vision to an Airbus A380. I've always like the Dassault Falcons (cute little trijets); they cost $3,000/hour. So be it.
Onward... hope you are hanging in there, and see you [here] soon...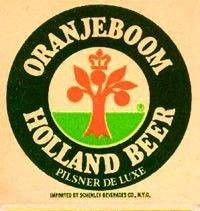 Hi all –
April 27 is the day on which Dutch people celebrate the birthday of their King. Everyone wears orange (the Dutch royal family are the house of Orange), drinks beer, and generally has a good time.
On a typical King's Day Dutch cities are filled with people celebrating; it will be a bit different this year (although likely similar amounts of beer will be consumed). Would you like to learn a Dutch word? Oranjegekte (oh-ran-yuh-kek-teh) means "orange craziness". Please feel free to Google it to see what happens when Dutch people get excited, could be a football match, cycling, F1 racing, or just the King's birthday.
Cheers, happy Koningsdag, and stay safe
Return to the archive.
Home
Archive
this date in:
flight
About Me
W=UH
Email
RSS OPML

Greatest Hits
Correlation vs. Causality
The Tyranny of Email
Unnatural Selection
Lying
On Blame
Try, or Try Not
Books and Wine
Emergent Properties
God and Beauty
Moving Mount Fuji
The Nest
Rock 'n Roll
IQ and Populations
Are You a Bright?
Adding Value
Confidence
The Joy of Craftsmanship
The Emperor's New Code
Toy Story
The Return of the King
Religion vs IQ
In the Wet
solving bongard problems
visiting Titan
unintelligent design
the nuclear option
estimating in meatspace
second gear
On the Persistence of Bad Design...
Texas chili cookoff
almost famous design and stochastic debugging
may I take your order?
universal healthcare
entertainment
triple double
New Yorker covers
Death Rider! (da da dum)
how did I get here (Mt.Whitney)?
the Law of Significance
Holiday Inn
Daniel Jacoby's photographs
the first bird
Gödel Escher Bach: Birthday Cantatatata
Father's Day (in pictures)
your cat for my car
Jobsnotes of note
world population map
no joy in Baker
vote smart
exact nonsense
introducing eyesFinder
resolved
to space
notebooks
where are the desktop apps?
still the first bird
patience
electoral fail
progress ratches
2020 explained