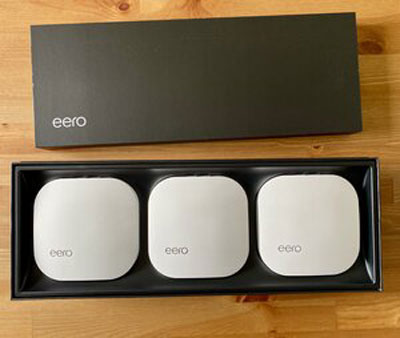 I needed a eero. Three actually. "They gotta be strong, and they gotta be fast, and they gotta be fresh from the fight." And they were :)
This weekend I decide to replace my 10-year-old Apple Airport WiFi routers with a new eero pro mesh setup. It was quick, it was easy, and now I have full speed tri-band WiFi with no muss no fuss. Should have done so 5 years ago, but who knew?
Now that the three little eero routers are up and running and working, it's great having super fast WiFi. But the coolest part was how easy the routers were to set up. It's all done from an iPhone app, and it was dirt simple. Plug in the router, answer a couple of questions, and poof it works. Plug in the next router, answer another question, and poof it works too. Third router, question, poof. Done!
I know how hard it is to create this kind of awesome out of the box experience, and I have a ton of respect for the developers here. Onward!