Archive: June 12, 2004

Congratulations, Jordan, you did it!
I just want to say how proud I am of my daughter Jordan, who graduated from High School last night. Amazing to think she's almost 18 now, and off to College. Seems like only yesterday she was a tiny kid running around at high speed, interesting in everything. Well she's still tiny (sorry!), she still runs around at high speed (in a car), and is still interesting in everything (especially boys men). But she's not a kid anymore. We're really really proud of you, Jordan, and wish you the best in the next phase of your life.
The high school commencement at Agoura High School was really well done. Two of the students spoke, and I must say I thought they were great, mixing just the right amount of gravitas, humor, nostalgia, and optimism. One of the speakers noted that this was one of those moments which occur in every life, that forever divide before and after. I'm trying to remember my high school graduation - now 30 years past - and I guess that's right; I don't exactly remember the details of the graduation itself, but graduating from high school was definitely an inflection point in my life, marking the moment when I left my parent's house and went out on my own. You might even say it's the point at which teens have to stop pretending to be adults, and start actually being adults. (Although thinking about my college days, it isn't clear we actually acted like adults :)
This time is an inflection point for my other kids, too; Alexis moves on to middle school next year (6th grade), leaving Megan alone in elementary school (2nd grade). It's such a cliché but yes, they do grow up so fast. And I couldn't be prouder of them, too; each with perfect report cards (please excuse a little parental chest beating) and each on their way to being fine young women like their older sisters.
I couldn't help wiping a tear from my eyes as I listened and watched. The principal made note of the amazing events which took place in the world during these kids high school careers - Y2K, 9/11, two countries invaded, the economic boom, bust, and recovery. It isn't hyperbolic to suggest this was one of those times in the world's life, which will forever divide before and after.
Yeah, so I'm back, sorry for the radio silence. I have much to write about, and will try to catch up. Actually I have so much to write about, it is daunting; I feel like I have to write about everything, which will take forever, and I don't have forever (in fact I don't have any time at all), so I don't write anything. A vicious cycle. Fortunately the need to congratulate Jordan broke the logjam, and I can start dribbling out updates - please stay tuned.
Earlier this year I faced a similar gap - that one was six weeks, this one was four - and I responded with a massive catch-up post. Perhaps this time I'll try filtering more strongly - you don't really need me for the daily news, now do you - and catch up gradually.
| | |
| --- | --- |
| Windows video conferencing? | |
Does anyone have comments about Windows-based video conferencing systems? I'd like to have an iChatAV setup, but for Windows laptops. If you have comments or suggestions, please email me. Suggestions to buy a Mac are not helpful :)

P.S. I understand people have been able to use Apple's iSight camera as a firewire device under Windows, but that's only part of the solution; in addition to a camera, you need a microphone, and most crucially videoconferencing software.
Did you know it is easy to send email to the President, Senators, and Congressman who represent you? It is! Simply go to this website, select your state, and then enter your mailing address. You can send email letters to any or all of your elected leaders.
I discovered this recently in attempting to write my Senators (Dianne Feinstein and Barbara Boxer), and Congressman (Elton Gallegly) regarding the U.S. Supreme Court's upcoming ruling on inclusion of the phrase "under God" in our Pledge of Allegiance. Now that I know about this website, they're going to be receiving a lot of mail from me. Of course I have no idea if they will actually read it - I assume they gave staffers which filter their mail - but perhaps my voice will not go completely unheeded.
By the way, here is what I wrote:
---
Dear [Appropriate Salutation Will Be Inserted Here]:
I am contacting my members of Congress regarding an issue of concern to me.
I am concerned about the tone of debate surrounding the "'Under God' in Pledge of Allegiance" issue.
I am personally opposed to ANY religious references in National traditions. I am not an atheist, but I think there is strong value to the separation of church and state envisioned by our Country's founders, and codified in our Constitution.
More important than my view on the issue itself, I am really concerned by the knee-jerk reaction of many politicians to this issue. Rather than engaging in legitimate debate, people have rushed to deride the Ninth Circuit Court's decision, and the citizen who raised this issue, Dr. Newdow. (I often disagree strongly with the Ninth, but not this time.)
Although the founders of our Country clearly intended a strong division between church and state, over time the predominantly Christian background of America's leaders has allowed a default religious ethic to creep into America's traditions. Phrases like "in God we trust" on our currency and "under God" in our pledge of allegiance don't raise eyebrows, because most Americans are Christians and believe such phrases to be appropriate. Even Americans with other religious traditions such as Jews and Muslims believe in a God, so they can feel these traditions are consistent with their own views.
My point is not that there could be zero Gods or more than one God, nor that there are Americans who are excluded by references to a God. (Although these are true statements.) My point is that such issues are religious, and as such should have no place whatsoever in the traditions of our secular government.
I urge you first and foremost to give these issues serious and scholarly consideration, rather than reacting based on emotion. I urge you furthermore to make decisions on these issues based on what is right, based on our Constitution and the fundamental separation of church and state we cherish as Americans. Your constituents will most likely disagree with this position, since they are predominantly Christians who would view removal of references to God from our Country's traditions as negative. I suggest that this is an area where our country's leaders must lead, by establishing a neutral moral tone and deciding issues based on logic, rather than blindly following the popular opinion.
Thank you most sincerely for your attention,
Ole Eichhorn
Have you ever wondered about all the unused keys on your keyboard?

I've been using computers for about 35 years now, and all through that time, keyboards have been remarkably similar. Keypunch machines, teletypes, dumb terminals, system console, PCs, Macs, Sun workstations, and now laptops - they're all very similar. You have a "standard" QWERTY setup with four rows of keys with the alphabetic and numeric characters. You have a space bar, two shift keys, a return, etc. The ASCII special characters are always pretty much in the same place, except for maybe the weirder ones like backslash and pipe ("|"). But - and this is the thing - there are always keys you don't use. In fact, they are mostly keys you don't even notice.
On my laptop, at this moment, there are several: scroll lock (?), pause/break, caps lock, "Windows", and "Menu" (shaded pink above). I believe scroll lock is completely unused, and if pause/break has a purpose, I am unaware of it. Caps lock's only purpose is to get accidentally pushed, which means I have to push it again to disable it. (WHO USES ALL CAPS ANYMORE?) The Windows key is always in a different place on every keyboard, and I'm just not used to it; I know what it does (it brings up the Start menu), but if I need to do that I just, er, click Start. And the Menu key is new to me on this laptop; I see what it does (essentially a right-click), but have no use for it.
As well, most keyboard these days feature twelve function keys (shaded blue). There are probably programs which use most or all of them, but I don't use any of them, not even F1 which is mostly but not always Help. As for shifted function keys, forget it; who could possibly remember all that? As a counterpoint to those who think I'm hopelessly mouse-centric, I generally prefer keyboard shortcuts to mousing and love CLIs.
And then - there is a weird convention shared among laptop manufacturers that laptop-specific hardware functions be invoked via a Function key (shaded orange). For example, on my laptop, Function-F2 toggles WiFi, and Function-F4 changes the monitor mode. These functions are mnemonically indicated, so they're easy to use, but that Function key in the lower left corner throws me off - I expect the Control key to be there. Since I use a laptop-specific function about once a month, how about putting the Function key in the upper right corner instead, and while you're at it, get rid of the pause/break key altogether?
[ Later: Several of you wrote to point out something really interesting I should have thought of; which keys are missing? The main missing key is Help, which should have been added at time zero. These days Mac keyboards have +/- keys for adjusting volume, and another for Mute. Many laptops have these functions as buttons which are separate from the keyboard. Those are pretty useful. Any others? ]
[ Later still: I received some good feedback, please see more unused keys... ]
| | |
| --- | --- |
| Journey through the center of the Earth | |
Here's today's thought experiment:
Imagine a perfectly straight hole drilled through the Earth, passing directly through the center. Now imaging falling into this hole. What would happen?
[ Later: here's the answer... ]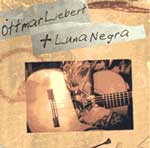 Today is the big day - Ottmar Liebert's new album La Semana has been released! Available as a standard CD or in a special limited edition, with special packaging signed by OL.
I've been listening to these tracks for a month now, and I assure you they are wonderful. Check out Carrousel (RealAudio stream)!
(daa daa da da daa, da duh da duh da duh daaa...)
So this is first attempt at catching up since resurfacing. We'll see what happens :)
"Whatever else history may say about me when I'm gone, I hope it will record that I appealed to your best hopes, not your worst fears; to your confidence rather than your doubts."

So "Dutch" has died. I can't add much to the mounds of things which have been written to eulogize him; he was a great man and President, and his place in history seems secure. I found it particularly poignant to read Lech Walesa's tribute in the WSJ; it seems amazing that it was only 20 years ago that communism was such a force in Eastern Europe, and in the World.
Amazingly, I was actually at the Ronald Reagan library on June 4, the day before he died. My daughter's 5th grade class was participating in a Constitutional debate, "We the People", held on the library grounds. I passed through the museum, and stopped at a display commemorating Reagan's first challenge as President: the Patco strike (air-traffic controllers). Reagan summarily fired the striking workers, and in so doing he not only ended a disruptive (and illegal) strike, he also served notice to the world of the kind of President they were dealing with: "I said what I meant, and I meant what I said". He went on to prove this many times, as in his exhortation to Mikhail Gorbechev: "tear down this wall".

I am struck by two things among the remembrances; first, that Reagan was a man of principle, and second, that he was modest and gentle. It would be better if today's men of principle were the same, our present President included...
Other Serious Business:
Space and Science:
Life and Stuff
Computers and Electronics:
So, that's what happened. One giant catch-up post. Whew.
Return to the archive.