A rather lazy day in which I accomplished little but enjoyed every minute. I am coding (!) on something really cool (!!) which I will tell you about if you want (!!!) but didn't make much progress; a blind alley consumed most of my day. I did the world's slowest version of my Hidden Valley ride, and then watched baseball (with Bo!).
The high point of the day was having dinner with all of my kids; Nicole is back from being stationed in Sicily, living in San Diego, and drove up for the night. It has been over a year since the six of us were in one place together. Really nice.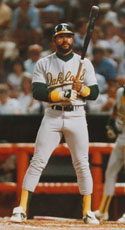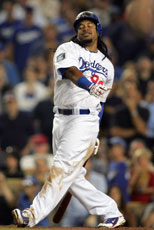 An important side note to watching baseball: Shirley points out that baseball uniforms have evolved to be ridiculously baggy and ugly (Manny Ramirez, right, would be exhibit A). At one time uniforms were tight and better looking (Reggie Jackson, left, exemplifies "proper" fit). This goes beyond the usual socks and stirrups which we all liked for traditional reasons, into tight bottoms and close-fitting tops which [some of us] like for other reasons [apparently ;]. And aesthetic considerations aside, one would think - as with basketball shorts - that tight-fitting apparel would facilitate athletic performance. What's next, baggy cycling kits in the Tour de France?
Speaking of the TDF, stage one in Monaco is Saturday. It is a 15.5km individual time trial. I think Levi Leipheimer is a favorite for this, the course looks a lot like the Solvang TT he's won three years in a row as part of the Tour of California. He's a quiet guy, forgotten a little as a favorite on a team with Lance Armstrong and Alberto Contador and Andreas Kloden. So watch out! My other rooting favorite is George Hincapie. I think the real favorite though is Fabian Cancellara, who is the world's best on a "short" ITT course.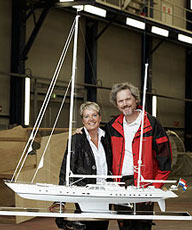 Interesting article in Fortune the other day about Huisman Yachts, the Dutch firm which builds the coolest fanciest yachts for the richest weirdest people. (You might remember they were features in Michael Lewis' The New New Thing, building a megayacht for Jim Clark.) That's Alice Huisman at right, current CEO and daughter of Wolter, the firm's iconic founder, with client Bill Joy and a model of his yacht. I'm going to add "having a Huisman custom-built yacht" to my life list :)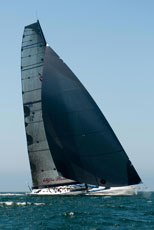 The amazing 100' racing yacht Alfa Romeo. Wow. N.B. Sailing Anarchy posted pictures by my friend Peter Drasnin, who was fortunate enough to be on the water watching her sail with his dad. Double wow.
Excellent news: LogMeIn's Strong IPO Keeps VC Hot-Streak Alive. "LogMeIn is the fourth venture-backed company to put in a strong debut in the U.S. this year. All of them have happened in the past six weeks, at a time when venture capitalists desperately need some liquidity. The three previous venture-deals - from software maker SolarWinds Inc., online reservations site OpenTable Inc., and software maker Medidata Solutions Inc. - all showed double-digit percentage gains on their first day of trading." You could hardly say the IPO market has recovered, but there are signs of life.