I am delighted to report that tonight I successfully watched baseball with Bo, our new baby guinea pig. We watched a great pitchers duel as the Dodgers defeated the Rockies 1-0; this was their last game without Manny, a 50-game span during which they went 29-21 and retained the best record in baseball. Great pitching will trump great hitting every time.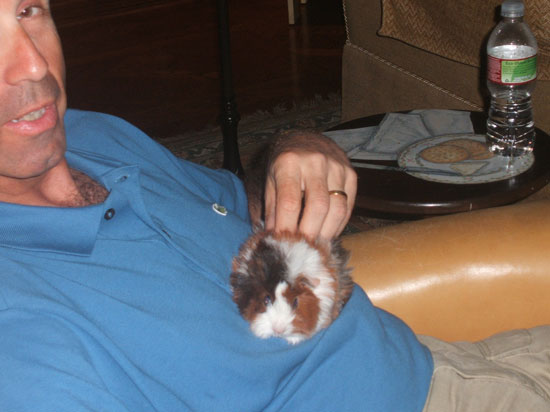 me and Bo watching baseball
Little Bo seemed to enjoy the game, making chirps at appropriate moments and even sampling a wheat thin or two (he does not appear to like cheese however.) He cannot replace Smokey, our beloved previous pig, who demonstrated a great understanding of the game, but he is doing his best as a relief pig. He is amazingly cute and his cuddly demeanor is perfect for sports-watching. We are of course both anticipating the Tour de France [which starts Saturday] with great interest.