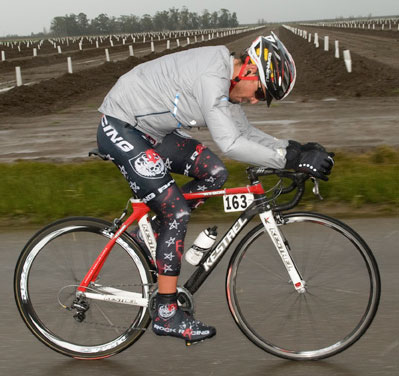 Today Francisco Mancebo of Rock Racing won stage 1 of the Tour of California, on a brand new Kestrel RT900! Wow, how cool is that? And he did it with a 100 mile breakaway, too, in horrible weather conditions, even though he was caught by a couple of riders at the end. Wow, this sure makes me want to see / ride an RT900. I know, patience is a virtue; these bikes are evidently just not available yet, at least not unless you're on Rock Racing :)
The rest of the race was pretty cool too; Lance actually led the chase group for a long time, as Astana led Levi safely in. There were about 20 chasers, and the rest of the peloton was about 5 minutes behind them, so the eventual tour winner is going to come from that chase group, which included Dave Zabriske, Michael Rogers, Robert Gesink (remember him?), Jens Voigt, Ivan Basso, Tom Danielson, and Andy Schleck. Back in the peloton there were quite a few names, including George Hincapie, Oscan Freire, Floyd Landis (!), Christian Vande Velde, and all of the sprinters, who must have been disappointed that today didn't come down to a bunch sprint as predicted.
BTW I have to say, the commentators had a bad day, the worst I can remember in a long time. First, Craig Hummer is an idiot, he should just roll out the balls and shut up, and let Phil Liggett and Paul Sherwen announce the race. He kept intruding into the flow and it was massively annoying. Second, I understand Versus had trouble getting pictures from the course due to the weather, but couldn't they at least have gotten information from the team radios? Viewers spent the first hour completely in the dark, not knowing what was going on out of the course. And even after they did get the pictures back, there were no time gaps, no graphics, nothing to say who we were looking at or how the race was unfolding. How about a permanent on-screen scoreboard like football or baseball, showing the relative positions of the riders, the time gaps, who we were looking at, etc? Surely the technology exists for that? And finally the commentating itself was horrible; none of the predictions came true in the least, they kept talking about stuff from five years ago, half the riders were misidentified, there was a lot of on-screen fumbling around and voice noise. We'll give Phil and Paul a mulligan and hope they do better tomorrow, but Craig please STFU!
[ Update: there is a little confusion about whether Mancebo was on an RT900 or an RT800. I'm investigating, stay tuned... ]
[ Another Update: it now seems clear that Mancebo / Rock Racing are riding Kestrel RT800s, last year's top-of-the-line, and not on the new RT900s, which are not ready yet. If Rock Racing can't get them yet, then I guess I can't either :( ]