A quiet weekend, no plans, maybe do a little cycling, a little coding, a little hanging out...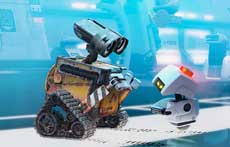 We saw Wall-E last night, I guess about the last people to do so; it was great. I can't wait to see it again. The story was great, but honestly this did take animation to a new level... the expressiveness of motion as a million things go on all at once was almost overwhelming. I wanted to slow things down just to see it all! (I loved little M-O, pictured at right...)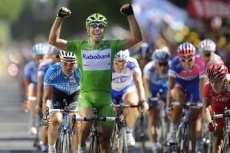 The Tour de France will be won this weekend, as the big guns fight it out in the Alps. VeloNews had an interesting conversation with Matt White, DS of the Garmin-Chipotle team who's GC contender Christian Vandevelde remains a surprising third, less than a minute back of leader Cadel Evans. The last few days have featured flat stages and congrats to Mark Cavendish who won his fourth of the tour yesterday; green jersey leader Oscar Freire won today's. (Freire is a worthy sprint leader, but my favorite thing about him being in green is the clash with Rabobank's orange and purple kit :) Tomorrow's alpine stage will really sort things out, but right now you'd say Evans, Frank Schleck, Vandevelde, and [my favorite] Denis Menchov have a chance. Bernard Kohn and Carlos Sastre are both still in there, but I can't see either of them winning given the time trial on the penultimate day. Kim Kirchen has an outside chance too, but he's already two minutes back. It should be great!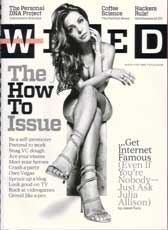 Just got the latest issue of Wired, the "how to" issue; on the cover, someone named Julia Allison who illustrates "how to make yourself famous". So I've never heard of Julia, but apparently she is well known in some blogging circles, and promotes herself incessently online. So be it. But after skimming the article about her I found a sidebar called "five ways to be like Julia"; the last way seems the most pertinent: be a hot woman with an exhibitionist streak. Er, that's not new guys, that's about the oldest thing going...
(I have to say, sadly, that yes Wired is slipping; after Conde Naste bought them I was worried this might happen, and it has.)