| | |
| --- | --- |
| Merry Christmas day after | |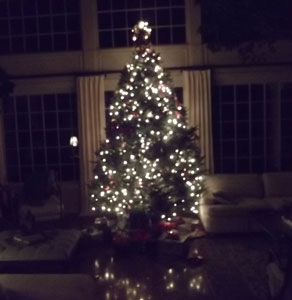 Merry Christmas everyone! I hope you had a great day yesterday... I did, and I did very little, apart from hanging out at home, and opening gifts, and eating chocolate, and listening to Christmas music, and watching the Lakers (lost!), and re-watching White Christmas. I spent the entire day in sweats, relaxing. So be it.
You would think my batteries would be charged, but I feel a bit listless. I had thought it was great that the day after Christmas was a Sunday, a day to relax and before gearing up for "normal life" again, but actually I'm feeling bored and ready for something to do. A ride seems indicated :)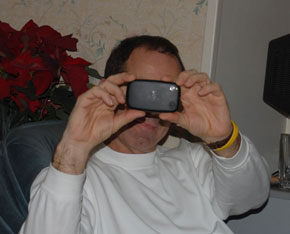 I also spent the day editing pictures; for some reason we went absolutely crazy and took over 400 pictures over Christmas Eve and Christmas Day. (Of which under 100 were worth keeping :) I think I'm going to have to relax a bit; the picture at left is the view many people have of me now. Smile!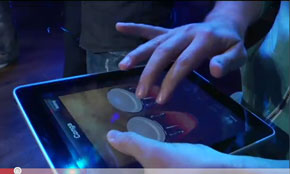 This time last year speculation was rife that Apple were going to announce a tablet, the "iSlate" or "iBook" or whatever. Well, they did :) and man has it taken over; check this out, the North Point iBand, playing Feliz Navidad on iPads and iPhones. Who would have through a year ago the iPad would have become this big? (and doesn't it seem weird that we were wondering if it would run OS X or iOS?)
BTW I keep having conversations with people about the iPad's success, and there seems to be agreement that it is the iPads's simplicity rather than its form factor which is the key to its success...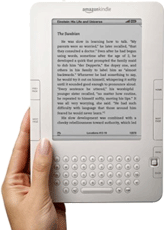 Technology marches on: A year ago we were amazed that Amazon sold more virtual books than real books on Christmas Day. This year, we gave my niece a Kindle for Christmas, and while she was delighted with a nice gift, nobody was amazed by it. A year ago I wondered at the fact I was able to use my Pre for playing Christmas music. This year, I used my Pre and my brother-in-law used his Nexus, and while we were happy to have nice music, nobody was amazed.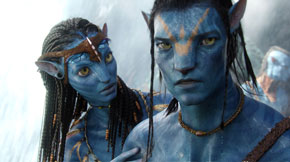 A year ago it was all about Avatar, the movie sensation of the year; this year it is all about Tron. Is Tron the next Avatar? No. Avatar was amazing, a great story told with a great new technology; Tron was cool, the sounds and sights were amazing, but the story was so-so. And the net is far less... years hence we will still be talking about Avatar (and possibly, watching sequels), but probably not so Tron.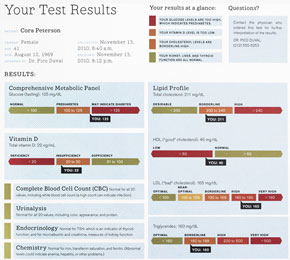 Interesting, from Wired: the blood test gets a makeover. "The typical blood test report is an exercise in obfuscation, a document that needs to be translated by a lab technician or physician, and that's if you somehow manage to see a copy of your results... But lab reports don't have to be unintelligible. With some thought and design-minded thinking, tests can be as informative to patients as they are to physicians." People are increasingly active participants in their own health care.
Related: Chip to Sequence Genome in Minutes? Of course this will happen; personalized medicine - where your genetic makeup guides diagnosis and therapy - will be a key part of future medical care.

And check out the Google body browser! Wow.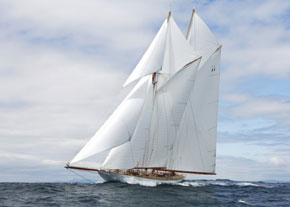 Picture of the day: Old school sailing, from the Horse's Mouth. I love it! Sailboats are surely among the most beautiful creations of man, don't you think? (And this doesn't only include old vessels; BMW Oracle's trimaran is pretty beautiful...)
Are you all excited about college football bowls this year? Me neither. There are too many - have been for years - and spreading them out into January has ruined the whole feeling. It used to be a crescendo in the week after Christmas leading up to the big games on New Year's Day (with the national title in the balance); now it is a meaningless parade of games. Oregon is the Pac-10 champion, but they aren't in the Rose Bowl; they're playing in the Tostitos BCS thing on January 10th! Stanford finished second, but they're not playing the Rose Bowl either; they're playing in the Orange Bowl, but not on New Year's Night! At least the Rose Bowl is still New Year's Day, but TCU against Wisconsin? Blech.

Did you catch the Lunar Eclipse last Monday? Me neither; it was raining continuously. Some Boing Boing readers caught it and posted some cool pictures... I guess I'll have to live long enough to catch the next one in 2094!