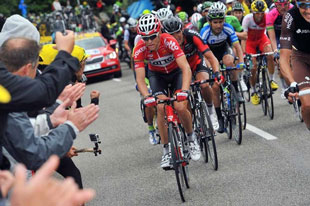 Stage 9 of the 2014 Tour was one of those interesting transition stages; plenty of climbs, but nothing too brutal, and the last coming some considerable way from the finish. With a harder mountain stage tomorrow and a finish on a climb, and a rest day the day after, the GC contenders were content to take a rest, and Vincenzo Nibali and his Astana teammates were happy to see a break of 28 riders take off. Tony Gallopin was the highest placed in that group, and ended up in yellow, relieving Astana of any burden tomorrow without conceding any time to the true contenders.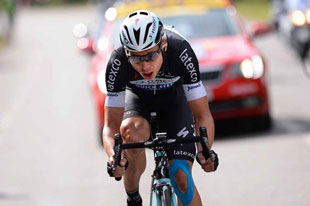 Meanwhile Tony Martin basted out early, a man on a mission, and powered to victory; even that huge break could not nail him back. I just watched him nearly win the Tour de Suisse; boy can he burn the watts. Just doesn't quite have the power to weight ratio you need to triumph in the mountains.
As noted tomorrow's stage is going to be tough; nine catagorized climbs included four Cat 1s and a finish at the top of the last one. I predict serious fireworks as Alberto Contador tries to get some time back from Nibali, and Richi Porte, Andrew Talanski, etc will battle it out in a major selection for the overall. Stay tuned!