Archive: October 2011
Wow
I am so saddened, truly, this is the passing of a hero
he has left behind an immense legacy
not least of which is teaching us to Think Different
He will be missed
Check out this photo essay: ISS' breathtaking views of Earth. Here's one of the ISS itself:
Looks like something from a science fiction movie, huh?
I think my favorite shot was this one, of Hurricane Earl:
Anyway click through and check 'em out; pretty awesome!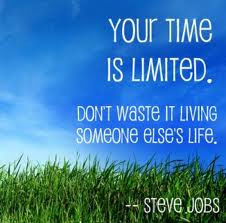 In the home stretch heading into the 508 this weekend... trying to take it easy, eat, drink, sleep... and blog a little.
Still thrown by the news of Steve Jobs passing. Stay hungry, stay foolish.
Neal Stephenson: Innovation Starvation. "The vast and radical innovations of the mid-20th century took place in a world that, in retrospect, looks insanely dangerous and unstable." An interesting rant by a great thinker.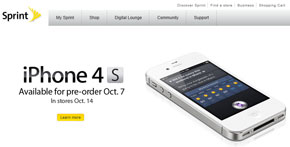 So yesterday Apple announced the iPhone 4S - Tim Cook's first product announcement since taking over as CEO - and I gather it went well. IOS 5, faster processor, spiffy new camera, and (yay!) dual-band support, now supported by Sprint. The last is the most important to me; I've loved my iPhone, but I haven't loved Verizon, and I'm *so* ready to switch back to Sprint. I'm hoping to get out of my two-year contract based on the consistently poor reception I've experienced at my house; fXf! With all the rumors swirling, it was good to get the concrete announcement, whew.
Here's a review of the announcement ... in 90 seconds. Great job of editing it down :)

This looks cool: Researchers transform iPhone into microscope. And that was the old 5Mp iPhone 4, imagine what could be done with the new 8Mp iPhone 4S? They've already disrupted low-end cameras, maybe they'll disrupt low-end microscopes too.
Science: Women who make more decisions have less sex. Not sure about the causality here, could it be that women who have less sex [have to] make more decisions?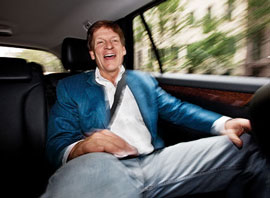 Saw and enjoyed Moneyball. A great movie made from a great book. It couldn't have been easy to boil down the entire book into one movie which captured the essence, but that's what they did; similar in fact to what Michael Lewis does when he writes in the first place.
New York Magazine: It's good to be Michael Lewis.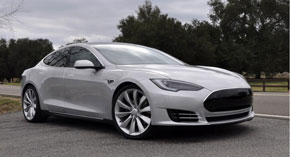 Tesla Model S prototypes are out and being shown, and apparently there will be a sportier version of the all-electric sedan, too. Wow I can't wait. This could be our next car. We have a 10-year old Jaguar sedan which is mostly used for tooling around town...
With the advent of the new Kindles (including the Fire) I've been ruminating on ebooks. What's interesting is that ebooks are potentially a disruptive technology; could be the "publishers" who are successful in ebooks will be different from those who were in pbooks. That's what is happening with music. Perhaps there will be a Pandora-like service to find us new books?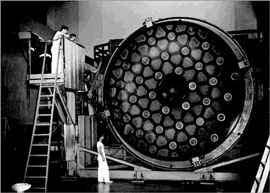 Wired ran a great flashback article: 10/3/47, Birth of Palomar's 'Giant Eye'. The 200 inch mirror took 10 years to polish - by hand! I've visited the observatory and seen the telescope itself, quite amazing, especially when you consider the technology available when it was built.
Fran Tarkenton imagines the NFL run like our public schools: "Each player's salary is based on how long he's been in the league. It's about tenure, not talent. The same scale is used for every player, no matter whether he's an All-Pro quarterback or the last man on the roster." Communism never works.
Related: The Jobs Agenda. "I don't know what Steve Jobs's politics were, I don't much care, and in any case they are beside the point. The late Mr. Jobs stood for something considerably better than politics. He stood for the model of the world that works... Once you figure out why your cell phone gets better and cheaper every year but your public schools get more expensive and less effective, you can apply that model to answer a great many questions about public policy." Indeed. Highlight is mine.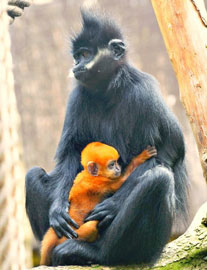 ZooBorn of the day: a baby Langur. Apparently they are born bright orange, and turn black within six months. How excellent. Interesting to wonder about this adaptation; is this so their parents can easily find them when they're lost?
And so tomorrow is the Big Game. Yeah, you know ... Westlake vs Oaks Christian. Go Lions!
I'm off! Tomorrow I head out to Valencia for the start of the Furnace Creek 508, a 508-mile race from Santa Clarita up into and through Death Valley, and thence out into the Mojave Desert before finishing in 29 Palms, climbing 35,000' along the way. The race starts at 7:00AM Saturday morning, and I will finish sometime Sunday night / Monday morning; the deadline is 7:00AM on Monday. Here's an overview of the course, please click to enbiggen for more detail:
I will have a crew of three in a camper van behind me all the way; you can follow our progress on our Facebook page or via our Twitter feed. Every competitor has an animal "totem"; mine is Rocky the Flying Squirrel :) Please stay tuned and wish us luck!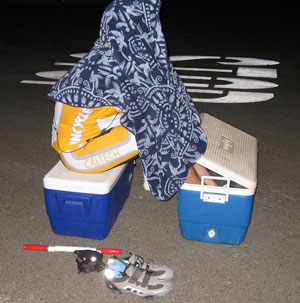 Well, I didn't make it. No shame, but I am disappointed.
Sunday night at 9:30, having left Baker and on the road to Kelso, I stopped riding and got in the van. After having born pain in my feet for two days, it suddenly became unbearable. I wasn't so much as decision as an acknowledgement; I was again unable to finish the Furnace Creek 508.
This picture was taken Saturday midnight in Stovepipe Wells, icing my feet as I had about ten times during the day. Wondering if I was going to make it.
If you're a friend or frequent reader you know, I rode this race in 2009 and made it 300 miles. This year I made it 400 miles. That feels like progress, but in one sense this the race is binary; you either go 508 miles and finish or you don't. And I didn't finish then and I didn't finish now. The reasons were very different but the high-level result is the same. And yet it doesn't feel the same at all.
Here's a profile of the race course; the red lines are the time stations which delimit the race stages, the blue arrow shows how far I made it in 2009, and the green arrow shows how far I made it this year.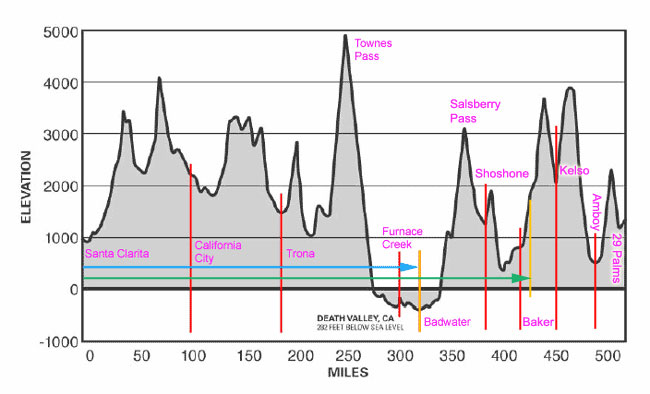 In 2009 I got off to a flying start and cruised into Death Valley four hours ahead of schedule. Then the winds started to howl and my head blew up and I just couldn't take it. After resting for a bit in Furnace Creek I struggled in the dark for a while before abandoning in Badwater. Almost immediately I wished I'd kept trying, and in the two years since I've promised myself there would be a next time, and when there was I wouldn't stop.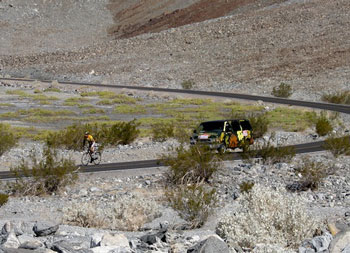 This year I got off to a terrible start, lost my GPS unit and fifteen minutes searching for it three miles into the ride, and had my feet start hurting almost immediately. By California City I was in serious pain, and switched bikes, pedals, shoes, and everything else to deal with it. Icing my feet in a cooler seemed to be the only thing that worked, and that only for short periods of time. I made it Randsburg, iced, made it to Trona, iced, made it through Panamint Valley, iced, and then vowed to summit Townes Pass. I climbed it - in fine style, if I may say - and then descended down into Death Valley. Yay; after more ice and a longish rest, onward into day two!
But day two brought more pain, lots more ice, and lots of lost time while icing. By the time I reached Shoshone I was running out of time and wearing down. I vowed to reach Baker, and did. From there I had 10 hours left to ride, with 120 miles and 7,000' of climbing. Just barely doable. I took off for Kelso, and suddenly I couldn't do it anymore. The exhaustion and strain brought down my threshold of pain to the point where I couldn't continue. Boo.
I will make a longer post with many of the great pictures which were taken but I must not end this one without thanking my amazing crew, Mitch Albo, Mark Elliot, and Gene Smith. I also have to tell you about my new bike which was incredible, and about the van, which worked out perfectly, and so many other things ... please stay tuned!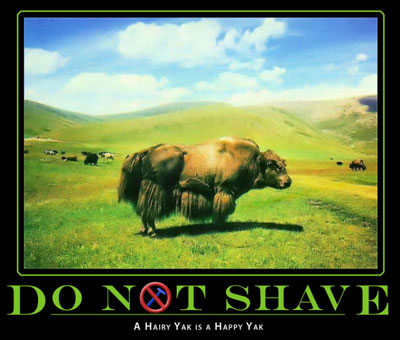 Hey y'all it's been a couple of weeks since I posted about "stuff"; just wanted you to know I am engaged in some extreme yak shaving. (Also, I had the slight interruption of riding the Furnace Creek 508 :)
I've been loving my iPhone for a while, and more recently have begun loving my iPad too. Although it wasn't immediately apparent why anyone with a smartphone and a laptop would want a tablet, I've slowly begun realizing the tablet form factor makes it nice for "occasional" computing in alternative locations, like my backyard, my bathroom, and ... my bed. I can read just about anything on the iPad; emails, web pages, RSS feeds, etc., and can compose email, send messages (with IOS 5 and iMessage), and do some light editing. But I can't blog :(
The problem isn't fundamental; it's perfectly possible to blog from an iPad. But when *I* blog I do it in a certain way, and that way involves tools that are only usable from within Windows: SharpReader to read feeds, Photoshop to edit pictures, and Citydesk to update the blog. This mechanism dates back eight+ years to when I started blogging, and in the intervening time I've thought about overhauling the whole thing a few times. Now I'm biting the bullet. My plan is to do it all from email, so I can blog from anywhere, on any device, at any time. Of course this requires a bit of work (!) with several nested levels of things to build, and so in the meantime I'm not blogging at all.
Except to report that I am engaged in some Extreme yak shaving. Please stand by :)
Return to the archive.
Home
Archive
flight
About Me
W=UH
Email
RSS OPML

Greatest Hits
Correlation vs. Causality
The Tyranny of Email
Unnatural Selection
Lying
Aperio's Mission = Automating Pathology
On Blame
Try, or Try Not
Books and Wine
Emergent Properties
God and Beauty
Moving Mount Fuji The Nest Rock 'n Roll
IQ and Populations
Are You a Bright?
Adding Value
Confidence
The Joy of Craftsmanship
The Emperor's New Code
Toy Story
The Return of the King
Religion vs IQ
In the Wet
the big day
solving bongard problems
visiting Titan
unintelligent design
the nuclear option
estimating in meatspace
second gear
On the Persistence of Bad Design...
Texas chili cookoff
almost famous design and stochastic debugging
may I take your order?
universal healthcare
entertainment
triple double
New Yorker covers
Death Rider! (da da dum)
how did I get here (Mt.Whitney)?
the Law of Significance
Holiday Inn
Daniel Jacoby's photographs
the first bird
Gödel Escher Bach: Birthday Cantatatata
Father's Day (in pictures)
your cat for my car
Jobsnotes of note
world population map
no joy in Baker
vote smart
exact nonsense
introducing eyesFinder
resolved
to space
notebooks
where are the desktop apps?