I'm back home, whew, after a long day; again got up early, worked out, watched Le Tour, and again had a productive day, although new projects seem to be cropping up faster than I can deal with them. I'm finishing the week with more to do than I started, for about the fourth week in a row. Yikes!
My good mood from yesterday carried over into today... amazing how a positive attitude colors everything. You *can* choose to be happy :) working out and riding doesn't hurt, either!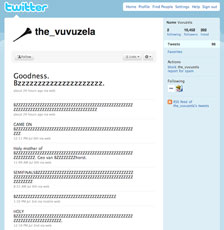 So what do you think, Are blogs dying? I've noticed a lot less linking and perhaps fewer people posting random crap; that seems to have moved to Facebook and especially Twitter.

Here's some evidence: Twitter + Vuvuzela. 10,000+ followers. There you go.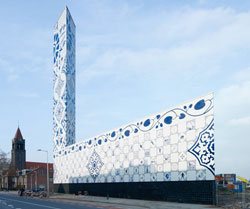 This is awesome: a Dutch power plant clad in Delfts Blauw tiles.

Jerry Pournelle schools the U.S. space program: "NASA's budget since Apollo has been big enough that we ought to be halfway to Alpha Centauri by now. Perhaps that's an exaggeration, but we certainly had a budget that could have taken us to Mars and the asteroids. We certainly could have a Lunar Colony." Not to mention, we certainly could have learned a lot more...

I continue to mess around with Foursquare, but I'm almost fully convinced there's no there there. Okay, I could see how it might be useful if you're a 20-something with a zillion friends and you're looking for the action on any given night, but for me - and for most everyone, I suspect - it's an input-only system; you checkin where you are, and that's it. I am open to the possibility that it will grow on me - I wasn't a big Facebook user in the beginning either - so I will continue to try...

Tomorrow it's another early morning of watching the tour, and then a little work before heading way up to Bear Valley for the Death Ride on Saturday... please stay tuned!