Spent yesterday working, and watching basketball (I'll review Madness Round Two when I've had a chance to watch all of it)... had intended to ride, but did not...
... and last night Shirley and I attended "Swinging on a Star", the Assistance League of Conejo Valley's annual charity auction (for which Shirley was co-chair). It was a great event, featuring the Harry Selvin orchestra, a "big band" jazz ensemble featuring some awesome musicians, many/most well over 60 (I'm guessing). Emcee Bill Jones did a wonderful job too, not only running the live auctions but describing some of the philanthropic activities of the ALCV to help motivate bidders. Best of all the event raised a lot of money; of course with the economy being what it is we were afraid people might not be able to contribute as much as in previous years, but it seems things went better than expected.

Oh, and yes I did win an auction for a Saxo Bank team jersey, signed by their entire Tour of California team: Fabian Cancellara, Jens Voigt, Stuart O'Grady, Jason McCartney, J.J.Haedo, Gustav Larsson, and Frank and Andy Schleck. It was donated by George Morrow, EVP of Amgen and key sponsor of the Tour of California. I'm not a sports memorabilia person but this is cool.
I'm sure you've heard about Barack Obama's gift to Gordon Brown, a collection of 25 DVDs... so it turns out they are region-coded for the U.S., and can't be watched on U.K. DVD players. Heh.
Instapundit: Bush league? This isn't even A ball.
Victor David Hanson: Why are so many Americans depressed? A great analysis. And... somewhat depressing. Seriously.
Scott Loftesness tells a great Henry Kissinger anecdote: Is this the best you can do? Who knows if it is true, it could be true, and it is great no matter what.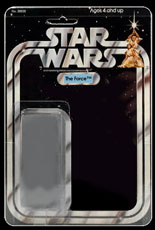 The best Star Wars action figure. I love it. And may it always be with you :)
So my hat is fully off to Mark Cavendish for winning the Milan - San Remo cycling race, proving that he is more than "just" a sprinter. 300K over hill and dale, and then a bunch sprint with the break. Whew.
From a year ago: Paul Graham's ontology of ways to disagree. I still agree with this :) Well worth keeping in mind while reading "the news".
Robert Scoble: Why Facebook has never listened to its users and won't start now. They might not, but they should. If nothing else it would give people like Robert something new to blog about... and also it would make me oh so very happy because I really dislike the new home page. To the point where I've stopped Facebooking, there's no there there anymore...
Dave Winer: What Firefox should do. Essentially, break the mold and implement stuff in a browser which has never been there before... I fully agree with this. Firefox could be a platform, but if they're not careful Google Chrome will get there first.
I missed this, but it's cool: Apple adds HD video purchases to the iTunes Store. You could totally see this coming. Blockbuster is so very dead. And I think I think I think Netflix too, although they might have a chance.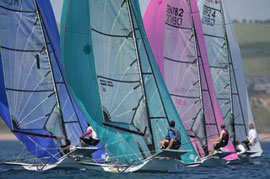 Sailing pic of the day: 49ers racing at the World Championships in Weymouth. Excellent.
Runner up for sailing pic of the day: TP52 Artemis going to weather. Awesome.