Tonight we had a marvelous dinner with our kids; a "last supper of the summer"; they start school on Thursday. Had a great filet with a '97 Kara's Vineyard cab which was out of this world. (Trying, slowly, to drink through our old '97s before they turn the corner; this one was peak.) Oh and with a tiramisu, a '55 Croft port. I have never had a '55 anything before, it was wonderful - for a young port :)
With the Presidential race heating up (and by many accounts, now a virtual dead heat), and with VP picks on the horizon, and the conventions to follow, it is time to start watching the electoral vote tracker again. This great site integrates across all the polls to tell you up to the minute what's going to happen. I've heard it said there isn't one national election, there are fifty state elections, and that's how it works. Anyway check it out, good stuff (despite the somewhat obvious Democratic bias of the webmaster :)!
BTW, the score is currently Obama 264, McCain 261.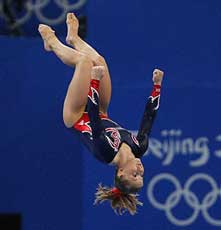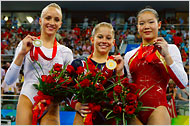 Did you see this? Shawn Johnson finally won a gold, on the balance beam, after four silvers. Is she wonderful or what? I still think Nastia Liukin is more graceful and beautiful, but Shawn's bubbly personality lights up the gym. When she won who could help but be happy for her, Nastia included?
King Kaufman asks Why do runners 'shut it down'? Yeah, I wondered that too... no clear answer. It can't be that they save much energy over the last ten feet. Has to be some kind of psychological thing, like they are showing up their opposition. Huh.
Here we have an ode to weightlifting. There has been zero weightlifting on NBC so far; boo. I like it too, no difficulty scores, no judging, it is pretty binary.
What makes for a good blog? Yeah, what? If I only knew... :)