So - I am just now on negative time working on two projects, and haven't even made time for reading blogs, let alone posting (SharpReader is already backed up with hundreds of unread items, sigh). Please stay tuned, regularly scheduled programming will resume "shortly".
I have now been blogging "daily" for nearly two years. (No snickering about that four month gap, please.) My daily viewership is about 500 people, who generate about 2,000 page views. Of them, about 350 are people who have previously visited at least three times. Plus, I now get over 2,000 requests for my RSS feed every day, and since my feed contains full item content a goodly percentage of these people are not web visitors. All this is so excellent, I thank you all.

Because of all you guys out there, whenever I have any gap in posting I always get a few emails asking if everything is okay, and when I'll resume. It isn't quite like the LATimes forgetting to put out an edition, but inquiring minds want to know.

So now you know.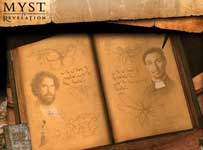 Oh, and not to mention, my kids gave me Myst Revelation for my birthday - thanks! - and I can't wait to play it, only the real world is intruding...