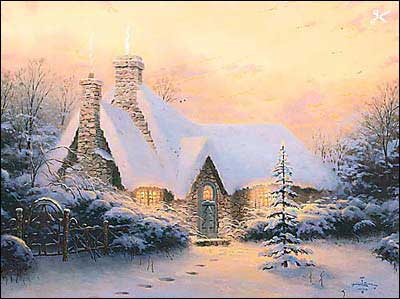 Merry Christmas to all of you! I hope you were able to relax and enjoy yourself, in the company of family and friends and those you love.
I had a great Christmas, thanks for asking. Our family gets together on Christmas Eve for an orgy of eating and present exchanging and kid watching, so Christmas Day is quiet. Of course Santa does visit, and our kids do spend the day playing with their gifts, so "quiet" is relative. I actually went for a nice bike ride in the pouring rain - that's what mountain bikes are for! - and then enjoyed sitting around cozy inside while the wind swirled water around outside.
Do you "do" New Year's resolutions? I do. I find the time between Christmas and New Year's to be a time of reflection, and it enables me to think and plan and resolve. My annual resolution is to spend more time "having fun" and less time "working". Each year it turns out to be a tough resolution to keep, partially because for me the line between "having fun" and "working" is pretty blurred, and partially because I'm a workaholic. Not to mention, I've spent most of my career in little companies balanced precariously between success and failure. This year it's no different. Oh well.
It certainly was an eventful year. I started blogging last January 1, and a year ago I was making final plans to launch. It is pretty cool to read those early posts. (If you're interested, please visit my archive!) This year I'm planning a few minor changes to the look and feel, but I'm not planning any changes to the way I blog. So far it has been fun, and a useful way of staying abreast of the doings in the world. It seems hard to believe, now, that I ever surfed to fifty sites each day; monitoring them via RSS with SharpReader is just so much easier.
If you're a regular visitor, thanks for reading! Some bloggers say they write for themselves, and I guess I do that to some extent, but really I write for you. During the year my visitorship has gradually increased, slowly but surely, to the point where I get about 1,000 unique visitors each day. And although I can't tell how many unique visitors I serve via RSS, on a typical day I serve my RSS feed about twice as much as my home page! That is just very cool, thanks for stopping by...