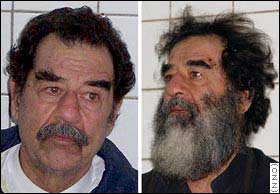 "We got him"
So I'll be the millionth blogger to post that Saddam Hussien was captured last night in Al-Dawr, Iraq, south of his hometown of Tikrit. He was captured alive, hiding in a mud hole underground, and although he was armed he did not put up a fight.
This is unmitigated good news for Iraq, the U.S., all U.S. allies in Iraq, and the world. In a five minute live TV address President Bush stated "now he will face the justice he denied to millions." (Citizen Smash posted the entire text.) It remains to be seen how that justice will be administered; presumably by the Iraq people themselves, in some fashion.
I like the way Bush allowed the news to develop from Iraq, via military channels. He has a pleasant way of letting events unfold without trying to seize the spotlight; as the U.S. President the reflected light will illuminate him anyway.
There are many, many bloggers furiously covering this story; check out The Command Post which has links all over the place. Interesting how the Iraq bloggers are uniformly celebrating. Of course anti-U.S. blogger Riverbend has not posted yet, and neither has the ambivalent Salam Pax. Glenn Reynolds noted this post on the BBC reporter's blog, that [British Prime Minister] Tony Blair was "pleased not just with what's happened - Saddam's capture - but also how". I agree.