About a week ago I had the opportunity to test ride an Orbea Orca, and I loved it. It was a great riding experience, love at first sight (or was it lust)?
So I'm in Carlsbad today for a week, for Aperio's annual sales meeting, and yesterday I rented a bike from the very excellent Nytro people in Encintas to go riding Palomar with my friend Peter. And I'm standing there in the shop, looking at their great collection of high-end bikes - Cervélo, Pinarello, Colnago, Felt, Kuboka, Scott, and oh yeah Kestrel, and a sales guy walks up and asks if he can help, and I say "no, I'm just looking at bike porn". And he says "you know, you can demo ride any of these bikes". WHAT? How excellent is that?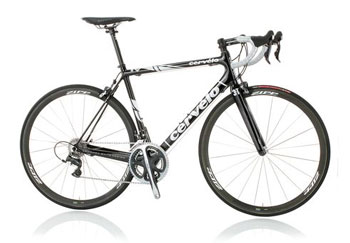 So... I explained that I am thinking of replacing my 10-year old Kestrel with a new bike, and he suggests I test ride a Cervélo R3. So I did. Wow.
I'm going to have to admit, I liked it better than the Orbea Orca. It isn't as pretty, but it rides wonderfully, and climbs unbelievably. Really I have never ridden a bike this cool, this comfortable, or this fast.
Lust or love? Who knows... tomorrow, I'm riding a Pinarello... stay tuned!