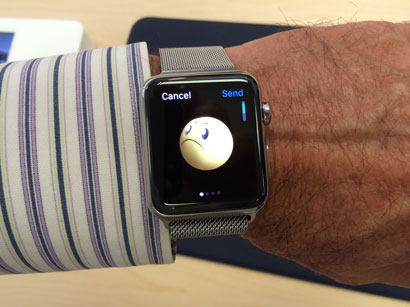 So today I visited an Apple store and experienced "the Watch". You've read about this; they have watches you can wear, which are running a continuous demo in a loop, and watches you can play with, which are embedded in a little stand.
My reaction is ... meh.
When I first heard about the Watch back in September, I was pretty excited; it seemed like a cool new thing. Then a long time passed filled with rumors. And then [finally] we had the Watch update in March with more detail, which somehow left me less excited than before. And now that I've actually tried one on, I'm even less excited. I want to be able to use it for Apple Pay, but other than that it is not compelling. Perhaps it will grow on me.
I have to confess I was not that excited about the iPad, either. It was not clear why anyone who already had a laptop and a smartphone would want one. But now I find mine indispensable. So perhaps once I have a Watch I'll love it. Time will tell.
In thinking about the Watch, I guess the question is "how does wearing one make me feel about myself?" I own a few cool watches, and I can't necessarily see that wearing my Apple Watch would be cooler than any one of them, including my Pebble Steel, which has a certain nerd ethos that the Watch seems to lack.
Apple need to make having and wearing a Watch cool, and they haven't done so. Meh.