So, did you see the Apple announcements this morning? I have to confess I'm more excited about the new MacBook than about getting an Apple Watch. Well okay maybe just as excited. As an old fashioned clicky keyboard fan it will be interesting to try the new keyboard to see how it feels. Sure is thin! And the new trackpad also seems like it will be cool. Seems like the force-touch (harder press) is intended to replace the right-click. Steve Jobs never did like two buttons!
We didn't learn too much more about the Apple Watch, but there was considerable emphasis on how it is going to work, which was appropriate, I think. Most people have never worn a smartwatch so they have no idea how it might be useful. (I have a Pebble Steel and I like it, but it hasn't changed my world. It's just kind of a nice to have.) From what I've seen the Apple Watch is going to be more useful than the Pebble, but the same idea; it is a wrist-based extension of your phone. We're all going to have one. Maybe it will even reduce the prayer meetings where everyone is staring at their phone instead of the live humans around them.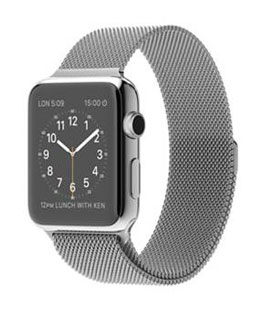 The pricing of the Watch was not a surprise – speculation had the gold models starting at $10K, so we were all attuned to that already. Maybe the surprise was that there was no surprise. I actually thought maybe they'd be lower than everyone expected, but they weren't. Clearly not too many people are going to spend that much on a watch which will be out-of-date within two years (p.i.)*. Longer term maybe Rolex and Patek Phillipe and Hublot need to worry, but not in the short term. I think most people are going to go for the stainless steel models which are in the $600-$1,000 range.
I think the emphasis on health monitoring is pretty cool. I use the Argus app on my iPhone, which measures my activity (and which does a pretty good job of it, too!) It can tell when I'm cycling and can sort of guess when I'm working on an elliptical trainer. Still a wrist based device which you wear *everywhere* and which has access to your heart rate as well as motion sensors will be much cooler. Whether it will actually cause me to exercise more will be tough to say. I think the Argus is sort of an in-your-face indication when you haven't done anything, but it's pretty binary. The Strava-like competition with friends that I experience from cycling is more likely to drive activity. Maybe we'll all end up competing with each other :)

One more observation: using your watch to pay for stuff could end up being the biggest driver of adoption. I'd get one anyway, but that's the feature that has me the most excited :)
As far as the event, it was polished but unspectacular. I was actually a little let down. Best line of the day, from Tim Cook, about answering a phone call on an Apple Watch: "I've been waiting to do that since I was five years old." On reflection I think Apple have botched the launch of a luxury item like a $10K+ watch. Are we supposed to click add-to-cart and then just pay $10K with our credit card? Nah, not going to happen. Maybe they will sell plenty of these in their stores, but I doubt it. And the bigger problem is that they have failed to build a luxury brand. I am now significantly less motivated to pay that much for an Apple Watch than I was yesterday...
* I am reminded a little of the situation Lexus faced when they entered the market, in 1991. Back then established luxury brands like Mercedes and Jaguar were overpriced relative to their value, but that's how it works with luxury products; you pay for the association, not the value. Lexus came in a little lower, but with huge technical superiority. Still it took a while before they were known as a luxury brand and conferred the same halo on the owner. Tesla were a little like that when they launched a few years ago, too.
[Update: the Internet has not been kind to the $10K price point: "The new standard in douchebag detection." Heh]