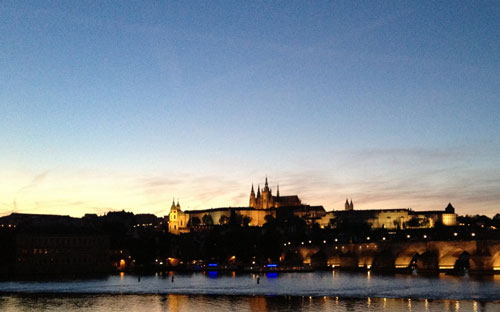 Hi blog public; I'm back?
I haven't posted here in ... wow, five months (I have continued posting on my Facebook in the meantime) ... but couldn't resist posting a 9-11 tribute today.
Maybe this will loosen my "posters block" and I'll get back into blogging. Stay tuned :)
At right, my favorite picture from my just-completed visit to Prague, Czech Republic, of Prague Castle with St. Vitus Catherdral, and the Karlov Most in the foreground.
Some stuff which has happened:
Moved to Westlake Island
Started a daily view from the bridge, following bike rides
Celebrated leap day
Visited Vancouver: USCAP conference
Went sailing in the Caribbean (fourteen days, seven islands)
Attended conference in San Jose: ATA conference
Began following the baby geese
Rode Breathless Agony (114 miles, 12,000 feet)
Spectated Amgen Tour of California, Mount Baldy stage
Visited Venice, Sweden, and Munich, conferences, customers, and symposia
Started something new; still cooking, stay tuned for [much] more :)
Enjoyed my Megan, wow
Sailed Round the Island race and C-15 nationals, yay
Kept riding to the beach
Enjoyed Le Tour de France, as always
Watched the London Olympics
Cheered as Curiosity landed on Mars
Felt amazing as Aperio agreed to be acquired by Leica (not celebrating yet okay can celebrate now :)
Raced the Hoodoo 500 (517 miles, 34,000 feet), and finished!
Czeched out Prague: and ECP conference
Home
Archive
flight
About Me
W=UH
Email
RSS OPML

Greatest Hits
Correlation vs. Causality
The Tyranny of Email
Unnatural Selection
Lying
Aperio's Mission = Automating Pathology
On Blame
Try, or Try Not
Books and Wine
Emergent Properties
God and Beauty
Moving Mount Fuji The Nest Rock 'n Roll
IQ and Populations
Are You a Bright?
Adding Value
Confidence
The Joy of Craftsmanship
The Emperor's New Code
Toy Story
The Return of the King
Religion vs IQ
In the Wet
the big day
solving bongard problems
visiting Titan
unintelligent design
the nuclear option
estimating in meatspace
second gear
On the Persistence of Bad Design...
Texas chili cookoff
almost famous design and stochastic debugging
may I take your order?
universal healthcare
entertainment
triple double
New Yorker covers
Death Rider! (da da dum)
how did I get here (Mt.Whitney)?
the Law of Significance
Holiday Inn
Daniel Jacoby's photographs
the first bird
Gödel Escher Bach: Birthday Cantatatata
Father's Day (in pictures)
your cat for my car
Jobsnotes of note
world population map
no joy in Baker
vote smart
exact nonsense
introducing eyesFinder
resolved
to space
notebooks
where are the desktop apps?