| | |
| --- | --- |
| Rocky the Squirrel, on Facebook | |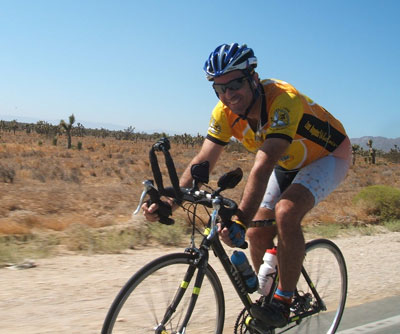 Hey y'all ... a couple months ago I reported Rocky the Squirrel (aka me) was again riding in the Furnace Creek 508 (aka "the toughest 48 hours in sport").
In case you're interested, I just created a Facebook Page for the Rocky the Squirrel team. Please Like this page to show your support and to get updates on my training program, my crew, and our progress! And if you'd like, please Follow us on Twitter as Squirrel508.
I hope to give ongoing reports during the race itself (October 9-12), I understand there's a lot more cell coverage along the route now than there was in 2009.
That's me at right, riding the 508 in 2009, about 100 miles in when I was still smiling.
In terms of preparation, I'm pretty far ahead of where I was in 2009; I have 2/3 of my crew set (fellow endurance riders Mitch Albo and Gene Smith), and I'm riding every day, including incorporating some long rides like the Cool Breeze 200K this weekend, and the Son of Death Ride a week later. Now I just have to get my mental state where it needs to be (!); that was my downfall last time. Onward!