| | |
| --- | --- |
| TDF stage 18 / ITT - Contador wins (wow!), Andy, Lance, Bradley, Andreas left for GC | |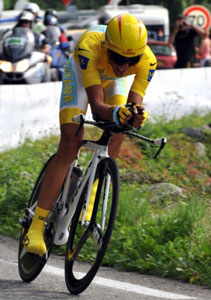 Okay, we're going to have to admit it now: Alberto Contador is the best rider in the world. He won the individual time trial around Lake Annecy today, edging Fabian Cancellara by four seconds and asserting his dominance. As expected the Schleck brothers lost time, but Andy held on to 2nd overall, now 4:11 back, while Lance Armstrong moved up to 3rd (5:25), Bradley Wiggins to 4th (5:36), and Andreas Kloden to 5th (5:38). The race is now for second, and really with only the mountain stage up to Mont Ventoux left to shuffle GC Andy looks pretty safe, so the real race is now for third. After Cancellara posted his time I didn't think there was any way anyone could touch him, and nobody could until Contador. He's not only a great climber, he's a great TTer, beating the best in the world on a classic (pretty flat) TT course.
I'm going to confess, I was pretty disappointed with today's results. First, I don't like Alberto. Okay, okay, he's a great rider, but that doesn't mean I have to like him. That business with him attacking Kloden yesterday was bad, just like him attacking Lance in Andorra was bad. Second, I do like Cancellara, and was rooting for him to win. Third, I do like Lance, and was rooting for him to win, or at least to do really well. He did pick up time on the Schlecks but the Lance of old would not have finished 16th in an ITT. Overall it was kind of a boring and disappointing day...
... and so tomorrow's transitional stage is likely to feature a break while the GC rests in anticipation of the fireworks Saturday. It would have been a great stage for Jens Voigt (who sadly crashed out of the Tour with a broken cheekbone); I'm going to pick one of the GC guys who hasn't really done anything to get in the break and win; someone like Cadel Evans or Denis Menchov or David Millar. We'll see...
In other cycling news, Lance announced he's forming a new team next year with Radio Shack and Livestrong as sponsors; presumably Johan Bruyneel will be the DS. You could guess Levi Leipheimer will join him, but Alberto will not :)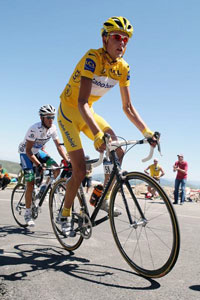 And finally this is GREAT news: UCI won't oppose Rasmussen's return. Yay, we might get the chicken back! Keep in mind, he's the one guy who has proven he can climb with Contador (remember his battles in the '07 Tour, see pic at right); it will be interesting to see where he lands...
[ Tour de France 2009: all posts | index ]