| | |
| --- | --- |
| TDF stage 17 / climb - the Schlecks win, Contador and Hushovd solidify yellow and green | |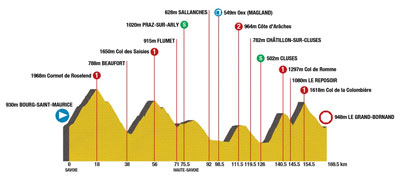 Wow, what a race! Today's TDF stage 17 from Bourg-Saint-Maurice to Le Grand-Bornand had everthing, courage, strength, attacks, cracks, great teamwork, and solo moves. In the end Frank Schleck won with Alberto Contador and his brother Andy Schleck right on his wheel, solidifying Alberto's hold on the yellow jersey. After all the carnage the Schlecks took over 2nd and 3rd on GC (2:26 and 3:25), pushing Lance Armstrong down to 4th (3:55), Andreas Kloden to 5th (4:44), and Bradley Wiggins to 6th (4:53).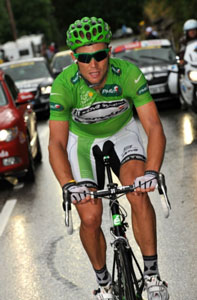 There were some great sub-plots; Thor Hushovd secured his green jersey with a heroic ride across the Alps, leading alone for most of the race to take maximum points at the two sprint locations. If you look at the profile above you can see this means he led across three catagorized climbs, wow, how about that. When I first started watching this morning I couldn't believe Thor was leading. I guess that puts paid to all the talk about how he doesn't really deserve to be in green because Cavendish was relegated in stage 14.
And Franco Pellizotti secured his polka dot jersey by taking points on all his rivals over the first three climbs; at this point it seems like he has it in the bag, with "only" Saturday's stage to Mont Ventoux left in the KOM competition.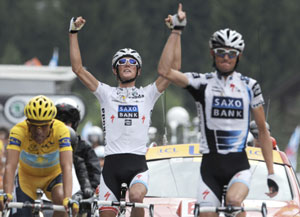 Although Alberto ended up increasing his lead in yellow, perhaps insurmountably, you have to say he again screwed up team tactics. On the final climb he was riding comfortably in the shadow of the Schlecks accompanied by teammate Kloden, with Armstrong tailing Wiggins in a group about 1:30 behind, and he launched an attack. No good reason for this, all he had to do was finish with the Schlecks (which happened anyway), but the result was he dropped Andreas and put time into Armstrong, who did follow team tactics by hanging onto Wiggins until the end. He ended up hurting his own teammates without gaining anything - a typical rookie move. Still you have to hand it to him, he is now clearly the strongest rider in the race.
Tomorrow is the final ITT - look for Armstrong, Kloden, and Wiggins to gain significant time on the Schlecks, we'll see whether it will be enough to move them up. At this point Alberto's lead seems safe, and he's a pretty fair TTer himself these days...
[ Tour de France 2009: all posts | index ]