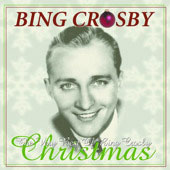 So there we are, we're decorating our house for a Christmas Party. And Shirley says "wouldn't it be great to listen to Bing Crosby singing 'White Christmas'"? Yes, it would.
So I launch iTunes and poof! they have like six versions including the "Holiday Inn" version from 1942. So I buy it (one click) and right now we're listening to good ol' Bing. What a great song - not only is it old and sentimental and wonderfully nostalgic, but it was wonderfully nostalgic when Irving Berlin wrote it in 1935. A perfect fit for Bing's slow mellow style, sounds like he's standing next to a roaring fire in an log cabin. I guess the idea of "going back home for a White Christmas" is pretty fundamental.
Of course we're streaming it in AAC from a [Windows] laptop in my office to a [Mac] PowerBook in our family room, from where it is played via an Airport Express connected to our Yamaha surround sound receiver through our Bose 5.1 speakers. High tech nostalgia! Yet somehow it sounds just like a '78 on a scratchy old record player. Bing would love it.