| | |
| --- | --- |
| Iditarod: Seaveys and Sass, sprint to the finish | |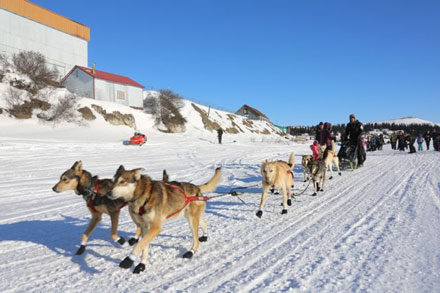 I thought I'd check in with another Iditarod update, since it's likely that the race will be won sometime late tonight / early tomorrow morning. Checking the Iditaflow race tracker we see that defending champion Dallas Seavey is now solidly in first, having just completed his mandatory 8-hour rest in White Mountain; he is now off on the final stretch of 100 miles to Nome. His Dad (and ex-champion) Mitch Seavey is about 45 minutes behind, with about 30 minutes left in his rest. Third place Brent Sass is now about two hours behind, with 1:45 left in his break. Those are the three teams which have a chance to win, and honestly Dallas looks pretty good.
[right: Dallas Seavey and team pulling out of White Mountain, on the Nome stretch]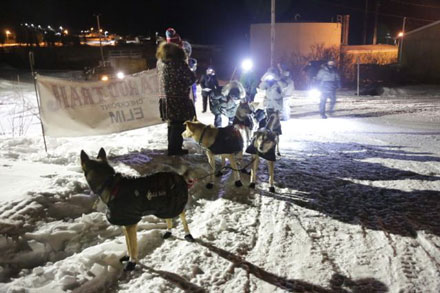 Checking the slopes of the vertical lines you can see his speed in the past 100 miles was at least as good as Mitch's, and considerably faster than Brent's. He is not quite on pace to beat his record of 8 days 14 hours, but he could pick it up in the Nome stretch and yet beat it. That would have him finishing at 4:00AM in the morning Alaska Time.
[left: Dallas Seavey and team first into Elim]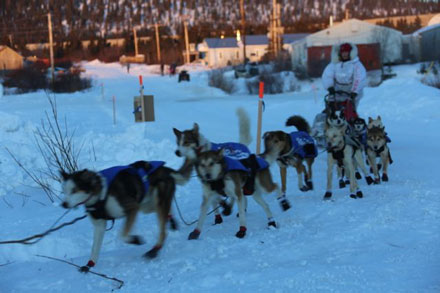 Fourth place Aliy Zirkle is six hours behind; she's also in White Mountain in her break, and although she's run a great race as usual she is probably out of it. Fifth place Wade Mars is just getting to White Mountain, closely pursued by Peter Kaiser.
[right: Aliy Zirkle pulling into Elim]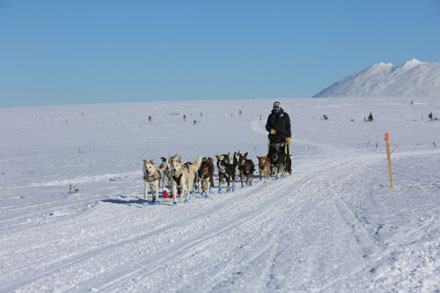 They're going to have quite a race for top five, and I'd have to give the edge to Peter based on apparent running speed. Also in the hunt are Norwegians Joar Leifseth Ulsom, about an hour behind Wade and Peter, and Ralph Johannessen, about 1:30 behind.

[left: beautiful shot of Joan Leifseth Ulsom and his team mushing along to White Mountain]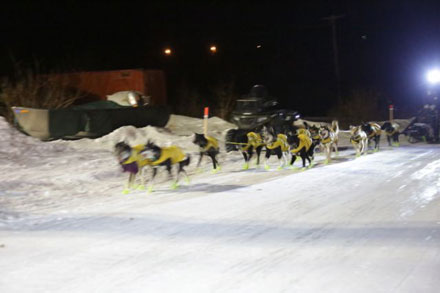 Here are some more cool shots from the route, as usual taken by Sebastian Schnuelle, who is blogging on the official Iditarod website. Having an experienced racer out there giving hour-to-hour updates from the checkpoints is so cool.
[right: Brent Sass and his team pulling into Elim with those trademark lime green booties]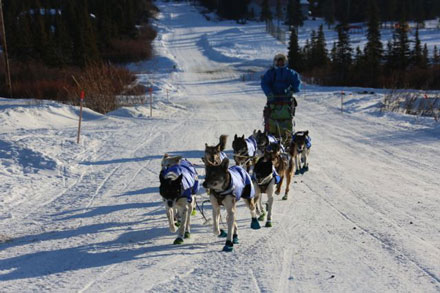 Nice shot of Wade Mars and his team pulling into Elim. He waited just long enough to leave Elim before Peter Kaiser got there; they're going to have quite a race to White Mountain.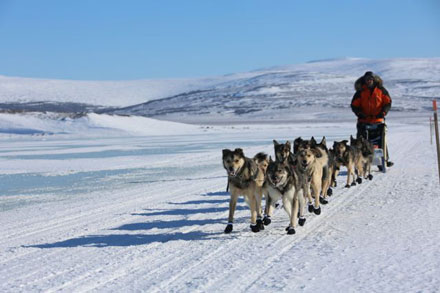 And here is Peter Kaiser and his team, flying out of Elim toward White Mountain. Currently he has over 1mph on Wade (8 vs 7), that could be enough to move into the top five.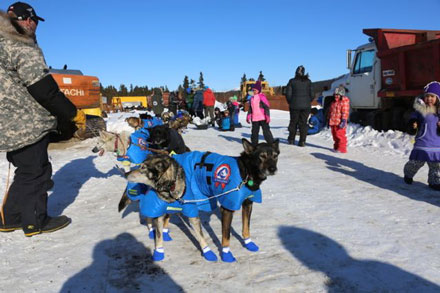 Noah Burmeister's team in Elim, raring to go. They are definitely in the competition for best dressed with snazzy jackets and matching boots.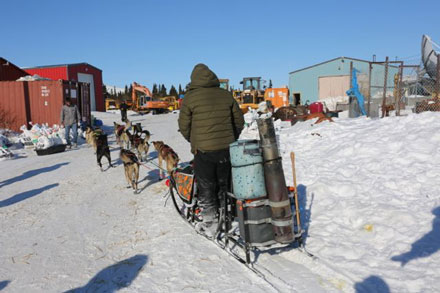 Here's an interesting shot of 10th place Jeff King and his team pulling into Elim. Jeff is quite an innovator; he pioneered the "caboose" behind the main sled, and now has this interesting stovepipe / cooker arrangement for heating dog water and dog food quickly. Jeff seems to have recovered amazingly from that unfortunate incident in Nulato.
So here's the situation: the top five teams all at White Mountain with 100 miles along the coast left to Nome.
There's still the Safety checkpoint but most of the time it's just in and out.
The first teams are likely to reach Nome late tonight / early tomorrow morning.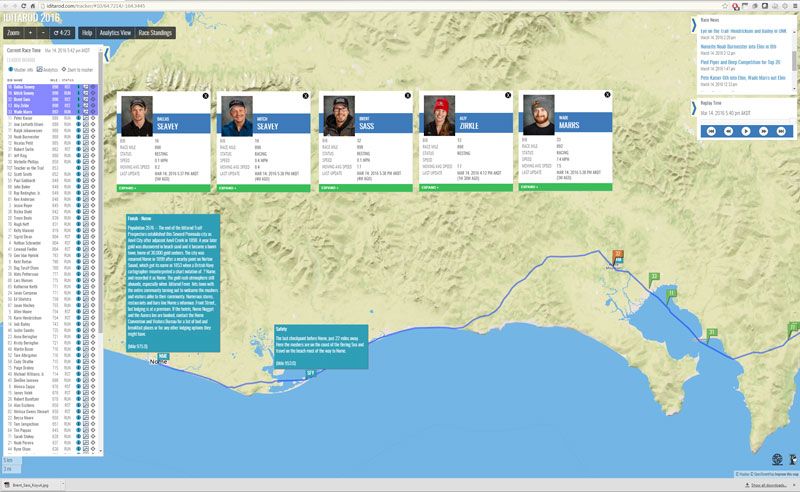 (please click to enbiggen amazingly)