| | |
| --- | --- |
| Iditarod: In the Nome stretch, Seaveys vs Sass | |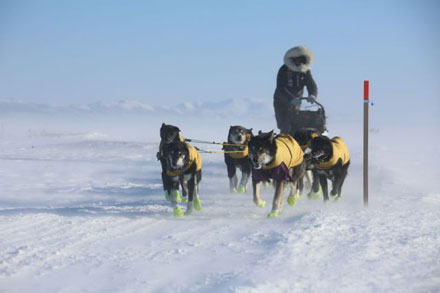 Good morning Iditarodians... overnight the race for first really coalesced into a three team fight to the finish. Defending champion Dallas Seavey looks like he's going to repeat, followed by his father Mitch, also a champion, and Brent Sass, who has run a great race but looks to be fading.
[right: Brent Sass and team on Norton Sound]
Inspection of the Iditaflow race tracker shows that Brent has consistently run longer and slower than both Seaveys, and it doesn't look like he'll have the speed to pass them. Still stranger things have happened (like the finish in 2014), so we watch.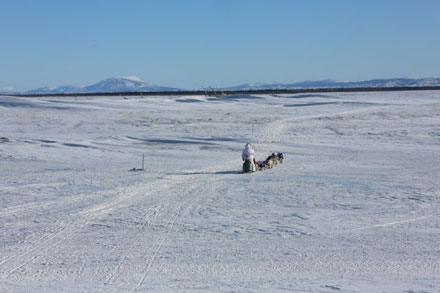 Aliy Zirkle has consolidated fourth, finishing in the top five yet again (!), and it looks like there's an interesting race shaping up for fifth, with Wade Mars ahead of Peter Kaiser, Joar Leifseth Ulsom, Noah Burmeister, and Nicholas Petit. Jeff King has made it up into the top ten which is amazing considering the attack he suffered at Nulato.
[left: Aliy Zirkle and team approaching Shaktoolik]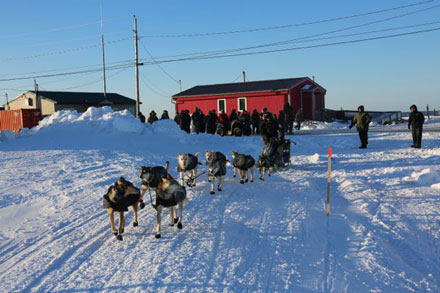 The leaders are just now approaching White Mountain, where they have to take a manditory eight hour break. After that it's a "sprint" of about 100 miles to Nome, along the coast. My algorithms are predicting that Dallas could break his own record of 8 days, 14 hours, so stay tuned for that!
[right: Dallas Seavey and team leave Shaktoolik]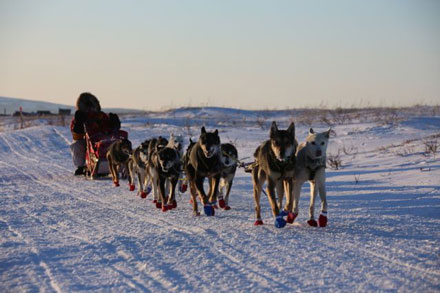 Meanwhile, here are some more amazing pictures from the trail, taken by musher / blogger / photographer Sebastian Schnuelle. Be sure to follow his updates on Iditarod.com...
[left: Mitch Seavey and team outside Shaktoolik]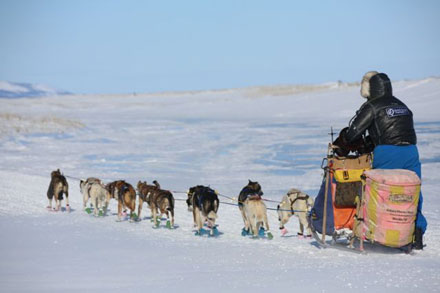 Wade Mars and his team outside Shaktoolik. Wade has run a great race, steady all along, but has been just a tick slower than the Seaveys and Sass.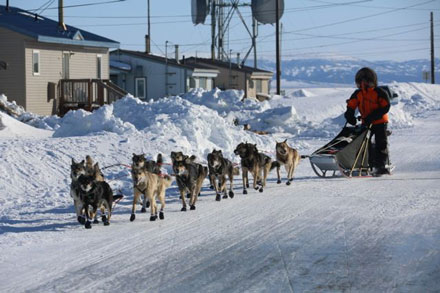 Peter Kaiser and his team outside Shaktoolik. Peter is coming on strong and has an outside shot at the top five.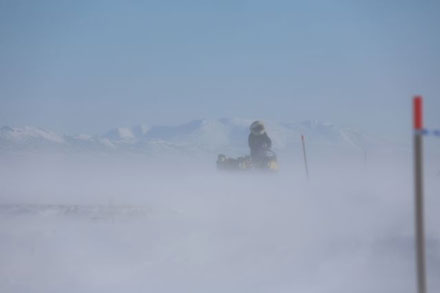 Here's a great shot of Wade Mars and his team on the ice of Norton Sound. Yes, there is wind. Whew.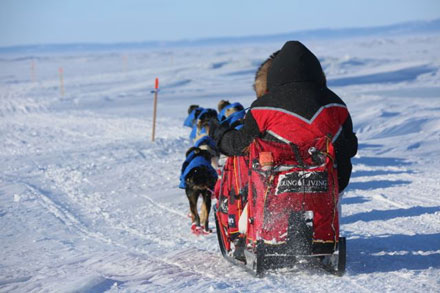 Mitch Seavey and his team on Norton Sound. Unlike a lot of mushers Mitch doesn't "help" by running along the sled or poling. He saves his energy for taking care of his team, and it's worked out well for him. Let's see whether he can catch his son!
Brent Sass reaches Koyuk (in first!) This will probably be the high point of his race, before he was passed by Dallas and Mitch. Still loving the fluorescent green booties :)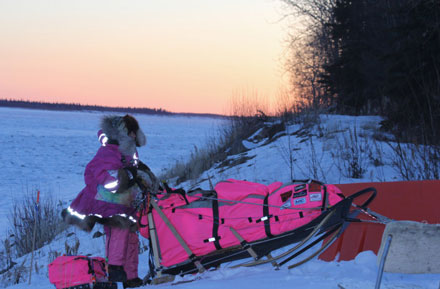 And speaking of fluorescent, this shot of DeeDee Jonrowe outside Galena. DeeDee hasn't been up with the leaders this year but she's running a solid steady race, and will finish in the top half.
Here's the GPS tracker view as of this morning: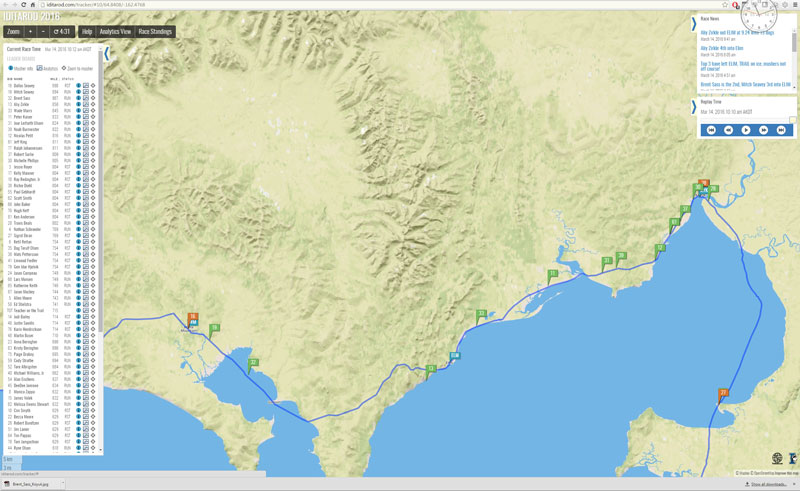 (please click to enbiggen amazingly)