| | |
| --- | --- |
| Iditarod: Leaders reach Norton Sound, Seaveys one two | |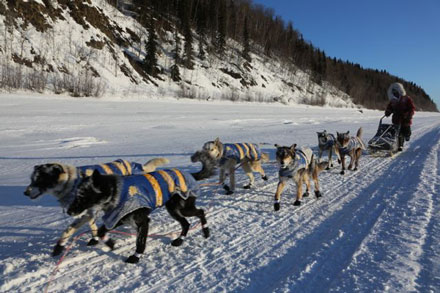 I enjoyed a great sleep last night, but the leaders in the 2016 Iditarod did not; they pressed on from Kaltag to Unalakleet and then headed up the Coast to Shaktoolik.
[right: Hugh Neff mushes into Nulato. Awesome jackets, team!]
At this point there seem to be five teams in it to win; defending champion Dallas Seavey and his father Mitch, also an ex-champion, Brent Sass, Aliy Zirkle, and Wade Mars. I'd rate their chances of winning in that order, although much can happen in the last 200 miles.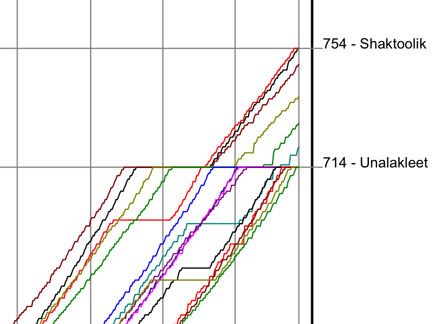 It's interesting, in years past I would stay up late and get up early at this point in the race, staring at the GPS tracker to watch the race unfold. This year I slept soundly knowing I could see how everything unfolded on theIditaflow race tracker. And indeed, you can!
Here's the view I saw when I woke up; Brent Sass (brown line) was in the lead, but Dallas Seavey (black line) was gaining, followed by Aliy Zirkle (olive), and Wade Mars (green). Mitch Seavey (red) passed both Wade and Aliy, but then chose to take a four-hour rest before reaching Unalakleet. The leaders all rested in Unalakleet until Mitch got there. Mitch passed right through after a short rest, and then Brent and Dallas took off, followed later by Aliy and Wade. Mitch was first to Shaktoolik, followed closely by Dallas, and Brent was almost there, but going somewhat slower. The whole story is right there in those wiggly lines :)
Iditaflow feature update: yes, I added predicted finish times. Click the predict button and the algorithms will churn away and tell you when they think each musher will finish. Here's the predictions as of 10:30 this morning; Dallas and Mitch will be in a dead heat, and Brent is predicted to finish ahead of Aliy and Wade. If this is right both Seaveys would beat the overall record of 8 days 14 hours.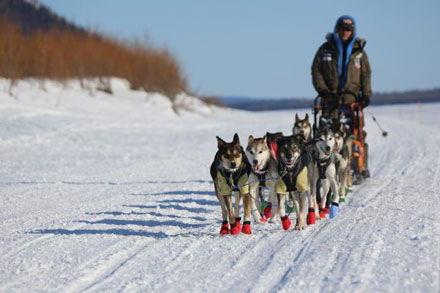 Here are some more pictures from yesterday, again taken by veteran musher Sebastian Schnuelle who is on the trail. Be sure to check out his blog posts on Iditarod.com for an expert take on all the action, as well as more pictures.
[left: Robert Sorlie mushes into Kaltag.] Robert is not doing quite as well as predicted; his team are making great progress with no problems, but he's stopped a lot (37 times, more than anyone in the top ten besides Noah Burmeister) and has not really been in contention.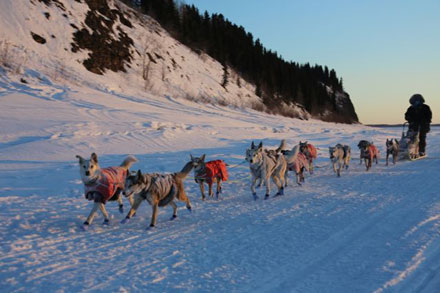 Joar Leifseth Ulsom mushes into Kaltag. Joar has another strong team who have been "up there" all race, but not really in it to win it. Definite top ten though.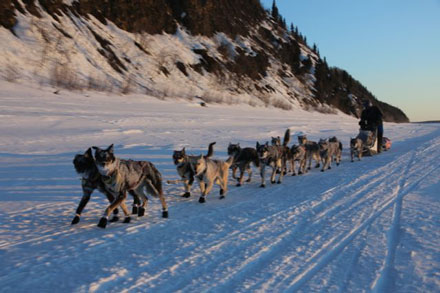 Here's John Baker and his team mushing toward Kaltag. John is an ex-champion and hanging around, currently in 10th place. He's known as someone who will pick up teams at the end as they tire and he does not. I don't think he'll win, but top five is a possibility.
Here's the GPS tracker view. The checkpoint where the Yukon meets Norton Sound is Unalakleet, from there the race heads north along the coast. Shaktoolik is the checkpoint along the coast where the leaders are... they're heading up toward the ice. Onward!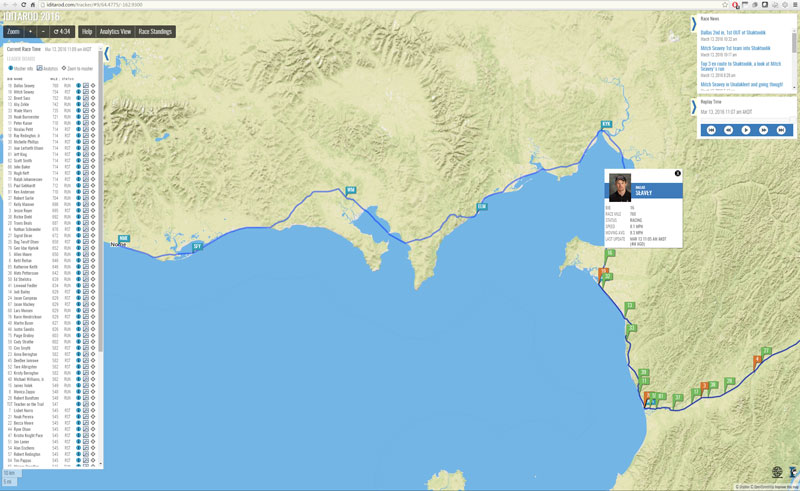 (please click to enbiggen amazingly)