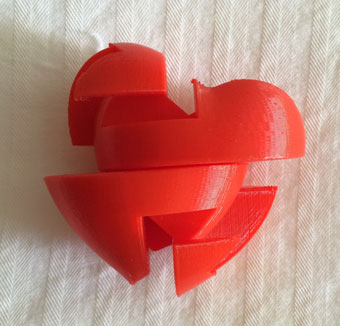 Good morning blog public, and happy Valentine's Day to you all. I celebrated in the usual way - by 3-D printing a heart. This year I decided to print it as a four-part puzzle, which seems appropriate given the complexity of relationships :)
Valentine's Day seems stressful to a lot of people; of course it is fun to celebrate being with the one you love, but demonstrating just exactly how much you love them with physical objects can be difficult :)
Did you know? Spotify will make a playlist out of your Valentine's love note. Well that's certainly demonstrating your love ... hehe.
How did this all get started? Apparently it began with a pagan fertility festival in February (as so many good things do :), and then the Catholic church mutated it into a celebration of St. Valentine. Most countries with a Catholic tradition celebrate it today, but more as a secular ode to love and relationships than a religious holiday.
The weirdest practice was that when I was a kid, we bought Valentine's Day cards for all the kids in our class, not just the one we thought was special. (Is that still done? Maybe?) An early attempt at political correctness but perhaps a defensible one, to avoid hurt feelings. I do remember taking great care over the exact wording with which I signed certain cards :)
I hope you enjoy the day, and are able to fit your pieces together...