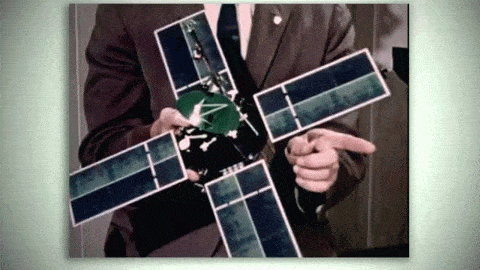 NASA celebrates 50 years of planetary awesomeness. On July 14, 2015, New Horizons will take the first close-up pictures of Pluto, exactly 50 years to the day after Mariner 4 flew by Mars and took the first close-up pictures ever of another planet. Wow...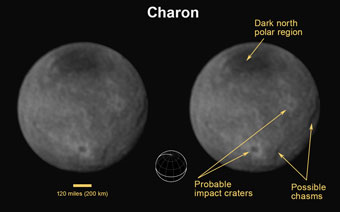 Meanwhile ... here's your closest look yet at Pluto's largest moon, Charon. Excellent. The New Horizons spacecraft is unimaginably far away ... it takes light 5 hours to reach us from Pluto. And yet we can take pictures like it's our back yard. [kinda]

MG Siegler links Dennis Overbye: The inventory of major planets - whether you count Pluto as one of those or not - is about to be done. None of us alive today will see a new planet up close for the first time again. In some sense, this is, as Alan Stern, the leader of the New Horizons mission, says, "he last picture show."

It's hard to write these words and know what they might feel like 50 years from now. I never dreamed, when Apollo astronauts left the moon in 1972, that there might come a day when there was nobody still alive who had been to the moon. But now it seems that could come to pass. How heartbreaking is that?
You could say that we have reached the sea, the very icy and black sea between us and the stars. Whether we will ever cross that sea nobody can say.
I can say, we shall cross it. Probably sooner than anyone can imagine. Life will find a way.
PS there are 182 known moons in the solar system, some nearly as large as Mars (Ganymede and Titan), with a wide variety of interesting characteristics. And literally thousands of asteroids, dwarf planets, comets, and other space dwellers. So I don't think it's even the last picture show.
This is perfect: Welsh government responds in Klingon to UFO questions. And no, it is not a headline from The Onion.

"Darren Millar, the Shadow Minister for Health and Social Services in Wales, posed three questions to Welsh economy, science and transport minister Edwina Hart about recent UFO sightings and funding research into the phenomena. A Welsh government spokesperson responded in Klingon:
Jang vIDa je due luq. 'ach ghotvam'e' QI'yaH devolve qaS.

Translation: "The minister will reply in due course. However this is a non-devolved matter."

"I've always suspected that Labour ministers came from another planet," Millar said. "This response confirms it."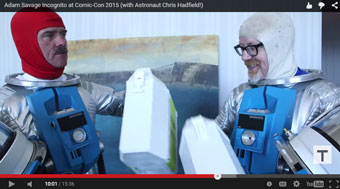 Adam Savage and astronaut Chris Hadfield walk the floor at San Diego Comic-Con, dressed [perfectly] as astronauts from 2001. Excellent.

I find that as time passes, no science fiction film gets as much respect as 2001. None.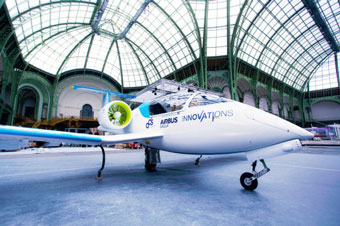 Two electric planes just made history by flying over the English Channel. Yes! So when I can I get mine ... can't wait :)

Robert X Cringley asks Remember when technology was exciting? He obviously is not reading my blog :)

Seriously, I get the "we were promised flying cars and all we got was 140 characters" point of view, but when you look at what we *are* doing, it's incredible. Onward!