Today I downloaded and installed Windows 10 Preview (in a VM, of course). And my first impression is ... it's a winner. While I would never consider replacing my everyday Win 7 OS with Win 8, after about fifteen minutes I concluded that yes, I could see replacing it with Win 10. I can't say yet that I like Win 10 better - that will take more than fifteen minutes - but at least I don't hate it on sight.
I don't like the look and feel - those flat primary colors remind me of Windows 3! - but the performance was snappy and the functionality I needed was there. Best of all there was only one Explorer environment - the Start menu was back, albeit modified with those ugly blocky Win 8 -style tiles - and I could simply find and run things the way I expected, instead of clicking back and forth like I was in some kind of kids game.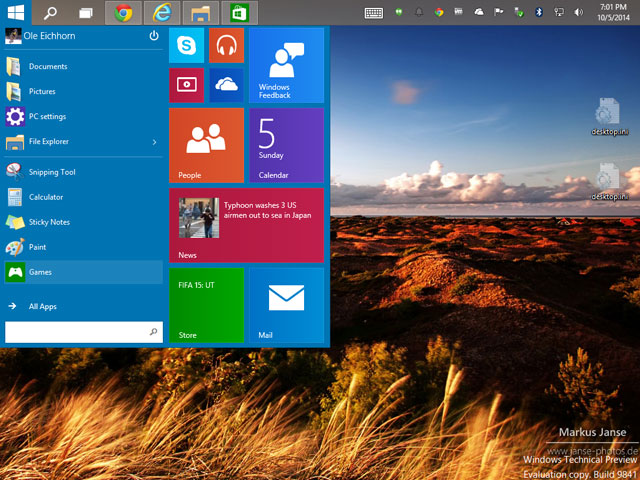 It's a low bar when we celebrate just being able to use a new version of Windows, but given the history with Windows ME, Vista, and now Win 8, that's a bar we have to hurdle. I just started playing so I haven't had a chance to notice much that's new yet, but I do like the new Win 10 switcher: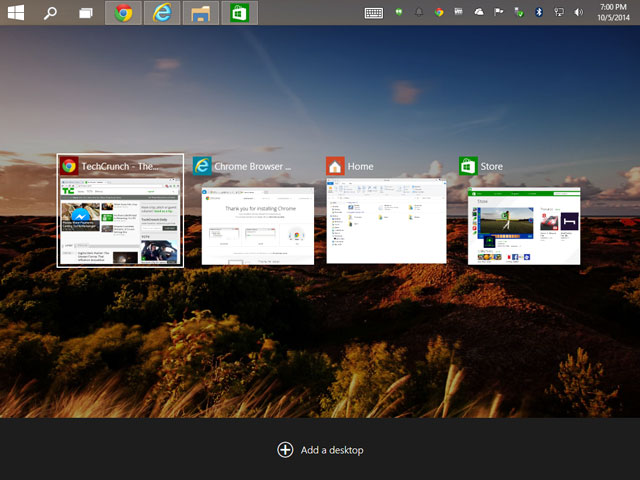 One thing that struck me about the whole experience was the degree to which cloud-based storage of preferences made the installation easier. When I signed on as "me", Microsoft recognized my settings from when I played with Win 8, and automatically carried them over (things like the desktop pictures, windows placement, etc). And then later when I downloaded and installed Chrome as my default browser, Google did the same thing (search history, autocomplete, etc). It's a little unsettling to realize how much these big companies know about me, but it did speed things up.
So ... onward, it's a new day. I think this puts a dagger in what little chance there ever was that I would run Win 8 for anything meaningful. I can just keep up with the Win 10 previews and hope they release it sooner rather than later, and then jump directly to Win 10. YMMV but I doubt it :)