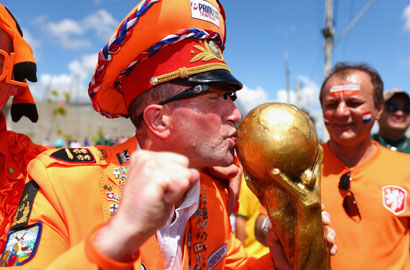 So, we're down to eight teams, and honestly nobody can be too surprised about the eight which are left. Cinderella has left the hall. I suppose the fact that Spain was eliminated early could be considered a surprise, and England too, but all the group winners won their round-of-16 matches. And in my humble opinion the soccer was quite boring, everyone playing not to lose. So be it.
My picks for the quarter-finals: Brazil over Columbia, although this could go either way, and Germany over France; again, a tossup. This is the stronger side of the bracket. Of course I pick Netherlands over Costa Rica (go Oranje!), I think most pundits would agree, and Argentina over Belgium, although the Argentineans haven't shown their top game yet. (But ... they have Lionel Messi, who is impossible)
My picks for the semi-finals: Germany over Brazil (!), and Netherlands over Argentina, setting up a rather epic contest between the two Northern European neighbors for the Cup. Could this be the year for the Dutch? We'll see.