| | |
| --- | --- |
| Iditarod day 10 - King scratches (!), Aliy holed up, Seaveys closing in | |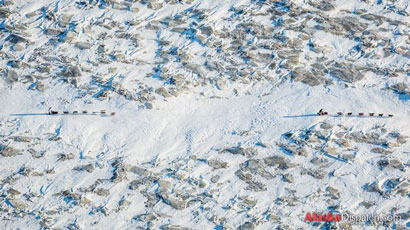 Sad news; erstwhile race winner Jeff King has scratched from the 2014 Iditarod. Apparently his team was blown off the trail into some driftwood, and while he was able to gather the team together they holed up in the drift for 2 1/2 hours, and he finally decided to get help from a snowmachine to take him to Safety - the checkpoint which is only a few miles in front of him. Shows you how strong the winds are and how crappy the conditions have become.
The cool shot at right shows Jeff King's team just ahead of Aliy Zirkle's, as they left White Mountain...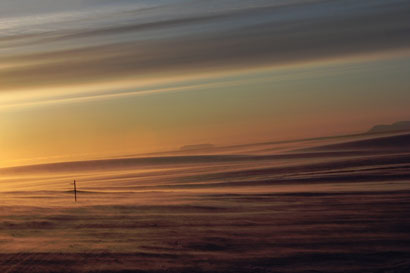 Meanwhile Aliy Zirkle is now the leader, holed up in the Safety checkpoint and waiting out the wind. Dallas Seavey is now second, just two miles from Safety, and his father Mitch is third another 14 miles back. It will be interesting to see what Zirkle does when Seavey gets to the checkpoint, and whether Seavey will stop or continue on. The conditions ahead into Nome are reportedly terrible with strong winds, glare ice, and a poorly marked trail. No less authority than Joe Runyon, an ex-champion and now blogger, says the race should shut down for safety reasons.
The pic at left is Cape Nome in the howling winds.
It's going to be an interesting finish ... wow. Maybe everyone stays holed up in Safety for a while, and then there's a mass sprint finish. Please stay tuned!
(All Iditarod 2014 posts)